Why is it so important to find the best cribs? One of the only times that you will leave your baby unattended is while your little one sleeps. Because of this, it is absolutely vital that you select the safest baby crib for your child.
There are so many different types of baby cribs available, how do you choose the right crib for your baby? Which cribs are the best cribs, and why?
I have created a highly detailed guide to choosing the best baby crib to suit your situation. After you have finished reading this guide you will be well on your way to being a baby crib expert.
[wpdatatable id=7]
Baby crib FAQ
Before we go further, let's answer some of the most commonly asked questions regarding baby cribs.
​What is a baby crib?
A crib is essentially a bed that is designed specifically for your baby. If you can imagine your own bed but enclosed in an open-topped cage, you will have a rough idea of how a baby crib looks.
​How long will your baby use a crib for?
​Cribs are used for an average of 24 months. That said, the right time for your baby to move from a crib to a bed will vary from baby to baby. A sure sign that your baby is ready to make the next step is when your little one becomes noticeably too big for the crib or can escape with minimal effort.
​When should a baby crib be bought?
The majority of mothers look to buy baby cribs while they are still pregnant, just before the start of the third trimester.
While you can hold off until you know the sex of your baby (so that you don't buy a pink crib for a boy and vice versa), it is best to plan ahead. Many companies take a long time to ship a baby crib. You do not want to be waiting on a crib delivery after your baby has arrived.
​What is the best brand of crib?
There are numerous companies that produce baby cribs for all manner of uses across multiple markets. It's impossible to say definitively which brand is "the best" because how well a brand suits the needs of your child will depend on your particular requirements and situation.
For instance, cribs for twins must by definition be larger than single cribs. We've reviewed several of the best cribs built by major brands, judging them by their practicality and factors such as crib safety, below.
The different types of baby cribs
There are many different varieties of baby cribs available. Below are some of the most popular designs.
Standard baby cribs
If you were to close your eyes and image a baby crib, chances are it would look something like this. Standard cribs come with four fixed sides and slats. Don't let the "standard" name fool you, these baby cribs come in many different styles to suit your nursery.
Advantage
Generally the cheapest type of baby crib available
Simple sturdy construction
Long-lasting
Can be easily integrated into already-furnished rooms
Disadvantages
Generally lacks extra features
Not easily moved from one position to another
Convertible baby crib
Also known as lifetime cribs, convertible cribs are designed to grow with your baby. The logic behind the name "convertible crib" is that these cribs can convert into one or more different types of furniture. The most common conversions include:
Standard crib
Day bed
Toddler bed
Single or twin-sized bed
Convertible cribs are commonly expressed as 'number-in-1′ where the number specifies the different combinations that the convertible crib can transform into.
A convertible crib that can turn into all the above combinations, for example, would be referred to as a 4-in-1 convertible crib. Some more expensive models can even convert into a full-size bed (with the proper conversion kit).
Advantages
A convertible crib can be a cost-effective long-term bedding solution
Only one bed needed for the majority of your child's life
Built to last
No trims or designs that can make the crib look dated as it ages
Disadvantages
A convertible crib is generally more expensive than other baby cribs
Hands-on work (and conversion kit) required to convert crib through its stages
Conversion kit has to be stored away for future use
Some models may wear out, making it unsuitable for later stage transformations
Be mindful that although the best convertible cribs should require no additions in order to be used as a toddler bed or bed daybed combo, you may need to purchase an additional conversion kit (sold separately) in order to transform your convertible crib into the flat single or twin-sized bed.
Since you will be turning your convertible crib into a bed years from now, it makes sense to purchase the conversion kit at the same time as your baby crib.
When buying a crib you intend to convert later, it also makes sense to purchase your conversion kit from the same manufacturer as the convertible crib itself, ensuring compatibility. Always check for compatibility before buying a conversion kit, no matter the manufacturer.
Portable baby crib
If you are short on space then a portable baby crib may be just the solution you need. The ability to move a crib from room to room will make it easy for you to keep a watchful eye on your baby while completing household chores. Just make sure the crib will fit through your doorway.
Advantages
Great for houses with limited space
Allows you to easily keep an eye on your baby
Disadvantages
Brakes need to be checked regularly
Fewer design choices than other cribs
A portable baby crib, also known as a folding crib is essentially a baby crib with wheels (casters). The wheels make moving the crib as simple as giving it a push.
Once you have your baby crib in the desired position, you simply use the locks on each wheel to lock it into place. With the locks on, the baby crib will be unable to roll away.
One often-overlooked point; you will need to take your flooring into account when looking for a portable baby crib. Wheels that glide effortlessly over the carpet can scratch and damage wooden floors and vice versa.
By choosing the correct wheels you will not only save your floor from damage but the crib will be easier to push around as well. Mattress still needs to be stored away when the crib is folded up
Travel Crib
The travel crib pictured above packs up neatly into the bag next to it. If you take your baby on holidays or often move your baby between houses then this is the baby crib for you.
Advantages
Lightweight
Quick to set up
Easy to carry
Can be carried onto a plane
Disadvantages
Not as sturdy as a regular crib
More prone to wear and tear
Not suitable for a permanent crib solution
Travel cribs are the lightest baby cribs available to buy. The focus on lightweight materials such as mesh and aluminum means that travel cribs are more prone to wear and tear than their sturdy wooden cousins.
This makes travel cribs unsuitable to be used in place of a permanent crib. Many travel cribs boast impressive setup times, with some taking as little as 15 seconds to put together.
Multipurpose crib
A multipurpose baby crib incorporates one or more other pieces of furniture into its design. The appeal of multipurpose baby cribs is that the cost of buying the two pieces of furniture separately.
Advantages
Eliminates the need for extra furniture
Quick to set up
Disadvantages
To keep the size down, features may be sacrificed
Larger in size than a regular crib
A baby changing table, dresser, or shelf storage are the most common pieces of furniture incorporated into a multipurpose crib. A crib with a changing table is the most common (and popular) multipurpose design.
In an effort to keep the crib from being too bulky, the joined piece of furniture will generally be smaller in size than if it was purchased separately.
Round baby crib
Round baby cribs are the most uncommon type of baby crib available. Most round cribs will come with a canopy, giving the crib a medieval appearance, similar to that of an old style bassinet (though larger).
Advantages
Unusual design
Option of a canopy
Disadvantages
Quickly outgrown
Expensive
Hard to find suitable accessories
Unusual look does not match modern décor
Due to their lack of popularity, round crib accessories such as mattresses and crib sheets are not only difficult to find but are also expensive compared to their standard counterparts.
Round cribs are generally smaller than rectangular cribs meaning that you may need to purchase a larger crib once it has been outgrown, an expensive option.
Related Post: Bassinets vs. Cribs
Eco Baby Crib
An eco crib can take the form of any of the cribs previously mentioned. Eco cribs, short for eco-friendly cribs, are made from ecologically sound materials and with manufacturing processes designed to minimize harm to the environment.
They are constructed with zero reliance on harmful chemicals or volatile organic compounds. Eco crib manufacturers will source materials renewable sources such as sustainable forest plantations. Some eco crib manufacturers even plant a tree for every baby crib purchased.
The best cribs on the market
With so many cribs available, you may be feeling a little confused. Let's take a look at some of the top cribs around and what makes them so great.
Hudson Wooden Baby Crib
Colors: 7 different options
Non-toxic finish
Convertible
Included conversion kit
Meets U.S. Safety Standards
If you have read my other guides then you would have been expecting to see this crib in the best baby crib list. There are just so many things that this crib does right.
Not only is it a great crib option for short moms but it also converts to a day bed or toddler bed. The Hudson baby crib is incredible value for money.
With five different color choices, this baby crib will match your nursery, regardless of décor. The more eco-conscious of you will be pleased to note that the pine wood timber used to make this baby crib is sourced from sustainable New Zealand pine plantations. In the box you will also find crib rail protectors to help cover the crib while your baby is teething.
The crib can be converted and used as a day bed as is, but included in the box is a conversion kit to turn the crib into a toddler bed. A welcome addition considering that most crib manufacturers force you to buy the toddler bed conversion kit separately.
While this crib comes disassembled, it is incredibly easy to put together. If you are confident with your hands then assembly should take no more than half an hour.
Best Portable Baby Crib
Jenny Lind Crib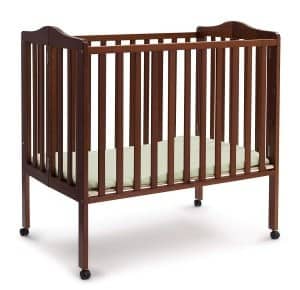 Colors: 5 different options
Non-toxic finish
Convertible
Portable
Meets U.S. Safety Standards
Coming in a close second is one of the most popular baby cribs around. The Jenny Lind, by DaVinci. With a striking vintage appearance and a light but sturdy frame, it is easy to see why this is one of the top baby cribs around.
This crib will ship in a box and require assembly. The good news is that it is very easy to assemble with some mothers claiming that they put it together in less than 10 minutes! While you will find wheels in the box, their use is entirely optional. This crib is just as functional being able to move around your room as it is left in a stationary position.
Besides the more common crib colors, the Jenny Lind is also available in Lagoon, a pastel blue, and Sunshine, a pale yellow. These unusual color options open up a world of possibilities when choosing color schemes for your baby's nursery. Let's talk price. You get a lot of crib for your money.
Even if you choose to buy the conversion kit separately, this baby crib is still considerably cheaper than the Hudson, which took our first place. If money is tight, then this is a fantastic baby crib solution. You can even purchase a matching baby change table to give your nursery a consistent look.
Best Sleigh Crib
Jayden Sleigh Crib
Colors:Expresso, Ebony, Slate, WhiteBrand: DaVinci
Non-toxic finish
Convertible 4-in-1
Study design
Meets U.S. Safety Standards
Many baby cribs have screw holes clearly visible on their front and can be somewhat of an eyesore. The Jayden's clever design hides the majority of the screw holes out of plain sight, allowing you to enjoy the unusual design without the eyesores.
While the crib is easy to assemble, you will find the exact number of screws required inside the box, no spares. This means that you will have to be careful not to lose any during assembly. The crib is made from solid pine wood and, like other wood cribs in this list, is made from sustainable New Zealand Pine.
The bed converts into a day bed, a toddler bed, and a twin bed (with the proper conversion kit, sold separately). The main appeal of this baby crib is its unusual design. Resembling a sleigh, the back of the crib is higher than the front. This style looks best when sitting flush against a wall.
What to look for when buying a brand new baby crib
New baby cribs adhere to the latest safety standards. Choosing to buy new will make choosing a safe baby crib a much simpler task. The safety of your child is the most important consideration.
Be sure to ask yourself the following questions when perusing the best cribs for babies, to ensure that you end up with the best baby crib for your baby.
What is your price range?
A crib is one of the most expensive baby essentials that you will buy. While the cheaper models run around a hundred bucks, premium cribs can run in excess of ten times that.
Before you start crib shopping it is important that you decide how much you want to spend on a baby crib. By figuring out the amount you are willing to spend, you will be less likely to waste your time looking at baby cribs that you simply cannot afford.
Remember: More expensive does not necessarily mean better. There is a great baby crib available to suit all budgets. You just need to shop around.
How much space is available for the crib?
The next most important step is to measure the area in which you plan to place your baby crib. The amount of space available will narrow down the variety of cribs you can choose from. If you have little space available then perhaps a fold up crib is your best option. If you have an abundance of space then you are fortunate enough to choose from any crib that falls into your price range.
Does the crib require assembly?
Your brand new baby crib will very likely come unassembled. By shipping your crib in pieces it allows the manufacturer to keep shipping costs down, further saving you money.
If you are in the later stages of pregnancy then there is little chance you will be able to assemble a crib on your own. You may need to call in a favor from friends and family to assist you with putting the crib together, particularly if you are not overly handy (I am quite uncoordinated and could not assemble my own baby's crib without help).
It is important that the crib is put together correctly. Not only does an incorrectly assembled crib pose a safety risk to your baby (you don't want it falling apart with your little baby asleep inside), but may also void your crib's warranty.
Before you piece together a baby crib the first thing you should do is count out all the crib pieces, even if the box was unopened. If you find pieces to be missing (such as screws), contact the manufacturer immediately.
Do you require adjustable mattress height?
Some cribs will come with the ability to raise or lower the height of your baby's crib mattress. Mattress support is important, especially in the case of adjustable mattress height. In the early stages of your baby's life, raising the mattress height will allow you to easily place your baby down to sleep.
As your baby learns to sit up or use his hands to pull himself up it's time to lower the height setting. This will help prevent your active baby from climbing or falling out of the crib.
What is the best mattress for baby cribs?
It all depends on your needs and the type of crib you have. We've created a guide to help you choose your best mattress option: Best Crib Mattresses: Expert Buyers Guide
Does the baby crib come with a teething rail?
When your baby stands up, you may notice that the crib rail sits right at your baby's mouth height. This is not a good thing.
Whether you like it or not, your baby is going to experience the joys (or lack of) teething. When your baby starts teething, you may find that your baby starts to gnaw on the wooden rail of your crib like a little beaver. Unfortunately, this can lead to a mouthful of wood, splinters, and paint. Definitely not things that you want inside your baby's mouth.
Fortunately, many manufacturers now fit baby cribs with teething rails, a covering that acts as a divider between your baby's mouth and the baby crib.
Another advantage is that teething rails also extend the life of your crib, a necessity if you plan on having more than one child and want to reuse the crib your baby is currently using. Don't worry if your crib doesn't come with a teething rail since crib rail covers can also be purchased separately.
Is the baby crib a standard size?
Cribs come in all different shapes and sizes. A standard crib frame measures 52 by 27.8 inches. If you are considering buying an irregular sized baby crib then you will also need to purchase an irregular-sized mattress. While an unusual-sized crib may seem like a great idea, the accessories will generally cost more than that of a standard crib.
It is best to buy a mattress at the same time that you buy a baby crib. This way you can ensure that the mattress fits snugly into the base of the crib. If you can fit two fingers between the mattress and the baby crib then your mattress is too small. Unfortunately, a thick crib sheet will not be enough to fill out the gap.
Does the crib match the rest of your house?
Take a look at the existing furniture in your house. You don't want your baby's crib clashing horribly with it. Fortunately, cribs come in all different materials, textures, and styles
The most commonly used materials in baby cribs include:
With so much choice you should easily be able to find a baby crib to match the décor of your home. Many parents match the color of the crib with other furniture such as a bookshelf or dresser. Many parents choose a baby crib that compliments the theme of their nursery
Be mindful that while some cribs are entirely made of wood, cheaper cribs may be a wood veneer. While the difference may not be immediately noticeable, wood veneer is much more prone to chipping when your baby is teething. Needless to say, you do not want pieces of veneer in your baby's mouth. Buy solid wooden cribs whenever possible.
Is it the crib you like or is it the display?
When shopping in a baby store you will find many amazing crib displays. Store workers are paid good money to set up eye-catching displays to lure in buyers. Shoppers are often disappointed to discover that the baby crib does not look nearly as good in their own home upon setting it up.
Move the baby crib away from the display, you may require help from a store person. By looking at the baby crib on it's own you will have a much better idea of how the crib looks without being distracted by the fancy display.
What to look for when buying a used baby crib
Buying a new baby crib can be a huge investment. If you are looking to save money, you may want to consider choosing a used baby crib. There are many different places to begin your search for a used baby crib. Some of the more popular locations include:
Craigslist
Thrift shops
Yard sales
The downside to buying a used baby crib is that you will be required to be much more diligent in ensuring you end up with a safe bed for your baby. Below are some things to look out for when looking around for a used baby crib.
Use your senses
While on the hunt for the perfect used baby crib you can help choose a safe baby crib by using all of your senses.
LOOK: Look for peeling paint, poor workmanship and other defects that may indicate that the crib is unsafe for your baby.
TOUCH: Run your hands over the slats and rail of the crib. Feel for splinters, that could irritate or puncture your baby's soft skin.
LISTEN: Give the crib a shake, listen for rattles and unusual sounds that may indicate the crib is unstable or has loose parts.
SMELL: Smell for mold and mildew that be hidden from plain view that can cause a respiratory infection in babies.
TASTE: … Just kidding. Don't lick used baby cribs, you don't know where they may have been.
While on the hunt for the perfect used baby crib you can help choose a safe baby crib by using all of your senses.
How old is the baby crib?
While old cribs have an antiquated charm to them it is highly unlikely that they will meet modern safety standards. Rule of thumb; the older a baby crib, the more unsafe it will be for your baby. Cribs made prior to 1978 may be coated in lead paint. While lead paint was considered perfectly safe to use back then, today it is recognized as a dangerous neurotoxin.
Has the crib been disassembled?
It is best to steer clear of a used baby crib that has been disassembled. Not only is it difficult to check the condition of the crib but pieces may also be missing.
Does the crib have drop down sides?
Drop down sides, also known as movable railings, were originally designed to allow for easier access to cribs for parents. Rather than bend over the crib from above, you could simply adjust the crib side so that one wall would slide down.
Unfortunately, this ease of access came at a cost. Between 2001 and 2010 cribs with drop down sides were linked to over 32 infant deaths. In 2011 the CPSC banned sales of all cribs with drop down sides. Cribs with drop down sides often turn up at yard sales. While it may seem like a great feature, it is in your baby's best interests that you walk away.
What is the distance between the slats?
The distance between slats should measure no more than 2 3/8 inches. While this is not so much of a problem in modern cribs, the distance can vary greatly in older models. The wider the distance between slats, the greater the chance of your baby getting a limb stuck.
If you don't have a measuring tape nearby simply try and squeeze a regular can of soda between the slats. If you cannot get the soda can through, then it is unlikely that the gap will trap your baby.
Are the cutouts in the cribs headboard or footboard?
Wooden headboards and footboards can have cutouts to make them look fancy. While the cutouts may make the crib more pleasing to the eye, they can also trap the arm of leg of a curious baby.
How high are the crib corner posts?
Corner posts that project higher than 1/16th of an inch pose a safety risk to your baby. Corner posts can easily catch onto your baby's clothing and can result in choking or injury. Prior to 1990 it was common for baby cribs to have decorative corner posts. When buying a used baby crib it is in your best interests to steer clear of these cribs. The exception to this rule is if the corner posts are over 16 inches high to support a canopy.
Has the baby crib been recalled?
Before purchasing a used baby crib, always check the CPSC Recall List. Whenever a baby crib recall occurs, whatever the product, it will appear on this list. You would think in this day and age that manufacturers would have their quality control sorted out. Unfortunately this simply isn't the case and a dangerous baby crib was recalled just recently. Why was it recalled? The CPSC states:
The vintage grey paint on the cribs, furniture, and accessories exceeds federal lead limits. If ingested, lead can cause adverse health effects.
Yikes! As you can see it definitely pays to keep an eye on this list when shopping for a baby crib. While stores will pull a crib from the shelves immediately following a recall announcement, you may still come across the cribs at thrift stores or yard sales.
Crib safety advice
Destroy unsafe baby cribs
​If your baby crib no longer meets safety standards then it should be destroyed in a way that it cannot be reassembled and used. This way you will prevent an unsafe baby crib from turning up at a yard sale or thrift store. By properly disposing of unsafe cribs you may have just saved another baby's life.
Follow the manufacturer's instruction
​Be sure to read and follow the manufacturer's instructions when setting up and using a baby crib. Failure to follow the directions may result in injury to your baby or void the crib's warranty.
​Choose a safe crib location
​While you can place a baby crib anywhere of your house, you don't want your crib near the following dangers:
Curtain or blind cords that can easily be grabbed by your baby
In direct sunlight
In a constant breeze
Radiators or heaters
Windows
Any furniture that can be used to climb out of the crib
Watch the cribs depth
Your little one will likely still be using a crib when it starts practicing walking and getting more adventurous. Your crib needs to be deep enough to prevent attempted jail breaks. Ensure that your crib is deep enough to prevent your baby from climbing up over the railing and falling out. Ensure no soft toys or toddler pillows are high enough to be used as a step and watch the mattress height.
Check the fit of the mattress
​The cribs mattress should fit snuggly against the walls of your baby's crib. If you use a loose fitting mattress your baby can easily get stuck between the edge of the mattress and the crib wall when wiggling around.
Fortunately you can see if the gap around the mattress is too big by simply using your fingers. Simply poke around the sides of the crib where the mattress meets the crib wall. If you cannot fit two fingers between the two then your baby will be unable to become trapped.
Don't set and forget
​Be sure to check your baby's crib for peeling paint, splinters, loose screws and other hazards regularly.
Extra resources
Below are a helpful collection of crib related resources.
​Make your own baby crib ​
If you love a DIY project and have advanced woodworking skills then you can make your own baby crib. Making your own baby crib from scratch can be a rewarding achievement that results in a custom baby crib just for your little one. Making your own baby crib is not necessarily a cheaper solution than buying a crib from the store.
Once you factor in your own time spent on the project, the costs of making your own baby crib can quickly add up. Be mindful that if you are making your own baby crib it is vital that the baby crib conforms to the safety standards set out by the CSPC.
If making a baby crib sounds like an idea you would love to pursue then check out this baby woodworking plan for inspiration.
And here is a video showing the steps a handy gentleman takes to make his own baby crib. The results are very impressive.
Refurbish a baby crib
Do you already have a crib and want to use it for a second baby? Did you buy a used crib that is a little bit scratched up? You can make an old crib look new with little more than a coat of paint.
Simply sand down your baby's crib to remove the old paint coating and follow up with a generous coating of paint. Whether you choose to stain or paint the baby crib, make sure the product you use is non-toxic and baby safe. Don't know where to start? You can check out this step by step refurbishing a baby crib
Phew…
I am all baby cribbed out. I hope you enjoyed reading my super detailed guide on baby cribs. If you have any questions, let me know below. See you next time and stay awesome!
-Jess
Related guides
Loved this guide? Check out our related guides below!
Baby Crib Guide – You are going to need a crib mattress to sit inside your baby crib.
Crib Sheet Guide – You are going to need a sheet to cover your crib mattress.
Enjoyed this guide? Share it! Sharing motivates me to continue writing these awesome guides!