Comfortable crib sheets are important. Uncomfortable crib sheets can be the difference between your baby sleeping through the night and waking up restless.
With so many different types and styles of sheets available it can be a difficult task to find the perfect crib sheet for your baby. Fortunately, I have done the hard work for you. By the time you have finished reading this guide, you will be an expert on baby crib sheets.
Use the links below to jump to your desired section of the guide or continue reading from top to bottom to learn everything you need to know about crib sheets.
Best crib sheets
Let's start by taking a closer look at some of the best crib sheets on the market. These crib sheets are loved by parents the world over and with good reason; they are good quality and frustration-free.
Best Cotton Crib Sheet
QuickZip Cotton Crib Sheets
Color: Blue, Ecru, Pink, Green, White
Brand: QuickZip
100% Cotton
Easy to change
Preshrunk cotton
Very soft and plush
What if I told you that you did not have to wrestle with your crib mattress each time you change your sheets? With the QuickZip crib sheets, changing the crib sheets just got much easier.

The system works by placing the mattress in the zipper base. You will only have to do this once. From then on, you simply unzip the top of the crib sheet from the base each and every time you need to change the sheets.

The QuickZip crib sheets come in a kit made up of a zipper base and a top sheet. Fortunately, you can buy the top sheet separately, allowing you to have spares sheets on hand in case of surprise diaper leaks.

While there are other "easy crib sheet" solutions, they use elastic ties or Velcro to secure the sheet. The problem with these securing methods is that a curious baby can easily detach them. A zipper is a much more baby proof approach.

The sheets are pre-shrunk. This means that no matter how many times you wash these sheets, they will not shrink any further.

These are possibly the best crib sheets ever. I honestly wish I had come across them sooner as they really do make your life so much easier.
Best polyester crib sheet
Polyester Fitted Crib Sheet
Color:Over 15 choices
Brand:American Baby Company
Many color options
Machine washable
Snug and secure fit
Very soft and plush
These polyester crib sheets by American Baby Company are so soft and cuddly. If they made them in a larger size I would buy this for my own bed. The surface is similar to that of a microfiber cloth but softer.

The material is thick and retains warmth, making these crib sheets suitable for the colder weather. I am happy to tell you that the sheets do not lose their softness, even after numerous washes. The polyester weave is really durable.

The elastic section is nine inches deep, meaning that it will easily fit over just about any crib mattress. However, if you have a thinner mattress, these sheets will sit a little loose, but not so loose that the sheets will slip off the mattress or pose a hazard to your baby.

Available in over 15 different colors and patterns, you will definitely be able to find a crib sheet to match your décor.
Best Flannel Crib sheet
Chevron Cotton Flannel Crib Sheet
Color:9 options
Brand:Trend
100% Cotton
Great solution or winter
Durable
Machine washable
These were clearly my favorite flannel crib sheets. 100% cotton flannel at a price comparable to polyester flannel made these crib sheets stand out immediately.

The crib sheets are soft to touch and not overly coarse like other flannel crib sheets can be. As you would expect from flannel, this crib sheet will keep your baby toasty and warm through the cooler months.

I was pleased to notice that the print did not run in the wash, a common problem with cheaper crib sheets that feature primary colors on a white background. The sheets seemed durable, but it is too early for me to comment on them as I have only washed them six times.

It is worth mentioning that Trend seems to use different manufacturers for different styles of crib sheets. Unfortunately, this has lead to inconsistent quality across their range. While these zig-zag patterned cotton flannel sheets were amazing, the same style of a sheet in Dr. Seuss print could only be described as average at best.
Best velour crib sheet
Velour microfiber fitted crib sheet
Color:4 options
Brand:Uaugh
Reinforced corners
Machine washable
100% Polyester
Smooth and soft
This velour crib sheet is every bit as soft and luxurious as you would expect it to be.

Perhaps the softest crib sheets available, these sheets make a great solution for babies who get skin irritation from coarser fabrics.

Many mothers report that their baby slept better on a velour crib mattress, happily nuzzling and stroking the soft fabric for comfort. If you have a velour blanket that your baby absolutely adores then these crib sheets are must buy.

Velour crib sheets are also suitable for colder temperatures, helping to keep your baby warm and comfortable through the night.
Best organic crib sheet
Organic Crib Sheet
Color:Nine different choices
Brand:Magnolia Organics
100% Organic cotton
Certified Organic
Eco-friendly dyes
Thick and comfortable
Up until recently, when I discovered the QuickZip sheets, these were my go-to summer sheets for my baby's crib. Thick and long-lasting. I have had these crib sheets on high rotation for over a year and they are still going strong.
The material is heavy and thick, giving a lovely premium feel to the sheets. If you compare the sheets to a cheaper cotton crib sheet you will immediately notice the difference, these sheets are the real deal.

The eco-conscious among you will be pleased to note that these sheets are certified to the Global Organic Textile Standard (GOTS).

My only gripe is that the washing instructions state that you should hang dry the sheets for the good of the environment. This is somewhat confusing as it doesn't state that you can't tumble dry the sheets. I tumble dry the sheets on a low heat and have had no problems.

While these crib sheets are more expensive than the rest, you definitely get what you pay for.
Crib Sheets FAQ
Below I will answer some commonly asked questions about crib sheets. If you have a question, ask in the comments section below this article and it will be added to this section to help others.
What are crib sheets
Crib sheets are just like the sheets that you use on your own bed but area much smaller size so as to fit your baby's mattress
How many sets of crib sheets will I need?
Ideally, you will want a minimum of two crib sheets. This way you will always have a spare ready to go if one is in the wash. I personally have three sets on rotation, just in case I cannot wash one before the next diaper leak.
The different types of crib sheets
There are many different types of crib sheets available. Here is where it gets tricky, different crib sheets can be made from the same material, sewn in a different weave.
Below I will examine some of the most common types of crib sheets available and explore the pros and cons of each.
Cotton Crib Sheets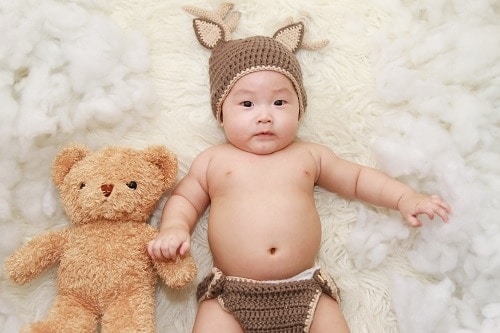 Pure cotton is a breathable fabric. This allows air to circulate around your baby, keeping him cool in the warmer months. Despite feeling cool to touch on warm days, cotton sheets can still be used in the cooler weather.
Pure cotton is hypoallergenic. If your baby is prone to allergies or skin irritations then cotton crib sheets are a suitable choice.
Cotton does not pile or easily attract lint and is incredibly easy to wash, making maintenance a very simple task.
One of the main disadvantages of cotton crib sheets is that they wrinkle easily. If you do not want to iron your crib sheets then these wrinkles will gradually disappear through use.
Cotton crib sheets may be a little coarse when first purchased, this is particularly true of cotton sheets with a higher thread count. After a few washes, the sheets will begin to soften up.
Muslin is a variety of cotton fabric commonly used in cheaper (and sometimes more expensive) crib sheets. While muslin comes in different grades, it is generally inferior to a regular cotton weave.
If you don't like the idea of your baby sleeping on harsh chemicals then many company's offer crib sheets made from organic cotton.
Advantages:
Suitable for warmer temperatures
Durable
Easy to clean
Commonly available
Does not pill
Organic cotton is hypoallergenic
Disadvantages:
Wrinkles easily
Can be more expensive than other crib sheets
Cheaper cotton sheets may shrink in the wash
Polyester Crib Sheets
When people hear the word polyester sheets they immediately think of poor quality crib sheets. While this was once true, advancements in the textile industry mean that polyester can be woven in a number of different ways.
Did you know that both satin crib sheets and microfiber crib sheets are made from 100% polyester? Both of these weaves are incredibly comfortable and durable.
Polyester is an inexpensive material to manufacture. As a result, crib sheets made from polyester will be much cheaper to buy than the cotton variety.
The main appeal of polyester is that it is a flexible fiber. This quality means that crib sheets containing polyester are tear-resistant.
Polyester breathes less than cotton. Crib sheets made from polyester are generally warm to the touch and stay warm, having a tendency to stick to skin that is perspiring. This makes polyester crib sheets a suitable choice for cold weather.
The quality of polyester sheets will vary hugely from brand to brand. To avoid disappointment when buying polyester crib sheets, be sure to read reviews and compare similar products before making a decision.
Advantages:
Cheap to buy
Tear resistant
Available in a range of different textures
Less prone to shrinking in the wash
Disadvantages:
Wrinkles easily
Inconsistent quality from brand to brand
Susceptible to pilling
Flannel Crib Sheets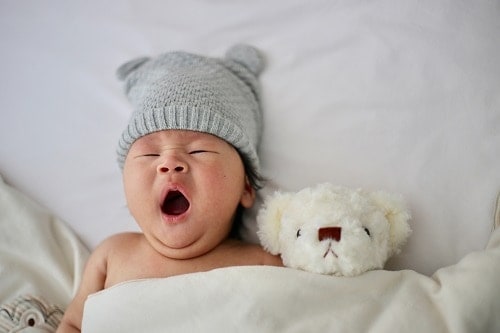 Flannel crib sheets are perfect for colder weather. Trapping heat and making your baby feel toasty and warm, your little one with sleep comfortably through the cold nights.
The material used to make flannel sheets varies from brand to brand and may consist of cotton, wool, synthetic fiber or a mixture of any two.
The weave of flannel sheets has a raised surface known as a nap. This raised surface makes the crib sheets feel soft and fuzzy.
Flannel crib sheets buck the trend of using thread. Sheets are graded by ounces per yard. High-quality flannel crib sheets will have a fabric rating of five or six ounces per yard.
Advantages:
Retains warmth
Lightweight
Available in a range of different textures
Less prone to shrinking in the wash
Disadvantages:
Low-quality flannel crib sheets are prone to excessive pilling
Coarser than other crib sheets
Susceptible to pilling
Not suitable for warmer weather
Alternate Natural Fiber Crib Sheets
Cotton is the natural fiber most suited for crib sheets. In an effort to appeal to eco-conscious parents, many companies have started offering alternative natural fiber crib sheets.
These crib sheets can be made from any natural substance that isn't cotton. Bamboo is currently one of the most popular alternate natural fiber used since it is easily farmed from plantations with minimal impact on the environment.
While these crib sheets may be environmentally friendly, the positives stop there. Most alternate fiber crib sheets are not only coarse but stretch or wear relatively quickly.
If you are looking for natural crib sheets for your baby then stick to crib sheets made from organic cotton.
Advantages:
Natural
Environmentally friendly
Often hypoallergenic
Disadvantages:
Poor durability
Coarser than other crib sheets
Susceptible to pilling
What to look for when buying crib sheets
Avoid crib bedding sets
Crib sheets can be bought as a set that includes bumper pads, comforters and crib decorations for one cheap price. While these bedding sets may seem like a great deal, in an effort to keep costs down, the manufacturer will often use lower quality materials on all products contained within the set.
If quality and durability is your primary concern, then the best way to purchase crib sheets is separate from a bedding set.
What is the thread count of the crib sheets?
Thread count refers to the amount of thread used in one square inch of the crib sheets fabric. The higher the thread count, the silkier and heavier the crib sheets will feel.
Below is a simple guide to help get your head around thread count.
Good: 200
Better: 300
Best: 400+
Crib sheets with a thread count of less than 200 should be avoided.
What weave is used in the crib sheets
The weave refers to how the individual threads are sewn together to form a crib sheet.
There are many different ways threads are weaved into the fabric of crib sheets, each with varying levels of durability and softness. The two most common types of weaves are:
Standard weave: The threads that make up the crib sheet follow one stitch over, one stitch under pattern, repeating for the entire sheet. A durable and long-lasting weave.
Sateen Weave: Sateen weave crib sheets feature a four stitch over, one stitch under pattern. This weave has a softer, silkier quality. The downside to this weave is that it is less durable than the standard weave.
Fitted vs non-fitted crib sheets
A fitted crib sheet contains elastic, making it incredibly easy to secure to the corners of your crib mattress. A non-fitted crib sheet is essentially a regular sheet like what you would sleep under on your own bed.
While becoming increasingly uncommon, it is still possible to buy non-fitted crib sheets. Non-fitted crib sheets hold no advantage over fitted crib sheets and pose additional hazards such as becoming loose and entrapping your baby. Stick to fitted crib sheets.
How thick is your crib mattress
Portable crib mattresses (also known as a mini crib mattress) need a thinner crib sheet than a standard crib mattress. If you were to use a regular crib sheet, it would sit loose and bunch up.
Fortunately, there are purpose made crib sheets designed to snuggly fit a portable crib mattress, you just need to hunt around.
Are the crib sheets temperature appropriate?
When comparing crib sheets, take the current temperature into consideration. Crib sheets play a major role in determining whether your baby is too hot, too cold or just right.
Cotton crib sheets are great for hotter weather, allowing air to circulate around your baby's body, assisting in keeping your little one cool. Flannel sheets on the other hand trap body heat, providing a comfortable warming feeling in the colder weather.
Do the crib sheets match your décor?
Many parents have a running theme across their nursery, matching similar colors and themes across the painted walls, carpet, pillows and more. Choosing matching colored crib sheets can do wonders to complement your nursery's theme.
Crib sheet care and maintenance
Below is some advice to easily care for your new crib sheets.
Wash brand new crib sheets
It is important that you wash brand new crib sheets prior to fitting them to your baby's mattress. Washing new crib sheets will remove excess dye and other materials left over from the manufacturing process. You do not want your baby breathing in these manufacturing products as he sleeps.
Wash crib sheets if your baby is sick
It is recommended that you wash your baby's crib sheets if he has been sick. A thorough wash is the best way to remove all the germs from your baby's sickness trapped in the crib sheet.
General maintenance
Always follow the washing and drying instructions set out on your crib sheets. These instructions will vary from brand to brand. Failure to follow these instructions may result in damage to your crib sheets.
Below is a general guide to washing crib sheets.
Wash once a week
Unless you change them sooner, due to diaper leaks, it is a good idea to wash the crib sheets once a week to remove build ups of dirt and dust. Be sure to use warm or cold water rather than hot, which can result in excessive shrinking of your crib sheets.
Opt for tumble drying
Tumble dry your crib sheets as per the label instructions. Removing the crib sheets from the dryer just before they are fully dry will help minimize wrinkles. Always make sure that the sheets are fully dry before storing them.
Store in dry places
Store spare crib sheets in a closet or drawer. Avoid storing crib sheets in containers that can trap moisture, resulting in the growth of mold and mildew.
Replace at the first signs of wear and tear
Despite your best efforts, frequent washing will eventually break down even the highest quality crib sheets. Crib sheets will need to be replaced when you see obvious signs of aging such as frayed hems or faded patterns. You don't want your baby chewing on fibers from frayed sections of the crib sheets.
I couldn't wrap up this guide without showing you how to fold fitted crib sheets or showing off some lovely guides on how to make your own.
How to fold a fitted crib sheet
Unless you have prior experience, fitted crib sheets can be difficult to fold. Crib sheets that are not folded correctly can take up a lot of closet space, a precious resource in many apartments.
The video below explains how to quickly and simply fold up your crib sheets.
The best part is that you can use the same method to fold up the larger fitted sheets on your own bed.
How to make your own crib sheet
Whether you are feeling frugal or just plain crafty, you have the option of making your own crib sheets. The advantages of making your own crib sheets are that you have infinite design possibilities since you can use whatever material you fancy.
Below are some amazing tutorials to make your own unique crib sheets.
Gorgeous crib sheets -A detailed guide on making a crib sheet with lovely pictures.
Simple DIY crib sheets -How to make quick and simple crib sheets
Adjustable crib skirt -Make your own crib skirt to match your homemade crib sheets
If you are not very crafty or uncoordinated like me then don't despair. A store-bought crib rail cover is an inexpensive and effective solution that works, straight out of the box.