There are a couple of different choices you can make when it comes to what you want your baby to sleep in. It all depends on your parenting style and how close you want to be to your baby while they sleep.
You may also want to get something different for when they sleep at night and when they nap during the day.
Check out all of the different baby sleeping types to pick the best for you and your baby.
Crib
The most popular sleeping option by far. A crib is essentially a small bed for babies and very young children.
Most cribs will feature a cage-like design through the use of wooden slats. These slats will contain your baby for the duration of the use of the crib.
A crib will suit your baby until it is time to move into a real bed. Having to upgrade less often is one reason why baby cribs are a popular sleeping option.
The popularity of the crib means that there are many different bedding accessories available to choose from. This allows you to easily give your baby's curb a look that will match the rest of the house.
There are many different types of cribs to choose from, so you are guaranteed to find one to suit your taste.
PROS
Less need to upgrade.
Many styles and shapes.
Easy to find accessories.
CONS
Less portable than other options.
Most expensive option.
Larger size than other options.
Co-sleeper
Co-sleeper is also known as a co-sleeping bassinet or a bedside sleeper.
Regardless of the name, the look and function are the same. A baby bed that attaches to the side of an adult's bed. A co-sleeper is a great option for parents who wish to sleep as close as possible to their baby without sharing the same bed.
A co-sleeper resembles a crib with one of the sides taken off. The open side will sit flush against your own bed. The mattress of the co-sleeper will site level with your bed, allowing you to easily reach your baby when it wakes.
Co-sleepers have the benefit of you sleeping next to your baby without the fear of rolling over onto your little one.
PROS
Your baby is right next to you.
Your baby is safe in its own space.
You will not have to travel far for middle of the night feedings.
Takes up less space than a crib.
CONS
Limited bedding accessories.
Cannot be easily moved room to room.
Quickly outgrown.
Baby Hammock
A baby hammock, like a regular hammock, suspends your baby off the ground while it sleeps. They offer a slowly swaying environment that can help soothe your baby to sleep in a similar way to when it was in the womb
A baby hammock is designed to evenly distribute your baby's weight. This places less stress on muscles and joints, minimizing the risk of 'flat head syndrome'
A properly designed baby hammock will keep your baby on its back while it sleeps. This can prevent the onset of colic and is the safest sleeping position for babies.
Baby hammock designs can vary wildly but in general, will resemble a simple sling and hang from a metal frame.
Want to know more about baby hammocks? Click here for more information
PROS
Sways to your baby's movements.
Portable.
Minimizes risk of 'flat head syndrome'.
CONS
Quickly outgrown.
Expensive.
Bassinet
A bassinet is designed accommodate you baby for the first few months of its life. By far the coziest sleeping option, A bassinet will generally have just enough room for your baby.
A bassinet will come with a support to set it off the ground. Bassinets can also come with rocking legs that can be used to sway back and forth. A rocking bassinet is often called a cradle.
A bassinet is a smaller size than a crib and as a result is much easier to move around your house. Many bassinets will come with wheels to make moving location even easier.
The small size 'cocoons' your baby. Many babies find this comforting and may even help them fall asleep quicker.
PROS
Your baby sits cozy and secure.
Small in size.
Easy to move around the house.
CONS
Quickly outgrown.
Limited style options.
Moses Basket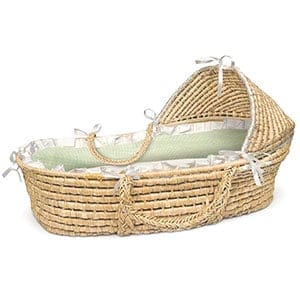 A Moses basket gets its name from the story of Moses. Baby Moses was floated down the Nile in a wicker basket. Moses baskets can be a cozy sleeping option for your newborn baby for the first few months of its life.
A Moses basket is essentially your standard basket. They are mostly made from woven palm although you can also find Moses baskets made from maize or wicker. The wicker Moses baskets are the best in terms of build quality but are also the most expensive.
As you would expect from a basket, the handle and lightweight makes for easy transportation from room to room. Moses baskets can be rested on the floor or you can buy a separate stand so that it can sit at a more comfortable height.
Moses baskets will usually come with all the bedding included. As bedding is designed to fit each individual Moses basket, finding replacements can prove difficult.
PROS
Light and easy to store.
Baby feels snug.
Very Portable.
Cheap.
CONS
Quickly outgrown.
Non-essential, performs same function as a crib.
Difficult to buy replacement bedding.
Featured Image Source: Pixabay