As your toddler continues to grow there will come a time when your little one will need a pillow to remain comfortable throughout the night. Toddler pillows, also known as infant pillows were designed for the sole purpose of providing your baby with a comfortable nights sleep.
This buyers guide will provide you with everything you need to know about toddler pillows. Use the links below to jump to the appropriate section or read the guide through from start to finish, it's all great information!
Why you shouldn't give your toddler a regular pillow
If you have not heard of toddler pillows before then you may be wondering why a toddler can't simply sleep on a regular pillow.
A regular pillow is designed to provide support to the adults head and neck. A toddler does not have the same proportions as an adult and resting on a regular pillow will place unnecessary strain on the neck and shoulders. Continuous strain may lead discomfort and sleepless nights or worse, poor posture.
Toddler pillows are designed around your baby's proportions, allowing for a comfortable sleep while providing your little ones developing body with appropriate support.
When to introduce your toddler to a pillow
There is much debate as to when a toddler should start using a pillow. Many "experts" agree that the right time to give your toddler a pillow is when you transition your little one from the crib to a bed, around the age of 18 – 24 months.
The answer you will get from parents, however, will differ vastly. Many parents report that they introduced pillows well before this age without problems. As every baby develops and behaves differently, there doesn't appear to be a universal "right" time to introduce your baby to a pillow.
Ultimately as the parent, it is your decision as to when your little one is ready to use a pillow. If you watch your toddler closely then you may notice him giving you clues that he is ready to make the jump to sleeping with a pillow. Clues include:
Failure to sleep without the head being propped up
Restless at night due to being uncomfortable
Resting the head on a blanket or stuffed animal
Laying head on a pillow on the couch or in your bed
Another indicator is to look at your baby's shoulders. Once they are wider than his head then your little one will usually be more comfortable sleeping on a pillow than a flat mattress.
The purpose of giving your toddler a pillow to sleep on is to make him more comfortable. If your toddler is sleeping just fine without a pillow then simply look out for the above clues and continue your little ones sleeping routine as normal.
Choosing the best pillow for your toddler
If you are trying to find the best pillow for your toddler then you will need to take the following points into consideration.
Know your toddlers allergies
Let's say that your child is allergic to wool. It goes without saying that you would not buy your toddler a wool pillow, which would only aggravate his allergy. By being aware of what your little one is and isn't allergic to will help you narrow down the perfect toddler pillow.
Satisfaction guarantee
Many toddler pillows offer a satisfaction guarantee. Some are as low as 90 days while others offer a guarantee period of three years. A guarantee will vary from brand to brand but it will generally cover poor workmanship, torn seams or loss of shape.
A longer guarantee may indicate a better quality toddler as the company is willing to stand behind it's product. The top three toddler pillows in our review below all have a guarantee of varying length.
Firm vs soft
You will need to strike up a delicate balance between comfort and support. If you press down on a pillow and it does not regain its shape then the pillow is too soft and is unsafe for your toddler to use as it poses a suffocation risk.
On the flip side if you press down on the pillow and it doesn't move at all then the pillow may be to hard to provide comfort. While the majority of toddler pillows have been designed to provide optimal support, it is still something to take into consideration.
Pillow cover material
The outer part of the toddler pillow is generally made from cotton. Be mindful that when choosing a pillow that cotton can be regular or organic. Organic cotton lacks the harmful toxins, bleaches and dyes that ordinarily go along with the cotton manufacturing process. Needless to say, you don't want your baby breathing in these industrial materials while sleeping. Organic toddler pillows will always be clearly marked. If you cannot figure out if a toddler pillow is organic or not then it is better to use caution and assume that the pillow isn't.
Common toddler pillow cover materials include:
Cotton
Cotton polyester blend
Synthetic fiber
Thread count
If you have ever purchased new bedding then you may have come across the term "thread count". Thread count refers to the number of threads per square inch of fabric. The higher the thread count, the silkier and more durable the pillow will feel. Toddler pillows with a high thread count are less scratchy and more comfortable than those with a lower thread count.
Pillow fill material
Beneath the pillow case hides the material that keeps your child's head supported and comfortable. There are many different materials that can be used to fill toddler pillows. From foam to buckwheat there is a huge variety to choose from. The most common fill materials include:
Down
Feathers
Synthetic fill
Foam or memory foam
The above materials are the most common because they allow for the pillow itself to be easily cleaned. Be mindful when selecting a pillow that the fill doesn't make too much noise as it moves around inside the pillow. Materials like buckwheat and certain synthetic fills can make a loud, crinkling noise when the weight of your toddlers head is shifted. The crinkling noise may result in your toddler being awoken from his slumber, not a desired outcome for any parent.
Hypoallergenic
Is your toddler sensitive to microbes, dust, dust miters, mould and more? Hypoallergenic pillows are made from materials that will help reduce allergic reactions. Many organic toddler pillows are naturally hypoallergenic. If your pillow is not organic then it will be clearly marked as to whether it is hypoallergenic or not.
Washing instructions
If there is one thing toddlers excel at it's making a mess. Whether the pillow gets dirty from sticky fingers or the drool monster that your toddler turns into at night, one thing is certain, you are eventually going to need to wash that pillow.
Toddler pillows will deal with your young ones grime in one of two ways.
Machine washable: Simply throw the pillow in your washing machine for a full cycle. Your toddler pillow will emerge clean s the day you bought it
Pillow case: The toddler pillow will have a removable cover that protects the pillow inside. The cover itself is machine washable while the pillow generally is not.
The best toddler pillows
Lets review the top toddler pillows available to buy and what makes them so great.
Best all round toddler pillow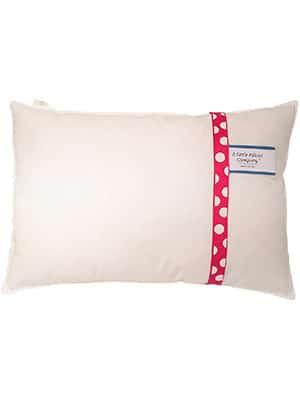 Supportive Toddler Pillow
Style: As pictured
Brand:A Little Pillow Company
Hand made.
Hypo-allergenic.
Uses certified organic cotton.
Made in USA.
Price & Reviews
There is a reason why this toddler pillow appears at the top of my best of list. For the price, it is leaps and bounds ahead of the competition. A great product with great customer service. A definite winner in my book.
If you are not impressed by the pillow then you will definitely be sold on the customer service. Little Pillow Company go the extra mile to ensure you are happy with your purchase. If the toddler pillow is not suitable for your little one, you can return it after 3 months for a full refund. With guarantees like this, it's easy to see why American companies rock. Oh yeah, this toddler pillow is made right here in the USA.
A hypoallergenic fill washes extremely well and is encased in a 100% certified organic cotton cover. Don't like chemicals? Neither do I. I am pleased to to report that this toddler pillow has not been treated with chemicals during any part of manufacture.
This toddler pillow is not only thin but also supportive. This allows your little one to sleep in his favorite position (tummy, back or side) while remaining comfortable.
The pillow is easy to clean, simply throw it through a wash and dry cycle and you are set. A simple fluff after washing and your pillow will be good as new. No lumps!
If you do not want to spend a fortune on a toddler pillow but still want the best, then you should look no further. Soft, breathable and durable. This pillow ticks all the boxes at an affordable price (be sure to use the discount code above to make this pillow even better value for money).
Stefany Says:
The customer service is OUTSTANDING! They go the extra mile every time and they made me feel like a real valued customer. I usually don't write reviews, but I took the time to write this one because it feels so refreshing to find such a fantastic product backed by stellar customer service.
Best premium toddler pillow
Organic Cover Toddler Pillow
Style: As pictured
Brand: Calla Creative.
3 year guarantee.
Hypo-allergenic.
Cotton.
Made in USA.
Price & Reviews
Want 10% off this premium toddler pillow?
Use this coupon when buying through the above link: THHKFX9D
The Rolls Royce of organic toddler pillows. While this is one of the more expensive toddler pillows on the market there is no doubt that you are getting your moneys worth.
Each Calla Creative pillow is hand made and individually inspected for quality. Calla Creative stands behind it's pillow offering a three year guarantee that it wont lose its bounce and will hold up to many years of washing. If you are a parent who loves quality made and durable products then this is definitely the toddler pillow for you.
The surface of the pillow is cotton sateen, providing a softer more comfortable feel. Perhaps even more important, if your toddler is easily woken by noise in the night, the surface of the pillow is quiet to the touch, even without a pillow case.
Disadvantages: The cost of this toddler pillow may scare potential buyers away.
Edit: If you are looking for a similar toddler pillow without the cost then why not try this organic toddler pillow by HKH Family. I bought this pillow a week ago and am currently incredibly happy with it. I will update as time progresses but at the moment it seems to be really good quality for the price.
Lindsey says says:
This pillow is awesome! So much nicer than what I've found in stores. I love that it is hypo-allergenic and made with US grown organic cotton. My kiddos love it!
Most popular toddler pillow
Hypoallergenic Toddler Pillow
Style: As pictured
Brand: Little Sleepy Head
90 day guarantee.
Hypo Allergenic.
200 Thread Count.
Made in USA.
Price & Reviews
Little sleepy head offers a 90 day "love it or your money back" no questions asked guarantee. The polyester fill is covered by a 200 thread count cotton fabric.
Another pillow that is made on U.S. soil, this pillow has been designed to support your toddlers neck, no matter what his sleeping style.
One thing that is worth mentioning; If your toddler has sensitive skin then you may need to purchase a pillow case for this pillow as many parents have reported that the surface of this pillow is "scratchy".
Disadvantages: May require the purchase of a separate pillow case
Sue says:
Our daughter loves the pillow. Now that she has her pillow, I think she finally feels like a big girl. Great product, great quality. Would buy again.
Best medically supported toddle pillow
Chiropractor Recommended Toddler Pillow
Style: As pictured
Brand: Dreamtown Kids
Prevents neck kinks.
Hypo Allergenic.
Pillow case included.
Made in USA.
Price & Reviews
The only toddler pillow on the list that is not only made in the USA but also recommended by chiropractors. The Dreamtown Kids toddler pillow contains less filling than most other varieties in an effort to prevent neck kinks and, by association, visits to the chiropractor later in life.
A lovely feature of this particular toddler pillow is that it includes a free pillow case. The addition of a pillow case not only means that it fits the pillow perfectly but as a bonus, you will not have to pay an additional cost to purchase one separately.
This pillow comes with a six month satisfaction guarantee. If the toddler pillow is defective or does not meet your needs, Dreamtown kids will either refund or replace your pillow at no extra cost.
Disadvantages: A low thread count means that this is not the softest toddler pillow available
Kendra Says:
I highly recommend this pillow. I have found most pillows are too thick for my toddler and lift his head too high. This pillow is thinner and my son loves it. He's had more restfull nights with less wakings since this pillow arrived.
Best memory foam toddler pillow
Memory Foam Toddler Pillow
Style: As pictured
Brand: Clevamama
Protects the head.
Posture correcting
Flat style.
Soft.
Price & Reviews
Unlike other pillows the filling of the Clevamama Toddler Pillow is a single block of memory foam. Memory foam not only supports your toddlers head but also conforms to it's shape, providing an individual sleeping surface unique to your child.
The use of foam means that the toddler pillow is thinner than regular "stuffing" type pillows while still providing adequate support.
Disadvantages: When new, the pillow can give off an unusual plastic smell that needs to be aired out. No mention is made of this product being hypoallergenic.
Natasha says:
Excellent if you are looking for a small, super flat pillow. My 18 month old likes it, and uses it at night. I'm going to get the bigger one for my 3 year old. The cover is well made and we had had no issues with this pillow.
Cutest toddler pillow
Animal Themed Toddler Pillow
Style: Many different animals available
Brand: Angel Dear
Removable cover.
Machine washable.
Doubles as play toy.
Soft.
Price & Reviews
Rounding out our list of best toddler pillows comes the adorable pillow from Angel Dear. Available in over 20 different animal styles, this toddler pillow is bound to bring a smile to your child's face.
Because of it's fun shape, your toddler may want to use this pillow as a play toy. Fortunately the cover can easily be removed, held in place by velcro, and thrown in the washing machine once it gets dirty.
Disadvantages: Velcro can scratch your toddler. No mention of the pillow being hypoallergenic.
Jan says:
My daughter just turned 3 and she has been so attached to it since I introduced "Raffy" to her when she was only 8 months old. She can't sleep without it and whenever she gets hurt or reprimanded she calls out for "Raffy!"

We ended up sewing the velcro opening shut because it did become a problem. The velcro used to scratch her face when she lies on it. Other than that, I have no other complaints about it. I highly recommend it!
Do toddler pillows need a pillow case?
I am now going to elaborate on pillow cases that were very briefly touched on in an earlier section. Despite many toddler pillows being machine washable, many parents choose to use a pillow case, also known as a nursery pillowcase.
The advantages of using a pillow case on a toddler pillow include:
Pillow cases dry faster than pillows.
If you have a spare pillowcase your toddler can sleep on the pillow immediately rather than waiting for the pillow or pillow case to be washed.
The extra layer can prevent odors from penetrating the inside of the pillow.
If the pillows surface is an uncomfortable texture, you can use a soft pillow case to prevent irritation to your toddler.
So you have decided that you will be using a pillow case? When looking to buy a pillow case for your toddler pillow you will want one with as many of the following features as possible:
Organic cotton
High thread count
Machine washable
Hypoallergenic
Nicelt fits pillow
If the majority of that list looked familiar to you then that is because they are similar qualities that you are looking for in the toddler pillow itself.
As toddler pillows come in a variety of shapes and sizes it is important that you choose a pillowcase size that is similar to that of the pillow. A pillow case that is too small wont fit over the pillow while one that is too large will flap around and irritate your toddler.
Toddler Pillowcase
Style: As pictured

Premium cotton.
400 thread count.
Easy to clean.
Lightweight.
Made in USA.
Price & Reviews
Pillow Maintenance
A toddler pillow requires some maintenance to ensure it remains comfortable and hygienic for your toddler. Lets take a look at how you can clean and alter your toddler pillow.
What do do if your toddler pillow is too thick
There is nothing worse than buying a toddler pillow only to discover it is too thick for your child to comfortably rest upon. Continual use of a toddler pillow that is too thick can lead to neck pain in toddlers. Fortunately, you do not need to throw the toddler pillow in the trash and buy a new one. Simply use the following simple trick to make your bulky toddler pillow the perfect size for your child.
Using small scissors, carefully undo the stitching along the vertical side of your overly thick toddler pillow.
Remove a small amount of the pillows filling. Check to see if the size is more appropriate for your toddler
Continue to remove small amounts of stuffing until the perfect thickness has been reached.
Resew the pillow up and present your toddler with his new super comfortable pillow.
Pretty simple stuff, right? If you are no good with sewing then you can simply take the pillow to your local tailor. They will be happy to sew the toddler pillow back up for small fee.
Washing your toddler pillow
When purchasing a new toddler pillow pay particular attention to the care label. By following these instructions you will ensure that your pillow lasts as long as possible.
General pillow washing guidelines involve using a mild, liquid detergent as powder can leave a residue on your toddlers pillow (You don't want your toddler breathing in soap powder while he sleeps). Be sure to run the pillows twice through the rinse cycle, without detergent, to ensure any remaining traces of cleaning product have been removed.
If using a dryer, be sure to use air or low heat until the pillow is completely dry. Steer clear from using high heat as this can cause the inside of the pillowcase to clump together.
When to replace your toddler pillow
If your toddler pillow does not come with a guarantee then the pillow may need to be replaced before your toddler has outgrown it.
Signs that it is time to replace your toddler pillow include:
The filling clumps together.
The Pillow constantly needs to be fluffed for support.
If you fold the pillow in half it does not return to its original shape.
If your toddler pillow has any of the above qualities then it may be time to buy a replacement. Failure to replace an unsupportive toddler pillow can result in broken sleep, neck discomfort and muscle sniffles in your child.
Parents can use toddler pillows too
Once your toddler has outgrown his pillow there is no need to throw it out. While a toddler pillow will never suffice as a pregnancy pillow they are the perfect size to use as a travel pillow for a full grown adult. Keep this in mind next time you have that long car ride ahead of you and are looking to get comfortable.
The Wrap up
As you can see, there are a lot of different thing you will need to take into consideration should you choose to buy your child a toddler pillow. What does your toddler child use for head support while sleeping? Let me know below.
Enjoyed this guide? Let your friends know about the best guide on toddler pillows by using the share buttons below!