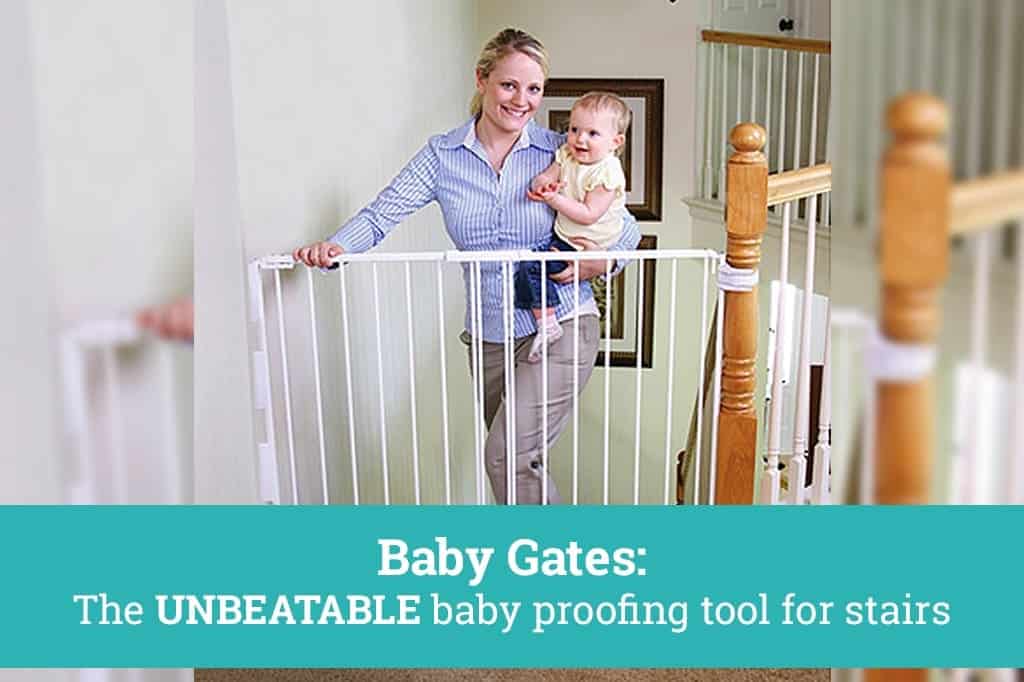 It can be surprisingly difficult to locate the perfect baby gate for stairs in your house. This is largely due to every house being different and don't get me started on those houses that aren't quite up to code (shhhh!).
Because I get bombarded with questions each week from parents trying to track down the best baby gate for a particular area of their house I decided to make the ultimate guide to help 99.9% of you choose your ideal baby gate. Okay, so what is it you are trying to baby proof?
Click the links below the pictures to jump directly to the right section for you.
Comparison Table
Two things you need to do before buying a baby gate
Before you rush out and buy any old baby gate there are two very important things you need to take into consideration and they both involve measuring.
1. What distance does your baby gate need to cover?
The first thing you will need to do is measure the area you are going to section off with a baby gate. Be as accurate as possible as there is nothing worse than taking a baby gate home only to find it is to short to perform its purpose.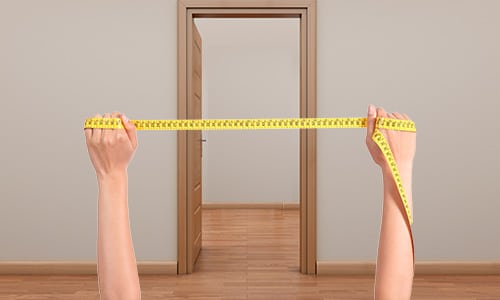 2. How tall is your baby?
While you are measuring your home, quickly measure your baby too. When choosing a baby gate it should be at least three-quarters of your little one's height. Even the most adventurous of babies should be unable to pull himself over a baby gate of this height.
Be mindful that once your baby grows taller than 36 inches or heavier than 30 pounds, you should no longer be relying on a safety gate to restrain him. This height and weight is usually reached around the two year old mark. If your baby is large for his age, do not worry. There are extra tall baby gates available to ensure the safety of your little one.
Pressure mounted baby gates
Pressure mounted baby gates are the most commonly available baby gates. They work similar to a tension shower curtain rod and are held in place by pressure.
Sounds super easy to install!
You are correct, the main appeal of pressure-mounted baby gates is the ease in which they can be set up. You could even move them from one location to another at a moment's notice if needed. Many parents and senior parents complain that their pressure-mounted baby gate kept falling over. It is crucial that you carefully follow the installation instructions in order for the baby gate to work effectively.
Advantage
Easy to set up and take down (easily moved from place to place)
Don't have to screw into walls/banisters
Generally cheaper than hardware-mounted baby gates
Larger variety of styles
Disadvantages
Can slip and fall under a baby's weight if not installed correctly
Won't hold up to a charging dog
Not suitable for dividing areas with a height difference, like stoops or stairs
Cannot be mounted between walls that sit at angles
Can leave rubber marks on walls
Before we continue I am going to let you in on a little secret to stop pressure gates from leaving rubber marks on your wall. All you need is this amazing device – a pressure gate wall saver. Think of them as furniture sliders with grip. If you use a wall-saver from the beginning you will not need to repaint your wall when you finally take the baby gate down.
Important – I must stress this, pressure mounted baby gates are not suitable for stairs
The best pressure mounted baby gates (standard size)
North States Supergate "Easy Close" Metal Gate
Height: 29"
Fits: 28" – 31.5" (38.5 with included extension pieces)
No Assembly
This baby gate is always my go-to response when someone asks me to recommend them a good pressure mounted baby gate. Available in white or bronze, there is just so much to love about this baby gate. Let's start with setting up. This gate requires NO ASSEMBLY. Simply rip open the box (or keep it aside for your cat) and you are ready to install.
Included in the box are two extension pieces, just in case you need to expand the width of the gate (up to 38.5"). A welcome addition since most other baby gates makes you buy these separately.
Easy Door
Then there's the door. The door is ridiculously easy to open with just one hand and can swing both ways which makes opening the gate easy regardless of what side you are on (gates that only swing one way are for chumps). But perhaps the best feature of the door is that is can lock open at 90 degrees.
I use the stay open feature when I am unloading bags of groceries from the trunk of my car. Simply lock the gate open and I can bring all the groceries inside in a single trip, no need to have a free hand to open the baby gate. Marvelous. While it definitely won't be winning any beauty contests, this baby gate will be more than enough for the average parent. An excellent baby gate.
Summer Infant Deco Baby Gate
Height: 32"
Fits: 36" – 60" (extension pieces included).
There is a lot to love about the Summer Infant Deco Baby Gate. In fact, it came close to landing the number one spot in best pressure mounted baby gates. The lovely bronze finish will look amazing in any foyer (also available in beige).
Hardware Mounted?
By and large, the Summer Infant baby gate is very similar to the North States gate above. There are just two key differences and unfortunately, these differences are not entirely good. Unlike the North states baby gate, you also have the option of hardware mounting the baby gate.
I have mixed feelings about this. While it is nice to have the option of hardware mounting this gate, there are much better baby gates that can only be hardware mount. If you are looking for a hardware mounted baby gate it's much better than you seek out these options. Then there's the door…
The one thing that lets down this baby gate is the doorway. Is that the door is slightly narrower than other pressure mounted baby gates. Have you ever seen a dog with a stick in his mouth trying to run through a space that is too small for both him and the stick (like this)? That's what it feels like if you try to walk through this baby gate carrying anything in your hands.
If you are plus sized I would definitely steer well clear of this gate. So even though you can hardware mount this baby gate at the top of the stairs, I would avoid it because of the narrow walkway that could lead to tumble town (use these instead). These are just minor gripes, mind you. Overall I was very happy with how this gate worked and held up to a toddler pushing hard against it. With the exception of the North States gate, this one trumps just about all others on the market.
Narrow Door
When it comes to pressure mounted baby gates for wide openings, you do not have a whole lot of choice. Why? because most parents choose to go with a hardware mounted baby gate. Not only are they almost impossible to push over (when installed correctly) but also bridge longer distances than pressure mounted gates. If you are still chasing down a pressure mount option then there is only one real choice:
Height: 32"
Fits: 36" – 60" (extension pieces included).
5 Feet. That's quite a distance. Not a problem for the Summer Infant Wood and Metal baby gate, one of the widest pressure mounted gates on the market. Let's get one thing straight, this baby gate isn't cheap. But what you are paying for is a quality product that works (unlike the cheaper Regalo Extra Wide Span Gate which can only be described as "flimsy") and I highly recommend you steer clear of the cheaper alternatives if possible. They pretty much suck.
Attractive & Easy To Use
I first let out a wolf whistle when I saw this baby gate. Wood and slate is definitely a lovely combination that beats out those ugly white baby gates you will continually come across. Obviously wood will be no good if your dog is a chewer but the rest of you will be more than pleased with the looks. The baby gate door is nice and wide (26 inches).
I found it easy to walk right through while carrying a washing basket. Being able to open and close the gate with a single hand helped too. No fumbling with the latch here. Baseboards are not a problem. Because all four knobs are adjustable you will be able to wedge this baby gate into just about any gap up to 6 inches.
Oh, and installing is incredibly simple. I was able to set it up in less than 10 minutes (and I am the most uncoordinated mama). So if you have a wide gap and don't want to drill into your walls then give this gate a go, it is definitely the best extra wide pressure mount currently available. Otherwise, you have no choice but to use:
Hardware mounted baby gates
As the name suggests, hardware mounted baby gates screw directly into your wall, door frame or banister/balustrade. But wont this leave holes that need to be patched when you remove the baby gate?
Yes, it will. However, this is a small inconvenience compared to the safety benefits that this style of baby gate provides: Because hardware mounted gates are supported by your house, they are the most secure style of baby gate. Even the most determined of toddlers or excited of dogs will find it near impossible to knock down a hardware mounted baby gate (who's the tough guy now?).
These gates should be installed in dangerous areas where a baby gate falling will result in serious injuries such as around your fireplace or woodstove. Just be sure to make sure you read and understand the instructions before you install a hardware-mounted baby gate. Otherwise, you can needlessly damage your walls.
Advantages
Can support your baby's weight without slipping
Difficult to topple over by larger dogs
The only safe baby gate choice for the top of stairs
No threshold to trip you up (that piece of metal you step over found on pressure mounts)
Can be mounted between angled walls
Can be mounted above your trim molding or baseboard
Disadvantages
Cannot be taken down in a hurry
More complicated to install than pressure mounted safety gates
Leaves ugly holes in walls and woodwork when removed (not suitable for rental homes)
Pro-Tip: You can fix hardware-mounted baby gates to drywall using Drywall Anchors and flat washers (if necessary). No Stud necessary.
Best hardware-mounted baby gates (standard width)
Cardinal Gates "Auto-Lock" Baby Gate
Height: 29.5"
Fits: 26.5" – 40.5" (extension pieces included).
If you want a baby gate that can hold up to a charging rhino (okay, a charging toddler) without budging then this is the gate you want. It is easy to see why this is a favorite among parents. Despite being hardware mounted, the baby gate is incredibly easy to install.
I am no Bob the Builder (Yes we can!) but I had little difficulty setting up this baby gate without any help. This baby gate is incredibly easy to use whether you are carrying the laundry or your child. Pull the ring and twist. Easy for an adult, not so much for a child.
The door swings both ways and a reassuring "click" lets you know that the gate was locked without the need to turn around and check it. An excellent gate for those of you with babies that sit there and shake and bang at the baby gate. No matter how strong your baby, this thing ain't moving. If your budget just won't stretch to cover this baby gate then you could try the more affordable:
North States Supergate Easy Swing and Lock
Height: 31"
Fits: 28" – 48" (extension pieces included).
Even if you don't have the wallet of a Kardashian, you can still buy yourself one fine hardware mounted baby gate. This gate is very similar to the Kidco Safeway right down to price. The key difference is that the gate by Kidco sucks (come on Kidco, get your !@#$ together). The latch on the baby gate is super easy to open with one hand, even when carrying something heavy in the other (like a fat baby or the laundry) and beats the Kidco Safeway latch by Country Mile (if baby gates could race each other).
Construction
The gate itself is very solid and has a simple look that won't add any ugly to your home when you install it. Many people actually use this as a dog gate because it looks a heck of a lot better than those ugly "pet gate" offerings. This gate opens wide up and there is no metal piece that you have to step over – AKA that stupid thing you keep tripping over.
Just a word of warning, do not let your toddler "ride" this baby gate while the door is open. It is a recipe for a wonky baby gate. My one complaint is that this baby gate is not the easiest to install. To the baby gates credit, the instructions are incredibly detailed, but for an uncoordinated parent like myself, there was just too many steps for me to make a mess of the install.
Baby gates for the top of stairs
If choose to baby proof a single section of your house, it is the top of the stairs. A hardware mounted baby gate is an absolute must, otherwise, your baby risks serious injury tumbling down the stairs – So screw that sucker in tightly!
The problem is, all staircases are different, ranging from regular to unusual and there is no single best baby gate. But don't worry, I am going to show you three different baby gate solutions that will be able to baby proof 99% of stairs.
1. Flat surface to flat surface
Cardinal Gates Stairway Special Gate
Height: 31"
Fits: 27" – 42.5" (Up to 64" with extension pieces ).
If you can mount between two flat surfaces on either side of your staircase then you are laughing. The Cardinal Gates have taken everything I loved about their Auto-Lock hardware mounted gate and added a feature that absolutely rocks for stairs: The ability to mount it at angles of up to 30 degrees!
This gives you more choice over which flat surfaces to install the baby gate to whether it be your wall, Newel post or flat baluster/spindle. You can even pick up a Wrought Iron Version to match your homes beautiful wrought iron stair rail. The baby gate can be extended to a whopping 64" with the use of extension pieces (sold separately):
10 ½" extension – Extends 42 ¼" to 53"
21 ¾ " extension – Extends 48 ¾" to 64"
That should be enough to easily get you across the average staircase.
2. Round Newel Posts and Banisters
Cardinal Gates Stairway Special Gate
Height: 31"
Fits: 27" – 42.5" (Up to 64" with extension pieces ).
Yep, this is the exact same baby gate as the one above (cause it's awesome). To install it on rounded newel posts you will have to buy a separate mounting kit (sold separately):
You will need one kit for each round newel post you wish to mount to. An advantage to using a stairway mounting kit is that you can install a hardware mounted baby gate without drilling into your banister. No damage. No fuss. The great thing about stairway mounting kits is that you use them with just about any baby gate.
3. The "How the heck can I baby proof this?" Staircase
Regalo 192 Inch Play Yard
Height: 28"
Fits: Up to 192 Inches
​Are you dreading installing a baby gate on your staircase? There are some absolutely tricky staircases out there that would even make a professional baby-proofer (yes, that's a thing) shake with fear:
Rail-less staircases
Spiral staircase
Staircases with low rails
Staircases with glass rails
Multi-story stairs with landings
Stairs that curve
All these stairs Suck. Fortunately, using the Regalo 192 inch baby gate, you will be able to baby proof just about any staircase imaginable Including: At the top of your staircase, somewhere, there will be two walls (otherwise you would have nothing to hold your roof up). Simply run this baby gate between the two walls. You can even bend the gate in an L-shape or U-Shape. Kapow! You have now baby-proofed your impossible staircase.
The only downside to using this baby gate is that it will eat up some of the space on your landing. But that's a small price to pay for the safety of your baby. If this baby gate isn't long enough you can always use the North States Superyard which can be extended as long as you can imagine if you have the money to buy enough extension pieces.
Baby gates for the bottom of your stairs
Good news, while it is recommended that you use a hardware mounted baby gate at the base of the staircase, you can get away with a pressure mount (assuming you have a flat surface to mount between). By and large, you will be able to use any of the above three solutions at the top of the staircase at the base of the stairs as well. This includes using the Regalo 192 Inch Play Yard (pictured above) from wall to wall to skip annoying stair bottoms like kite winders and bottom step landings. But at the bottom of your stairs, you have one more option. And that is mounting to the balusters:
Dreambaby Swing Closed Security Gate
Height: 28"
Fits: 28" – 32" (up to 111" with extensions – sold separately)
In the above picture, you can see the baby gate is actually pushing against the rounded part of the banister. No, it's not witchcraft. Pitchforks down. These simple little devices are known as Y-Spindles and they work great for metal banisters that have thin metal balusters (some people call these spindles).
Simply screw the Y-spindle adapters into the above Dreambaby Safety Gate and you are ready to go. The Y-spindles work just like a regular pressure mounted baby gate, all you have to do tighten them until they press hard against your banister or baluster and your baby gate will lock into place.
The Y-spindles are sold in packs of two, allowing them to just be installed on side of the baby gate (say if the other side of the stairs was a solid wall) or in any other configuration to suit your needs. Just remember, to install the spindles on both sides you will need to buy two packs (for a total of 4 spindles).
Some parents report that they have successfully used these Y-spindles on Summer Infant brand baby gates but be warned – they do not work across the entire range. While you can also use this method at the top of your stairs, I prefer to stick with a fully hardware mounted option (better safe than sorry).
If you have a dog that can jump small buildings or a baby that climbs like a monkey then you need a baby gate with a bit of extra height An extra tall baby gate is just what you need. But here's the thing – The definition of "Extra tall" varies from brand to brand. I'm serious, check it out:
Summer Infant Multi-Use Extra Tall (36 inches)
North States Supergate Extra Tall (36 inches)
Munchkin Easy-Close Extra Tall (36 inches)
Don't get me wrong, these are all great baby gates. But extra tall they ain't. Now to me, extra tall means that an NBA center would have trouble stepping over this baby gate (ya hear that Shaq?). Fortunately, there are two baby gates that pass the Shaquille O'Neal step-over test. One is the Regalo Easy Step Extra Tall coming in at a cool 41 inches tall and my personal favorite:
Height: 40.5"
Fits: 28" – 32" (111" Max with extension pieces, sold separately)
So the Dreambaby is half an inch shorter than the Regalo Extra Tall but the quality difference and ability to extend this baby gate to a whopping 111" with extension pieces made this baby gate the clear winner. While this baby gate is pressure mounted, you do have the option of drilling the gate into the wall for a more permanent (and sturdy) solution. Yep, that means you can even mount this baby gate at the top of the stairs (just make sure you screw it in securely).
The Door
The door can be opened with a single hand, swings both ways (the Regalo Extra tall only swings one way) and automatically closes. One word of warning on the auto-close feature – it can be a little loud. If you want to sneak away from your sleeping baby you will have to attach the door to the gate yourself rather than letting it shut automatically.
Just to give you an idea of exactly how high this baby gate is, at 5'5" it will come up to your sternum. That's pretty tall and a young child will be unable to reach the latch without assistance (say, climbing on a box). Definitely the best extra tall baby gate on the market right now.
Really big baby gate
Sometimes it feels like it would just be easier to wrap a baby gate around your entire house and be done with it. If you are pulling your hair out trying track down an unusual baby gate, for say your hearth or some other oddly shaped household object, then try this baby gate that takes no hostages:
North States Superyard 3-in-1x1
Height: 30"
Fits: Up to 12 feet (or up to infinity feet with extension pieces)
If there was a contender for the best baby gate ever award (this should exist) this would be it. With this gate and your imagination, you can literally fence off anything in your house. Still not convinced? Check this out:
Installed in L shape
When to use: When you need to fence off multiple objects (like the stairs and fireplace in the above picture).
Installed in U shape
When to use: When you need to fence off a single object (like a fireplace, stairs or pocket door).
Cover a large distance
When to use: When every other baby gate is too short. This baby gate can be extended to the point it could stretch across America. To get the extra length you will need to purchase extension pieces sold separately. You can add unlimited extension pieces until you get the length you need.
Used as a playpen
When to use: When you give up and say !@#$ it, my house is too dangerous. This will keep 'em safe in their own little pen. Buying separate extension pieces will allow you to make the play yard even bigger. Plus you can shape it how you want, square, rectangle, octagon – so you can fit any floor plan. See? The ultimate baby gate. Available in wood, decore metal, plain white, click here to grab this baby gate at a red-hot price.
Narrow baby gates
If you have a narrow doorway you will know how frustratingly difficult it can be to find a baby gate that will fit. In fact, unless you MacGyver up a baby gate of your own (here is an awesome guide for just that), you may feel that finding a narrow baby gate is impossible. DIY baby gates are all well and good but what about the rest of us who don't have handy hubbies? I am downright uncoordinated and shake with fear every time I see the words:
Some assembly required.
I am not a proud person. If I can find a reasonably priced solution that requires no assembly I will go with that option each and every time. I had the tricky task of baby proofing my friend's caravan. Do you know how hard it is to find a baby gate that fits a space that is 20 inches wide? After what felt like an eternity, I stumbled upon this little number and I am pleased to say, it works great!
Retract-A-Gate Baby Gate
Height: 34"
Fits: Two sizes – Up to 52" or 72"
The beautiful thing about this baby gate is that it retracts like a measuring tape. There are two advantages a retractable baby gate has over a fixed gate:
You can mount it between incredibly narrow gaps, essentially making this baby gate as narrow as you want.
When fully retracted it opens up your whole doorway, allowing you to easily carry grocery bags and laundry baskets through.
While this is one of the more expensive retractable baby gates, other brands do not come near it in quality (looking at you Dreambaby and your hunk of junk). Even the much more expensive Lascal KiddyGuard didn't come close. Probably because Retract-a-Gate is made right here in the USA and we rock at making quality products.
What strikes me most about this baby gate is just how quiet it actually is. If you are sick of that tell-tail clanging of the baby gate waking you up in the morning then you will appreciate just how quiet this gate is.
Options and Durability
The Retract-A-Gate comes in three different colors – White, Café (cream) and Black. It is worth mentioning that if you go with the white color then you can expect it to mark up quite nicely over time if you don't wipe it down every so often (the mesh is completely washable). Despite being made of mesh, this baby gate is incredibly durable.
My friend's cat tried to claw up this gate on more than one occasion (little !@#$) and did no noticeable damage. The mesh is definitely as scratch resistant as the manufacturer claims. What surprised me is that this is actually a darn fine retractable baby gate for larger distances too. In fact, you can pretty much mount it anywhere even at the top of your stairs or outside (according to manufacturer).
I would have listed this baby gate further up the page but then I wouldn't have had a good baby gate to put in the narrow doorway section now, would I? Oh and the Retract-A-Gate is certified by the JPMA to be used at the top of your stairs. You really can install this baby gate anywhere.
Portable baby gate (for travel)
If you travel then you will know how important it is to pack light. Good luck squeezing a metal baby gate in your trunk along with the rest of your bags and suitcases! If you are on vacation and need a baby gate for your hotel room or simply traveling over to grandmas house, a portable baby gate that can be set up in seconds without tools is a very helpful piece of baby gear.
Now you may have noticed that travel gates are made out of mesh or fabric and do not have a door for you to walk through. You need to step over it. This is common to all portable baby gates, as a walk through door would add a lot of bulk. Which wouldn't make it portable, you dig?
It is worth mentioning that extra tall travel baby gates simply don't exist. Why? Because you need to be able to step over the darn thing and an adult-proof baby gate is just asking for problems. Most portable baby gates are made from mesh or a thin fabric. Not only does this help keep the weight down but also allows you to easily see through the baby gate to check on your baby or pet on the other side.
​Important: While travel baby gates are fine for hallways and door frames, they are not suitable for staircases. Now that you know what you are in for, let's take a look at my favorite baby gate for travel:
North States Portable Traveler Gate
Height: 28"
Fits: 25.2" – 42.6"
A great baby gate that is not only easy to carry around with you but also looks good. After all, who wants ugly baby gear? Not me. One feature, in particular, liked about this baby gate is that thick hallway baseboards are not a problem (something I often come across in my travels) and are overcome by simply adjusting the tension knobs. Not only that but it sits flat on the floor which definitely makes the baby gate harder to push over. When your baby grimes the gate up with his sticky fingers (it will happen, give it time) you can completely remove the fabric for easy cleaning, keeping the baby gate looking good as new.
Removable Cover, Portability
Overly-judgmental parents won't look down on you for having a dirty baby gate when you set the baby gate up at their house (seriously, what's with that?) But it gets better. This baby gate can fold down to a fraction of its original size. In fact, it shrinks small enough to fit into its own little carry bag (included in the box).
How cool is that? The carry bag makes it much easier for you to squeeze the baby gate into an overflowing trunk (AKA playing Tetris). I found this baby gate much easier to put together with an extra set of hands. Don't get me wrong, I was definitely able to put the baby gate together on my own but I did struggle a little (but it may just be because I am super uncoordinated). While this portable baby gate will fit just about every average sized doorway if you come across a larger distance then it will ahem… fall short.
There is a portable option to bridge larger gaps but it will be too big for average sized doorways. So you need to choose your portable baby gate according to what space you will need to fence off (or buy both). So if you need an extra wide portable baby gate then your best bet is the:
Safety 1st Wide Doorways Fabric Gate
Height: 27"
Fits: 38" – 60"
Stretching up to 60" this is your best friend when it comes to baby proofing larger distance son the fly. Essentially the Safety 1st fabric gate is just a larger version of the North States Portable Traveler above and has very similar features. They are even similar in price. The main difference is the distance it can expand.
Despite the size difference between the two travel gates I was much more comfortable putting this baby gate together on my own. Again, this baby gate folds down into its own carry bag when the time comes to pack it away.
Freestanding baby gates
A freestanding baby gate can stand upright on its own. That's right, no scratching marking up your walls and door frames, no fooling around with a screwdriver trying to mount the darn thing. Simply push the gate into position and you are done.
You could even set this baby gate up in the middle of your living room if you wanted (not that it would do much good, your baby would just walk around it). If you have an open floor plan with nothing to mount a baby gate to then a freestanding baby gate is just what you need. So if freestanding baby gates are so easy to set up, why doesn't everyone use them?
Why Freestanding?
Freestanding baby gates are only suitable for walkway use for younger kids. As your child grows and turns into little Hercules, he will very likely be able to muscleman the gate, moving it just enough to squeeze by. But where freestanding baby gates really shine is blocking off your little ones access to household objects that could be dangerous to your baby.
Many parents use them to keep their baby away from their TV and entertainment system (you know, DVD player, Xbox, Playstation, Etc.) that your baby just loves to play with or worse – stuff food inside. Come on baby. These things are expensive! Most of the time you will see free standing gates sold as "pet gates". While they work great for dogs, who definitely will not be able to move the gate, they are also great for babies.
Important: Freestanding baby gates are not considered suitable for use at the top of stairs and should only be used as a temporary solution. By far the best freestanding baby gates I have come across are by Richelle, who are responsible for this winner:
Richell Deluxe Free Standing Gate
Height: 28"
Fits: 61.8" – 90.2"
A clear winner amongst freestanding baby gates, the Richell Dulux is made of a lovely hardwood that is actually quite pretty to look at. Okay, so you are not going to display it on a pedestal but it certainly is a heck of a lot better looking than those ugly metal baby gates. The door on the baby gate locks automatically and can swing open in both directions pretty standard. Not so standard is the ability for the gate to remain open at 90 degrees.
Door Stays Open
If you have left the house for the day you can leave the door open, which is absolutely wonderful if you have an indoor dog. This way your pooch will not be stranded until you return, free to come and go as he pleases. Oh, and this baby gate is very hard to tip over it. I tried to jump over the gate when I was in a hurry and was sent tumbling head over bum to the ground (yeah, I sucked at hurdles at school).
While I was sprawled all over the floor, I looked back to notice that the gate was standing (and very likely mocking me). Rubber feet prevent the baby gate from scratching and sliding on tiles or wooden floors and the gate can expand to different sizes depending on what you are trying to block access too. Like your television cabinet.
Great For Shielding TV
Speaking of which… This gate is great for fencing off your television. At 28 inches high the gate is just low enough that you can still watch your TV without packing the gate away (it won't block the signal from your remote either). Just try and fiddle with the TV now, baby. The one thing to be mindful of this baby gate (and all other free-standing baby gates) is that the feet stick out. While this generally isn't an issue, the feet can trip you up if you are walking alongside the baby gate rather than towards it.
Baby gates with pet doors
Pets and babies are an odd mix. Chances are your cat won't be interested and a small dog won't do much harm (yay!). However, an excited larger dog can quickly send your toddler flying across the room (boo!). So how do you give your cat roam freely around the house without your dog annoying your baby?
Built-In Pet Door
A baby gate with a built-in pet door is ideal to let smaller animals like cats, rabbits, and ferrets through while your big dog can do nothing else but sit back and stare at your baby on the other side. I don't know why but I always found it amazingly rewarding when I was able to outsmart my dog and a baby gate with a pet door allows you to do just that.
But before you run out and by any baby gate with a pet door, be sure to avoid any gates that are made from wood. If your puppy dog loves to chew then his sharp teeth will quickly shred a wooden baby gate to pieces, leaving behind some nasty splinters that you don't want your baby to touch. Without a doubt the ultimate gate for both pets and babies is the:
Bettacare Child and Pet Gate
Height: 40"
Fits: 29 - 33"
The funny thing about this baby gate is that it is even loved by parents without pets, but more specifically a kitty or (maybe) really small dogs. But that being said, the steel construction should stand up to your temper-tantrum throwing. Unfortunately, if your door frame is living on the larger side of life, you'll have to purchase the extensions in 2", 5", or 12".
Easy Setup
The pressure mounted gate setup is easy and fast. In fact, my husband was able to do it without the instruction manual (sigh.. men and instructions). Once it was up, the one-touch handle made opening and closing the baby gate as easy as using a regular door. I used this baby gate to block off the doorway that leads to my cats' food and litter box. You know, gross things that you just don't want your baby playing with.
Carlson Flexi Gate with Pet Door
Height: 30"
Fits: 76" (up to 13 feet with extension pieces)
If your doors are so wide that you could drive a bus through them then you will be looking at the above pet gate and thinking:
Where's the rest of it?
Carlson has not forgotten about you. Their flexi gate can not only span a 76 inch gap but can expand to an incredible 13 feet wide with 24" extension pieces (sold separately). That's almost as long as a Kia Rio and probably built better, too (ha!). But you don't have to mount this baby gate straight. The posts are individually hinged meaning that each section of the baby gate can be bent in a different direction, allowing you to use some imagineering to fence off those more unusual sections of your house.
Can your dog jump so well it could play for the Chicago Bulls? If so then you may need something a little taller. The Carlson Extra Tall Walk-thru Stands at a whopping 40 inches tall. While the much wider Carlson Flexi Tall stands at a rather tall 38." Let's see you jump that, Fido.
Baby gates with pet doorsOutdoor Baby Gates
There is seriously a baby gate for everyone. If you have a deck or porch (lucky you) then you may be wondering just how you can stop your baby from tumbling off it. If you have already hunted around then you have probably noticed your choice of baby gates for outdoor use is surprisingly limited.
And don't you dare think about using a baby gate designed for indoors, it will rust up at the first sight of rain! even though you don't have a lot to choose from, there is definitely one stand out baby gate for outdoor use:
Cardinal Gates Outdoor Baby Gate
Height: 29.5"
Fits: 27 - 42.5" (extension pieces available)
The gate is made from powder-coated aluminum (the same stuff as a pool fence) and is rustproof. You may notice the gate fade a little bit over time, especially if you install it in a sunny spot but it will continue to work just fine. Installing is incredibly easy, screwing directly into wooden railings.
Metal railings and Trex decks can MacGyver up a solution using zip ties and wood. The gate will mount at angles of up to 30 degrees, perfect for those of you with deck rails that don't quite line up.
Optional Stop Bracket
Included in the box is an optional stop bracket that stops the gate from opening up over your stairway (if installed, you can only open the gate up towards you). This feature allows you to sneak past the baby gate even with your excited baby clinging to the door. The gate can be opened and closed with one hand BUT… It is not self-closing!
If you are bringing wash in you will have to be mindful that you close the gate as you climb up these stairs, otherwise, you are presenting your baby with a portal to freedom (and pain). If you have a wider space between the rails on your balcony or deck then you can extend this baby gate using extension pieces up to a maximum of 64" (sold separately).
10 ½" extension – Extends 42 ¼" to 53"
21 ½" extension – Extends 48 ¾" to 64"
Hardware Sold Separately
Now I do have one gripe with this gate, in order to make this gate completely weatherproof, you will have to buy stainless steel screws and hardware separately. This is beyond stupid. These should be included in the box seems like a greedy cash grab by Cardinal Gates. Instead of buying this extra kit. Go to your local hardware store and buy a cheap can of rust protector.
Don't encourage companies to continue this practice. Besides, rust protector is always helpful to keep on hand anyway. Besides that minor gripe; if you have a patio, porch, deck, balcony or anything remotely similar and want your baby to enjoy it with you then you will be more than happy with this baby gate. Oh, and it also keeps dogs off your decking (nothing like dog pee to ruin a good deck). Bonus!
Baby gates for sliding doors
I am a sucker for glass sliding doors, not only do they look great but they provide you a lovely view of your backyard (and really let the light into your home). Unfortunately, sliding doors are somewhat of a nuisance if you have a baby in your home.
If you open the door up to let in that lovely summer breeze then you are basically giving your baby an invitation to escape your house. And don't think you are safe if you have a sliding screen door. A baby pushing up against it can easily fall through. Frank S. Fitzgerald of the Screen Manufacturers Association had this to say:
While screens are great for ventilation and to keep insects out, they are not designed to keep small children in!
Scary stuff! There is only one baby gate on the market that will fit sliding doors and that is the:
Cardinal Gates Duragate
Height: 29.5"
Width: 24"
Fits: Standard sliding doors 1" and 1 ½" thick.
The installation of this baby gate is simple as pie. No tools needed. Simply clamp the baby gate onto the sliding part of your door. With the baby gate secured, slide the door closed. You are now free to enjoy that cool refreshing breeze as it flows through your house.
But what's stopping your baby from using his super human strength (seriously, what's with that?) from opening up the sliding part of the door?
I'm glad you asked: Included in the box is a door stop which helps keep your sliding door stopped until removed. If possible, installing the stops is even easier than installing the gate. Two twists and you are done. The baby gate swings in both direction which is great if you have a frisky dog you have to fight off while moving through the gate.
Another advantage of the Lock N Block baby gate is that it can be used as a visual clue to stop your child from running full speed into the glass door. Now don't get me wrong, this is hilarious to watch until you realize that it is YOU that has to deal with the tears.
Hands-Free Baby Gate
What's better than only using a single hand to open up a baby gate? Opening up a baby gate with no hands check out this awesome foot operated baby gate.
Summe​​r Infant
Height: 32"
Fits: 30" – 45" (extension pieces available)
Pedal Lock
Whether you have a disability and can only use one hand or are just carrying too much stuff, there is no baby gate that is easier to open then the Summer Infant Step to Open. Opening this baby gate is as easy as pressing down on the foot pedal (located on both sides). Press down with your foot and you are through. Hooray! Check it out:
How cool is that!? Now just because the foot pedal is within easy reach of your baby does not mean they will be able to open it. My three year old could not press down hard enough on the foot pedal to open the gate. A four-year-old may be able to but by this stage, you shouldn't really be using a baby gate anyway.
The gate automatically closes behind you. Yep, if you really wanted to you could use this baby gate without touching it with your hands at all. I think I just heard a bunch of you with severe germophobia (fear of germs) scream "hooray." Fortunately, this baby gate is not just a one-trick pony. The entire baby gate is built incredibly well and is quite easy to install, although you will need your hands for that.
Best looking baby gates
The problem with most baby gates is that they are just plain ugly. If your modern home is your pride and joy then you will want a baby gate that does it justice. Let's take a look at some unique baby gates that are so gorgeous that you could hang them on your wall and call it art. Let's start with a baby gate so modern looking that it could be a spaceship:
Munchkin Loft Aluminum Infant Safety Gate
Height: 30.5"
Fits: 26.5" – 40"
Are you reading this guide on your iPhone or iPad? Flip it over. Do you see that shiny silver aluminum on the rear? That is almost identical to the surface of this baby gate. The photos of this gate do not get across just how premium this baby gate actually looks. This baby gate is hardware mounted, and is full swing, meaning there is no annoying metal piece at the bottom for you to trip over step over.
The door swings both ways allowing you to always open the door away from you. An amazing feature when carrying shopping bags and other bulky items through your home.
Set Up
Some people complain that the baby gate is a little difficult to set up. I actually used this baby gate at one point in my home. I cannot comment on how difficult it is to set up because my husband did all the hard work installing it (isn't that what they are for?). He seemed to have little difficulty but then he is incredibly handy.
But once the gate up it is an absolute pleasure to use and if you are looking for a modern baby gate to match your modern home then look no further. But if your house is heavy on the wood furnishings then you will prefer:
Summer Infant
Height: 30.5"
Fits: 29.5" – 40.5" (Extension pieces available)
Okay, so my favorite wooden baby gate is the Summer Infant Deco Wood & Metal (which as the name suggests is both wood and metal) but I already covered that further up in the guide. So I am going to introduce you to this almost completely wooden baby gate. Those of you with dark wooden furniture will know just how badly light colored wood looks next to it (which is exactly what most wooden baby gates are made from).
This baby gate is your best bet for getting a matching color scheme in your house and will look sleek installed nearby. If I had to describe the color (which can be difficult to judge in the picture), it is more of a darker mahogany with a bit of red in it.
Watch Your Step
If you have read my other reviews earlier in this article then the gate is very similar to other baby gates by Summer Infant (which in no way is a bad thing). The door is autoclosing and the handle is very easy to use even one handed. One thing to watch for on the baby gate – the wooden threshold (the piece that runs along the base of the baby gate) can easily be tripped over if you are not mindful of it. While it is hilarious to watch other people tumble over it, you will be cursing if it happens to you.
Conclusion
Phew… That was a lot more typing than I thought it would be. You're lucky you are worth it. The information here should be more than enough to find the ideal baby gate to suit your situation. If you still having trouble, shoot me a question in the comments below and I will see if I can recommend something just for you – Because I care like that.
You know the drill: Leave me any questions, wisdom, love or hate in the comments below. Stay awesome!
Featured image source: parent.guide