Who should buy a diaper bag?
If you are someone who will be coming into lengthy contact with infant children and assuming responsibility for their diapering needs over an extended period in the near future, then take my advice: you probably need to consider equipping yourself with the best diaper bag to conveniently carry the necessary supplies.
What is the best diaper bag to buy?
Just like with any fashion accessory, diaper bags come in hundreds of different styles and shapes. Let's take a look at some of the more common ones on the market and see which ones make the first cut.
A tote is pretty much a giant handbag. By far the bulkiest of diaper bags (and that's without even stuffing your baby gear inside), totes provide an organized and roomy solution for taking your baby's gear with you when traveling.
Convenience
Totes are the most popular diaper bag option on the market. Among the reasons people prefer them are their convenience and simplicity. As a result, totes are available in countless designs and are hugely popular among parents who want the functionality of a diaper bag with a strong focus on fashion.
Not So Manly
I'll be honest: totes are well and truly the least manly of diaper bags. Even if you choose a (theoretically) gender neutral diaper bag in a plain black style, you will still hear groans if your other half has to wear it out in public. Lucky for you, we have a guide to the
best diaper bags for dads
!
Advantages
Disadvantages
Accessibility
With the exception of backpack diaper bags that zip completely in half, totes have the widest opening out of all the diaper bags. That's a good thing, since a larger opening will allow you to easily view and locate specific baby gear in a poop emergency.
Compartments
Totes are by far the largest of the diaper bags and usually come equipped with internal segmentation, so if you are looking for a diaper bag with lots of compartments, this might do the trick. This can be both a blessing and a curse. If you have more than one child still in diapers (or twins) then you will be able to fit more than enough baby essentials to last the day. On the flip side, totes can be surprisingly bulky, even before you have filled them up with stuff. To access the contents of a tote diaper bag you will need to place it down.
Best for:
Moms who want an abundance of room to store enough baby essentials to last a full day out.
Flat, stylish and hang off your shoulder. Messenger diaper bags are conveniently travel-size containers also known as sling or satchel diaper bags. Identified by a single long strap that hangs over the shoulder; messenger diaper bags are generally slimmer than totes.
Easy Access
One major advantage of messenger diaper bags is that you do not have to take the bag off to retrieve your diapers or baby wipes from inside. With practice, you will be able to remove items with one hand while juggling a baby in the other. Impressive. Because messenger diaper bags hang from one shoulder they place a lot of weight on one side of your body, particularly if you like to stuff your diaper bag to the point of bursting. While this won't be a problem for the majority of parents; if you are prone to sore backs then a messenger diaper bag probably won't do you any favors.
Important:
When carrying a messenger diaper bag be sure to carry it so that the bag sits on one side of your body and the strap on the opposite side (the strap should rest diagonally across your chest). Why? Because the bag can easily slip off your shoulder if you carry it vertically.
Advantages
Disadvantages
Style
Listen up fashionistas: messenger bags are stylish. While raising a baby isn't exactly glamorous (you know… poop) at least you can look the part. Messenger diaper bags come in a huge variety of styles. From bright floral to patterns that even the most mucho of Dads will be happy to wear. Yep; if you buy a unisex messenger bag, you will have a diaper bag that both parents will be happy to wear.
Smallish
While messenger diaper bags vary a little in size, they are in no way a large diaper bag. Generally, you will be able to fit enough baby gear inside for a full day out for a single baby. If combining, say, an infant's potty training with a strict schedule, working parents with full-time jobs might find this the best diaper bag to service their needs. These bags are a mainstay of modern single parenting.
Best For:
Modern parents who share a diaper bag and want to fit enough gear inside to last all day, or just for dads.
Perhaps the newest style of diaper bag on the market, backpacks allow you to lug around all your baby gear while keeping both of your hands free to carry your baby, for shopping, or to simply double high-five your best mate.
From all outward appearances,
diaper bag backpacks
look like a regular backpack. If you take a look inside you will realize the backpack is anything but regular. Pockets, pockets and more pockets. If you want a diaper bag with lots of pockets, this may be the best way to go. Especially if some of those pockets are water resistant, a feature to look for in your choice of the best diaper bag to fit your needs.
Organizational parents rejoice!
You will have a single pocket dedicated to each item you want to take along. Some backpacks even include easy access pockets allowing you to quickly and easily access frequently used items. Popular easy access pockets include an insulated baby bottle pocket (to help keep your baby's bottle warm or cold) and a diaper wipe pocket (because babies are
always
sticky).
Important:
Steer clear of backpack diaper bags that do not open the whole way or have very few pockets. You will find yourself using the bag like a junk drawer and just piling your baby gear inside without order making it incredibly difficult to find what you are looking for during an emergency poop cleanup. Loose things are hard to sort in any kind of emergency.
Advantages
Disadvantages
Weight
Depending on how much you stuff inside them, diaper bags can quickly get heavy. While other backpack diaper bags are carried on one side of your body, diaper backpacks evenly distribute the weight across your shoulders and back. The even weight distribution helps prevent back pain that often comes with carrying a heavy bag around all day.
Comfort
If you are the athletic type then you will like that the backpack is the only type of diaper bag that you can effectively wear while exercising (say jogging or bike riding). Fitness freaks be warned: since a backpack does not allow much air to circulate between the bag and back there is a good chance you will get a little sweaty in this area. Backpack diaper bags strength (looking like a regular backpack) is also its weakness. It looks like a backpack. Unless you are comfortable with that back-to-school look then you are most likely going to want to stick with a more fashionable diaper bag.
Largish
You may be wondering just how you will be able to fit every single thing you want to carry inside of a backpack. Long story short; you can't. No bag is large enough to hold everything in your life. Sacrifices must be made! Backpack diaper bags have been designed to provide optimal storage room without being too bulky (you don't want to look and feel like a turtle, do you?) making them ideal for short to medium day trips. Sorry parents of twins; if you have more than one baby in diapers then you will very likely need a bigger diaper bag.
Suitable for:
Parents who are less focused on looks and just want a very functional diaper bag that frees up both hands

What is this witchcraft? A diaper bag that has three different carry options? Fancy! Convertible diaper bags (also known as multifunction diaper bags) can turn into at least two of the three previously mentioned styles of bags:
1

Tote

2

Messenger

3

Backpack
If you are fickle or are not 100% sure as to which type of diaper bag is best for you, then a convertible diaper bag may be the way to go. If you find one style of diaper bag uncomfortable simply swap it over to another style.
Convertible
Generally, convertible diaper bags come as a tote but have detachable straps. Depending on what style of diaper bag you want, simply add or remove the straps (making the Transformers sounds with your mouth is optional).
Important:
While versatile, a multifunction diaper bag will adequately fill the space of two or three different diaper bags but it will generally not perform the task as well as a dedicated-design diaper bag. This is particularly true of cheaper convertible diaper bags that simply use the feature as a selling point with no focus on the usability of each transformation. If versatility isn't a prime concern, this may not be the best diaper bag for you.
As the name suggests, a stroller diaper bag attaches directly to… You guessed it… Your baby's stroller. Rather than sit below the stroller in the storage compartment, these diaper bags hang from your stroller's handles, allowing you to quickly and easily grab your baby's gear. Now if you have been reading any other diaper bag guides then you will most likely have come along some advice similar to this:
We advise against hanging anything on the handlebar of a stroller because the weight might cause the stroller to tip backward
I hate advice like this. It's generic and does not apply to everyone. In fact, if you were to strictly follow this advice then you may just miss out on an incredibly useful diaper bag that is perfect for your situation. Guess what? Stroller diaper bags are perfectly safe
when used correctly
Stroller diaper bags are one of those things that require an attention to detail on your part. How safe a stroller diaper bag actually is will depend entirely on two things:
The weight of the diaper bag – You can't expect to carry 50 pounds of baby gear in a stroller diaper bag
The weight of your stroller – The heavier your stroller, the more weight it will take to tip it. A professional jogging stroller will be able to support much more weight than that cheap umbrella stroller you bought from Walmart.
Yep. Sounds like common sense, doesn't it? So as you can see, stroller diaper bags are not going to be suitable for everyone. However, if you are the type of person who wants a little more storage on their stroller and completely understands the above two points, then a stroller diaper bag may just be the perfect solution for you.
Small diaper bags are designed for shorter trips where you will only need a diaper or two and a small number of baby essentials. You don't want to lug around a full sized diaper bag if you are only leaving the house for an hour or so, do you? Because of their purpose, small diaper bags are generally bought in addition to a larger one. This will provide you with a diaper bag solution for both short and longer trips with the baby. Small diaper bags is a very broad category that covers any diaper bag used for shorter trips. Let's take a look at just a few of the diaper bags that fall under this category.
A small rectangular diaper bag that that is small enough to be held in your hand (that's why it's called a "clutch", you get it?). Your clutch may come with a small strap that loops around the wrist to prevent you from dropping it. Diaper clutches will often have just enough room for a couple of diapers and
baby wipes
.
Some clutches even fold out into a changing pad (also known as diaper changing kits). Be advised, however: some are so small that they sacrifice most functionality for convenience. You practically need an eye exam to find what you're looking for in the smallest examples.
Also known as a waist bag (mostly by parents too embarrassed to admit that it is a fanny pack) this diaper bag straps around your waist; keeping your baby essentials nearby. You definitely won't be winning any fashion awards with this diaper bag (unless you are entering an 80's costume contest). Due to their small capacity, fanny packs are only suitable for short trips with your baby.
Designer diaper bags place a strong emphasis on fashion. These diaper bags look gorgeous; just expect to pay for it. Looking like they have come straight off the runway from Paris fashion week, these diaper bags will have other moms looking at you with envy. Recently many designer brands have entered the designer diaper bag market.
Previously, becoming a mom meant that you would have to give up your Gucci or Louis Vuitton handbag. No longer a problem since these two (and more) designers now make diaper bags as well. Some designer diaper bags are only produced in limited runs. The scarcity can also add to the cost but you will be guaranteed that none of the other moms in your circle will be able to copy your style.
Less Expensive Options
For those of you that don't have the budget to cover the cost of an incredibly expensive diaper bag then you will be pleased to know that you can fake it until you make it. If you keep your eyes peeled you will be able to find bags that look every bit as good as a designer diaper bag for a fraction of the cost. These diaper bags will use imitation materials like faux leather to keep the costs down while providing a similar look. Will the quality be as good? Probably not, but that is the cost of fashion.
Functionality?
Unfortunately, some designer diaper bags focus so strongly on fashion that it would appear the designer forgot what the purpose of the bag was. To hold baby gear;
duh
. Sigh. The things you put up with to look good.
Did you know?
Just because you are on a budget does not mean you can't have a good looking diaper bag. Cheaper diaper bags that focus on style are known as
fashion diaper bags
.
How to choose the best diaper bag for you
With diaper bags, it's personal. What is right for one parent won't be right for you. Let's take a look at some factors to consider when shopping around for a diaper bag.
The amount of space you need
The ideal capacity of a diaper bag will entirely depend on your personal situation. The first thing you will want to do is put a list of all the different things that you want to be able to carry inside your diaper bag. This list should include both your baby's gear as well as your own.
Stuck for ideas?
Don't worry. I'll help you get you started on this list with some common examples.
Baby gear
Your gear
Situations where you need a large space
Situations where you need a small space
It is worth mentioning that capacity goes hand in hand with size. There are times when a smaller sized diaper bag will benefit you, such as when you are flying on a plane.
How much does it cost?
Whether you like it or not, the price is going to play a large role in what diaper bag you choose. Let's take a closer look at what you can expect from different priced diaper bags.
Important:
Unfortunately you simply can't buy a low-end diaper bag and expect it to last the distance. If you can stretch your budget I strongly recommend jumping into the mid-range category. Remember, if your diaper bag lasts then you may be able to sell it once it is no longer needed.
Not too heavy
An often overlooked detail when choosing a diaper bag is how much it actually weighs when empty. Some empty diaper bags can weigh up to 3 pounds. To put it simply:
The heavier the diaper bag is when empty, the heavier it will be once you have filled it with baby gear
If you suffer from a medical condition that restricts you from carrying objects that are too heavy (stiff joints, sore back etc.) then you will have to pay particular attention to the area as you do not want to make your condition worse. Factors that can contribute to the weight of a diaper bag include:
It can be a huge struggle to lug around a heavy diaper bag all day. Why not consider a heavier, spacious diaper bag for long trips and a light, compact one for short trips?
Easy organization
Organization is a touchy subject. Some of you will approach parenting by becoming organized to the point of color-coordinating clothes and alphabetizing your pantry. If you are more like me, you will take the "build-a-pile" approach to organizing, and find that more often than not what you need is on the bottom. How you choose to organize (or not) will impact greatly on the type of diaper bag you choose.
Just remember…
A leopard doesn't change its spots.
If you are a stuffer, buying a diaper bag with lots of pockets will not immediately make you an organized parent. Being organized can take a lot of effort. If it isn't in you then you will quickly get frustrated at how little you will be able to squash into a small pocket. So whether you are a stuffer, shover, piler, crammer, jammer, packer or a squasher… simply embrace it. Your parenting style is your own. You are unique and deserve a diaper bag with a large compartment to accommodate your special way of organizing your baby gear.
How much does the diaper bag weigh?
An often overlooked detail when choosing a diaper bag is how much it actually weighs when empty. Some empty diaper bags can weigh up to 3 pounds, and that's before you put anything inside. To put it simply:
The heavier the diaper bag is when empty, the heavier it will be once you have filled it with baby gear
Unless you are a weight lifter, you will more than likely grow tired carrying a heavy diaper bag around all day. If you suffer from a medical condition that restricts you from carrying objects that are too heavy (stiff joints, sore back etc.) then you will have to pay particular attention to the area as you do not want to make your condition worse.
Factors that can contribute to the weight of a diaper bag include:
The best part about all of this is that you can mix and match for different occasions. It may take more than one diaper bag to be your BEST diaper bag. It can be a huge struggle to lug around a heavy diaper bag all day. Why not consider a comfortable, spacious diaper bag for long trips and a light, compact one for short trips?
Comfortable to carry
You will be carrying a diaper bag every time you leave the house with your baby, often for long periods of time. You're having your best year and living your best life… you don't want to suffer from aches and pains because you chose an uncomfortable diaper bag… do you?
How comfortable a diaper bag not only depend on the bag itself but also your body type and preference. Some factors that affect just how comfortable a diaper bag can be will include:
The good news is that diaper bags come in a huge variety of styles and shapes to suit different body types. If you already have a super comfortable bag hiding away in your closet why not get the equivalent version in a diaper bag? If you have never had a comfortable bag before then I strongly recommend that you take the time to figure it out now. You don't want to waste your money on an uncomfortable diaper bag. So how do you find the most comfortable diaper bag for you?
Try before you buy
Go shopping and try all the styles until you find a comfortable diaper bag for your body type. Once you have found the perfect type you can go back home and order it online (where you will likely find cheaper prices and more designs).
It's fashion, baby
Looks are important to
EVERYONE
. While some people will tell you they don't care how they look; even these people will have mirrors in their home. Now, why would you need a mirror if you didn't care how you look? Whether you like it or not the look of a diaper bag will play a major role in whether it appeals to you.
You may choose a diaper bag that has fewer features than another just because it looks better.
And that is just fine.
There are few times as a new parent that you will feel glamorous. If a diaper bag helps you feel fashionable then, by all means, rock out with it.
How a diaper bag looks is important to both men and women.
Which brings me to my next point. Just how
dad-friendly
do you need your diaper bag to be? It's not the 1960's anymore. Your husband is more than likely help you raise your baby. You know what that means? You will have to share your diaper bag with your partner.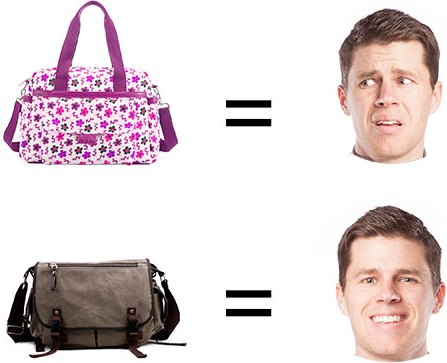 This may surprise you but it turns out guys are not huge fans of bright pink floral print. If you are going to share your diaper bag then you may have to tone down the design and choose one that is a little more gender neutral If it turns out that you simply can't come to a compromise on a diaper bag that both you and your partner will wear then why not buy one each?
Now that you know how to find the right diaper bag for you it's time to jump head first into diaper bag features
Diaper bag features
In this section, we are going to cover all the features that can be found on a diaper bag.
Material
The material that your diaper bag is made from is the first thing that you see. An often-overlooked area of diaper bags is that the material is more than just a fashion statement. The material will actually contribute to just how easy to use your diaper bag is.
Easy to clean
You want to choose a material that is easy to clean. Your diaper bag
will
Get dirty. From mud to poop, there is absolutely no limit to the dirty things your diaper bag will come into contact with. Your fashionable new diaper bag won't look so stylish if it's covered in stains (or worse, mold and mildew). You want to choose a material that you can simply wipe down to return the bag to it's polished look. It used to be that leather was the easiest material to clean and canvas would have you scrubbing for hours without success. Advancements in manufacturing mean that this is no longer the case with many diaper bags now being treated to repel water and stains, regardless of the material used. Some diaper bags go a step further and proudly claim that they are
machine washable
. Did a used diaper leak through your bag? Did baby spit up and splatter the outside of your diaper bag? Simply throw your diaper bag through a wash cycle to have it emerge as clean as the day you bought it. Being machine washable is a feature that is typically found in higher end bags. While it may seem like the easiest way to clean your bag you will still have to allow for drying time. Drying may take up to 24 hours, depending on the material of the diaper bag. In this time you will be unable to use the diaper bag which can be a problem, particularly if you are someone who uses your diaper bag on a daily basis.
Is the diaper bag material waterproof
Waterproof diaper bags rock! You can carry your diaper bag through the rain without worrying about soggy baby gear. Not only that but because the material doesn't absorb water, stains have a much harder time taking hold.
Breathability of the material
There is a good chance your diaper bag is going to hold some pretty smelly objects. From used milk bottles to soiled cloth diapers, you may unknowingly be carrying around your own personal gas chamber. Trust me on this; you do not want a diaper bag that lets smells out. Passers-by in the shops will be giving you looks wondering whether or not you have showered in the past week.
Ideally, you want the smells trapped inside the diaper bag. Because of this, you want to choose a material that does not breath (allowing bad smells to escape). On the topic of odors, some fabrics are even treated to resist odor. This means that you won't have to air the diaper bag out for hours after carrying around a particularly smelly load.
Color of the interior
Check out the lining on the inside of the above two diaper bags. Notice a difference? Believe it or not, the color used to line the inside of the diaper bag can have a huge impact on whether or not you can easily locate your baby gear. Lighter colors provide more contrast, making the baby gear inside easier to spot.
This is particularly important if you are rummaging around in poor light trying to solve your baby's most recent diaper problem. While lighter colors may stain easier (depending on the fabric used) the benefit of being able to easily and quickly find the baby product you need far outweigh this negative.
The latch
A latch is essentially a closure that stops your diaper bag opening up (e.g. a zipper). A latch stops your diaper bag from opening up and spilling the contents on the ground. It is vital that the latch is not only easy to use but effective at holding everything inside (especially if you pack your diaper bag to the point of bursting) but easy to use as well. Let's take a closer look at the different latches you will come across while shopping for diaper bags.
Zipper
Zippers are one of the most commonly used methods of securing your diaper bag shut. Their ability to hold your diaper bag shut despite no matter how full (even bursting-at-the-seams full) is super impressive. Unfortunately, zippers can also become your enemy.
Imagine this…
Your baby has just unleashed the mother of all poop explosions upon his diaper. Frantically you throw down your diaper bag to look for your emergency poop tools. You go to yank open the zipper only to discover that it is stuck; locking you out of your diaper bag.
Sounds like a horror story, doesn't it? Zipper quality is, unfortunately, a commonly overlooked part of the diaper bag choosing process. Zippers; particularly ones on cheaper diaper bags, can run off the tracks or get stuck. When testing a diaper bag, open and close the zipper a few times. Be quick. Be rough. If the zipper constantly catches on the fabric of the diaper bag or is difficult to open, then it is probably best to steer clear.
Strap and Clip
Than two belts and a clip that come together to close the diaper bag (like the that goes under your chin on a bicycle helmet but larger). Some straps are adjustable; allowing you to pull them tight when securing a bulging diaper bag.
While clips are easy to open with a two-finger pinching motion, they can a little more difficult to line up and close than other latches. Clips are more commonly found on messenger style diaper bags.
Velcro
Velcro is usually found on cheaper diaper bags or used for securing individual pockets. Velcro allows you to quickly and easily open the diaper bags as opposed to searching for the beginning of a zipper or clip. Unfortunately, its ease of opening can also mean that you may find your full diaper bag opening on its own.
Another problem with Velcro that it is noisy. Very noisy.
Riiiiiiiiiiiiiip
Each and every time you open your diaper bag.
Riiiiiiiiiiiiiip
Loud enough to wake your sleeping baby. Do you really want a diaper bag that you won't be able to open while your baby snoozes away?
Magnetic Clasp
Closing with a satisfying "snap" sound, magnetic clasps are generally found on high end and designer diaper bags. When the diaper bag is closed, the magnetic clasp is hidden from view. This means that the latch will not interfere with the looks of the diaper in the same way that a zipper or and strap would.
Like Velcro, magnetic clasps are incredibly easy to open and close. Also, like Velcro, the same problem arises in that you will have trouble closing a diaper bag that is over packed.
And the other latches
The above latches are most commonly found on the main compartment. There are other latches that are commonly used but these are generally reserved for sealing individual pockets on the bag. These latches include:
It is not uncommon to find diaper bags that contain multiple latches. You may find a zipper closing the main compartment while the pockets inside use Velcro or drawstrings to remain closed.
Number of pockets
You want enough pockets to organize all your baby essentials. Pockets are amazing. Rather than simply dumping all your baby essentials in a large bag, pockets allow you to find quickly the exact baby product you are looking for; no more digging through a pile of baby stuff just to find the baby wipes at the bottom. You want a diaper bag with enough pockets to allow you to easily sort your baby gear. While pockets on the outside of a diaper bag will make the bag look less fashionable, they are very handy for storing frequently used items (baby wipes, bottles, keys, phones, etc.).
Now, this may surprise you:
More pockets is not necessarily a good thing
"But doesn't more pockets mean more ways you can organize?" I hear you say. Not necessarily. It all comes down to USABLE pockets. There is a difference between the number of pockets and the number of
usable pockets
. Some manufacturers try to lure you into buying their diaper bag by advertising an obscenely high amount of pockets. However, when you start filling these pockets up you may notice that some pockets will expand and overlap with other pockets, making them hold less than their maximum capacity or worse, making them completely unusable! This is a particular problem with pockets that are sewn into the lining inside the diaper bag. So the next time you see that diaper bag advertising 50 million pockets, don't be suckered into this marketing gimmick. Double check and make sure you can use them all.
Item-specific spaces
Becoming increasingly common are pockets and storage areas purpose made for specific items. Let's take a look at the more common storage solutions you will come across.
Baby bottle pockets
While it may not look pretty on the outside of your diaper bag, having your baby's bottle within easy reach sure is handy. The depth of the bottle pocket
Insulated bottle pockets
A pocket designed to regulate the temperature of whatever you put inside, whether that's your baby's bottle, water, tea or coffee. The pocket is lined with a layer of aluminum to help prevent warmth or cold from escaping.
Baby wipe pockets
If you are a parent of a baby that is constantly sticky, then you will love this. A baby wipe pocket will allow you to quickly retrieve a wipe without having to open your diaper bag.
Phone and tablet pockets
It can be difficult to go 5 minutes without checking your phone for Facebook updates or beating the latest level on candy crush. If you are addicted to technology, then you will love the fact that many diaper bags now come with a dedicated pocket for your phone or tablet.
Toy hook
A toy hook will allow you to keep your baby's favorite toy or pacifier on hand for when your baby starts to cry. At a moments notice you will be able to hand your baby his favorite toy to soothe away the tears.
Built-in diaper change pad
With all of the fancy features that can be found you can easily forget what the main purpose of a diaper bag is; to carry around changing gear for when your baby goes poopy. Poop can strike anywhere. At any time. While sometimes you might find yourself near a public restroom, other times you may find yourself gracefully changing your baby on whatever flat surface is nearby (that picnic table over there looks good).
That's where a baby changing pad comes in
. Changing pads provide a comfortable barrier between the flat surface for your baby to rest on while he has his diaper changed. Some diaper bags, like the one pictured above; can transform into a complete portable baby-changing-station. Other diaper bags take a simpler approach and provide a separate changing pad designed to fit perfectly into the diaper bag. Changing pads can be quite bulky and can quickly take up a large amount of real estate inside your diaper bag. Changing pads that come with your specific diaper bag have been designed to be completely functional while taking up as little space as possible.
Feet
Depending on your diaper bag, chances are you will have to place it down on the ground in order to retrieve baby gear from inside. Now the ground is a dirty place, not only do you risk coating your diaper bag in dirt and dust, but you may even scuff or tear the base if you are not careful.
Some diaper bags will come with small feet sewn into the base of the bag. Rather than have the base of your diaper bag come into direct contact with the ground, the feet will keep the bag slightly elevated, helping to keep your diaper bag looking clean and new for longer.
Stroller Straps
Some diaper bags can convert between a carry bag and a stroller diaper bag by simply adding a couple of straps. The straps will either be included with the diaper bag or (much more annoyingly) available as a separate purchase.
Best messenger diaper bags
Easily the most gender neutral out of all diaper bags, messenger diaper bags are hugely popular among couples that share a diaper bag. Lets take a look at the leading messenger diaper bags on the market.
Sash Messenger Diaper Bag
Skip Hop Diaper Bag: Iconic Duo Signature Function Forward Tote with...
The updated Duo Signature boasts a bevy of new features that moms and dads have requested: zip-top closure ensures...
New front panel design allows for more storage and stability while keeping items at the bottom of the bag easily...
The redesigned Duo Signature still has all the classic components of the original including our patented shuttle clips...
Style:
As pictured
Brand:
Skip Hop
Best diaper bag for twins or more (large diaper bags)
If you have been blessed with twins, triplets or more then you will need a diaper bag with a little more room than most folk. As you will no doubt be aware, double the baby means double the baby gear. With a strong focus on space, the following diaper bags would be perfect for twins but would also suit parents who are caring for two children still in diapers (like a baby and toddler).
Hold-it-all diaper bag
No products found.
Style:
As pictured
Brand:
Skip Hop
There is a reason that skip hop named this diaper bag the "hold-it-all". Do not be fooled by the picture, the diaper bag is big. Unapologetically big. You know, the kind of big that stands in front of you at a live concert and ruins the show for you. Yep. Big. Fortunately, bigness is what you are after if you have twins or more. To give you an idea of the size, this diaper bag will easily fit across the handlebars of a double stroller (the side-by-side kind, not the tandem type). Yep, that's a colossal diaper bag right there. With 16 pockets including two insulated pockets for bottles, you will easily be able to organize the abundance of baby gear you will need to take with you. Don't like the idea of a stroller diaper bag? Not a problem. The hold-it-all also converts into a tote or slung over the shoulder messenger bag style. Just be warned that the size can make it a little bit bulky lug around. If you are expecting multiples and are weighing up your diaper bag options, then this is an ideal place to start.
8 Count Tote Bag
Style:
Two color options
Brand:
Babymel
Who said a large diaper bag has to be heavy? If you have twins, then there is enough weight in the baby gear itself without the diaper bag contributing. Babymel has managed to create a huge diaper bag without the heft. With a design that is clearly more focused on males than females, This huge diaper bag contains 12 pockets in total. Five external pockets, five internal pockets and two external insulated pockets just for your baby's bottle. The diaper bag can be carried tote style or thrown over the shoulder with the included strap. A changing mat is also included.
Be Prepared Diaper Bag
Ju-Ju-Be Hello Kitty Collection Be Prepared Diaper Bag, Tick Tock
Ultimate diaper bag for an over packer, mommy with twins or an overnight trip
(17) smart friendly pockets making it easy to keep ultra-organized
Includes Teflon treated outer fabric, Agion antimicrobial protected lining and 3M Thinsulate in the insulated bottle...
Style:
Over 20 different design options
Brand:
Ju-Ju-Be
While the previous two diaper bags are roomy enough for twins, they certainly are lacking in the looks department. Enter the Be Prepared diaper bag. With over 20 different designs (many of which look gorgeous), any fashion focused mommy will be able to find the perfect design to complete her outfit. Looking good while taking three babies on an outing? Now that's impressive. While this is one of the priciest options out of the large diaper bags, it is easily the most durable on the market (with some nice features to boot). The mouth opens wide to allow you to easily locate any baby gear, even if it has been buried. At the bottom of the diaper bag are crumb drains (to let dust and bits out) and cleaning is as simple as throwing the bag in your washing machine. This was my go-to diaper bag while I had two babies in diapers and I still have it to this day. It is
very well made
and while it does not look as bright and fashionable as it once did, it is still more than up to the task of being filled to the brim with baby gear. I highly recommend this diaper bag.
Best diaper bags for air travel
These diaper bags are for the frequent flyers among you who bring baby along for the ride. A diaper bag that needs to be stored overhead is no good, particularly if you need to access your baby's gear and the "fasten seatbelts" sign is on.
Be Prepared Diaper Bag
Style:
4 different color options
Brand:
Lug
These diaper bags are not only fully functional but most importantly, fit underneath your seat on the plane for quick access. Trust me, a suitable diaper bag will make you and your baby's airplane trip a whole lot smoother.