If babies could live by themselves, would you need the best baby swing bouncer combo? No.
Unfortunately, babies are pretty needy, so you probably should acquire the best baby swing bouncer combo, and a diaper bag, and nerves of steel. Lucky for you, even if you don't have nerves of steel, a nice swing and bouncer can help.
Comparison Table
What is a Baby Swing Bouncer Combo?
When you have a baby and need to start preparing for them, you might find yourself doing some research. You'll see words like swing, bouncer, glider, and rocker. To a new parent, all of these might sound like separate things you need, but in reality, they're varying motion generators that soothe.
All these machines are really designed to do is mimic the motions of your arms so that the baby feels comfortable. The most common are swings and bouncers; rockers and gliders kind of do the same thing as a swing. Though they were needed before, modern technology has turned the swing into an all-in-one type of deal.
Swings
Everyone and their mother has seen, and probably sat in, a baby swing. The purpose of a swing is to keep the baby moving, which will keep them from fussing, at least for a little while. Traditionally, the swing is designed to swing a baby from side to side.
With the development of new and better technology, though, the possibilities are endless. Swings today can go side to side as well as back and forth. Some baby swings will even vibrate, though the owners of many vibrating swings say they can cause blowouts.
You've been warned.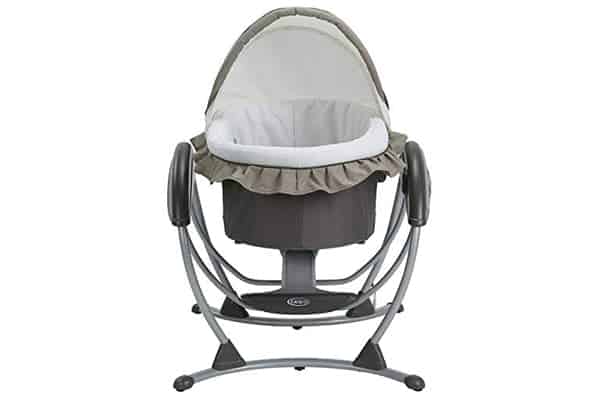 Why are they important?
Parents are like superheroes, regardless of whether you have a full-time job or you stay at home to care for your family. However, even if you're the best parent in the world, you're going to need to take a break every once in a while.
Baby swings can help immensely. The swaying motion will help to soothe the baby and maybe even lull them to sleep so you can get stuff done. If you use it correctly, a swing can be an excellent tool to help both you and your baby relax a little.
Bouncers
Are bouncers and swings the same thing? Absolutely not.
The difference sounds minuscule, but it actually could mean a lot to a fussy baby. Unlike a swing, a bouncer just bounces the baby gently. Unless it is specifically a swing bouncer combo, a bouncer does just what it sounds like, though they vibrate sometimes.
Why should you use one?
Babies generally like to swing, but they also like to bounce. A baby bouncer will do what a swing does in the sense that it will provide your baby with comfort. It's still an amazing tool for baby relaxation, even if it doesn't necessarily swing them.
Do You Need the Best Swing Bouncer Combo?
As mentioned earlier, babies like to swing, but they also like to bounce, so the best baby swing bouncer combo is ideal. That way, you'll have options for what motion you use for your baby. Children can be moody, so being able to find the best motion to get them to relax is vital to keeping them happy.
Of course, if you're going to get a swing bouncer combo, you want the best baby swing bouncer combo you can find. If you buy one that isn't the best, it could prove to be more hurtful than helpful in trying to tame your beast. If it doesn't at least have the best safety features available, it's not worth buying.
How We Found the Best Options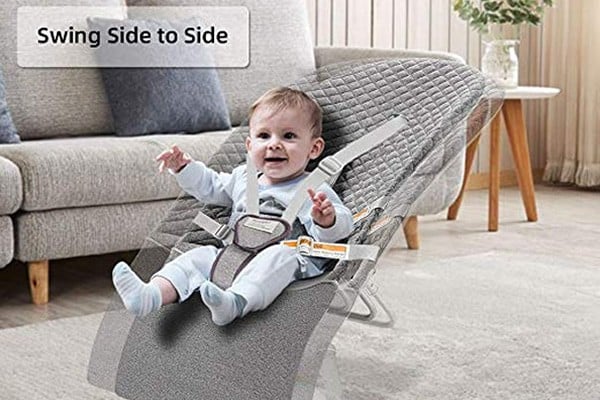 First, we looked at the safety features. The best baby swing bouncer combo isn't going to just let the baby fall out of it, or come unhinged while they're sitting in them.
We also looked at the material. The cushion inside of a swing bouncer combo should be comfortable for the baby, with padding for safety. Products that were machine washable earned bonus points because babies often leak.
The last things we looked at were the bells and whistles: attachments, music, extra features, and color choices. These things aren't vital, but sometimes, they do help to soothe the baby. Products that had some kind of enrichment earned bonus points, too.
The Best Baby Swing Bouncer Combo
The best baby swing bouncer combo meets all of the criteria above, most importantly, safety. In addition to peace and quiet, you deserve the peace of mind of knowing that your baby is safe.
So, after some nail-biting, nerve-racking research, we came up with a list of the 10 best baby swing bouncer combos money can buy. They may have varying features, and some may meet your specific needs better than others, but all of them work. They'll do their job, and they'll do it well.
Graco Soothing System Glider
Graco's glider is a top contender in the race for best baby swing bouncer combo. It has the swing and bouncer features, as well as vibration speeds for extra comfort options. The cushion inside the mechanism is soft and can be removed as the baby grows bigger.
The Soothing System comes with a cord that plugs into the wall, but it also comes with the option to use batteries. That means it's fully portable, so in a pinch, you can pick it up and bring it with you.
Unfortunately, the batteries are not included, but that's not really a big deal. The glider has no musical features, though it has some dangly toys. The cover is not machine washable. So be warned, it could get messy fast.
PROS
Machine washable cover
Two ways to power
Portable
Built-in toys
CONS
No musical feature
Batteries not included
RONBEI Baby Swing
RONBEI called their mechanism a baby swing, though that's not entirely true. It also offers a bouncing feature, so don't let the name fool you; it can keep up with the best of them. In addition, this swing bouncer combo has an incredibly sleek look, which will fit with a lot of your typical in-home aesthetics.
However, the product is lacking a little bit in some other departments. For example, the cover does not come off of the chair at all, so it'll be hard to clean in an emergency. It also doesn't have any kind of enrichment for the baby; it is just the bare bones of a swing bouncer combo.
PROS
Looks great
Swings and bounces
CONS
No removable cover
Music not included
No toys
Tiny Love Boho Chic 2-in-1 Rocker with Removeable Toy Bar
Tiny Love's swing bouncer combo is one of the more unique systems on the list for the best baby swing bouncer combo. It swings, and it bounces. But it also takes the baby's motion into account. The movement of the baby will actually help generate some of the bouncing, so your baby will be getting the right amount based on their body movements.
It also has several enrichment features for the baby attached, like some dangly toys and a bunch of different sounds to play.
Unfortunately, this product is not machine washable, so you will be stuck cleaning up accidents by hand. The product also is not completely automatic, meaning that it will take at least a little bit of effort to soothe your baby. It's a good deal, but not if you want to kind of set it and forget it.
PROS
Dangly toys
Music options
Baby's movements play a role
CONS
Not machine washable
More effort needed from parent
Fisher-Price Bouncer
Fisher-Price is one of the most well known and trusted baby product brands on the market, and the bouncer further proves it. It has all of the features of a perfect swing bouncer combo: it swings, it bounces, it has sturdy plastic legs and a comfy seat.
Like some other bouncers, the baby's natural motions help to bounce them, while a vibration mode helps to gently sway and soothe them. The product comes with a couple of adorable enrichment toys shaped like safari animals.
Unfortunately, the product requires batteries to operate, and the cover is not machine washable. It also lacks any musical capability. If you're looking for a more high-tech swing bouncer, this one may not be the best.
PROS
Uses baby's natural movements
Has toys
Comfortable seat and durable legs
CONS
Only takes batteries
Not machine washable
No music
Fisher-Price Deluxe Bouncer
If the regular Fisher-Price bouncer swing isn't for you, then the deluxe might be the one. It's just as reliable in terms of safety as it's companion, but it actually made a step up. In terms of bells and whistles, it made all of the improvements you could want from the original.
The Deluxe Bouncer comes with even more motion options, as well as more vibration speeds. It also comes complete with music to choose from as well as some adorable toys to keep the baby occupied. The designs are precious, and the cushion and padding are perfect for every baby.
Did Fisher-Price come through with a machine washable cover? No, they did not. The bouncer is also a little more manual than some others; it does swing, and it does bounce, but it takes a little more effort, either by you or the baby.
PROS
Cute design
Additional vibration speeds
Toys and music included
Well padded
CONS
Not machine washable
More effort to get baby moving
Graco Duet Soothe Swing
Graco is another widely trusted and loved brand that makes everything from car seats to baby clothes; their bouncer swing is just the icing on the cake. The Graco bouncer mentioned earlier might seem like it had it all, but the Duet Soothe Swing might just have it beat.
It can either be plugged in or operated on batteries, which means you can set it up anywhere in your house, and it'll work just fine. It will swing your baby, rock your baby, and bounce your baby, all while keeping them occupied with toys.
Bonus points are in order: The cover is machine washable! What's up with that? One of the only products thus far with a machine washable cover is the Duet Soothe.
At this point, the Duet Soothe really has no huge downsides. It has music, toys, vibrations, and anything else you could want in a baby swing bouncer combo. It isn't as compact as some others, though, so that's something to consider.
PROS
Machine washable cover
Music, toys, and vibrations available
Two ways to power-- batteries or cord
Graco Duet Glide
Graco seems to refuse to leave the race for the best baby swing bouncer combo. The Duet Glide, like its companions, has plenty of bells and whistles. It has plenty of music choices, toys to look at, and four different motions to choose from.
It's also machine washable. Graco will not let you down. They're there to help you make sure that any accidents can be cleaned quickly and painlessly.
Although it's a great product, it does seem to be geared more toward younger babies than older infants. If you're looking for something bigger, you might want to check out some of Graco's other products we mentioned instead.
PROS
Machine washable
Loaded with toys, music, and vibration
Different motions
Uenjoy Baby Portable Swing
You certainly will enjoy the Uenjoy Baby portable swing. It comes in two colors: pink and blue, so you'll have somewhat of a choice. The product also comes with a few different toys, so your baby will be soothed and entertained all at once.
Though it might not look like much, the product holds its own among the big dogs. It's actually Bluetooth capable, making it the only product so far that you can fully have a choice as to what your baby hears. It also comes with a remote control so you can adjust the speed and sounds without disturbing your baby.
Unfortunately, it's a little bit small, though it says it's suitable for up to 24 months. The cover is also not machine washable, which is not ideal, coupled with the vibration features especially.
PROS
Color options
Bluetooth compatible
Remote control
Speed options
Comes with toys
CONS
Smaller
Not machine washable
WBPINE Baby Swing Cradle
WBPINE's Baby Swing Cradle is pretty standard as far as the best baby swing bouncer combo goes. It has excellent safety features and comfy padding, so the baby will be comfortable and secure. If the baby feels secure, then you can feel secure, too.
The product features six songs to choose from, so you'll have a couple of options, and it won't get too repetitive. That might not be so important for the baby, but I promise, it's important for you. You also have the option to put the swinging on a timer so that you don't waste battery or listen to songs longer than necessary.
PROS
Excellent safety features
Music choices
Timer option for convenience
CONS
Runs on batteries
No color options
Keep it Safe
In case you haven't figured it out, safety is key when it comes to babies. Babies are basically just big balls of mush and the occasional smile, so you absolutely need to be on top of your game. They can't protect themselves, that's on you.
Swings, bouncers, car seats, strollers, literally anything a baby goes in will have some kind of strap on it. It's there for a reason: Babies will fall out of anything you put them in if you don't strap them in. Please strap them in.
Swings, bouncers, and swing bouncer combos should never be placed on anything other than the floor. The floor is the only place where the machine is guaranteed not to fall off. Even if your baby is strapped into the seat, a fall off of the table or counter is not going to be good for them.
If You Can Swing it, Get it
Of course, you don't technically need the best baby swing bouncer combo. If you know your baby doesn't like to swing, or they don't like to bounce, maybe a look into another product would be better.
However, if you have a baby that just likes the movement, then the best baby swing bouncer combo is for you. You can switch it up; sometimes, the same movement for too long can become boring and cause unwanted fussiness. Your baby will have a variety of ways to be soothed, and you can accomplish your task.
Do you use a swing bouncer combo? Do you prefer an individual swing or bouncer? Let us know in the comments!
Featured image source: pexels