Baby formula is liquid nutrition designed to mimic a mother's breast milk when the milk isn't available. Most formulas use cow's milk as a base for protein and to better resemble a mother's milk, but some may be made from soy.
While it's globally recognized that breast is best, baby formula can be a huge help to mothers. It's a way to feed your baby when your milk supply is low, and it can help babies with very sensitive stomachs get the nutrition they need without worrying about allergens or introducing difficult foods.
If you're new to formula, there's a lot to learn. That's why we've put together this expert buyer's guide to answer some of the most common questions about giving your baby formula and to highlight what goes into the best baby formulas.
Baby formula FAQs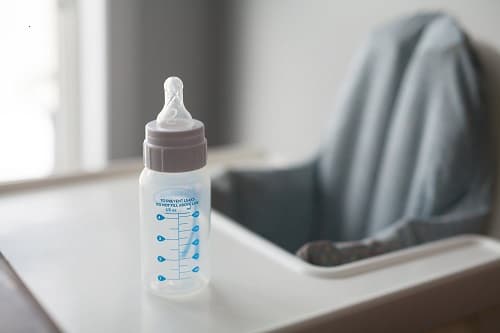 Whether you choose formula or breastmilk can be quite a contentious issue. Because of the disagreement, there's some misinformation floating around that often sticks in our minds without us realizing it. It's important to make an informed decision about the first foods that your baby will eat.
Before going over some of the best formula products, let's go through a quick set of frequently asked questions.
What ingredients are used in formula?
Most baby formulas use cow's milk as a base for the recipe, but some allergy-free and vegan formulas use a soy base. Formula is then fortified and made more easily digestible with:
Ingredients that fortify baby formula
checkIron

​checkVegetable oils

checkDHA/ARA

checkPrebiotics

checkPrebiotics
Individual formulas have different ingredients lists, particularly when you're looking at specialty formula. However, all formulas sold in the U.S. are nutritionally equivalent because every formula manufacturer has to follow the very strict guides required by both the U.S. Formula Act and the Food and Drug Administration.
Does it have lactose or dairy?
Formula is designed to mimic breast milk as closely as possible. Cow's milk contains lactose and dairy, but non-cow's milk formulas may be lactose- and dairy-free.
How long has baby formula been used?
Baby formula was developed and patented by Justus von Liebig in 1865. Prior to the use of formula, some mothers relied on wet nurses as an alternative to breast feeding; the practice has been in use for thousands of years and was used in Ancient Egypt, Greece, and Rome.
How warm should formula be?
Formula can be warmed to whatever temperature your baby prefers. It's fine to give them room temperature or cold formula.
Do you need boiling water?
You don't need boiling water to make formula. If you do, make sure the water cools until it's lukewarm and then use it to make formula.
Never microwave a bottle before giving it to a baby. If you want to warm a bottle, run it under a hot tap or place it in a bowl of warm water to raise the temperature.
What water is best for formula?
Ideally, you'll use low-fluoride water, whether that's tap water or bottled water. It's also possible to buy bottle water specially formulated for formula use.
If you use tap water, run the cold tap for a few moments before collecting water. The CDC also recommends boiling tap water before using it to make formula.
When should babies be weaned off formula?
Babies can be weaned off formula when they're ready: between 10 months and one year. By their first birthday, they should rarely drink from the bottle.
Can you switch baby formulas?
Changing formula brands won't hurt your baby, but they may be cranky as they adjust to the different tastes.
Can babies develop a formula allergy?
Babies can develop formula allergies; however, allergies are sometimes mistaken for lactose intolerance.
The most common signs of a formula allergy include eczema, hives, difficulty passing gas, and fussiness after eating.
Can you travel with baby formula?
Yes, you can bring an unlimited amount of powder with you wherever you go. You can also bring bottles of liquid formula, but it's likely your bottles will be tested.
Types of baby formula
There are three main types of baby formula in circulation. These types represent the form the product comes in:
Powdered formula comes in a can with a scoop, and it's the most economic formula option available for formula feeding.
Concentrated liquid is poured from a contained. These products are more expensive than powdered formulas, but they're great for when you're travelling over long periods of time or if you've left your little one with a sitter. Because it's concentrated, it needs to be diluted with water; bottled water works well for this.
Ready-to-useformula is known for its convenience – you don't even need water. Ready-to-use formula is the most expensive, but it's not only easy to use when you're out and about, but it's less likely to leave your babe constipated than powdered formula.
While most baby formulas will come in one of the three forms listed above, there is a vast number of specialty baby formulas on the market including:
Cow's milk protein baby formula is the most common type of formula. Designed to imitate a mother's milk, these formulas use cow's milk as a protein base.
Organic non-GMO baby formula is made with organic products and without the use of GMO ingredients. These formulas are often dairy-based, using cow or goat milk as a way to model the formula after natural breast milk. Due to the lack of possible pesticide contamination, organic baby formula reduces the risk of any harmful side-effects on your baby's health.
Soy baby formula replaces the cow's milk base with a soy base to add protein and remove both dairy and lactose from the mix. Soy formulas often replace lactose with glucose. Note that soy-based baby formula is not recommended for premature babies. However, those with certain health conditions like lactose intolerance and galactosemia would benefit from soy-based formula.
Dairy free formulas are given to babies with milk allergies. These may include soy formulas, but between eight and fourteen percent of babies allergic to cow's milk won't tolerate soy either. Other dairy-free formulas include amino acid formulas, which are made of proteins broken down to a simple form.
Hypoallergenic formulas are partially hydrolyzed, which means the milk protein in the formula is partially broken down making the formula easier to digest.
How to make baby formula
Making a bottle of formula is relatively simple.
Start by washing your hands and finding a sterilized bottle, nipple and cap.
Read the instructions on the formula and add the required amount of water for the size of the bottle for the serving you want to make. Then add an unpacked scoop of the formula or the correct amount of formula concentrate to the bottle according to the directions on the packaging.
Mix by putting a cap on the bottle and shaking thoroughly.
Feed the baby right away or store it in the refrigerator or a cool storage container.
5 Best baby formula brands
There are dozens of baby formula brands available on the market. Some, like Gerber, feature instant brand recognition while others are new, high-quality products that haven't yet made it into the mainstream.
Here are my five favorite baby formula brands:
1. Gerber Good Start Gentle Powder Infant Formula
Gerber's Good Start formulaoffers the complete nutrition of breast milk in powered formula form. I like the Comfort Proteins because difficult to digest proteins are often the biggest barriers between happy tummies and formula feeding. Gerber's Comfort Proteins are broken down proteins that the formula easier to digest.
PROS
Works for babies from birth to 1 year
Complete nutrition with protein broken down for easier digestion
plusMimics breast milk and includes DHA, prebiotics, and probiotics
plusNo GMOs
CONS
Babies with sensitive stomachs may experience constipation
Negative rating with Clean Label Project in 2017
2. Earth's Best Organic Infant Powder Formula
Easy to digest lactose powder

Non GMO and Kosher

No added corn syrup solids
Earth's Best formulais a milk-based powdered formula that is nutritionally complete and includes the ARA fatty acids found in breast milk. I like this formula because unlike many other formulas, there's no added corn syrup.
PROS
Easy to digest for an organic formula
Mimics breast milk without adding corn syrup
plusAdded ARA fatty acids and iron
CONS
Soy formula is not organic
Can be foamy
3. Baby's Only Organic Dairy Formula
Gluten and corn syrup free

High levels of DHA and ARA

Non GMO
Baby's Only Organic formulais a dairy-based powdered formula that includes organic ingredients and no GMOs. I like this organic baby formula because it's good for babies who have corn and gluten allergies and because it's highly rated by the Clean Label Project.
PROS
Added fatty acids for extra DHA & ARA to replicate breast milk
Organic and free from GMOs
plusSuitable for gluten and corn allergies
plusFree from lactose
CONS
Primarily available in toddler formulas to encourage breastfeeding
Difficult to transition from breastmilk to organic formula
4. PurAmino Hypoallergenic Infant Formula
PurAmino Hypoallergenic formulais suitable for babies with serious milk protein allergies who aren't well suited to the hydrolyzed formula often used for allergies. I like that although it's not based on cow's milk, it does provide complete nutrition for babies up to six months old.
PROS
Perfect for babies with severe allergies
Works as a meal substitute for babies and toddlers with severe allergies
plusAdded DHA and ARA for brain health and development
CONS
Contains MSG
More expensive than other formulas
Enfamil's Newborn Premium Non-GMO Infant Formulais the only ready-to-use formula I included on this list. It's expensive, but it's a fantastic, nutritionally complete formula that makes feeding easier but doesn't skimp on all the goodness that helps babies grow and develop.
PROS
Ready-to-use for easy feeding
No GMOs
plusAdded inositol to mimic breast milk
plus30 nutrients including double the Omega 3 and DHA found in other formulas
CONS
Expensive
Expires faster than powder
Other Baby Formula Brands to Consider
Similac Pro-Total Comfort Infant Baby Easy to Digest Formula
Similac has always been on top of the game when it comes to formula milk and this supplementation is nothing short of the brand's standards when it comes to quality. It is non-GMO and has OptiGRO, the brand's nutritional trademark.
Most of all, it contains 10 percent more probiotics compared to the basic Similac Advance formula. So, you don't have to worry about hard stools which is common in breastfed babies who are supplemented with formula milk.
Switching from breastmilk to formula
Many mothers choose to move from breast to bottle in the months after the birth of their baby. Some of the most common reasons for supplementing breastfeeding with formula include:
checkLow milk suppy

checkPumping isn't an option

checkYou need extra sleep
Whatever your reason and whenever you choose to transition, you'll find that weaning from the breast to formula is rewarding but also comes with its own set of challenges.
Both you and baby will be conscious of the change, and it's important for both of you to work together to wean.
Instead of switching complete, start by switching one feed at a time to the bottle. After a few days, you can eliminate another breastfeeding session and replace it with a bottle feed.
Avoid switching out sessions when your baby is particularly hungry. Your little one won't know how to use a bottle, and hunger leads to frustration which may lead to rejection. You might also ask someone else to introduce the bottle for less resistance; your baby expects your breast and may be upset if you introduce such a dramatic change.
How we choose the best formula
After nursing children of my own, I learned quickly that every baby has different tastes and different tummies. The right formula for my first born was quickly rejected by my second child with no explanation. Finding the right formula is frustrating, and no one likes wasting an entire tin of powder because, after three bottles, your babe just won't eat it anymore.
That's why we put together a range of different formulas at different budget points that all focus on being easy for baby to digest. From birth to adulthood, feeding time is time for your family to bond, so it should be as easy as possible to get the nutrition you need!
Tips for buying the best baby formula
Formula is one of the hardest baby products to buy because you can't know if your little one likes it until they've tried it.
Still, you can improve your chances by seeking out formula that:
1Breaks down proteins for easy digestion

2Includes iron and fatty acids required for development

3Uses cow's milk as a base (unless your baby has an allergy)
If you're struggling to find the right formula, ask your doctor or pediatrician for suggestions.
Accessories that make formula feeding simple
Formula feeding looks easy, but once you're preparing and washing an uncountable number of bottles, it starts to wear you down.
We can't recommend formula feeding accessories enough for simplifying bottle feeding and making your life just a little bit easier.
Formula dispensers
On the go? Formula dispensers carry around pre-measured scoops for formula, so all you need to do is mix and go – wherever you are.
Formula makers
Make bottle feeding at home as simple as possible with a formula maker.
These appliances look like Keurig machines – for formula. They hold powdered formula and filtered water and do the shaking for you. All you need to do is press the button.
Formula mixers
Avoid lumpy bottles and cranky babies with a formula mixer. Mixers combine the ingredients without leaving clumps or sediment behind for a smooth bottle.
Hopefully this guide has helped you to pick the best baby formula and accessories to keep you and your baby healthy and happy. If there is anything I missed that you want to add please let me know in the comments below!
Featured Image Soure: Pixabay