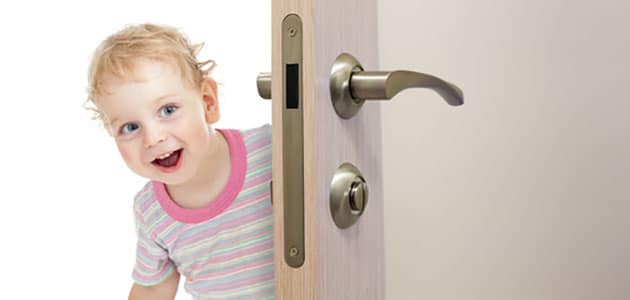 There are two things that need to be remembered when looking to child proof a door:
Preventing your child from using the door on its own
Preventing your child from injury due to moving parts such as hinges
In this guide I will cover products that will solve the above two points for internal doors which are often opened and closed. For the more frugal of you, I have also included simple do-it-yourself guides to baby proof the internal hinged doors in your house.
Prevent your baby opening hinged doors
Whatever is behind a door is a lot more interesting to your baby than anything in the room it is currently in. A child by nature is curious. You may find that you need to use a locking mechanism on hinged doors to prevent unsafe exploration.
When choosing a product that prevents your baby from opening doors there are two questions you need to ask:
Will my child be able to figure out how to open the door?
Does the product allow me to easily open and close the door when needed?
The answer to the first question is a little tricky. You will likely realize you are raising a devious genius when you try to prevent your little one from doing something, such as opening a door. Kids are clever. If one product or method of securing the doors doesn't work, do not get disheartened. Simply try another.
The second point is commonly overlooked. You will likely be using the door securing device for the majority of your child's early life. You do not want to choose a product that is going to frustrate you each and every time that you choose to open a door.
Products to baby proof doors
There are many different products available to baby proof the doors in your home. Some will be more suited to your situation than others. Some products will hold the door closed, while others will stop your baby from playing with the door knob.
I cannot stress enough that if one product does not work for you then try another. Time and time again I will see a product halt a baby in its tracks only to have a different baby thwart it in minutes. Your baby is unique and special. Embrace it! What works for one will not work for another.
Round door knob locks and covers
I'll be honest and openly admit it, I am not a fan of door knob covers and locks. Anything that your child can reach and fiddle with is just asking for trouble. That said, many mothers swear by them.
A door knob lock will fit over your existing door knob. Different products will utilize different methods to prevent your child from using the door knob. Most commonly they will rely on certain components needing to be pressed down upon in order to turn the knob. This typically can only achieved with a larger hand or hands.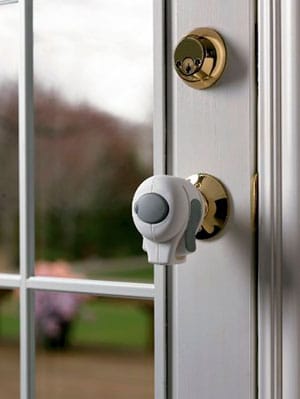 Door Knob Lock
Styles: As pictured
Brand: KidCo
Pinch to open
Easy to install.
Fits standard done knobs.
Difficult for baby to figure out.
Price & Reviews
Lever handle door locks
Did the original builder of your house decide to use lever door handles? These handles are incredibly easy for an infant to open as they can be pulled down by bodyweight alone. Fortunately there is a baby proof cover and lock designed just for lever handles.
Baby proof lever handle covers work in a similar fashion to the ones above. The cover fits over the door handle and can be secured with adhesive tape. If you require a sturdier solution, screws are also included to fix the cover to the door. Be mindful that this will leave holes when they time comes that baby proofing is no longer required.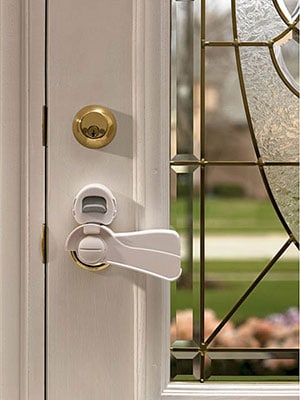 Lever Handle Lock
Styles: As pictured
Brand: KidCo
Pinch to open
Easy to install.
Fits standard lever knobs.
Difficult for baby to figure out.
Price & Reviews
The Door Monkey
The second product is known as the Door Monkey. Named after the "monkey tail" that holds your door in place by securing it to the door frame. The Door Monkey does not completely seal the door. Instead it leaves a small gap, allowing air to circulate between rooms.
The Door monkey can handle approximately 40 to 50 lbs (18 – 22 kg) before it becomes loose or breaks. Unless your toddler is the incredible hulk, he should be unable to generate enough force to break this.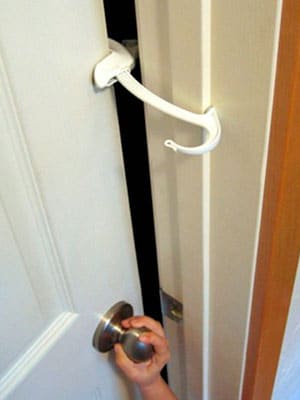 Door Lock and Pinch Guard
Styles: As pictured
Brand: Door Monkey
Works on any handle type.
Installs in seconds.
Doubles as a pinch guard.
Adjustable mount height.
Price & Reviews
Below is a video of the door monkey in action. If you are short on time, skip to 0:37 for the start of the demonstration.
Door Monkey Pros:
Can be mounted at any height
Easy to remove
Allows air circulation
Door Monkey Cons:
Pricey if needed in quantity
Requires standard square door moulding
Prevent fingers getting jammed in hinged doors
A closing door? This room is boring. Charge! I am pretty confident that this is exactly what goes through your childs head when they see a closing door. Usually the first thing to enter the gap of a closing door are fingers. Ouch!
Pinch Guard
Styles: As pictured
Brand: Safety 1st
Works on any hinged door.
Easy to attach.
Protects little hands.
Can be mounted at any height.
Price & Reviews
The most common way to prevent your little ones tiny fingers from getting bruised is through the use of a pinch guard. A pinch guard is essentially a piece of foam or plastic shaped like the letter U.
Pinch guards have the added bonus of preventing door slams. If your little pushes the door shut a little too hard, the pinch guard will prevent the door form slamming shut
The U piece is designed to sits on both sides of the door. It easily clips around the hinged side or lock side to prevent little fingers from getting caught.
Since the piece of foam will not prevent the door from completely closing, it is best used on doors that are a thoroughfare through the house and you want your baby to be able to enter and exit. Obviously this means that these are unsuited for front and back doors that are to remain firmly closed to ensure your childs safety.
Do it yourself door baby proofing
Whether you are just trying to save money or need a quick fix, there are plenty of solutions to baby proofing doors that can be made from house hold items
Keep a door closed with a simple wash cloth
The following method allows your baby to still turn the door handle but should be unable to muster up enough strength to open the door. Unless you are raising little Hercules this method to stop a determined toddler from opening a door.
You will need: a washcloth or similar piece of material
As you close the door, place the wash cloth between the door and the door frame on the same side as the door handle.
The door should fully close and the wash cloth stay in place.
Test the door by turning the handle and attempting to open the door. It should stay in put without exerting an amount of effort, more than your little one should be able to exert.
In order to open the door, pull the wash cloth tight and open the door as you normally would.
Tips:
If the gap between your door and frame is larger than normal, you can fold the wash cloth back over itself.
Place the wash cloth at a height your little one will be unable to reach it and pull it tight
Prevent a door from slamming shut
While this method will not look as nice as a purpose built product made to prevent door slams, it is simple and can be made using items just laying around the house. Perfect for safety conscious parents on a budget.
You will need: an old towel, masking tape.
Place the towel along the top of the door, closer to the hinged side. The door should close most of the way but stay ajar enough to prevent squashing your childs fingers.
Adjust: If the door stays open too wide for your liking, move the towel further along.
If the towel hangs too low, cut the towel to size, You don't want your little one grabbing the towel and pulling it off.
Using masking tape, secure thew corners of the towel to the door to prevent the towel from falling off.
Tips:
If you have a larger than normal gap at the between the door and door frame you may need to fold the towel back over itself
If you need to substitute the masking tape for a different type of tape, be sure that it will not peel off paint when the time comes to remove it
Use a towel that matches the door color to prevent it from standing out and looking mismatched
Stop your child from opening a door with the doorknob
You will need: Cardboard, scissors, tape
Here is a quick and simple way to make your own door knob lock, all you need is some cardboard and tape The idea behind this is that when your baby tires to open the door, they grab the cardboard which slides around, rather than turn the door knob itself.
Related Resources
Living room baby proofing guide
Kitchen baby proofing guide
Baby proof your cabinets
Choosing the right bathtub.
Washing and bathing babies.
Toddler bath safety.