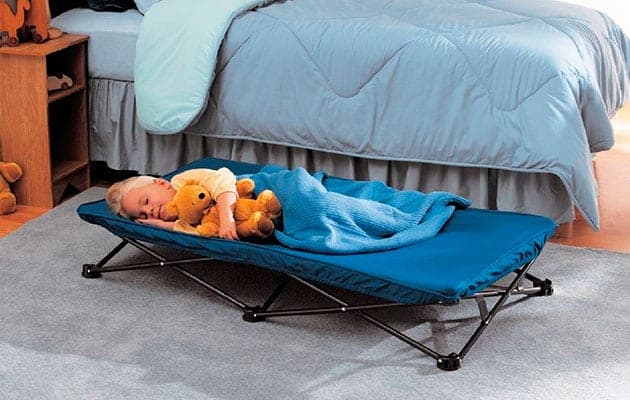 So you are going on vacation.
Wooo!
Just one problem…
Your tiny angel (or terror, depending on mood).
You would think that given their small size, toddlers would be perfect to travel with. After all, anything that takes up less space is a good thing, right?
It's hard enough getting a toddler to sleep in a strange new place, let alone on an uncomfortable surface.
And you know what that means; don't you?
If your toddler doesn't sleep then neither do you!
Why cant I just use a regular travel crib, like a pack 'n play?
If your toddler still fits then you may very well be able to…
But…
If your
big kid
now sleeps at in a bed without rails at home then you had better be prepared for tantrums.
Why?
Because who would want to go back to baby jail?
Once your toddler get's a taste of freedom there is no going back. I can't say I blame them. It's like saying:
You are a big boy at home but on vacation you are just a baby
Talk about sending mixed messages!
If you can provide jail free experience when on vacation then your toddler will love that you are respecting his newly found independence. And that's the whole reason why we raise kids, isn't it? For love…
Because it definitely isn't for money (just ask my accountant).
And for those of you on the fence about whether you need another piece of baby gear floating around your home:
Portable toddler bed's have lots more uses than just going on vacation:
Camping
Spare bed for toddler sleep overs
Daycare bed
Day time nap bed
So you have decided that a portable toddler bed is just what you need?
Good, lets take a closer look at:
The different types of portable toddler beds
Have you ever packed your car so full only to discover that closing the trunk is like trying to squeeze into a pair of jeans that is half a size to small?
Whether you are going on a road trip or camping, trunk space is precious. Fortunately, toddler cribs designed for travelling shrink down to a faction of their size when not in use.
Fold up toddler bed
You know those fold up camp chairs?
The ones that are little more than canvas stretched over a foldable frame.
Well it turns out that design works very well for travel toddler beds.
Fold ups are by far the easiest type of toddler bed to set up. In fact, you could probably have one unfolded by the time you have finished reading this sentence!
If only if only you could get your toddler to sleep that quicky!
A huge advantage of fold up toddler beds is that they can be used anywhere. Anywhere.
Seriously…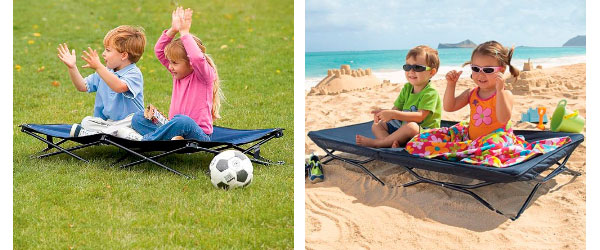 The easy wipe down material means that this bed can double as an outside bench for toddlers. Now that's getting your money's worth.
Now some of you may have noticed that this toddler bed is missing something….
That's right:
Raised sides
Instead, fold up beds rely on your toddlers weight to make the bed sag in the middle slightly.
The result is that your baby sleeps slightly lower than the side of the bed. If your toddler rolls around more than a man on fire then you may find that he will still fall out of this type of bed.
This style of toddler bed is incredibly suited to camping. The legs of the bed keep your toddler off the ground, preventing him from coming into contact with dirt, insects and whatever else sneaks into your tent.
Inflatable toddler bed
Essentially an inflatable toddler bed is the same as a regular inflatable mattress with one key difference: Raised sides.
If your toddler rolls around in his sleep then a toddler bed with raised sides is ideal; your little one will be unable to fall to the floor…
Which means you wont have to come to his rescue when the tears come!
Surprisingly, inflatable toddler beds are more expensive than a fold up one
Why?
Because they are a LOT more durable than your regular inflatable pool toy. The plastic used is incredibly high quality and tear resistant. In fact, many parents report that they still use their inflatable toddler bed over 4 years later.
If you are feeling brave (or just like a good challenge) then you could blow up an inflatable toddler bed by mouth.
However, If you are anything like me then I strongly recommend that you buy travel bed that comes with an electric pump (or purchase an electric pump separately).
I am a non-smoker and would like to consider myself fairly fit. The last time I blew one an inflatable toddler bed by mouth; I was puffing and wheezing like I had just run a marathon.
Another benefit of an inflatable toddler bed is that you wont be able to stop your little one from helping you pack it up.
Toddlers LOVE jumping on the mattress to help get all the air out. Plus; it's super cute to watch!
Once deflated, the toddle bed can be rolled up into a compact burrito, allowing you to easily store it away while traveling.
The best portable toddler beds
Okay, by now you should know what type of travel toddler bed you want to buy.
But before you open up your wallet, you should know that not all portable toddler beds are created equal. In fact, some downright suck.
I am going to show you my favorite toddler beds and examine just what makes them so great.
Best fold up toddler beds
A travel toddler bed for under $25?
Now that's cheap. If you are on the lookout for an affordable toddler bed that you can take anywhere then this is definitely your starting point.
Unfortunately there are no travel toddler beds designed specifically for twins, however this bed inexpensive to a point where it is not a big issue buying two.
If you are the kind of parent that buys blue things for boys and pink for girls then you will be pleased to know that this toddler bed is available in both of those colors.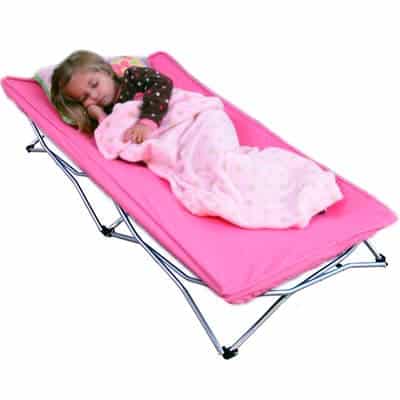 The bed can be set up in less than a minute, allowing you to quickly put your toddler to bed when he starts to get over tired (it's funny how you always seem to stay up later when on vacation).
If you have any concerns over whether or not the canvas will be too "scratchy" against your toddlers skin then you will be please to note that there is a fitted sheet included with the bed.
Another thing that I love about this toddler bed is that it folds down small enough for plane travel. Jetsetters rejoice!
Oh, and it also comes in a deluxe version:
Now you might be thinking:
Oooh, deluxe… Sounds fancy
I originally thought the same…
However; on closer inspection, the deluxe model is the same fold out bed. As the one above.
Then what makes it deluxe?
The difference is that it includes a fitted sleeping bag and pillow. How "deluxe" that is will entirely depend how useful you find these two items.
Now the fitted sleeping bag is actually a great feature. The sleeping bag attaches directly to the bed and seals your toddler in like a cocoon.
Because the sleeping bag is fitted, your toddler will have tremendous difficulty rolling out of the bed.
Of course, these features come at a cost. Whether they are worth spending the extra money is entirely up to you. Most parents seem perfectly happy with the standard model.
There is one other type of fold up travel bed:
Now this is not your ordinary fold up bed. Instead of a canvas liner it is made from soft foam. While this does add bulk (the bed is more suited to car trips than plane travel), it provides your toddler with a soft and familiar surface to sleep on; especially if he already sleeps on a foam crib mattress at home.
Unlike other fold out beds that have metal frames, this one is entirely soft. If your toddler is a little clumsy then you will know exactly how important it is to have a soft landing.
Leachco has a lot of experience creating comfortable foam sleep products and this toddler bed is no exception. You are probably already familiar with Leachco; they are responsible for making some of the best pregnancy pillows available.
The bed has bumpers on all 4 sides to prevent even the wiggliest of toddlers from rolling out. And even if he does; he doesn't have far to fall
Best inflatable toddler bed
Due to the popularity inflatable toddler beds there are a lot of them on the market.
If you want a travel mattress that is long lasting then look no further. When fully inflated this bed is roughly the size of a twin bed.
You know what that means? You could sleep your twin toddlers side by side if you needed to. This bed has room to move
But that's not the best feature. Included with this toddler bed is an electric pump. The pump will allow you to inflate the mattress in under a minute.
Deflating? Well that takes less than 15 seconds.
This is perhaps the easiest inflatable toddler bed you will ever have the pleasure of setting up.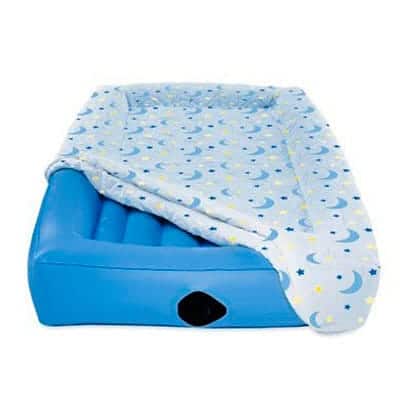 Included with the bed is a sheet that slides neatly over the top of the mattress. If you want to rotate sheets then you will be pleased to know that regular twin bed sheets will fit perfectly.
But what if you wanted an inflatable bed that is a little more "toddler sized"?
Perhaps this is more up your ally:
This inflatable bed is a little closer to the size your toddler would sleep on at home.
You know what that means?
You will be able to use your existing crib sheets with this bed; hopefully you have not thrown them out yet!
The smaller size also means that the bed will take up less room in your tent when camping which may be the difference between whether you have a little elbow room or not.
And because there is nothing worse than putting a hole through your inflatable bed in the middle of a vacation; there is a puncture repair kit included.
Not that it will likely be needed, unless you are particularly rough with this bed
As you would expect from a good travel bed, rails run down the side to prevent your little one from rolling off the mattress.
If you want your toddler to sleep in a regular bed on vacation you will be pleased to know that The Shrunks also make an inflatable toddler bed rail to stop your little one from rolling out.
The only thing I didn't like about this travel bed was the strong plastic smell that came with it when I first opened it, it was like a punch to the nose. However, after letting it air out for a couple of days the smell disappeared.
The bed folds down neatly into a drawstring bag. However, if you are looking for a solution that will also hold your crib sheets, sleeping bag, pajamas and a comfortable pillow for your toddler then you will need a complete bag.
Fortunately, the makers of this inflatable bed have designed a wheeled travel bag just to hold all your toddlers sleep equipment:
As you can see from this bag and the bed; the manufacture has an odd obsession with the colors brown and orange. In all honesty I am not a fan of this color choice.
Fortunately, they are both excellent products and if you can look past the color scheme then you will not be disappointed.
This bag is roomy enough to hold all your toddlers sleep gear yet small enough to fit into overhead storage on an airplane.
With the retractable handle and easy to steer wheels; you could even get your young child to pull this behind him at the airport. One less bag for you to carry? Sound's good to me.
When travelling; it is never a bad idea to bring along a bag just for your toddlers gear. By keeping it all together you will make sure you do not forget anything when packing or when the time comes that your vacation has ends (boooo!).
Conclusion
So as you can see there is lot's to choose from when the time comes to buy a travel toddler crib. The ideal one for you will all depend on how you travel (car, plane, boat) and the amount of room you have available to you.
But whatever travel crib you choose, one thing is certain; they are a great way to give your toddler a comfortable and safe place to sleep while away from home.
What do you think about travel beds for toddlers: Another piece of useless junk or an incredibly handy sleeping solution?
You know the drill: Leave me any questions, wisdom, love or hate in the comments below. Stay awesome!