As the weather warms up, our minds turn to the fun things about summer with one of those being swimming. Nothing beats the heat quite like a dip in a cool swimming pool. However, when you have a little one, you also have to be safety-minded.
Swimming pools can be very dangerous for toddlers. They are at a very curious age where they want to explore. They quickly learn that being in the pool is fun, so they want to play as often as possible.
It becomes our job as parents to provide them a safe way to explore and enjoy swimming. One option we have is to buy them a toddler swim vest. I want to help you choose the best vest for your child, so I have put together a review of the top vests on the market.
There is some confusion surrounding toddler swim vests and some things about these devices that parents may not understand. To avoid misunderstanding, I wanted to go over some frequently asked questions before I start talking about the best toddler swim vest.
A swim vest is a flotation device. They are not a lifejacket or a floatie. They fall somewhere in between and act as a swim aid. They help keep your child buoyant and are best for use when your child is learning to swim. They may not always keep your child's head above water, though. They also often have designs or characters on them to make them more appealing to toddlers, who can often be resistant to wearing such things.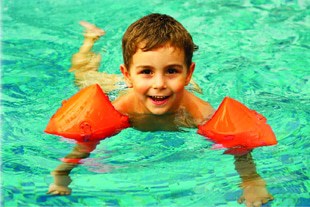 Floaties are different from swim vests in that they are often not fixed on the child. A child is buckled into the swim vest and some even have leg straps to keep the vest on the child. Toddler floaties, on the other hand, are usually more like toys that a child can hold on to. Even arm floaties, which are worn, can still easily come off and do not offer the same buoyancy as a swim vest.
Life jackets are made for all age groups whereas swim vests are only for toddlers. They also are a lifesaving personal flotation device, meaning they can keep a child from drowning. Life jackets usually have more bulk and may be uncomfortable for a child to wear when playing in the water.
You should start using a swim vest once your child reaches the minimum weight for the vest you choose. Typically, this is around age three, but it could be earlier. You want to use this device as a tool when teaching your child to swim.
Using swimming vests gives you the chance to make water more fun for everyone. Often when you introduce toddlers to the pool, they are clingy due to fear. This not only takes away the chance of being able to teach them to swim, but it also ruins the whole experience. You want swimming to be fun, so using a swim aid can give them and you some freedom.
Furthermore, when teaching your child to swim, he or she needs to be somewhat independent. Using a swim aid eliminates the automatic sinking and helps a child feel more in control of the situation. Swim vests also allow a child to play in the water without letting him or her dive or go under the way in dangerous ways. So, toddlers still can have fun, but with a little safety.
Choosing the right swim vest is going to be very personal and should match your child's needs. Here's a rundown of the different considerations to make:
Size - You should always look at the manufacturer's suggested weight. These vests are sold by weight because they are designed to keep a child of a specific weight buoyant.
Fit - Before buying a vest, always try it on your child. Make sure it fits snuggly yet is comfortable enough for your child to move.
Construction - Look at the overall construction to ensure the material is thick enough to not be torn easily and the straps and buckles are secure. Make sure your child cannot easily undo the straps, as well.
UVA/UVB protection - Sun protection is always important. If a vest has protection, that can be a plus.
Coast Guard approval - Not all swim vests have this approval because they are not designed as PFDs, but some of them may.
Review - Look over the reviews the product has gotten from customers. Check into the rating as well. Get a good idea of how the vest functions in the real world.
Looking over customer ratings and product information, I have compiled a list of the six top toddler swim vests on the market. Here is my review of each of them.
Features:
PROS
CONS
Overall, The Puddle Jumper earns rave reviews. Page after page of customer ratings give is four and five stars. Parents love that they can just put it on their child and let him or her swim without worry.
Of course, parental guidance is still needed, but the vest keeps a child from sinking and helps to keep his or her head and face out of the water. It is an approved PFD, so it can be used on boats as a life jacket. The main downside is that water can get trapped inside, which could lead to issues with mold.
Features:
PROS
CONS
It is important to keep in mind that this swim vest is specifically designed to use when teaching a child to swim. It does not work well as a flotation device when playing in the pool as it may ride up. It does well keeping the child in the natural swim position and because it is lightweight and thin, it makes it easy for a child to move. The biggest issue consumers seem to have is the sizing. It fits much smaller than expected based on the weight limits.
Features:​
PROS
CONS
This swim vest has some mixed reviews. It is designed very simply with just the zipper vest and safety strap that goes between the legs. This style of design has worked for some but not for others. Unless there is a good fit, the vest will not stay in place. The safety strap may also be irritating. On the plus side, this vest got good reviews for not being as restricting as other products on the market.
Features:
PROS
CONS
The Coast Guard approval on this swim jacket makes it ideal to use on the water and in the water. It helps keep children floating and prevents them from flipping onto their front. It works well for smaller children, providing natural support for their heads and necks. It is well-made and provides for a comfortable fit.
Features:
PROS
CONS
This swim vest has mostly positive reviews. The only concerns were that it might not fit well, and there is no safety strap that goes between the legs to keep it from floating up. However, this vest is really designed for teaching a toddler to swim. Because it has removable floats, it can be easy to work with a child on different swimming techniques.
Children's Swimming Flotation Device
Features:
PROS
CONS
This swim vest allows for movement but is a bit bulky. While it should fit tightly, it runs a little small. It is adjustable so the fit can be customized to each child. It has some mixed reviews, but the company's guarantee gets raves reviews.
The best toddler swim vest out of this group by far is the Stearns Puddle Jumper Basic Life Jacket. This product has pages and pages of positive reviews, and it isn't hard to see why. It pretty much wins in every single area when comparing it to the other swim vests. Not only is this Coast Guard-approved, but it is also completely adjustable with the buckle in the back, so your child cannot get out of it by him or herself. In addition, it will keep your child floating above the water. As an approved PFD, this swim vest provides you with a peace of mind that you can let your child have a little independence as you swim together.
I felt that if I was buying my child a swim vest to wear on one of our beach outings that this is the one I would choose hands-down. It was hard to find anything negative about this vest. Even when I did read negative reviews, it felt like it was more a consumer issue and not an actual product issue.
The Stearns Puddle Jumper just kept coming out on top. In fact, I see kids wearing these all the time. They have a distinct look, so it isn't difficult to spot them. It seems like every kid at the beach wears one. I take that as a good sign that these are reliable and that kids like to wear them, which is also a big deal.
Fighting to get your kid into a swim vest is never fun, so on this point alone, the Puddle Jumper won me over. However, the big picture is this swim vest just outperforms the others by miles.
If you buy your child a swim vest, then you should consider other accessories that can keep your child safe while in the water and out in the sun. Don't just stop at the flotation device. Here are some suggestions:
i play. Baby Boys' Flap Sun Protection Swim Hat
When your little one is out in the sun, you have to protect him or her from the harmful rays. This sun hat is specifically designed to offer full protection of the head and neck. It comes in a range of colors and ties under the chin. It also is adjustable so it won't fall in your toddler's face. This is a great buy along with a swim vest for ultimate water protection.
Nageuret Reusable Swim Diaper
If you are still working on potty training your toddler, then a swim diaper is a must. However, the disposable kind can get expensive if you spend a lot of time in the water. A better option is this reusable swim diaper. It won't soak up water and will help keep your pool clean. Buy this along with your swim vest for the best pool experience.
Aqua Sphere Seal Kid 2 Swim Goggle
Kids can be very picky when it comes to the water. One of the biggest complaints is when they get water in their eyes. This can make it tough to teach them to swim. So, avoid the issues with these swim goggles. They will protect their eyes and keep everyone happy.
If you buy the swim vest, don't forget the goggles or you will be rushing to buy some the minute your child's head goes underwater and they come up screaming about their eyes.
Even when your child is wearing a swim vest, you have to keep an eye on him or her. Children should never be left alone in or around the water. Here are some additional tips to keep in mind to help ensure your child stays safe and has fun:
Teach your child about the dangers of water and make strict rules for the pool area of your home.
Do not allow running or horseplay around the pool.
Enforce pool rules. If someone breaks one, they are out of the pool.
Keep your pool fenced off with a gate that locks.
Remove pool toys after swimming time is over.
Keep first aid supplies near the pool or take them with you when you go swimming at the beach.
Teach your child to swim or send him or her to lessons as soon as possible.
Let's face it. On a hot day, the last thing you want is to be cooped up inside with your kids, and even though I am not a huge fan of sand or bathing suits, my daughter loves the beach, so the best way to ensure Mommy doesn't lose her mind is to head to the beach. It doesn't hurt me to get a little Vitamin D, and my daughter can burn off some of that excess energy she always seems to have.
Of course, as mothers, we still have to be safety-minded. Buying a toddler swim vest is a great start to keeping your child safe in the water. It gives them a little independence while also giving you peace of mind.