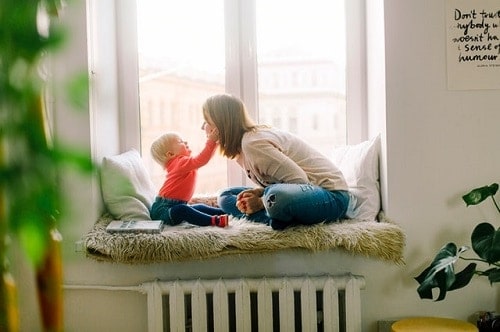 Check out this guide to find the best toddler bed rail for you and your little ones.
There are a lot of different things that can go bump in the night. Monsters, aliens, ghosts and whatever else your imagination thinks up after watching the latest horror movie. But there is one bump in the night that will get you out of bed quicker than any other…
WAAAAAAH!
The bump your toddler makes when he falls out of bed.
Not only will your toddlers screams wake you up from that lovely dream you were having; but a fall can be dangerous and result in serious injury.
Fortunately this can all be prevented with the addition of toddler bed rails.
What is the difference between a crib and a toddler bed?
Guard rails!
In a crib your toddler was free to roll around as much as he wanted. There was no way he was going to break out of that baby jail.
However, once a toddler transitions to a toddler bed, the rails are removed.
While this has the positive of allowing your toddler to climb into bed unassisted, he will also be able to roll off the side of the toddler bed.
A fall out of bed may not only result in injury (especially from a bunk bed) but will also awake you from that lovely dream you were having. You know; that dream where you are on a tropical island, cocktail in hand and no kids in sight.
Installing toddler rails on your little ones bed will provided him with a safety barrier that will allow both you and your toddler to sleep peacefully at night.
Toddler bed rails are an unbeatable solution if your toddler suffers from seizures. While a toddler rail wont stop your child from experiencing seizures, they will prevent your little one from tumbling off the bed.
Different types of toddler bed rails
There are three different types of toddler bed rails. Lets take a closer look at each:
1. Swing down toddler rail
Once installed, swing down toddler rails are by far the easiest to use out of all the bed rails.
Nighttime
The toddler rail is locked into an upright position, forming a protective barrier for your kid.
Daytime
The toddler rail folds down allowing your child to easily climb in and out of bed.
But it's not all about your toddler (for once). A swing down rail will also greatly benefit you!
How?
It can be incredibly difficult to make your toddlers bed with a big immovable rail sticking in your face. Rather than tucking the sheets in around the bed rail you simply swing it down and out of the way.
It doesn't get much simpler than that!
Crib rails are not the prettiest looking things in the world. Fortunately; some swing down bed rails even slide underneath the mattress when not in use.
2. Fixed toddler bed rail
A fixed toddler rail looks incredibly similar to a swing down one. The key difference is that a fixed bed rail cannot fold down.
So how does your baby get in and out of bed?
If you looked at the picture above then you will already have a good idea:
Your toddler uses a gap left between the bed rail and the end of the bed. This gap is just big enough to allow your toddler to easily climb through but not so big that he will fall through it while sleeping.
3. Bumper toddler bed rail
A Bumper bed rail sits underneath sheet on your toddlers bed. It sort of looks like a speed hump, except rather than slow your toddler down, it stops him from rolling completely.
Bumper toddler rails are the easiest of the rails to install. Since they are held in place by the fitted sheet, they can be set up in seconds. And that's where this type of bed rail has a huge advantage over the others:
It's the best portable toddler bed rail!
If your toddler is traveling or just staying the night at grandmas, you can easily pack this bed rail with his overnight gear.
While most bumper rails are made from foam, some are inflatable and fold down into a compact square; perfect for vacations.
Things to consider before you buy a toddler rail
A lovely feature that will hide the rail away from your friends when they come to visit; allowing you to continue to trick them that a house with kids can look picture perfect!
Measure your bed and mattress
I know it seems simple but many parents skip over this step and immediately regret their purchase. Do you need a longer than normal bed rail? Maybe you have a pillow top mattress and need a taller than usual rail? Measure twice and buy once!
Have an Ikea toddler bed?
Padded rails may be your only option. Ikea cribs and toddler beds will require you to purchase their own brand of toddler rail. Other "permanent" rails wont fit.
The base of your toddlers bed
There are so many different types of toddler beds available (box spring, wooden slats, flat top, steel frame, etc.) that it can be difficult to install a bed rail. If the rail doesn't quite fit right, you may need to MacGyver up a solution. Zip ties will often be your best friend for slats.
Best toddler bed rails
This section will take a closer look at some the greatest bed rails available. Not only are these bed rails my favorite, but they lead the competition in both in terms of quality and safety.
The best swing down toddler bed rails
Lets start off with the most basic of swing down rails:
Regalo Swing Down Bedrail
Height: 20" / Length:43"
As you will soon see, Regalo is king of the swing; and with good reason, they make one excellent rail.
br> The standard model is a good size for the average rolling toddler while the height should suit the majority of deep mattresses, except for a pillow top.

One of the reasons the Regalo swing down rails are so popular is the Gap Guard. What this means is that the bed rail will hug your mattress whether its toddler sized or a queen, without leaving a gap for your toddler to slide down.

Now you may be thinking:
Uhh… Shouldn't all toddler bed rails be gap free?
In the perfect world you would be right. However there are some rails that you can buy that downright suck (booo!). They are so poorly designed that they may actually cause harm to your toddler rather than keep him safe.
Fortunately, Regalo swing gates have all been JPM Certified for safety, quality and performance.
When the time comes for assembly, no tools are required. No hammer. No screws. Just your hands. If you are uncoordinated and cant use tools to save your life (me + hammer = sore thumb; Every. Single. Time.) then this will be nothing but good news.
I have a personal hate for any piece of baby gear that is white. My toddler is a mess magician and can quickly turn any white surface into a blotchy brown color at a moments notice.
Fortunately; the nylon mesh wall can easily be wiped down with a damp wash cloth. For anything more stubborn you can even remove the mesh from the frame and give it a good hand wash (I wasn't brave enough to throw it through a wahs cycle).
Speaking of mesh, it is the perfect bed rail material for toddlers. Your little one can smoosh his face right up against it and still breath deeper than a meditating monk.
But what if you wanted a larger toddler rail?
Height: 20" / Length:52"
Yep, you read that right; 52 inches long.
br> I wish I knew about this bed rail for my first child. Not only would she roll side to side but also somehow managed to slide around the rail like a slippery snake.

This bed rail is ideal for those super wiggly kids that seem to go against the laws of science. Before you give up and donate your toddler for scientific experimentation; try this bed rail first.

CHECK ON AMAZON
In addition to the length, this bed rail has one big difference to the standard swing down model I looked at before:

It can hide beneath your toddlers mattress.

If your toddlers bed has a box spring then you will be able to fold this bed rail flat and slide it underneath your toddlers beneath. I actually struggled with the hide away feature and tore the underside of my toddlers mattress but if you can get it to work then I certainly understand the appeal of it.

You may have noticed that both swing down bed rails looked at so far rely on your toddlers bed being pressed against a wall.

Which begs the question:
What if your toddlers bed is in the middle of the room? He will simply roll out the other side
I have not forgotten about you. And neither has Regalo:
Regalo Double Sided Swing Down Bed Rail
Height: 20" / Length:43"
This bed rail goes on both sides of your toddlers bed.

If you want the freedom to move your toddlers bed away from the wall while keeping him safe at night then this is the ideal bed rail for you.

Both sides fold down out of the way (it's nice when products work how you think they should). Like the other Regalo bed rails, this one will even fit a queen mattress.

CHECK ON AMAZONOkay, that takes care of the swing downs. Next stop; fixed bed rails.
The best fixed toddler bed rails
Fixed bed rails are better suited to platform beds (those without box springs).
If you were to look at the bottom of your crib, you would see that your baby's crib mattress rests on a panel of either metal or wood. That panel is known as a platform. If you chose to convert your baby's crib into a toddler bed then fixed bed rails are the way to go.
Lets start with my favorite fixed rail:
KidCo Convertible Crib/Bed Rail
Height: 15" / Length:33.5"
Whether you use your convertible crib as a day bed or night time sleep, this bed rail will keep your toddler up on his mattress where he belongs.

You may have noticed that this bed rail is considerably shorter than all the others I have looked at so far. This is because a crib mattress is much thinner than a double. As a result this bed rail will still be high enough to stop your toddler falling from his bed.

CHECK ON AMAZON

Like the other bed rails, no tools are needed for assembly. Once the rail is assembled you simply slide it underneath your toddlers mattress. It doesn't get much easier than that.

If you went all out and bought a premium wooden crib for your baby then the idea of an ugly white wall sticking out of it will make you cringe.

Fortunately KidCo has also released a wooden version allowing your baby to sleep safe at night while keeping your crib looking good

Now that's all well and good but what if you don't have a convertible crib?

Don't worry; KidCo also makes a fixed bed rail for larger beds:
KidCo Children's Bed Rail
Height: 22" / Length:39"
This bed rail actually fits up to a king sized bed. Very few toddler rails actually fit king sized beds; so if you have gone out and bought a king bed for your little prince then this is one of the few toddler rails that will actually fit it.

CHECK ON AMAZON

An incredibly unique feature of this toddler rail is that it can be used in pairs.

What this means is that if you were to buy two of these bed rails then you would be able to install it on both sides of your toddler bed. Great if your toddlers bed doesn't sit against a wall.

While this is an amazing product, the bed rail I bought for my second child had ugly warning labels on the outside of the bed rail .

This is a major gripe of mine as the actual pictures do not show this flaw. I wish I took a picture before my child outgrew it.

Now the downside to all of the previous bed rails is that they are not portable. If you want a bed rail suitable for traveling then these will surely impress you:
The best bumper toddler bed rail
Ill be honest with you; the majority of bumper toddler rails suck. They are little more than a pool noodle cut in half and wont stop your toddler from falling out of bed.
When choosing a bumper rail; choose one that has a steep slope. The steeper the slope the harder your it will be for your toddler to roll out of his bed.
My personal favorite bumper rail is super portable:
The Shrunks Sleep Secure Inflatable Bed Rail
This bed rail is made by the The Shrunks; an unusually named company who are also responsible for making an incredibly great Inflatable toddler travel bed.

Now you may be wondering:
Who on earth would want an inflatable bed rail?
This bed rail is perfect for those of you that travel with your toddlers. When deflated, this bed rail takes up next to no room and can easily be stuffed at the bottom of a carry bag or in the trunk of your car.
While it wont be for everyone, having a bed rail that you can take with you and inflate at a moments notice (a pump is included) can be down right handy.
CHECK ON AMAZON
I cannot recommend this bed rail enough if you are a constant traveler. Compact and effective, it cannot be beat.
However, If you want a bumper bed rail suitable for everyday use then I have a great solution for you that doesn't cost a whole lot of money.
I came across this solution while browsing Imgur, and was very impressed:
Yes; that is a pool noodle.
Simply slide it under the fitted sheet and you have made your own padded bumper for just a few bucks. Inexpensive DIY solutions rock!
Conclusion
Some toddlers remain perfectly still at night. Any parent with an "active while asleep" toddler will be very jealous. If this sounds like your little one then a toddler rail is an unnecessary purchase.
But…
If your toddler has fallen out of bed during his sleep once then chances are it will happen again. In this situation a toddler bed rail is the perfect solution for keeping your little one safe and sound at night.
You know the drill: Leave me any questions, wisdom, love or hate in the comments below. Stay awesome!