Nothing is more pleasant than the warming heat generated by a fireplace on a cold night. Unfortunately the flickering flames can lure a curious child towards it. If the fireplace has not been appropriately baby proofed then the end results will not be pretty.
According to the US Fire Administration, more than one-third of Americans use fireplaces, wood stoves or other fuel fired appliances to heat their homes. That means there are a lot of homes out there that will need their fireplace baby proofed.
Use the navigation menu below to quickly jump to a particular section of this guide.
Read on and learn about the best ways to baby proof your fireplace and keep your little ones safe and sound through the colder weather.
Baby Proof Fire Proof Gate
Regardless of whether your fireplace is wood fire or gas, the simplest and best way to keep your child safe around the fireplace is to restrict your little ones access to it at all times.
Avoid free standing fire place screens. A baby can easily pull this down on top of himself or lean on it and fall towards the fireplace.
Keeping your child away from the fire place can be done by two different methods:
Placing your child in a fenced off play yard in the same room as the fireplace
Fencing off the entire fireplace through use of a fireplace screen or fence
Both options are equally effective at protecting your child from the fireplace if properly implemented. Keep in mind that each method will have its own pros and cons.
The Play Yard
A play yard is essentially a pen that keeps your child in a single place. A play yard can be made of many different materials but the most popular varieties will use bars to allow an unrestricted view of your child.
The play yard option will not only keep your child safe from the fireplace but also prevent your little one wandering around the rest of the room as well.
For this method to be effective, you must remember that the fire place will still be exposed. If you fail to put your child in the play yard, he or she will still be at risk of burns from the fireplace.
The Fireplace Screen
A fireplace screen is essentially a fence that stretches around the perimeter of your fireplace and hearth. A sturdy screen will need to be secured to the wall either side of the fireplace.
Just remember that you will still need to supervise your child in the room. While a fireplace screen will protect your baby from burns, he or she will still be free to roam and look for danger elsewhere.
A good fireplace screen will have a gate to allow easy access. This will make your life much easier when you need start a fire or add more wood.
Which fireplace protector is best for you?
If you cannot decide which method is perfect for you then you can purchase a 3-in-1 metal gate. Not only can the gate be used as a play pen or fire guard, but can also be used to section off other unsafe areas of your house as well.
The 3-in-1 gate below is one of the most popular baby proofing products among parents. Useful for sectioning areas such as stairs that you do not want your child to play in, you can purchase extension pieces to make your play yard or fence even larger. There is even a wooden version available if the metal one does not match your decor. The flexibility of this product allows you find new uses for it in Summer, not just the cold months when you have your fireplace burning away. I personally use this baby gate myself and couldn't be happier with it.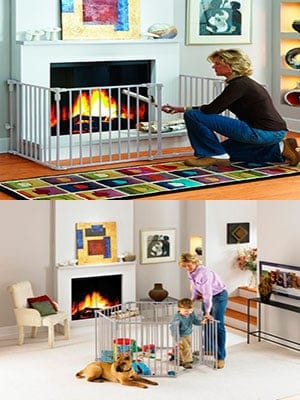 3 in 1 Metal Gate
Colors: as pictured.
Brand: North States Industries
Sturdy design.
Easy install.
Multi-purpose.
Extensions available.
Check it out
Your fireplace gives off carbon monoxide
The fireplace is more dangerous to your child than just being a burn hazard. Burning wood and coal and gas all give off carbon monoxide which can accumulate quickly if vents or exhausts are blocked. Needless to say, you don't want a developing child breathing it in.
in 2009, poison control centers reported more than 3,500 cases of carbon monoxide exposure in children under the age of 19. Unsafe levels of carbon monoxide can lead to nausea, headache, fainting, vomiting and even death.
Cleaning and maintaining the fireplace vents or exhaust regularly will ensure carbon monoxide does not build up in your room. If your fireplace is unvented then It is recommended that you keep a window cracked to ensure carbon monoxide does not reach unsafe levels.
A carbon monoxide alarm is an absolute must if you own a fireplace. The real danger of carbon monoxide comes from being unable to see, taste or smell it.
The CSPC has a fantastic guide on carbon monoxide. If you need to learn more on the subject it is definitely worth a read.
If you are yet to install a carbon monoxide detector in your house then look no further than the one below. A favorite among many parents, it has an easy to read display and is battery operated so can be installed anywhere in your house.
Carbon Monoxide Alarm
Colors: as pictured.
Brand: Kidde
Battery Operated.
Easy install.
Easy to read display.
Made in USA.
Check it out
How to Baby Proof a Hearth
A hearth is a ledge or flat area that extends out beyond the fireplace. It is designed to prevent embers jumping out and igniting your room. Most hearths are made out of stone or brick.
There are two different types of hearths. The first are flat hearths that sit nearly flush with the rest of your floor. The second type of hearth is a single raised step that sits level with a raised fireplace.
Just like all solid objects around the house, hearths are a safety hazard to your child. Your baby can easily trip and fall into a corner and end up with a serious injury. Stepped hearths are just as dangerous to your child as coffee table corners.
The easiest way to child proof a hearth is to use a fireplace fence as mentioned earlier in this article. A fireproof fence will halt your baby from playing with the fireplace and hearth edge completely due to not being able to access it.
If a fence is not an option for you then read on to discover other ways that you can keep your infant safe around the hearth.
Baby Proofing a Flat Hearth
A flat hearth is easy to baby proof. Simply purchase a soft mat to cover it. The mat will provide a soft and safe area to land should your child trip and fall. Just don't forget to remove the mat when the fireplace is in use as it poses a serious fire hazard.
Baby proofing a Stepped Hearth
If you have a stepped hearth then you are going to have to find a way to soften up the corners and edges.
Hearth pads are one way to protect your child from bumps and bruises caused by the hearth. By and large, they are the same foam protectors that are used to prevent kids bumping into coffee tables.
Hearth pads are made of flame retardant foam that runs along the edge and corners of the hearth This means that even if embers hit the hearth pads, they will not catch on fire.
Most hearth pads are held in place by double sided tape. Just remember to clean the surface of ash and dust to ensure your tape adheres firmly to the surface of the hearth.
The downside of hearth pads are that they can easily be removed by most young children, definitely not what you want in a baby proofing product.
I was recently shown this amazing product by a neighbor that is simply wonderful for baby proofing your hearth. What is this awesome product? It is an adjustable hearth guard.
The adjustable hearth guard clamps onto the edge of your heath. Yes, you read that right, clamps. No adhesive to peel off. No permanent fixings that damage your fireplace. It simply clamps in place.
The hearth fits hearths with a width of 45 – 78 inches. If your hearth is wider again then fear not, a 24 inch extension is available separately. Most importantly, the guard looks great (a rarity in baby proofing products) and is available in five different colors to match your homes color scheme.
Adjustable Hearth Guard
Colors: Black, Brown, Gray, Ivory, Taupe.
Brand: Cardinal Gates
Sturdy design.
Easy install.
Difficult for baby to remove.
Adjustable length.
Check it out
Baby proofing the hearth top
For many babies the hearth will seem like Mount Everest. Tough but rewarding to conquer. If your baby loves climbing all over the hearth then you may need to soften the top up as well.
The best way to make the top of your hearth safe is through the use of a hearth cushion. A hearth cushion is essentially a giant pillow that lays across the top of the hearth. The difference is that a hearth cushion is flame retardant, meaning it wont burst in to flames should an ember land on it.
Hearth Cushion
Colors: Brown or Taupe.
Brand: KidKusion
Flame retardant.
Three piece design.
Non-toxic
Cushions falls.
Check it out
If you are feeling frugal or creative then you do not need to buy a store bought hearth protector. You can easily make your own using the method below.
My favorite do-it-yourself way to baby proof stepped hearths
In my opinion, most stepped hearth baby proofing options are either ineffective or just plain ugly.
I am a huge fan of baby proofing that is not only functional, but looks great as well. It always amazes me as to why the looks of child proofing products are an after thought to manufacturers.
You can make a perfectly functional and great looking hearth protector using nothing more than interlocking flooring.
Now for your interlocking floor mats, you want the foam variety kind, also known as anti-fatigue flooring. This will cushion any potential falls against the hearth.
Simply measure the length and depth of your hearth to determine how many tiles you will need. Bear in mind that as these are normally used for flooring, most measurements you will come across will be in square feet.
Once you have your floor tiles, assemble them perpendicular to one another like in the photo above. Keep assembling until you have your desired length.
You have now made a hearth protector. Place it over your hearth and admire your handy work. Much better than those flimsy hearth pads.
The best part about the interlocking foam flooring is that it can also provide a fantastic play mat for your child when you are not using it on the hearth.
Remember to remove your hearth protector when the fireplace is in use.
As you can see below, floor tiles come in all manner of colors and textures. With so many options it is easy to come ups with a design to suit your decor. Get creative!
Floor Tiles
Available Colors: 11 color choices.
Average Price: From $25.99
Features:
– Many colors.
– 3/8″ thick.
– Made from EVA.

Check it out
If you find blocks of color to plain for your hearth then why not try textured floor mats? Made from the same soft foam, textured floor mats are anything but plain.
Floor Tiles
Available Colors: Brown or Beige.
Average Price: From $29.99
Features:
– Wood textured
– Four corners.
– 3/8″ thick.
– Made from EVA.
Check it out
Baby proofing glass fireplace doors
Many gas fireplaces have glass doors. While these can look aesthetically pleasing they pose a couple of hazards to your baby.
The first hazard is that glass doors get hot. Really hot. In fact, the glass can retain the heat for some time after the fire has been turned off.
If your fireplaces glass heats up hot enough to burn then your best option is to use a purpose made baby fence like the one I mentioned at the beginning of this article. If your baby cannot get near the glass doors then he cannot touch them. If he cannot touch the glass doors then he cannot get burnt. Simple.
The second problem with glass doors is that they can cause a pinching hazard to your baby's hands. This problem is largely found on bifold fireplace doors. With your fireplace out of action over the summer period you may think it's safe to let your baby venture near. Bifold fireplace doors pinch and they pinch hard.
For ease of mind you can install fireplace door locks. This simple but effective contraption is essentially two metal bars that you put on the top and bottom of your fireplace door handles. The bars are then bolted together through the handles, effectively keeping your fireplace doors closed.
Fireplace Door Lock
Colors: As pictured.
Brand: Safety Innovations
Easy to install.
Mounts over handles.
Durable construction
Low profile.
Price & Reviews
Read up on what to do if your child is burnt
Despite your best efforts, your children will surprise you. Accidents can and very likely will happen. While it is awful to think about that worst case scenario, you should be prepared so you can react accordingly without missing a beat.
An educated parent is a prepared parent. Kidsafe has written a highly detailed guide on children and burns. It is well worth a read.
Related Resources
Baby proof your living room
fireplace safety.
Hidden dangers of gas fireplaces.
Wood fireplaces and CO poisoning.