The world of RC cars is so much more complex than you may have remembered it being when you were a child.
Gone are the days of five-minute batteries and having to pick up the car the moment it hits an incline. In recent years, RC technology has evolved in a way that a whole new category of outdoor vehicles has been developed—the RC Rock Crawler.
Rock crawlers, much like the name implies, are designed to tackle so much more than the standard backyard has to offer. Anything from the deep pitted ground to loose gravel and stone is easily traversed with these complex and efficient machines. However, the more capable these machines are, the more complex they become.
The rock crawler market is inundated with imitations, fakes, and wholly incapable machines. It's not made any easier the even the most premium of rock crawlers model themselves after popular car models. In some cases, the difference between a great rock crawler and a knockoff is a few misplaced letters and a discerning eye.
To help you navigate the world of rock crawlers and pick out the best model for your weekend trips or backyard journey's we've picked out our top five best RC rock crawlers for all different types of age groups and budgets.
We've also put together what we think you need to look for in an RC rock crawler, how we've chosen each of these five picks, and background information we think you could use in our Buyer's Guide.
Hopefully, you'll be able to come out with the best RC rock crawlers for you, your children, and anyone who wants to see what these machines are capable of.
Comparison Table
What to Look For in an RC Rock Crawler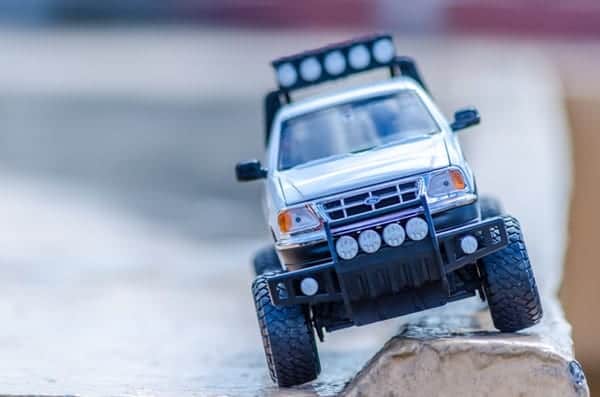 RC cars have a bit of a reputation of being a child's play toy, and in many cases, that reputation is well-earned. Most of the experience adults have with RC cars is either through gifts to children or memories of their options as a child. These RC cars often have a small range, low top speeds, and need recharging very often.
The RC rock crawlers on our list, for the most part, would never be considered child's play toys. These larger cars are designed for hard use, long range, and certainly come with a budget that would shock any parent.
We made sure to opt for an option or two on our list that can easily be shared with children, but for the most part, the market for RC rock crawler is a lot older than that of a standard RC car.
All that being said, there are several tenants of a good RC rock crawler, and the best RC rock crawlers will have nearly all of these bases covered in their designs. We'll go into detail with each of these in just a moment, but for now, make sure that the RC rock crawler you've picked out is going to leverage the following:
Raw durability
Suspension/shock absorption
Weatherproofing technology
Tire quality
Lock differentials
Of course, raw durability is going to be the supreme metric in this case.
RC rock crawlers are going to be sent out in all sorts of terrains and all sorts of conditions. If you were looking to purchase an RC car that avoided bumps, nicks, and scratches, a rock crawler might not be for you.
Durability comes in many forms. There is the normal durability that needs to be accounted for—including quality of the undercarriage and associated parts. But with RC rock crawlers, durability is also needed on the top half of the cars.
Flips, turns, and tumbles are an inevitability of operating these cars, and you better be confident that your RC rock crawler won't fall apart during its first tumble down a hill.
Next up on our list is suspension and shock absorption, which tends to function as an extension of our first point in durability.
Your RC rock crawler is going to be put in multiple positions in which four flat tires will not be the most effective way to balance out the car. The tires on RC rock crawlers are often connected to a shock system so that the car can continue to propel itself forward even on rocky terrain.
Likewise, a good suspension system means that the tires of your RC car should remain on the ground as long as possible. More time down means more traction and better navigation of the terrain.
RC rock crawlers are very much outdoor vehicles—which means that a certain amount of weatherproofing is not only logical but necessary. Weatherproofing materials include protection from dirt, mud, moisture, cold, and heat.
Likewise, many of the RC rock crawlers on our list feature waterproofing, which can be particularly handy if navigating rocky terrain near a river or stream. Weatherproofing can mean the difference between an easy retrieval and a lost investment, so be confident in the capability of your RC rock crawler.
Next comes the issue of tires, and when it comes to RC rock crawlers, the best types of tires balance out two key metrics—softness and ruggedness.
While those two metrics may sound opposite to each other, they work in tandem with the rest of the RC rock crawler. Softer tires mean that the rubber can fold and flatten down on top of terrain. Likewise, a tire with lots of grips can grab onto any rock, bluff, or surface to help propel the RC rock crawler forward, up, or down.
Tires also need to work together to keep each other from spinning out from unbalanced terrain, and the most advanced of RC rock crawlers can utilize the final item on our list—lock differentials.
Lock differentials enable users to remotely lock together tires on an axel. For instance, if your back right tire has a grip on the ground but the back left is spinning out wildly, you can remotely lock the tires together to ensure they spin in tandem. This can also be done for the front chassis.
In real life and in the RC rock crawler world, lock differentials are crucial to ensuring a successful run. If you can find an RC rock crawler in your budget with the option of lock differentials, we highly recommend jumping at the opportunity.
How We've Chosen Our Crawlers
The sky is truly the limit when it comes to these vehicles, but keep in mind that your best bet for children and family use is an RC rock crawler that leverages quality with ease of use. Likewise, the budget may be important here when considering the need for periodic replacement.
We've made sure to note the top features of each of these rock crawlers below, but we highly recommend taking a closer look at each and comparing with what you need in an RC rock crawler before pulling the trigger on a purchase.
And if you're still unsure of what would best suit your climate, terrain, and needs, be sure to check out our Buyer's Guide at the end of our overview.
Top 5 Best Pregnancy RC Rock Crawlers
Now that we've covered all the bases let's get into the top five RC rock crawlers on the market today. While each of these may be the best RC rock crawler for somebody, not all five will be right for you. Take some time, compare your options, and consider the following for your next outdoor excursion:
Axial SCX10 II Jeep Cherokee
The first RC rock crawler on our list, modeled after the Jeep Cherokee, offers premium features and pure accuracy to the model car to provide an excellent option for those who need a mid-range rock crawler.
The Axial SCX10II Jeep Cherokee is an officially licensed option that comes in the traditional rock-crawler size—one-tenth of the real deal. Pushing forward what the Axial company refers to as "realism meets performance," the goal of this model seems to be providing capability in a pretty package.
And capable this product is—as Axial pulled out all of the stops, with excellent wheels, a rugged undercarriage with capable shocks, and a ridiculously tight 45-degree turning radius.
While we would have appreciated the all-important lock differentials on this unit, especially for the budget, it's hard to complain about the SCX10 II Jeep Cherokee. While it may not be the most durable option available, it is one of the most loyal to the original model we've seen.
Traxxas TRX-4
If you need a premium option and you're unafraid of high budgets, this offering from Traxxas is sure to meet and exceed your expectations.
Far and away, the Traxxas TRX-4 is the most expensive option on our list—even making the Axial SCX10 II Jeep Cherokee look affordable by comparison. However, Traxxas makes every dollar of that money work for you—from ridiculously high ground clearance and waterproof electronics to the all-important lock differentials, which operate remotely.
The unit even comes with a spare tire mounted in the usual position on the back of the car. With the right camera and angle, this RC rock crawler could easily be mistaken for a real all-terrain jeep.
For hills, mountains, lakes, and rivers, this is an option very much worth considering. And if you have the money, this may be the best RC rock crawler option overall.
Redcat Racing Everest-10
Moving down to the lower end of the budget range, this option from Redcat Racing manages to offer the premium features listed in our first two picks for a much more reasonable budget.
The Redcat Racing Everest-10, with a simple truck design, is far more focused on performance than aesthetics. You may be surprised by the low-quality plastic that makes up the top of the RC rock crawler, but if you look underneath, you'll see where your money's gone.
With a fully waterproof design, oiled shocks, and high-quality tires, this rock crawler can go just about anywhere the others can without damaging any sort of premium external modeling.
Likewise, this rock crawler uses simple AA batteries for the radio transmitter. Should your transmitter die, all it takes is a quick swap of batteries to keep the day going.
Overall, and budget heavily considered, this is one of the best options to meet the middle ground between simple toy and capable product.
Axial SCX10 II '69 Chevrolet Blazer
This next product from Axial—another model licensed from an automobile company—focuses more on aesthetics and durability than a few other features.
The Axial SCX10 II '69 Chevrolet Blazer is perhaps one of the best-looking on our list. The original Chevrolet Blazer model was pleasing enough as it was—and to see those features and design choices scaled down without a loss of detail is particularly impressive. And looks aside, this rock crawler can certainly get around.
This rock crawler uses driveshafts and suspension links to ensure the entire undercarriage is connected and ready to bend to whatever terrain lies ahead. Likewise, the all-metal gear transmission allows for easy adjustability and should last far longer than the aesthetics on the rest of the vehicle.
Much like with the Jeep Cherokee model, we would have appreciated a greater focus on weatherproofing, lock differentials, and durability. Still, this model is perfect for the car enthusiast who's going to care about the detailing and impressive craftsmanship that went into making this scale model.
Cheerwing 4WD Off-Road
Our final pick is your best bet for introducing RC rock crawlers to friends, kids, and other family members.
The Cheerwing 4WD off-road isn't modeled after any single car or truck. In fact, the rock crawler seems to have taken much more influence from monster trucks than Jeeps or off-roaders.
Looking at the design and the budget, you may be surprised to see this product listed amongst the others. The Cheerwing 4WD Off-Road has more to offer than you think.
Strong shocks and four-wheel drive make it easy for this rock crawler to shoot up inclines. Likewise, the simple gun-type controls make it easy to pass control over to much younger children with little issue.
We particularly appreciate the replaceable battery design, which means no more worrying about rechargeable batteries. Just swap them out and continue on your way.
The Cheering 4WD Off-Road is by no means of the same quality as the Traxxas TRX-4 or some of the other options on our list. However, the quality for the budget is some of the best we've seen, and we think the Cheerwing should be used to introduce many to the complex world of RC rock crawlers.
Buyer's Guide
Still unsure of which rock crawler is best for you? We recommend you think long and hard about the type of situations you plan to put your purchase though.
Are you going to be going into remote locations with your RC rock crawler, or simply around the backyard? Likewise, is this purchase for yourself, a car enthusiast, RC enthusiast, or young child?
Answering these types of questions should lead you closer to an answer, but generally speaking, we think each of our five picks represents a clear option for a certain type of shopper.
Both the Axial SCX10 II Jeep Cherokee and '69 Chevrolet Blazer are high-quality options with a particular focus on aesthetics.
The Redcat Racing Everest-10 is more of a durable option without the replica design costs, and the Traxxas TRX-4 is the premium model with the best overall features and quality. Finally, the Cheerwing 4WD Off-Road is the perfect introductory model.
No matter which of these five is right for you, we hope that we've helped you better understand what you need in an RC rock crawler, and how to find an option that's going to stand the test of time. With enough practice, you'll be able to take your new purchase and ride it on and over just about anything.