It's a cruel fact of life: Your belly is going to expand but the waistband of your pants won't. In the first trimester you are going to rapidly gain baby weight and that can lead to all kinds of problems. This is where belly bands can help, so read on to find out what the best belly band is!
One common complaint of pregnancy is that your jeans and pants that were comfortable just days earlier will begin to dig into your waist, poking and chaffing you with each move. And that's if you can even get them on.
So what can you do about it?
You could unbutton your pants. This will provide you with some much needed comfort, particularly when sitting down.
The problem comes if you need to walk anywhere, your pants will immediately fall to the ground. If you don't catch them quick everyone is going to get a good look at your pregnancy body from the bottom down.
Quick Navigation
What is a maternity belly band?
Difference between belly bands and maternity belts
Best belly band for pregnant women
If you want comfortable, hassle free pants while pregnant you have three options:
You can run out and grab yourself a good set of maternity pants, but this can be costly and you wont wear them again in 9 months time.

Grab a maternity belly band and keep wearing your existing jeans or pants in comfort.
You use the hair tie trick. An awesome trick but it doesn't work so well once you are into your second trimester.
I went with option two and I highly recommend you do to. Why spend all that money on a pair of pants that you are only going to wear for a very short time?
What is a maternity belly band?
In it's simple form a belly band is like a large elastic band made from stretchy material. It allows you to wear your current pants or jeans completely unbuttoned giving you some much needed waist space.
How does a belly band work?
As soon as you notice your jeans or pants are too tight unbutton or unzip them:
You then either slide the belly band over your head or step into it and pull it to your waist and fold it in half like so: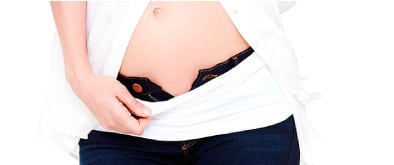 When worn folded in half, a belly band does the best job at covering up the fact that you have your pants unbuttoned. You don't want your underwear peaking through at the world. Especially given that most of you will trade in your good looking underwear for an ugly but comfortable pair during pregnancy.
During the later stages of pregnancy you will find that your swollen tummy will begin to push down on your pants and the folded belly band. At this point you simply unfold the band and pull it so it sit snug against the skin. As if by magic the belly band will continue to hold up your pants.
When pulled up; I enjoyed the tightness that a belly band provided. The snugness against my swollen belly felt oddly comforting.
Not everyone swells to the point where cashiers are accusing you of stealing a watermelon (My local Walmart cashier is a jerk). If your tummy start trim across your pregnancy then you wont even have to unfold it.
I found that I was able to wear a single belly band for the entire belly band for the duration of my entire pregnancy and many other mothers report the same.
However, If I was to do it again I would definitely buy a spare to use during wash time. You don't realize how amazing belly bands actually are until you go without one because it's still dripping wet on the line.
The best thing about belly bands is that if you throw a shirt or jumper over them, it just looks like you are wearing a shirt that is just a little long for you. No one will ever know that you are using a belly band to hold your pants up.
Shhhh… It can be our little secret
It's so simple it feels like you are cheating! I wish I knew about belly bands during my first pregnancy, as I struggled to find a pair of comfortable maternity pants with when I was carrying my first child.
If you have any pregnant friends who are in the same position as I was then:
tell them about this amazing product! You will honestly be their hero.
Now before we continue there is one thing I have to clear up:
Difference between belly bands and maternity belts
A belly band and a maternity belt are not the same thing. I have to stress this because both mothers and "expert" bloggers often use the terms interchangeably when in fact they are two completely different products:
So what's the difference?
Belly Bands – Keep your pants up (and they do a dang good job at it).
Maternity Belts – Offer support to your growing belly and help relieve pelvic pressure, and other aches and pains brought on by your body's new size.
Despite having the name belt, they do not actually hold your pants up.
So as you can see, while they may look similar, belly bands and maternity belts actually perform two very different jobs.
With that out of the way its time to take a closer look at:
Best belly band for pregnant women
There are many different belly bands out there. The problem is a lot of them suck. Some are made from paper thin material, others stretch in the wash.
Fortunately, I am going to share one of the greatest belly bands available. Not only is this my personal favorite, but is loved by moms the world over for it's quality construction and durable material.
I present to you the:
Ingrid & Isabel Bellaband
There is a reason the Bellaband is one of the most popular belly bands on the market. It absolutely rocks!
Made from a mixture of nylon and cotton, the Bellaband is incredibly durable, bouncing back to its original shape as soon as you take it off. The best part about the material? It doesn't pill! I absolutely hate picking off those ugly little balls from clothes. Not a problem with the Bellaband.
Unlike other belly bands the Bellaband has thick elastic at both the top and bottom of the band. This seemed to really help stop the band from riding up. I could wear a Bellaband for an entire work day without having to adjust it.
But the main thing I love about the Bella Band is that it's creators come in all shapes and sizes. Whether you are petite, average or carrying multiples, they have a belly band for you. This handy sizing chart takes all the guesswork out of which size belly band is best for your body shape:
Big or small, the Bellaband fits all…
I also liked the colors that the Bellaband comes in (7 in total) were not too bright making the band very easy to match with my work outfits. The Bellaband did such a good job at hiding under my work clothes that no one asked me about it even when it when it was poking out in the third trimester!
I highly recommend grabbing an extra Bellaband so you can wear different outfits with it or having an extra on hand when the other is in the wash.
Speaking of washing, cleaning the Bellaband is as simple as throwing it in the washing machine (gentle cycle). You can even tumble dry it on low. No need to iron, my Bellaband emerged from the wash basically wrinkle free!
If you are looking to experiment with a belly band then I recommend you look no further. You can buy it here from Amazon.
Conclusion
So if you are pregnant and your pants are beginning to feel a little tight then I cannot recommend a belly band enough.
If you love freedom… You will love that you do not have to give up your existing wardrobe just because you are a little heavier on the front.
If you love simplicity… You will enjoy just how quick belly bands are to put on, take of and keep clean.
If you love savings… You will be pleased that you do not have to buy an entire new set of clothes designed just for your maternity shape.
Yep… There are very few downsides to a good belly band.
What are your thoughts on belly bands?
You know the drill: Leave me any questions, wisdom, love or hate in the comments below and as always . . .