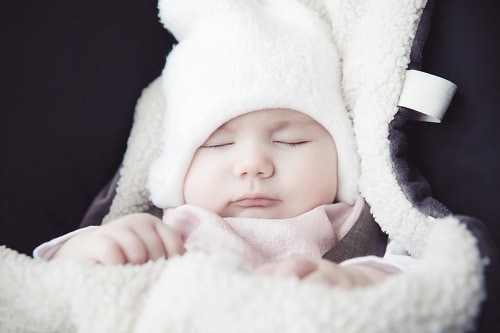 Pop quiz:
What do you get if you combine:
The construction and comfort of a sleeping bag...
with the softness and light material weight of a baby blanket?
Stumped?
The answer is a sleep sack
… A what?
A sleep sack is essentially a wearable blanket and will look very similar to this:
You may be looking at this and thinking:
Great, another useless piece of baby gear I will buy once and never use.
I used to feel the same way.
But then I tried one. And I was hooked…
Why I Love Sleep Sacks
Have you ever had your little baby wiggle out of his blanket? I did. I would constantly wake up to my baby crying only to discover he had wriggled out of his blanket.
Once I put the blanket back on the crying would stop and he would drop back off to sleep.
If the blanket did not slide off my baby I would have been able to grab a few more moments of uninterrupted sleep.
And that is valuable.
Now my baby may not be normal, he case. But a sleep sack also helped put a major concern of mine to rest:
My precious baby getting tangled up in the blankets and being unable to breath!
Once I zipped my baby into a sleep sack I noticed that he was able to move naturally throughout the night without the sleep sack coming off.
No matter how hard he kicked and wiggled.
If your situation is even remotely similar to mine then I cannot recommend a sleep sack enough. Whether it provides you with peace of mind or an uninterrupted sleep, the sleep sack will pay for itself ten times over.
Advantages of sleep sacks
Now it's not just me that is a huge fan of sleep sacks. I asked a variety of other parents what they liked about sleep sacks.
Gabby says:
I could not get my baby to sleep without swaddling, which he was getting too big for. I used a sleep sack to help him kick the habit. Because a sleep sack feels more like a swaddle than a regular blanket it was a familiar enough for my baby to give up the swaddle for good!
Dave says:
I love that I could place my baby in a sleep sack wherever he was. Whether he was on an airplane, in a stroller or even in a car seat. No more picking up dropped blankets!
Jennifer says:
My toddler loves his sleep sack. Without it he just doesn't seem to sleep as well. With the sleep sack he averages an extra 2 hours of sleep which means I get more sleep too!
So as you can see, parents love sleep sacks for all different reasons. If you have never tried a sleep sack on your little one then why not give it a go? You have nothing to lose!
Different types of sleep sack
There are two different styles of sleep sack:
Baby Sleep Sack
The most common type of sleep sack. Essentially a wearable blanket, this sleep sack seals your baby into a loose-fitting cocoon.
If your little one was to stand in a baby sleep sack then he would quickly end up face down on the ground. As soon as your baby can pull himself to his feet it is time to abandon the baby sleep sack and transition to a toddler one…
Toddler Sleep Sack
Toddler sleep sacks are exactly the same as a baby sleep sack except that they have feet openings. The openings allow your baby to stand upright in his crib without tripping himself over.
When sleep time comes you simply tuck your toddler feet inside the sleep sack where there is an abundance of room to kick and wiggle.
It is worth noting that these sleep sacks will appear to be too large for your baby. They are not designed for daywear, they are designed large so that when your baby's feet are pulled inside there is enough room to comfortably move about.
Now before you rush out and buy your sleep sack there are two things you need to look out for:
Top to bottom zipper - I cannot stress how important it is to choose a sleep sack with a top to bottom zipper. The zipper should finish at your baby's feet. If he cannot reach it, he cannot free himself.
Material Thickness - You will need to pick a material that is appropriate for the weather. Thin is good in summer. Thick is better suited for winter. There are also Merino wool sleep sacks that are suitable for all seasons but these can be costly.
It is also worth mentioning that sleep sacks are not designed to replace pajamas, your baby will still have to wear those. The sleep sack replaces your baby blanket.
With the basics out of the way it's time that I showed you some examples of excellent sleep sacks...
The best sleep sacks
There are so many sleep sacks out there.
Some are way better than others.
So that you can avoid a sleep sack that sucks; I will show you my favorites and explain why they are the best sleep sacks on the market.
For your convenience, I have ordered my recommendations by price.
The best Affordable baby sleep sacks
If you are raising a baby on a budget then you will find these sleep sacks reasonably priced.
I chose these sleep sacks because for the price point, the quality is great. A huge risk of cheap baby products is that the quality is lacking. While there are cheaper sleep sacks available, I could not justify recommending them for the few dollars you will save.
It is important to remember that cheaper sleep sacks are made from thinner material and not designed for winter use.
HALO SleepSack Swaddle
HALO has come up with a unique 2-in-1 sleep sack for those of you with newborns. As a parent who swaddled at night only this was a great solution for me. For shorter daytime naps I would use the sleep sack and at night when I want my baby to sleep as long as possible I would use the swaddle.

This sleep sack is popular amongst parents that whish to transition from swaddling. Since the sleep sack will have the same familiar shape and feel to your baby's swaddle; you will find the change over a much easier process than just quitting cold turkey.

The 100% cotton material is soft and roomy enough that your baby's hips will not get squashed even when being swaddled.

The only thing I didn't like about this sleep sack was the use of Velcro to secure the wings. I don't know if you have ever torn Velcro apart but you are greeted with a very loud RIIIIIIIP sound. Your drowsy baby is going to become very alert very quickly if you need to adjust the Velcro tabs.

If you don't need the swaddle then HALO makes a sleep sack only version (and it's Velcro free!):
HALO SleepSack
This is hands down one of the most popular sleep sacks on the market.

But as you know; just because a brand is popular doesn't necessarily mean that their product is any good.

Fortunately with the HALO SleepSack this isn't the case. Despite being priced as one of the cheaper sleep sacks on the market; you get an excellent sleep sack that will last as long as your baby fits inside.

Part of the reason for the HALO sleep sacks popularity is that it is used in many hospital nurseries across the world.

Emily George, RN, Dixie Regional Medical Center NICU had this to say:
We absolutely love the HALO SleepSack wearable blankets in our Intensive Care Unit. The preemie and newborn sizes work well for our various patient population sizes.
Full disclosure: Halo will ship sleep sacks for FREE to hospitals under this program. But the way I look at it is if they were not up to scratch then the hospitals wouldn't use them even if they were free.
The sheer amount of choice in styles is what makes me absolutely love the HALO SleepSack above all the others.
Now the material of the HALO sleep sack is a little thinner than the others. I assume this allows them to keep the cost down, making the sleep sack more affordable than others.
Best mid-priced baby sleep sacks
At this price point you will see a big step up in quality, simply run your hand over the material and you will see. You will also find sleep sacks that are suitable for winter wear. If you live in a colder part of America (I'm looking at you North Dakota) then a winter rated sleep sack is an absolute must.
Baby Deedee Sleep Nest Sleeping Bag
Unlike other sleep sacks that look more like… well, a sack, the Sleep Nest looks more like a wearable sleeping bag.

A feature that you will absolutely love is the shoulder snaps. You will find that a wiggling baby is notoriously difficult to slide into a sleep sack. Shoulder straps allow you to easily buckle your baby in no matter how wiggly he is. I love this feature and I never understood why HALO does not include it on their sleep sacks.

Some models of the Baby Deedee Sleep Nest even come with a glow-in-the-dark zipper. I like this feature as it allows you to easily zip up your baby's sleep sack in the fading light rather than turn on a bright light (bright lights turned my sleepy head into an active wiggle monster) .

Unsurprisingly Halo also has a released a mid-priced sleep sack as well. This one is designed specifically for winter.
HALO SleepSack Winter Weight
Besides the added thickness to provide extra warmth, this sleep sack is identical to their cheaper range.

The sameness is also this sleep sacks advantage. If you love the style and shape of the HALO SleepSack but wanted a warmer version then you will be incredibly happy with this purchase.
For those of you who want the sleep sack best for their baby, no matter the cost. At this price you will find sleeping sacks that not only fit your baby for up to two years but have the quality materials to ensure the sleep sack lasts the difference.
Burt's Bees Baby Unisex-Baby Beekeeper Wearable Blanket
What's the only material better than cotton?
Organic cotton
This is one of the few organic cotton sleep sacks on the market. If you are a parent who closely monitors what chemicals your baby is exposed to then this is the ideal sleep sack for you.
If your baby suffers from allergies then you will be pleased to know that organic cotton is completely hypoallergenic. Yep, this is one of the few hypoallergenic sleep sacks on the market.
Now my baby boy was so large that he could have been passed off as a 9 year old at three months. If you have a baby giant on your hands then you will be pleased to know that this sleep sack will keep him covered much longer than any other sleep sack.
So while the price may seem a little expensive at first, consider that buying 3 Halo SleepSack's as your baby out grows them will cost the same amount; without the benefits of organic cotton.
The only way you could make this sleep sack better is if you added the warmth of Merino wool to it.

Guess what? One company has done just that:
Woolino 4 Season Baby Sleep Bag
I don't know if you have ever had the pleasure of using wool but it is like no other material on earth.

Merino regulates body temperature keeping you cool when it's hot and warm when it's cool (Unlike fleece which seems to make you do nothing but sweat and overheat). This makes this sleep sack perfect for year round use. And you will be using it year round as this sleep sack will fit the average baby from 2 months to 2 years.

Merino wool is also hypoallergenic so it is gentle on your baby's allergies.

That wraps up my list of top sleep sacks. But before I go I will leave you with a warning….
Do not buy aden + anais sleep sacks
Now I usually like aden + anais products. I really do.
But their range of sleep sacks are simply awful.
Super thin material, flimsy zippers, poor stitching are but a few of the problems that myself and other parents have had with their sleep sacks.
I will come back and amend this When and if aden + anais lift there game. But as their current range stands, I expect more from what is often perceived as a quality brand.
Conclusion
If you have made it this far then you will no doubt be aware that sleep sacks are the perfect alternative to a traditional baby blanket. I strongly believe that every parent should give sleep sacks a go at least once. It's very likely you will be happy with the results.
You know the drill guys. Leave me any questions, wisdom, love or hate in the comments section below. Stay awesome!