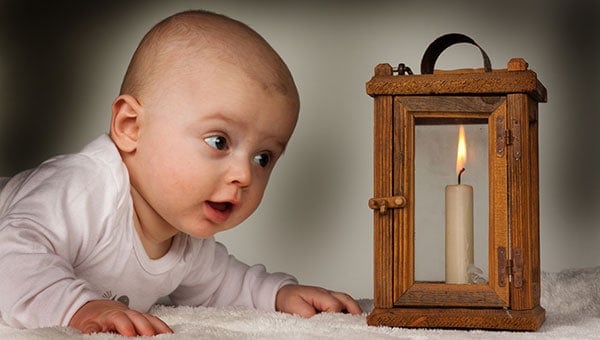 With so many different night lights available how do you choose the best one for your baby? Join us as we explore everything you need to know about night lights. Use the list below to navigate to your preferred section or start reading from top to bottom, it's all great information!
What is a night light?
A night light , as the name suggests, is a light you leave on at night. A night light is deigned to illuminate a room with a soft glow that is not so bright that it prevents sleep.
What are the benefits of night lights?
Night lights have many practical uses including:
Comfort kids who are afraid of the dark.
Helps parents see at night when checking in on their baby.
Allow your little one to easily locate his teddy bear (or comforter of choice) in the dark.
Illuminate the changing table for midnight diaper changes.
Good for kids, great for parents
While night lights are very much marketed for kids, I personally believe it is the parents the who get the most benefit out of installing a night light in the kids room.
1. Easily fall back to sleep
It is a given that you will face broken sleep with a new baby in the house. While the midnight trips to the baby crib may be unavoidable, a night light can make it easier for you to return to sleep.
Turning on bright lights when you check on your baby actually causes your brain to become alert and active. Guess what? If your brain is active then so are you. This means that you will have difficulty returning to sleep.
A dim night light in your baby's nursery will provide enough illumination to check up on your baby without jarring you awake. This means that you will return to sleep much quicker when your head hits your pillow.
2. Being able to see at night
The glow of a night light is just bright enough to help you avoid any toys that need to be navigated around in the darkness when checking up on your baby.
This was actually the defining reason for me getting my little one a night light. Once when I was checking up on my son, I stepped on a piece of Lego on the way to his bed. Not only did the howl I let out wake up my son, but my neighbors as well.
3. Cheaper to run than ceiling lights.
Some parents choose to leave the lights on out side of their child's room with the door slightly ajar. While this method can be effective at providing light source through the night, it uses much more electricity than you standard night-light.
Since night lights use less electricity then ceiling lights, they save you money when the power bill rolls around.
Different types of night lights
Variety is the spice of life. Here are the most commonly used types of night light available.
Plug in Night Light
When you think of a night light chances are that the plug in variety will spring to mind. Plugin in night lights have been a tried and tested favorite for many years.
Many modern plug in night lights come with built in sensors. Daylight sensors switch the night light on as soon as the room turns dark while motion sensors will turn the night light on when you walk past.
Projection Night Light
As the name suggests, these night lights can project an image onto the roof or wall of your home. Rather than typical boring light, you can have images of stars and planets, superheroes, even your favorite Disney princess!
The main problem with projection night lights is that they need to be placed the perfect distance from the projection surface. Too close and the images are too small. Too far away and they become blurry.
Soft Night Lights
Essentially a stuffed animal with a night light inside. These night lights are designed sleep in bed with your baby. The animal is not only soft and cuddly but the glow can help comfort your baby while the sun is down.
Portable Night Light
Portable night lights do not need to be plugged into a power outlet and can sit anywhere in the room. Most portable night lights run off batteries. Some portable night lights are rechargeable through the use of a usb cable.
Lamp and Shade
Many parents do not use a night light, instead opting for a more traditional lamp and shade. While lamp and shades are effective, unless you use a low brightness bulb, they can actually interfere with your childs sleep.
Candle
Some parents still use a candle as a night light. I personally do not recommend using a candle as a night light due to the inherent risks. If you do choose to use a candle as a night light, be aware of the risks and only do so if you are present in the room with your baby. Be sure to extinguish the candle each time you leave.
What to look for when buying a night light.
With so many different night lights available it can be difficult to determine which is perfect for your child. Keep these tips in mind when choosing a suitable night light.
Location of your power outlet
Before choosing a nightlight for your baby, take a look at the layout of your baby's room. Pay attention to the location of the electrical sockets in relation to your baby's crib or bed.
If the power outlet is too far away or too close from the crib then you may the light may be either too dim or too bright for your baby. If this is the case then you may want to consider a portable night which will allow you to place the night light at a more comfortable distance to your baby's bed.
What color night light is best?
Surprisingly, the color of light given off by a night light can also have an effect on how well your baby sleeps through the night.
Logically, you would think that a calming blue color would help put your baby to sleep. Research actually suggests the opposite. Blue light is a stimulant that actually boosts attention and reaction times. These are not benefits that you want as you are falling sleep. White night lights also fall under the blue light category.
The best color for night lights is red or orange. Do those colors sound familiar? They should. They are the same colors that feature prominently in the sunset, natures very own way of telling you to get ready for bed.
An added bonus is that baby's find red light soothing as it is a familiar color which can mean a better sleep. Experts believe that this is because the only colored light your baby would have seen in the womb would have been a red color.
Does the night light have a timer?
A timer is a handy feature that can be found on certain night lights. Simply put, when you turn on your night light, a timer ticks down for a predetermined amount of time before switching the night light off.
Many parents like the idea of a night light timer as it means you do not have to leave the night light on all through the light which saves electricity and, by association, money.
The type of night light globe
It is worth taking into consideration what type of bulb your night light contains. Some nightlights will contain light bulbs that can be replaced. Other light bulbs are fused to the night light, requiring you to replace the whole night light when the bulb dies.
The type of light bulb also determines how hot the surface of the night light will get. LED light bulbs give off very little heat while halogen bulbs can get very hot.
The brightness of the night light
Remember, the idea of a night light is to gently illuminate a room, not light it up with the brightness of a thousand suns.
A night light that is too bright can result in restless, broken sleep. There is nothing worse than facing a grumpy child who has not had enough sleep.
You can determine whether a night light is too bright or not by using this simple method:
Wait until night time and turn on the night light.
Place your head roughly where your child's head would be when sleeping and close your eyes.
Turn your head towards the nightlight.
If you can still vividly see the night light through your eye lids then the night light is bright enough that it may interfere with your child's sleep.
On the flip side, the night light should still be bright enough for a parent to safely tend too their baby in the middle of the night.
Extra features
While the main role of a night light is to illuminate the nursery with a soft glow, you can purchase night lights with extra features. These include:
Thermometers to tell you the room temperature
Music boxes and white noise machines to soothe your baby to sleep with sound.
Light bulbs that change color.
Sensors that only turn the night light on when you walk in the room.
Handles so that your child can easily carry the night light around
While these extra features can prove to be handy, don't be suckered in to buying a night light with features that you will not use. With each added feature, the price of a night light will generally increase.
The best night light for your baby
There are enough baby night lights to suit any need that a parent may have. Below are the five most popular night lights that money can buy.
Best Projection Night Light
Slumber Buddies Night Light
Brand: Summer Infant
Style: Elephant, Bee, Butterfly
Projects stars onto ceiling.
45 minute timer.
Cuddly design.
Plays music.
It's easy to see why this nursery night light took out first place. This night light not only projects stars onto the walls and roof of your baby's room but also plays relaxing music to ease your little one to sleep.
If you look closely then you may notice that the back of the elephant is a made from hard plastic with small cut out holes. Looking closer again reveals that these holes are actually star and moon shapes. When this night light is turned on, the light bulb inside shines through these holes and projects the shapes onto your walls and ceiling.
The slumber buddy night light is capable of playing five different songs and nature sounds to help soothe your baby to sleep. The volume control has three levels which allows you to set this night light at varying distances from the crib without the music being too loud or too quiet.
The night light also comes equipped with a timer that can be set at 15, 30, or 45 minute intervals.
Best Toddler Night Light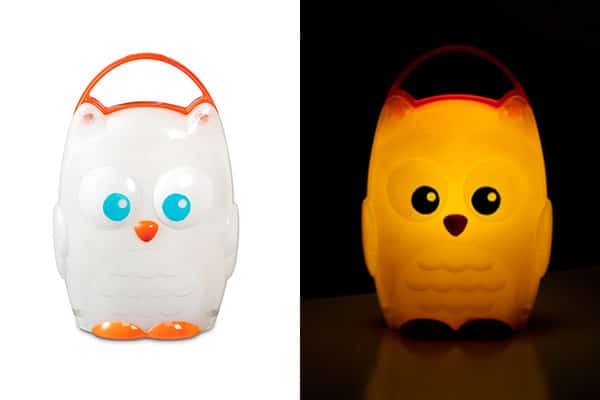 Light My Way Night Light
Brand: Munchkin
Style: As pictured
20 minute timer.
Easy to grip.
LED Bulb.
Portable.
The Light My Way night light by Munchkin is one of the most popular portable night lights available.
One of the main reasons for it's popularity is that it suits kids of all ages. If you have a young baby the night light can simply be placed on a shelf near the crib. If your child is older, they can have it right next to their bed, providing enough light to read by without being so bright that it will interfere with sleep.
If your young child needs to go to the toilet in the middle of the night then all he needs to do is turn this night light on and, with the help of the easy grip handle, illuminate his midnight journey. No more bumps in the night.
The night light shuts off automatically after 20 minutes. A great feature as your child will very likely fall asleep without turning the night light off.
Best Modern Night Light
Glo Night Light
Brand: Boon
Style: As pictured
Modern design.
Portable balls.
BPA free.
Multiple color choices.
This is by far the most unique night light available. Unlike other night lights, this night light contains multiple parts, An LED base and three balls that glow in the dark.
Once the balls are removed from the LED base station, the balls will continue to glow for up to 30 minutes. Since the balls contain no electric parts the are very difficult to break (a must have feature in anything your baby touches).
While the balls are portable, the night light base station will require a power outlet to plug into. The base station without the balls gives off more than enough light to illuminate a room when your baby inevitably wakes you in the middle of the night.
This night light uses child safe plastics that is BPA, Phthalate and PVC free.
Best Thermometer Night Light
Light My Way Night Light
Brand: Aloha
Style: As pictured
Shows room temperature.
Changes color according to temperature.
LED bulb.
Recharges via USB.
Are you concerned that your infant is too hot or cold at night? Now you can take the guess work out of checking up on your baby with a quick glance at this night light with built in thermometer.
The night light changes color according to the temperature:
Less than 57.2 °F – Blue
59 to 68 °F – Green
69.8 to 78.8 °F – Orange
Greater than 80.6 °F
Inside the box you will find a plug in USB charger, a USB cable and the nigh light. You can simply leave the night light plugged in at all times. If you unplug the charger, the night light will provide you with 13 hours of light.
Best Plug-in Night Light
LED Plugin Night Light
Brand: Safety 1st
Style: As pictured
Cool to touch.
Night sensor.
LED bulb.
Low brightness.
If you are looking for a plain plug in night light without the bells and whistles then this is for you.
Coming in a pack of two, this is one of the cheapest night lights not he market. Don't let the price fool you, this is a very effective nigh light.
The night light is equipped with a darkness sensor that automatically turns the night light on when it gets dark. This handy feature means that you will not need to bend over to turn the switch on every night before bed.
The use of an LED bulb makes the night light cool to touch.
Night light safety
Please follow these night light safety tips in order to keep your little one safe and sound.
Keep night lights with small parts away from babies
Not all night lights are designed for your little baby to use as a toy. Many decorative night lights contain small parts that can prove to be a choking hazard. Always check the packaging to see if your night light contains small parts that may be unsuitable for a young infant.
Keep night lights with small parts away from babies
Plug in night lights can pose an electrocution should your baby try to unplug it or spill liquid on it. Many plug in night lights contain fun characters and colors to capture a young baby's attention drawing him straight to it. Unless your baby is safe and sound in his crib it is best that you supervise your little one around plug in night lights.
Pay attention to recalls
Just like with all other baby products, it is recommended you pay attention to recall lists. In 2012 over 200,000 LED night lights were recalled because they got too hot. This particular model lead to burns and fires. If you notice your night light getting too hot, immediately discontinue use and contact the manufacturer.
What is your favorite night light? Let me know below.
Related Resources