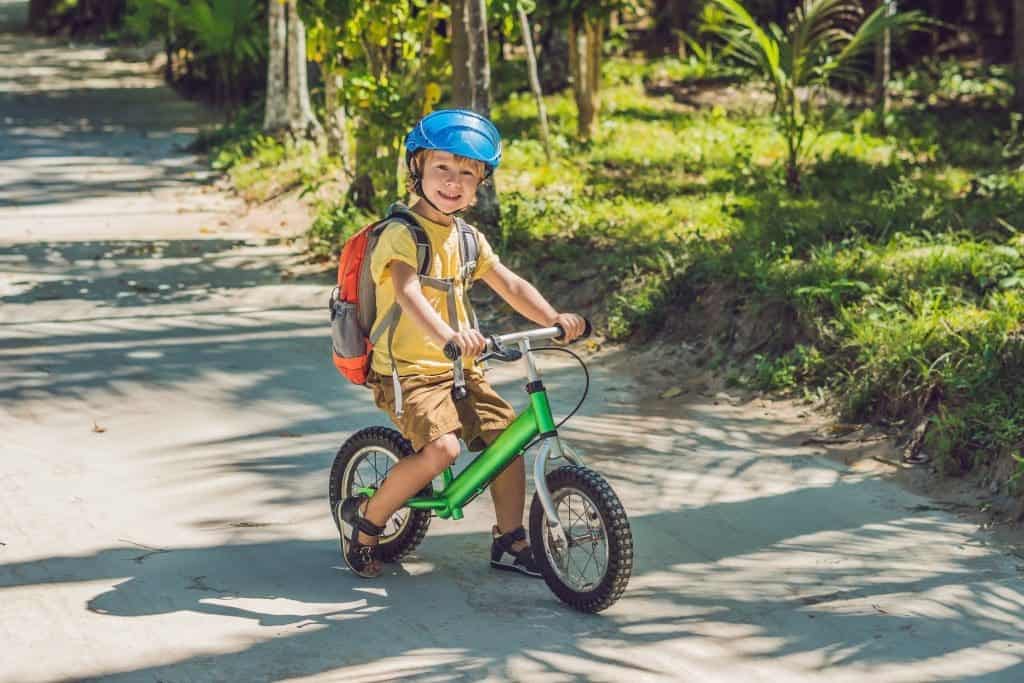 If your tiny tot is getting to be of an age where she or he sees the big kids cruising on two wheels through the neighborhood or park and wants to be a part of the action, you've almost certainly started to take a look at a few trikes for your tyke. Like most of us, you probably took your maiden voyage out on the open sidewalk on three or even four wheels, so why shouldn't your child?
While there's nothing particularly wrong with learning the ropes on a tricycle, they do have their drawbacks that a balance bike might be able to correct.
Like tricycles, this style of bicycle is designed to help your child learn how to safely cruise; however, unlike tricycles, riding a balance bike is all about learning how to keep your balance rather than simply associating the act of pedaling with forward motion.
This means that when the transition comes, and you're ready to ditch the training wheels, your toddler will be comfortable enough maintaining her or his own balance to start adding pedaling to the mix.
Since the unevenness of training wheels allows for side-to-side movement that creates a false sense of balance, removing them to move to larger bikes is typically a struggle for most kids.
You might be second-guessing those trikes you saw earlier, and that's okay! You might even disregard the whole discussion entirely and stick with the tradition by which you earned your stripes. That's okay, too, but for those who are interested in seeing what a different path might offer.
Let's try to answer a few initial questions you may have, and then move on to our balance bike reviews to help you choose the best balance bike for kids!
Features:
Seat and handlebar heights adjust to accommodate ages
Durable steel frame and puncture-proof tires
12-20" inseam, puncture-proof tires
Pros:
Padded seat, adjustability allows for five years of growth with the bike
Cons:
On the higher end of the price spectrum for age range
Features:
Traction tread tires hug the road
Seat adjusts to grow with child
Sturdy steel frame
14.5-18" inseam, 12" air tires
Pros:
Sturdy and lightweight frame, bell on handlebars
Cons:
Not as high in quality as some of the other bikes, high frame may make mounting difficult for some
Features:
Adjustable seat and handlebar heights.
Chain guard prevents cuts and scrapes and helps keep the chain mud-free.
Durable steel frame is designed
16-23" inseam, rubber tires compatible with bike pumps
Pros:
Pedal kit inclusion for easy transition, easy assembly
Cons:
Heavier construction makes riding difficult for some children
Features: 1
Sturdy 6061 aluminum frame will not flex, deform or twist
Rear V-brake provides excellent stopping power
Heavy duty inflated rubber tires are puncture resistant
6-22" inseam, 14" tires
Pros:
Solid construction, inclusion of handbrake
Cons:
Features:
Patented slow speed design
Unique removable foot pegs
Easy to adjust quick-release seat clamp
16-25" inseam, air tires
Pros:
Kickstand included, removable footrest
Cons:
Slightly more difficult assembly than other bikes, seat may not provide adequate comfort for long rides
Features:
20" Wheels
Rear Wheel Hand Brake
Adjustable Seat and Handlebars, Handlebar Set min/max height: 35 to 37"
Quick Release Seat Adjustment, Seat Height Range (min-max) 25"-28"
Pros:
Step-through design for easy mounting, seat with backrest
Cons:
Introducing your child to a balance bike and eschewing training wheels altogether is a great idea for children who are eager to get on their bike and go, and learning to cruise on a balance bike rather than dealing with those extra wheels can also provide benefits for you and your child.
Kids will learn to balance themselves on two wheels, rather than relying on the false balance that training wheels provide.
The pedal-less design will keep tots' feet ready in case they need to stabilize themselves. This is great for them to grasp the concept of balance while providing a safe way to learn.
Some models of balance bikes include pedal kits for even easier transition.
Balance bikes will not have difficulty on gravelly terrains or riding off curbs like tricycles would.
Many children can ride a balance bike for much longer distances and periods of time than tricycles.
Choosing the right balance bike for your child may be tough, especially since you likely weren't exposed to one as a child yourself and may not know what to look for. Have no fear, Parent.Guide is here to help you find a bike to fit your child's needs.
Measure your child's inseam before you even begin looking and match it to the seat height of each balance bike. If the seat height allows for at least an inch of clearance, your child will be able to ride comfortably.
Find a bike in your price range. Sure, the bikes with all the literal bells and metaphorical whistles may be appealing, but your child can still learn to keep balance without some of these add-ons.
While you will want to stay in your price range, some features, such as padded seats and footrests, can really make the difference in whether your toddler enjoys riding and can help make the learning experience more fun.
Of course, you won't want the balance bike falling apart when your little one takes it out for a spin. Again, staying within your budget is important, but trading price for a low-quality bike that may not last as long isn't always the best idea.
Pay attention to the type of material that the balance bike is constructed from. Most balance bikes are designed to be lightweight for ease of use, but some do have a heavier construction that may make it difficult for some children, particularly if they are small for their age.
Balance bikes often come with either normal air tires or EVA foam tires, and both have their benefits and drawbacks. Be sure you know which kind of tires the balance bike you purchase has, and be prepared with a bike pump if necessary.
Some models of balance bikes come with handbrakes and others don't come with brakes at all. If it is important to you that your child learn to use a handbrake, or if you just like the idea of the additional safety feature, take a look at balance bikes that have a brake included.
​Like brakes, some models come with this extra feature, and while it isn't necessary by any means, it could make the riding experience more comfortable, especially if your little daredevil loves going down hills (and if she or he does, maybe check out models with a footrest and handbrake).
​The way the frame is constructed is important for a few reasons. Some models, like the Go Glider, offer geometry that guarantees a safe slow speed. Additionally, there are also models that are shaped such that your child can step through the frame, which makes mounting the bike a much easier task.
Strider: In the United States, Strider is probably the most recognized brand of balance bikes for toddlers. The company offers a few different models with age ranges from 18 months to 7 years. They are also one of the few companies to offer a balance-to-pedal bike. Most of their bikes are also available in multiple colors.
Cruzee: Cruzee offers balance bikes in over nine colors for children aged 18 months to 5 years.
KaZAM: A number of different models and styles of balance bike and trikes are available from KaZAM, including a balance bike for older children as well as those with special needs.
Critical Cycles: Critical Cycles is one of the few on the list that offers adult bikes as well as balance bikes and bikes for children.
GoPlus: GoPlus offers a variety of tricycles and a few different sized balance bikes as well.
This is the flagship wooden bike by the Early Rider company. The bike has a larger wheel in the rear as well as a low center of gravity to keep your child balanced and safe. The Early Rider Classic Bike is designed to hold your child from age 2 to 5.
The Chicco Red Bullet Balance Training Bike is hard to beat. Best suited for children 3+ and up to 55 lbs., this balance bike features puncture-resistant tires and a padded and adjustable seat so that you can raise it as your toddler gets older. This is a simple bike that gets the job done for a great price.
The FirstBIKE Basic Bike is, like its name implies, a great first bike. With its super strong plastic design, the bike is lightweight and durable. The bike's plastic construction also allows for the omission of sharp parts that may scratch or scrape on metal bikes. For added safety, there is a step up from the basic model that includes a brake.
The STRIDER 12 SPORT is definitely one of the most popular selections when it comes to balance bikes, and for good reason. This bike has one of the largest, if not the largest, age range available when considering balance bikes.
Intended for children aged 18 months to 5 years, you can make sure toddlers only need one bike until they are ready to start pedaling. From the padded seat to the footrest, the STRIDER 12 SPORT has all the features for the right price.
That's a lot of numbers, features, and specs to look at, but we want to make sure that you're covered when it comes to choosing the right balance bike for kids. Each of the bikes that have been mentioned have their own sets of pros and cons that come along with them, but for the best balance bike, all things considered would be Strider's 14X 2-in-1 Balance to Pedal Bike.
Though at first glance it is double the cost of some of the other bikes on the list, the Strider 14x is well worth it. The bike accommodates riders from age 3 all the way to age 7, meaning that if your little Evel Knievel is asking for pedals early, you won't have to bite the bullet for another bike, just keep the included pedal kit and chains and you're ready to go!
When this time comes, you can also be sure that your child is safe with the chain guard included in the pedal kit. This will help keep little legs and shoelaces from getting caught in the chain and potentially injuring your child. The seat of the Strider 14x is padded, and the handlebars have a soft grip for maximum rider comfort.
The bike also includes air tires, which will ensure smooth riding and help your child with the feeling of this type of tire when transitioning from balance bike.
As a mom, I know what it feels like when making a big investment purchase for your kids. There are so many factors to consider from the price to the limited amount of time we know they'll be able to use it, and even the risk factor involved.
With all this in mind, I dug through all the online resources I could and talked with my close-knit group of friends who also happen to have experience with balance bikes.
I weighed the thoughts, opinions, and concerns of these moms and dads along with my own and checked them next to the bikes that I believed to have the best features, usability, and bang for your buck. I wanted to make sure that the bike that won the title of Parent. Guide's Best Balance Bike really shone and was comfortable and safe enough for my own daughter.
A: Balance bikes are best for children who are within the 2T to 5T clothing range, but the best way to know for sure is to measure your tot's inseam. Any balance bike with a seat height that is an inch less than this measurement will be a good size for your child.
A: Your child can use a balance bike from 18 months to 5 years old. Many balance bikes have adjustable components to grow with your child, and some of the brands that we're going to look at offer XL sizes for older and larger riders.
A: Balance bikes are typically sold everywhere that children's bikes are sold. You can also find them multiple places online, like Amazon.com.
​A: This is a question asked a lot by parents, but not often asked by riders. Most children will naturally pick their feet up while gliding on a balance bike, though some models do offer a footrest as a feature.
A: Balance bikes can be used to teach your child how to balance on two wheels as early as 18 months, and those starting with balance bikes early can even begin transitioning to a regular bike as early as age 3.
A: With no pedals, it isn't a surprise that this is a frequently asked question — from the outside looking in, a pedal-less bike probably doesn't make much sense. It's simple, however. Your child just sits on the seat as if riding a normal bike and walks or scoots the bike forward to move. When s/he is comfortable enough, your son or daughter can pick up her or his feet and coast to begin learning to keep balance.
A: With no pedals, it isn't a surprise that this is a frequently asked question — from the outside looking in, a pedal-less bike probably doesn't make much sense. It's simple, however. Your child just sits on the seat as if riding a normal bike and walks or scoots the bike forward to move. When s/he is comfortable enough, your son or daughter can pick up her or his feet and coast to begin learning to keep balance.
A: Just like a regular bike, your child can steer a balance bike using the handlebars. Some models even offer handbrakes to further acclimate your toddler with the workings of a big kid bike.
Speaking of safety, every parent knows that biking can be potentially hazardous. It is always recommended that your child wear a helmet, knee pads, and elbow pads to protect the noggin, knees, and elbows. Here are a few great products to keep in mind when also shopping for a balance bike:
That about wraps up my thoughts on balance bikes. If you feel like the features of the Strider 14x aren't quite right for your child, or if your child falls out of the appropriate age range, hopefully, you now feel well-equipped to find the bike that is perfect for your budget and your kid.
If you didn't know what a balance bike even was before reading, maybe now you feel inclined to consider it in lieu of a traditional tricycle or training wheels. We moms don't need anything extra on our plate, and I hope that I have been able to help another mother out to make this purchase painless.