Once your little one is officially a toddler, it just might be tricycle time! That first tricycle will be a milestone for both you and your child. Riding a tricycle isn't just a toddler rite of passage, it's also a healthy and fun way to harness your kiddo's newfound independent streak. Plus, by riding a tricycle, your child will get lots of exercise, plenty of outdoor time, and improve both coordination and balance.
Before you start shopping, though, you should take some time to research the best trikes for kids – by reading this article, that is! Basically, I've done all the work so you don't have to. Hear all about the best tricycle for kids. In no time, your son or daughter will be feeling the wind blowing through his or her hair while zipping around the driveway or rolling through the neighborhood.
Tricycles for Kids FAQs
At what age can kids start riding trikes?
Typically, tricycles that feature pedals are recommended for kids two and up. Toddlers as young as one-year-old can safely enjoy scooter-style trikes – pedal-less models that have an additional wheel for added stability. Even babies as young as nine months old can get in on the trike game with stroller-trike hybrids.
Can my child ride a tricycle on grass as well as pavement?
In many cases, yes, but some trikes might not have the right kind of tires to cross all kinds of terrain. Read my reviews below to learn which ones are best for off-road fun, like riding on yards and dirt or gravel roads.
When should my child graduate to a bicycle?
As with many things, this can vary from child to child, but most kids are ready to move up to a big-kid bike when they are four or five years old. Many tricycles include an adjustable seat so the trike can grow with the child until she or he is ready to graduate to a two-wheeler.
What are Tricycles for Kids?
Tricycles for kids are often a child's very first "vehicle"—this three-wheeled wonder gets and keeps kids moving all through their toddler and preschool years (and sometimes beyond). They fulfill the younger set's need for speed and can provide hours of fun and fresh air, too.
Types of Tricycles for Kids
Typically, a tricycle is has a similar shape to a bicycle, with a comfortable seat, easy-to-reach pedals and handlebar, and two wheels in the back and one in the front. However, there are a couple of other kinds of trikes – specifically, a push tricycle and a big-wheel (chopper-style) tricycle.
Push Tricycles
A tricycle that doubles as a stroller
Starting as early as nine months, babies can start safely pedaling
Tends to be pricier than non-push varieties of tricycle
Big Wheel Tricycles
Rider sits low to the ground and extends legs to pedal
Low center of gravity reduces the likelihood of tipping over
Usually made of plastic and possibly not as sturdy as a trike with a metal frame
Benefits of Tricycles for Kids
It's pretty clear that FUN is the number one benefit to having a trike – if you ask a kid for an opinion on it, that is. However, what children don't realize (or much care about) is that while they're having a blast, they're also developing coordination, balance, flexibility, and strength, and growing their sense of independence as well.
How to Choose the Best Tricycles for Kids
Like with any purchase for your child, there are lots of factors to consider, and shopping for a tricycle is no different. When you picture a trike, you may have an image of a wide-set metal frame with colorful tassels on the handlebars. While that classic selection is still out there if you want it, today's shopper has so many different options for their child. Learn about the different things to keep in mind when you shop.
Right Size for Age
The age and size of your child are two of the first things you will need to consider when buying a tricycle. There is a trike for every age and stage, but read the product description before buying to make sure it will be the right fit.
Features
If you're looking for more than three wheels and two pedals, you're in luck – trikes for kids have plenty of variety, from those with a high-seat back and models with a back platform for hangers-on to those with a cup holder (for the mom or dad who is helping push the trike from behind).
Safety
It's natural to worry about your little one as he or she starts to get more mobile – and what's more mobile than riding a trike? Make sure that the model has met industry standards for health and safety, and consider picking up a helmet and pads along with the tricycle.
Pedal Power
Do you want your children to enjoy a relaxing jaunt around the block or bring out their inner speed demon? There is a range of options when it comes to pedaling speeds.
Quality
While you may think that lower cost may mean lower quality, this is not at all the case, because a trike made with cheaper materials doesn't necessarily mean that it was made poorly.
Customer Reviews
Check out the feedback that buyers leave for each of the products that interest you. Who else but a parent who bought the product first-hand will give you the real scoop on each item?
Material
Think about if you prefer steel or plastic, the two basic options for trikes for kids. Steel is certainly a classic and usually more durable, but it can rust if it gets wet. Plastic may not be as sturdy, but it can't rust. It's also pretty easy to clean.
Convenience
If portability is an issue, consider folding options for ease of transportation and storage. If you have a very young toddler, a push trike could also be a convenient option, as it can sub as a stroller as well.
Weight
Heavier trikes may provide more stability for your little cyclist, but these might not be best for a family that doesn't want to do a lot of lugging around. There are many lightweight options when looking for tricycles for kids.
Durability
Obviously, no parent wants their kid's trike to break. However, some tricycles are stronger than others. Do you want a model that will outlast even the most energetic kid? Possibly something with hand-me-down potential? If so, you may want to factor durability into your decision-making.
Most Popular Tricycles for Kids Brands
Radio Flyer
This hundred-year-old brand first made famous for its iconic wagons is now the maker of every variety of tricycles for kids, all in their signature red color, for the teeniest toddlers to the littlest big kids.
Schwinn
Well-known as one of the 20th century's most ubiquitous bicycle brands, this American company is still going strong and produces several tricycle models for kids, most of which are designed to look very much like smaller models of their two-wheeled cousins.
Razor
This major manufacturer of kick scooters also has two popular trikes in its line, both featuring dual inclined casters for drifting and spinning without resistance, and a wheel system that allows for top coasting speeds. (They also make an electric tricycle for the eight and up crowd!)
Fisher Price
This long-standing go-to for all things baby and toddler also makes a variety of tricycles in easy-to-clean, lightweight molded plastic. This brand features a wide range of style options for young riders, such as superhero-themed trikes and models that are designed to look like motorcycles.
Besrey
This brand has practicality and convenience in mind with its design for its trike models – baby trikes that convert to big kid trikes and are foldable for grab-and-go portability. They also have a stroller that converts into a glider for babies and tricycle for kids.
Joovy
Popular for its line of hearty strollers, the company also has two tricycles for kids in its line, both of which are push models. One of them is still very much a stroller and a bike, with a canopy to keep the sun out of your little one's eyes as you enjoy your stroll and pedal time.
Best Tricycles for Kids
Now that you're all caught up on what to look for in a trike and have a list of some of the top brands, it's time to take a gander at some of the best tricycles on the market today and what makes them special.
Most Efficient
Radio Flyer 4-in-1 Stroll 'N Trike
Radio Flyer 4-in-1 Stroll 'N Trike, Red Tricycle for Toddlers Age 1-5,...
4 TRICYCLES IN 1: This tricycle grows with your child through different riding stages. Easily convert between 4 growing...
AGES 1 YEAR TO 5 YEARS: The 4 stages include toddler trike (12 mos. – 18 mos.), steering trike (18 mos. – 24 mos.),...
REMOVABLE ACCESSORIES: The removable accessories allow this tricycle to grow with your child. The accessories include an...
Grows along with your child
Long-lasting and durable
Moderately priced
This versatile tricycle is designed with longevity in mind. This aptly-named 4-in-1 Trike has four different ways to get moving for each stage of baby and toddlerhood. It can be used as a regular stroller, then a stroller that your baby can steer, followed by a trike you can help push, and then ultimately a standard tricycle. This sturdy and durable steel-framed trike glides quietly as it moves and has plenty of baby-focused features, like safety bars and a three-point harness for the littlest riders, and even a snack tray and cup holder.
Pros: Adjustable and adaptable – possibly the only trike your child will need. The sturdy steel frame will ensure it can outlast even the most active kid. There are plenty of safety features to ease your mind when placing baby in the driver's seat.
Cons: Some younger riders may not yet be able to reach the footrest, and small wheels make off-roading a challenge. The adult handlebar is a little low – possibly not ideal for taller parents.
Weight of tricycle is 15.23 lbs
Age 9 months-5 years
Steel frame
Maximum weight recommendation 49 lbs
Adjustable – converts for other uses/ages
Best Old-School Design
Schwinn Roadster 12-Inch Trike
Schwinn Roadster Kids Tricycle, Classic Tricycle, Red
Designed with a retro look and a steel trike frame, a low center of gravity makes it easy to ride and perfect for young...
Adjustable sculpted seat moves forwards and backwards with five lock in positions, making it ideal for growing legs or...
The rear deck is made of genuine wood with burnt in Schwinn logo, while the scalloped chrome fenders provide a...
Solid and sturdy
Classic look, available in eight colors
Made from high-quality materials
The classic look of this durable, full-steel trike will take you back – or way, way back, depending on how old you are. Whether you're motivated by nostalgia or the retro-cool design, the Schwinn Roadster is sturdily built and low-to-the-ground, which prevents tip-overs. The seat is comfy and adjustable, the handlebars are chrome (complete with tassels and bell), and there's even a deck for ride alongs, which is made of real wood.
Pros: Beautiful and classic design. Made of high-quality materials like steel and rubber. Sturdy and durable.
Cons: Real rubber tires means having to replace tubes if they tear or pop. Tires need to be kept inflated with a bicycle tire pump. Heavyweight design may make high speeds difficult, especially for the youngest cyclists.
Weight of tricycle is 26.1 lbs
Age 3-5 years
Steel frame
Maximum weight recommendation 60 lbs
Does not convert for other uses/ages
Most Kid-Friendly Design
Fisher-Price Thomas the Train Tough Trike
Unbeatable price
Lightweight
Ideal for toddlers
Thomas the Train fans will love this toddler tricycle, perfect for novice riders and good for bigger kids, too. Fisher Price's Thomas the Train Tough Trike is a lightweight, moulded plastic trike that's easy to grip and simple to ride, with a comfortable seat and a wide wheel base. In addition to the adorable Thomas theme, the trike features a secret storage spot located under the seat.
Pros: Low cost. Lightweight and easy to clean. Small and easy enough for two-year-olds.
Cons: Not all two-year-olds will be able to reach the pedals. Smooth front wheel means it may slip on wet surfaces. Cute decals, but they can peel off if they get wet.
Weight of tricycle is 22.1 lbs
Age 30 months-5 years
Plastic
Maximum weight recommendation 55 lbs
Does not convert for other uses/ages
Parent's Choice
Radio Flyer Classic Red Dual Deck Tricycle
Radio Flyer Classic Red Dual Deck Tricycle
CLASSIC TRICYCLE: This classic tricycle has a 12" front wheel, an all-steel frame, spoked wheels, and rubber tires for...
ADJUSTABLE SEAT: The adjustable seat grows with your toddler to ensure years of fun; This outdoor toy is recommended for...
CHROME DETAILS: The chrome handlebars and chrome ringing bell make this a new -age classic
Classic look
Durable and safe
Sturdy yet not heavy
The Radio Flyer Classic Red Dual Deck Tricycle is solid and sturdy with the definitive kids' trike look. The model features real spoked wheels, chrome handlebars, a bell, and a solid steel frame in the brand's signature crimson color. Winner of three awards, including the National Parenting Center Seal of Approval, this trike also features a two-level rear deck that allows little feet to climb off and on the back of the trike with ease.
Pros: Gorgeous-looking tricycle. Durable steel construction. Classic touches like streamers and a working bell.
Cons: Smaller kids' feet may not yet reach the pedals. Not designed for speed. Can rust if left out in the rain.
Weight of tricycle is 16.5 lbs
Age 2.5-5
Steel frame, rubber tires
Maximum weight recommendation 49 lbs
Does not convert for other uses/ages
Most Futuristic Design
Razor Power Rider 360 Electric Tricycle
Motorized trike
Be the envy of your block
Only for big kids
The Power Rider 360 Electric Tricycle is an ultra-modern trike that's definitely not for the toddler set. In fact, this battery-powered tricycle is recommended for kids eight and up. Reaching speeds up to 9 mph, you can see why this model is best for the big kids. Featuring caster wheels that allow 360-degree spins, hand-operated brakes, and a battery life of 40 minutes per charge, this high-powered trike fulfills big kids' need for speed without having to pedal.
Pros: Fresh take on a classic. High-speed excitement for big kids. A neighborhood conversation piece.
Cons: Only lasts up to 40 minutes a charge. Doesn't provide the physical exercise a traditional trike does. Not appropriate for younger kids.
Weight of tricycle is 33 lbs
Age 8+
Plastic, rubber, steel
Maximum weight recommendation 120 lbs
Does not convert for other uses/ages
The Best of The Best
While I stand behind my list, for me, the absolute best tricycle for kids are the Radio Flyer 4-in-1 Stroll 'N Trike in which the 4-in-1 wins for its practicality and versatility. You can buy this trike for little ones while they're still in diapers, and it'll keep them rolling until kindergarten and possibly beyond.
How the Best Tricycles for Kids Were Picked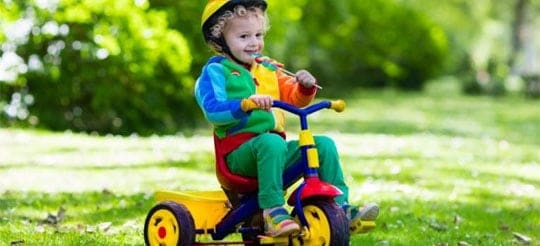 I did my research just like you would – by thoroughly researching several population options, by talking with other parents, and by watching my kids and their friends enjoy their trikes over the years.
Relevant Products to Buy
Once you've chosen the right kids tricycle for your family, you may want to check out a few other items that will make trike time even better and safer.
Consider purchasing a helmet for your child for safety. This Paw Parol Toddler Helmet will get the job done, while making your kid look even cuter.
Complete the look – and significantly reduce boo boos – with this Paw Patrol Pad Set, which includes elbow and knee pads for kids two and up.
Final Review of the Best Tricycles for Kids
Once you've purchased a tricycle for your kiddo, you can look forward to hours of fresh air and fun for both you and your child, along with tons of new and precious photo opportunities – warn your friends that your little cyclist is going to be all over your social media feeds! Also, you'll be teaching your little one how much fun it is to be physically active – an important lesson that will help set the stage for healthy habits for many years to come.
I hope that this article helped you discover the best tricycle for kids and feel more confident as you shop for one yourself. I definitely know how overwhelming it can be when buying what is sure to be a meaningful part of your son or daughter's childhood. It feels good knowing I can pass along what I learned to help other parents still getting started on the journey.