Have you ever considered how much you need a toddler step stool? Take a good look at the furniture around your home. The sink. Your bed. Your kitchen Table. All this furniture was designed with an adults height in mind.
Now take a look at your toddler. Notice anything that is missing?
If you answered:
A couple of inches
Then you would be 100% correct.
Fortunately, it is incredibly easy to give your toddler that extra few inches in height by using a kids step stool.
With a step stool, your toddler will be able to do all the things that you take for granted such as reach the sink, brush his teeth, even sit on the big toilet.
Right, lets jump into it!
What to look for in a step stool
Before we take a closer look at step stools it is important we look at a couple of must have features when choosing a step stool for your toddler
The height:
What is it your toddler needs to reach?
While a single step stool may be perfect for your toddler to reach the bathroom sink, it may pull up a little short at the kitchen bench.
If you use a step stool that is too short then your toddler will step on his tippy toes to reach, making him incredibly unstable and at risk of falling.
If you need to reach two different heights it may be a better option for you to by two different step stools, one for each height.
What is the step stool standing in front of
Step stools work best when left in one place. It quickly become tiresome having to move a stool all over your house, especially if you have stairs!
Pay attention to where you want to set up your step stool. If you keep your step stool in front of cabinets then your life will be much easier if the cabinet door can swing open over the step stool, other wise you will need to move the stool each time you wish to access the cabinet.
What a chore!
In this instance you would choose a step stool that is high enough for your baby to reach the bench but low enough that the cabinet door can swing out over it.
Remember: Measure twice, buy once!
The Grip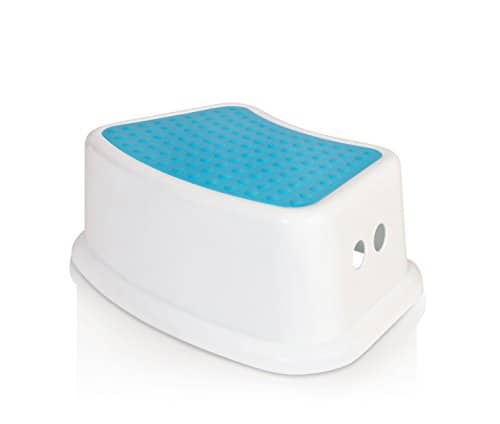 Now it's no good rushing out and buying a step stool if your toddler is just going to slip off it, crashing to the floor.
The ideal step stool for toddlers will have will have the following:
Non-slip surface The section of the step stool your toddler stands on needs to provide as much grip to your toddlers feet as possible.
This will help prevent him slipping and losing his balance.
Non-skid feet- Prevents your toddler from kicking out the steps tool from underneath him, regardless of how much he wiggles.
With the basics out of the way it's time to take a closer look at:
The best toddler step stools
Bumbo Step Stool
Height: 7"
Supports: Up to 110 lb
The Bumbo is a funky little step stool that reminds me of a pair of elephant feet. Now I don't claim to be an expert on African animals but elephants do seem to be incredibly sturdy.
However, the Bumbo Step Stool may actually be sturdier than an elephant!
If you examine the sides of the step stool you will notice a hole on either side. The holes allow your toddler to easily carry the stool without dragging it across the floor (and making that annoying scratching sound). This is one portable step stool.
Where this stool really shines is the non slip grips. The step stool clung tight to both tiles and wooden floors, even when my toddler stood right on the edge of the stool.
The rubber top of the Bumbo Step Stool is incredibly grippy without being uncomfortably rough, particularly if your toddler is bare footed.
Surprisingly, even when my toddler got the stool top completely wet when attempting to brush his teeth, it was still incredibly grippy making this step stool very suitable for bathroom use.
Greenco Super Strong Foldable Step Stool
Height: 11"
Supports: Up to 300 lb
Yes, you read that right, this step stool supports up to 300 lb That's one high weight capacity. Given that the average American male weighs around 195 lb, this is the best choice if you are looking to share a step stool with a toddler.
I bought one of these when my youngest was born, I must say that it is incredibly durable. Three years later and it is still going strong.
While my daughter no longer needs the stool to reach the toilet, I still happily use it to sit on while working in the garden (one of my favorite hobbies). For how cheap the chair is it lasts incredibly well!
The polka dot non slip top will keep your toddler as surefooted as a mountain goat and the rubber feet grip your floor like a suction cup. This stool is
A unique feature of this step stool is that it folds flat. Once your toddler has finished using to reach the sink you can easily fold it away and store it in your cabinet (I kept mine in the gap next to my fridge). If you keep tripping over your toddlers step stool then you will love this feature!
If you buy this step stool then there are some things you will need to watch out for. Your toddlers safety depends on it.
Don't expect your toddler to unfold this step stool and set it up. There are many bits that can pinch smaller fingers.
I made this mistake and within seconds of my little one was in tears because she squashed her finger in the hinge. But once the step stool was set up there were no dramas.
Also, be mindful at 11"inches this is one of the taller single step stools. While parents wont have an issue with the problem, smaller toddlers can have difficulty climbing on top.
If the height is going to be an issue, the Kikkerland Rhino II Step Stool Can also support up to 300 pounds and is just 8.5 inches high, much easier for your toddler to climb on.
But if you can look past these safety concerns then you will get a whole lot of step stool for the cost.
Dreambaby 2 Up Step Stool
Height: 10"
Supports: Up to 175 lb
There are not many two step stools on the market made just for toddlers and the few that did exist were absolute rubbish. Most of them were barely taller than a single step stool and very awkwardly designed. That was until recently.
Dreambaby have just released their attempt and it is an absolute cracker.
10 inches. This is one of the tallest plastic toddler step stools available. Whether your toddler is particularly short or your toilet/sink/counter top/vanity is unusually tall then this step stall is just the thing to boost your toddler's height.
Being made from plastic, the stool is easy enough for your toddler to carry (or drag) around your home using the handles in the side. Just like the other all plastic step stools, you can easily clean this one by wiping it down with a warm wash cloth.
The problem with two step stools is that space on the top step is never as large as a single step stool. My toddlers were both too fidgety to stay still on a platform this size so I would use two step stools only temporarily, say for reaching objects, climbing into bed, etc.
I wouldn't recommend this step stool for tasks that take a while to complete, like helping mommy prepare meals at the kitchen bench.
Despite this minor gripe, this is an amazing step stool. 10 inches is a huge boost to your toddler's height. If you have found all other step stools to be too short then this is definitely what you are looking for.
BABYBJORN Safe Step
If you have been on the hunt for a good step stool then you will no doubt have come across the Safe Step by BABYBJORN. Many parents love it and will highly recommend it. I am a little more on the fence.
Don't get me wrong, there are parts of this step stool that I absolutely love. Let's take a look at those first.
The rubber surface - This thing grips and it grips hard. Your toddler toddler could be soaking wet and would still grip this step stool like Velcro.
Whatever material BABYBJORN have used here, it is incredibly effective.
Color choice - This step stool offers more color choices than any other. While I found some of the color schemes to be quite ugly (like the red on blue) there is something for every parent.
Easy to clean - I was able to clean this step stool with a simple hot water rinse. Although if you use it near your toilet I strongly recommend a soapy wash every now and again.
So what don't I like about this step stool?
The height. This step stool is an inch away from being useful.
6 inches? That is incredibly short. Fun fact, it is also the average size of the male penis. So while it may be a good size for your husband, it's a rubbish size for a step stool.
There is one thing that a 6 inch step stool is suitable for. But BABYBJORN has also stuffed this up:
6 inches is suitable for toilets but if this what BABYBJORN designed this step stool for then why is there no curve in the side of it? This step stool performs quite poorly for potty training compared to the others on the market (I cover these further down the article).
The 6 inch step stool was much to short to reach our bathroom sink or kitchen bench. So this leads me to believe:
Either the parents who praise this step stool have itty bitty benches or their toddlers are the size of NBA players.
It honestly doesn't make sense to me. The only good thing to come from the size is that cabinet doors swing open over the step, meaning that I will not have to move the step stool if I want to remove stuff form the cabinet.
Another gripe is that the rubber grips still seemed to slide around on wooden floors. Worked well on tiles though.
Don't get me wrong, I have a lot of time for BABYBJORN products. They make one of the greatest baby bouncers around and I am also a huge fan of their baby carrier.
They are obviously more than capable of making great baby products but this one simply sucks.
One inch. On single measly inch and I would have nothing but good things to say about this step stool. Come on, BABYBJORN!
There are obviously parents that this step stool works for and I respect that, a huge part of parenting is finding what works for you. However, based on my own personal experience and in comparison to other step stool on the markets I absolutely cannot recommend it.
Growing Up Green Wood Step Stool
Height: 7"
Supports: Up to 200 lb
This wooden step stool looks so good that you can leave it in your dining room to help your little baby climb onto his chair. It will actually fit in with the rest of your dining room furniture.
Part of the problem with wooden products is that they have been treated with pesticides to keep insects and fungus away. Now I don't know about you but I wouldn't want industrial pesticides anywhere near my precious little toddler.
Fortunately, Growing Up Green understands this and offers this step stool in all its natural glory, pesticide free. Just as nature intended.
The wooden step stool comes pre-assembled (yay!) and looks gorgeous. While the surface does look smooth and slippery my little one was able to easily balance on top at the kitchen counter whether he was in socks or barefoot.
Being made from wood, this step stool is a lot heavier than those made from plastic (and feels sturdier too). An adult will be able to move it easily but a small child will have difficulty. A very determined toddler can still drag it around though…
Fortunately, rubber pads on the bottom of the legs will keep your floors safe from scratches and marking should your little one muster up the strength to move it. Wooden floor owners rejoice! Your floor will be protected.
The most amazing thing about this step stool is the value. Even though it is made of wood, costs about as much as most plastic step stools! A well built good looking step stool on a budget. Highly recommended.
Learning Tower Kids Kitchen Step Stool with Safety Rail
Height: Adjustable
Supports: Up to 250 lb
This is perhaps the most expensive step stool on the market but it is a step stool like no other.
The learning tower allows your toddler to help you out in the kitchen. Safe and secure in his own railed off step stool.
Unable to fall backwards, a big problem with most other step stools that are open backed.
When the time comes to prepare dinner, you simply plop your toddler in the Learning Tower and move the step tool to the kitchen bench. A great alternative to sitting the kids in front of the TV.
Teach them to cook. Roll dough. Mash potatos. Lick spills. Help wash the dishes (its amazing how toddlers find chores fun but hate them as a teenager). I absolutely love this step stool.
While the Learning Tower Step Stool ships preassembled, It was not too difficult to assemble. It took roughly 40 minutes to unpack and assemble the step stool. You will likely be able to do it much quicker.
I am embarrassingly uncoordinated. So much so that I suspect my toddler has better refined motor skills than me. Yikes!
As far as the design goes, the wood is solid and the wide base of support makes it impossible for your toddler to rock and tip, even if he is trying with all his might.
While this step stool wont be suitable for everyone; if you love to cook and are looking for a special way to bond with your toddler then this is the step stool for you. This is one premium and durable step stool.
Aluminium Safety Step Folding step stool
Height: Adjustable 7-8.5"
Supports: Lab tested up to 1000 lbs
But it's not just inside the home that step stools are handy. What if your SUV or motorhome is just a little to high for your toddler to freely climb in and out of?
When I was choosing step stool for outdoors I wanted one with a larger than usual platform.
When I was choosing step stool for outdoors I wanted one with a larger than usual platform.
The safety step can fold flat which reduces the height to just 3 inches high. Perfect for throwing in the trunk of your car and taking with you when travelling or camping!
A safety step that is used outside is going to want to be rugged and durable.
The Safety Step fits the bill perfectly. Like all good American made products, this step stool lasts and lasts.
While there are cheaper alternatives, they simply do not have the build quality of the safety step.
In fact, this steps tool is so durable it's likely that the rubber leg caps will wear out before the steps tool does. Fortunately, replacement leg caps can be purchased directly from Safety Step.
When it was not in use by my toddler, my husband would pinch this step stool to help him wash the roof of the car (apparently we are a family of shorties!).
For out door use where you need just a tiny height boost, you simply cannot go past this step stool!
The best potty training step stools
Potty training step stools work slightly differently to a standard step stool (like the ones above).
Stools designed specifically for toilets not only help your toddler climb onto the toilet but also provide a place for your little one to rest his feet.
A good potty seat and step stool will help your toddler feel stable and secure while sitting on the throne.
Related Post: Potty training urinals
You can easily spot of a toilet step stool is it's curved front (U-shaped), allowing it to sit up close to the base of your toilet. Many parents use these step stools for potty training.
The one downside to potty training stools is that they can take up quite a lot of space in your bathroom.
If you more than one toilet in your home then this wont be a problem but for those of you that share a toilet it can quickly get tiring moving it around.
Let's take a closer look at some of the best toilet step stools on the market.
Squatty Potty Kids Step Stool Bear Cub Pet Base
Requires 2 inches of space either side of toilet
The first thing you will notice about the Little Looster is that is has no rubber grips. None on the feet and none on the bottom. A lot of parents have Criticized summer infant for the lack of grip and they are somewhat justified.
My toddler definitely felt a little less secure climbing this steps tool (although once he got the hang of it he was climbing it like a pro.
So why do I still recommend it?
Because I feel the lack of grip is justified. This step stool sits around the base of your toilet. My toddler managed to not only coat it in wee but also poop on numerous occasions (gotta love friendly fire).
I simply tossed the step stool in the bath tub, turned on the faucet and gave it a good scrubbing.
No rubber pads to collect gunk and grime. Cleaning could not be simpler.
While the step stool is quite large, it is quite light. My toddler had little difficulty dragging it from the toilet to the sink to wash his hands (he uses a faucet extender to reach the water).
Now you may be wondering why I don't recommend the Squatty Potty Toilet Stool. While the Squatty Potty is a great product, it simply is not designed for kids to use.
I use a squatty potty myself (It actually does help you poop better) and my toddler has incredible difficulty climbing it. The unusual platform shape does not give your toddler much surface area to step on.
The Little Looster is made right here in the USA, well made and is a great entry point for those of you looking for a good toddler step stool for your toilet.
Looking for something a little more premium? Maybe you would prefer:
711TEK Potty Training Seat Toddler Toilet Seat
Height: 8" (step height) Rail height is 25"
Perfect for special needs toddlers and kids with disabilities, this potty training step stool comes with handles on either side (it was actually parents of an autistic child who recommended this step stool to me).
The handles are easy to reach, allowing even smaller toddlers to support himself before stepping up. Handles are absolutely brilliant if your toddler has balance issues.
The spacious base will give your toddler plenty of room to climb up, turn around and position their bottom on the toilet.
The all plastic design (made in America) is incredibly easy to clean. A simple wipe is all it will take to clean up any mishaps that go along with potty training.
Despite being made from plastic this is a very heavy duty step stool and is very heavy.
So heavy in fact that your toddler will struggle to move it on his own. However, older children and adults will have little difficulty with moving it aside.
If you choose to make this step stool a permanent fixture in your bathroom The handles can easily be removed and put to the side of the toilet when an adult needs to use the toilet.
If your Little one has a fear of the toilet (it IS a long way up for your tiny toddler) then this step stool will is a good solution.
The weight and sturdy design will help give your toddler the self esteem and confidence to climb up and down.
Some parents use this step stool to for toilet training with a potty seat, skipping the floor potty altogether.
I never had a chance to try this but the idea of not having transition your toddler from the floor potty to the big toilet is super appealing. I honestly wish I had the chance to try that!
If you are a thrifty shopper then your jaw will likely drop when you see this. Cheap it isn't. But if you are looking for the best then this step stool is leagues ahead of bargain models in use of stability, ease of cleaning and durability.
For those of you on the hunt for a great toilet step stool on a budget then you will prefer:
This is perhaps one of the cheapest toilet friendly step stools (without going so cheap that the product sucks). Despite the cost, it is surprisingly good.
The Graco Sure Foot is that it can be used at both the toilet and the bathroom sink (if you have shorter sinks, It was too short for mine).
While this step stool does have a curve to sit against your toilet, it is not so large that your toddler will fall through the gap when it is used at the sink.
This is also one of the few potty training step stools that has both rubber feet and a grips on top.
These are an absolute must given the light weight of the step stool (your toddler will easily be able to move it on his own).
But the most interesting thing abut the grips is that they are also on the top side of each foot on the step stool…
At first I thought this was just an odd design choice but after watching my toddler use the stool I immediately saw their benefit. My little one would place his own foot on the foot of the step stool and push up of it.
The grips here prevented his foot from slipping while providing him with a bit more height to step up. very clever.
I believe the grips on the feet were what made my toddler take to this step stool so quickly.
If you are considering this step stool then just be mindful of the height. At just under 6 inches it is not exactly a tall step stool.
While it will be high enough for most toddlers to use at the toilet, it may come up short depending on the height of your sink. Shorter toddlers may also have difficulty using it.
I think I like this step stool more than my toddler. I am currently using it to rest my feet as I type up this article at my desk (it's the perfect height).
It is great for changing seating positions when I sit for longer periods.
Conclusion
As you can see there are a lot of different step stools to choose from, and these are just the better ones.
Pay attention to the location where you want to use the step stool and you will be much more likely to choose a winner.
Do you have any step stool advice you can share?
You know the drill: Leave me any questions, wisdom, love or hate in the comments below and as always . . .
Keep being awesome!
Featured Image Source: Flickr