The Love to Dream Swaddle Up is another popular swaddling solution for those parents who are sick and tired of wrapping swaddle blankets.
Why should you choose the Swaddle Up over the many other easy swaddling options available? I will answer that question and more in my detailed Swaddle Up Review!
The Love to Dream SwaddleUp is a good choice for you if:
You want to promote a self-soothing sleep style by swaddling your baby with their arms up
You want simplicity – no excess material, Velcro, or snaps
You want easier diaper changes
You want to easily go from crib to car seat while remaining swaddled
Let's look at some details and find out if the Love to Dream Swaddle Up is right for you and your little one!
The Swaddle Up allows for night time arm movement
The Love to Dream Swaddle Up has a patented design that encourages your baby to sleep with their arms in an upward position.
Many traditional wrap swaddles restrict your baby's arms when they're swaddled. Kind of like a straitjacket!
While many baby's find this position comfortable enough to sleep in, others are distressed by it. I mean, can you imagine sleeping through the night with your arms bound to your sides?
Definitely not
If your baby becomes frustrated sleeping with his arms restricted, or wakes up at night struggling to free his arms, then the Love to Dream Swaddle Up may be the one thing that allows you to comfortably swaddle your baby.
The Love to Dream Swaddle Up has little wings for your baby's arms. These wings encourage your baby to sleep with their arms up while still letting them move their arms enough to be comfortable.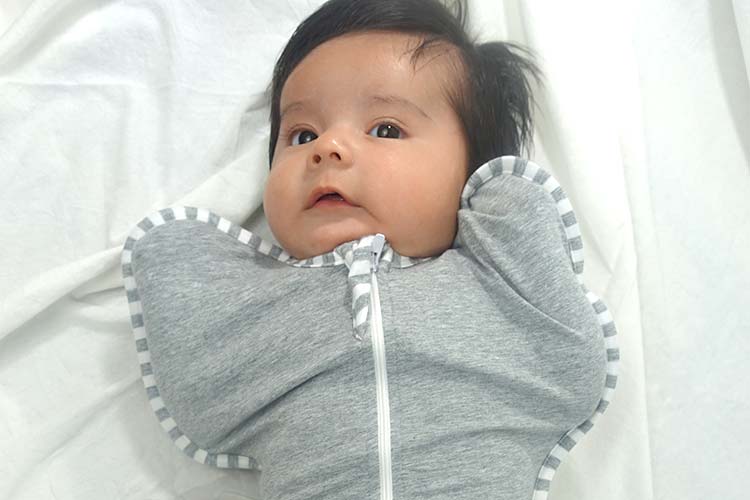 The great thing about these wings is that your baby can move their arms freely without getting cold – their arms aren't sticking out or exposed.
Your baby's skin is completely covered with a single-layer of breathable fabric that is roomy enough for them to move their arms.
But perhaps most interesting is that the design also applies gentle pressure all over your baby's body.
This pressure helps reduce their startle-reflex.
What's a startle reflex?
Basically, it's just that moment when your baby is jolted awake. Sometimes this happens from a loud noise – which, obviously, this swaddle cannot control.
But sometimes that startle reflex occurs when your baby feels unsupported as if they're falling.
This is exactly what the winged design of the Swaddle Up aims to fix. The combination of the natural arms-up position and stretchy cotton-blend fabric promotes a gentle all-over pressure which reduces your baby's startle reflex.
Plus, the freedom that your baby's arms have with this swaddle can help them self-soothe. Your baby can touch their face or suck on their hands to relax.
When your baby has access to their hands, it can have a real calming effect. This means that even if they are startled awake, they're much more likely to soothe themselves back to sleep.
And you know what that means?
More sleep for everyone!
And what new parent doesn't want more sleep?
With my newest baby, I'm focusing a lot on self-soothing and I'm loving how the Swaddle Up has helped me with this.
I actually got a full five hours of uninterrupted sleep the other night when he was swaddled in the Swaddle Up! I awoke like a new woman!
The Swaddle Up Promotes healthy baby hips
But it's not just the top of the Swaddle Up that's packed with comfort, the roomy bottom half of the swaddle is good news for your baby's hips.
Hip issues and hip dysplasia are surprisingly common problems for infants.
Does your baby suffer from hip problems?
If so, the Swaddle Up can help.
And if your baby is lucky enough to not have hip problems, you probably want to keep it that way! Which is exactly what the Swaddle Up will do.
Improper swaddles or swaddling techniques can actually cause hip problems and even worsen existing ones.
But you won't have to worry about that with the Love to Dream Swaddle Up.
The roominess of the swaddle allows for movement and doesn't force your baby to remain in a straight-legged position for extended periods of time
Like its competitor, the Halo SleepSack, the Swaddle Up is recognized by the International Hip Dysplasia Institute as being 'hip-heathy'.
Your baby can freely kick and bend their legs and knees while swaddled, which helps keep their hips healthy.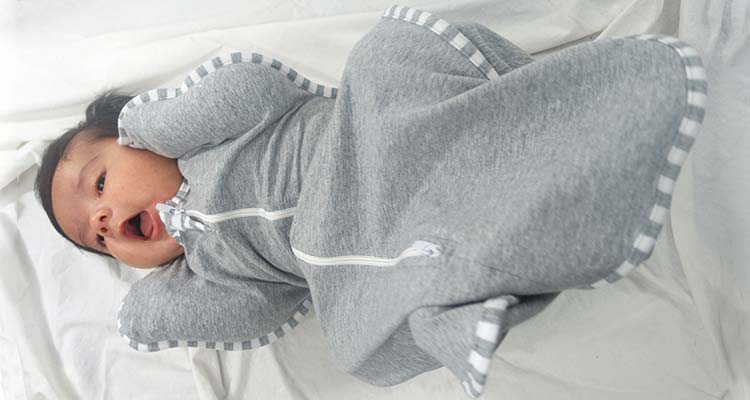 If hip-heath is a priority for you, you might be wondering which swaddle is better - the Halo SleepSack or the Love to Dream Swaddle Up?
Since both are recognized as 'hip-healthy', your decision will probably depend on the different benefits that each swaddle offers like price, design options, and other various features.
But in terms of hip-health, they are both excellent choices.
The Love To Dream Swaddle Up is so simple, it's silly.
Swaddling can be a real pain in the butt sometimes!
Some swaddles have so much excess fabric that I feel like I'm drowning my baby in a sea of animal-print cotton.
Not to mention all the buttons, snaps, Velcro, and other bells and whistles that many swaddles come with. You practically need an instruction manual just to figure out how to use them!
But not the Love to Dream Swaddle Up.
There's no wrapping, fastening, snapping, or maneuvering with this simple design.
Picture a giant pea-pod. The Swaddle Up is basically a piece of fabric that opens with a 2-way zipper on the front and…that's it!
Unzip, stick your baby inside, and zip it back up. It's as simple as that.
Layers of extra fabric that many other swaddles come with are not only frustrating but can be dangerous!
If your baby's swaddle comes undone, it could get wrapped around their face and cause breathing problems or even suffocation.
Not to mention that swaddles with all kinds of hooks and snaps and buttons can be hazardous. Your baby can scratch themselves or even swallow a button that comes loose.
But with the Love to Dream Swaddle Up, you will never have to worry about the safety of your baby.
There's even a small patch of fabric that folds over the zipper, preventing it from scratching your baby's delicate skin.
If you are sick of wasting time wrapping and re-wrapping your baby in swaddles with too much fabric then the Love to Dream Swaddle Up will definitely make your life easier.
The Swaddle Up features a two way zipper to easily wrap your baby
I love a 2-way zipper on a swaddle.
In fact, having reviewed other swaddles that don't have this feature, I personally would not use a swaddle without it.
Picture this – after what feels like hours, you finally managed to get your baby perfectly swaddled up nice and snug. You gently place them in their crib and start to tip-toe out of the room when….the smell hits you.
Literally 10 seconds after you have swaddled your baby, they have let loose the mother of all poop explosions.
Now you're forced to undo all the hard swaddling work you just accomplished so you can change their diaper.
And then, guess what? You get to swaddle them back up again!
What a nightmare. Not to mention a giant waste of time!
If you've experienced something similar to this situation, you would be amazed just how much easier a 2 way zipper makes this situation.
A 2-way zipper allows you to unzip the Swaddle Up from the bottom of the swaddle up or from the top down.
This means that when that poop bomb hits your baby's diaper, you don't have to fully un-swaddle them to change it. Just unzip the bottom half and change your baby's diaper while they are still half swaddled!
After changing is done, simply zip the bottom half of the swaddle back up.
Or, if you want to get some air flow in the swaddle to cool your baby off or strap them into a car seat without removing the entire swaddle, just unzip the top half!
The 2-way zipper on the Swaddle Up has been a huge time saver and stress reducer for me.
Years ago, with my first child, I wasted so many precious hours (maybe even days) of my life using a traditional swaddle. I would wrap, then unwrap, then wrap, then unwrap – you get the picture.
And even though the Swaddle Up isn't the only swaddle out there with a 2-way zipper, it is definitely one of the better ones I have used.
2-way zippers are super handy but they can also be super glitchy. Meaning that they snag or get stuck a lot.
But I haven't had any zipper issues with the Swaddle Up so far. And with all the rushing around I do, I can be pretty tough on zippers.
It also helps that there is no extra fabric to get caught in the 2-way zipper on the Swaddle Up, the most common cause of snagging, thanks to the sleek design
The Swaddle Up zipper feels sturdy and durable. Plus, I love the little fabric covering on the top zipper closure – something not all zipper swaddles have. It just helps keep my baby that much safer.
If you're looking for a way to save time, reduce stress, and easily change your baby's diaper while they remain swaddled, the Love to Dream Swaddle Up fits the bill.
The Love to Dream Swaddle Up is a fantastic swaddle to travel in
Are you frequently putting your baby in and out of a car seat or baby swing?
If so, you probably already know that doing these things while keeping your baby swaddled can be tough.
But not with the Love to Dream Swaddle Up.
And it's all thanks to the handy travel slot, located on the rear of the Swaddle Up
I'll be honest, at first, I was kind of confused about what this little slot was for.
But when I figured out how this slit works, It changed how I transport my baby around forever.
The slot allows you to safely buckle your baby in a baby swing, cat seat or bouncer while remaining fully swaddled.
The slot is small enough that you won't even notice it if you don't utilize this feature, especially since it is hidden behind a fabric cover.
But if want to swaddle your baby while keeping them securely buckled in while being swaddled, you will wonder how you got by without it.
And although it isn't it's intended purpose, it's a fantastic way to check if your baby needs changing without unzipping the swaddle.
Price & Design Options
As much as I adore the SwaddleUp from Love to Dream, I felt that it could have done with a few different styles and colors.
There are only about 10 different prints available for this swaddle. And none of them are terribly
However, it does come with several fabric options:
SwaddleUp Original – made from 93% Cotton, 7% Elastane
SwaddleUp Lite – up to 30% lighter than the original, made from 97% Cotton, 3% Elastane, making it perfect for summer or warmer climates.
Swaddleup Organic – made from Eczema friendly, soft 95% Cotton, 5% Elastane
GOTS organic fabric, perfect for babies with uber-sensitive skin.
No matter what material you choose, all of the swaddles are made with a single-layer of fabric.
So, if your baby tends to get hot easily, there's a good chance they won't with this swaddle. It feels like a soft cotton t-shirt, not too warm, not too cold.
If you are looking for added warmth in your swaddle, the Swaddle Up is roomy enough that you can layer your baby's clothing underneath it.
On the other hand, if you want to keep your baby cool, the SwaddleUp is light enough to be worn with only a diaper underneath.
The Love to Dream Swaddle Up ranges in price from $34.95 to $49.95 per swaddle depending on the material and print you choose.
Considering that other similar swaddles come in packs of 2, or even 3, for a similar price makes this a less-budget friendly option.
If you're on a budget or care more about trendy swaddle prints than arms-up swaddling, then you may be better of checking out the other swaddles I have reviewed..
Sizing
Babies are like weeds – they grow so fast that it can be hard to keep up with how quickly they outgrow things!
I feel like I'm constantly replacing my baby's clothes and other gear as he gets bigger each week.
Which is both expensive and time consuming!
So much so, that sometimes I like to buy clothes and other baby gear a size or two bigger than he needs. That way, he can just grow into them!
Unfortunately, this is not an option with the Swaddle Up.
It's very important that you purchase the correct size Swaddle Up for your baby based on their current weight.
| Size | Weight | Age* | Max Length |
| --- | --- | --- | --- |
| Small | 6.5-13 lbs | 0-3 months | 22.8" |
| Medium | 13-18.5 lbs | 3-6 months | 26.4" |
| Large | 18.5-24 lbss | Up to 6 months | 29.5" |
* Please note that for best fit, choose the Swaddle up based on your babies weight and height.
A too-big Swaddle Up will have a loose neckline and can be potentially dangerous.
This is a pretty big drawback to the Swaddle Up compared with a traditional wrap-style swaddle.
With a traditional swaddle, you never really have to worry about your baby outgrowing it. Assuming the fabric is large enough, you simply adjust how you wrap them to fit their size.
But, if you're willing to replace your Swaddle Up as your baby grows, simply follow the sizing guide on the package to find the perfect fit.
I followed it exactly when deciding what size Swaddle Up to get for my little one and it fits him perfectly.
I found the sizing guide to be extremely accurate. By following the guide, you should have no problem picking the appropriate size Swaddle Up which will ensure their ultimate safety while wearing it.
Caring for and cleaning your Swaddle Up
With all the pooping, peeing, and spitting up that babies do, there's a good chance your washing machine is in constant use.
Having baby products that are durable enough to withstand repeated washing is important.
But for me, it's even more important to have products that are easy to care for – meaning no hand-washing or line-drying required.
When it comes to products that your baby wears, you want it to be easy to clean. After all, your baby is a little ball of mess.
Even though the Swaddle Up is not cashmere, it does recommend line-drying as opposed to machine drying. Which initially turned me off.
And if you are looking to save time and keep your laundry routine simple, this might be a turnoff for you too.
But I decided to throw caution to the wind…I went ahead and ignored the recommended product care instructions and threw my Swaddle Up in the dryer.
And it was totally fine.
I've been drying my Swaddle Ups in the dryer for three weeks now and I've never noticed any shrinking or deterioration.
However, several people have complained that their Swaddle Up shrunk significantly when they dried it in the dryer.
Perhaps they dried it on high?
But, if you want to be 100% sure that your Swaddle Up doesn't shrink at all, then you might want to line dry. Or find a different swaddle.
Or, if you're a risk-taker like me, just throw it in the dryer with the rest of your baby stuff. Just make sure to set your dryer to the lowest heat-setting.
Bottom Line: If you want a no-frills, easy-to-use swaddle that promotes healthy hips and self-soothing, and you're willing to spend a little bit more to get those things – then the Love to Dream SwaddleUp is the perfect swaddle for you!
Do you swaddle your baby in the Love to Dream Swaddle Up? Let me know what you think of this baby product in the comments below!