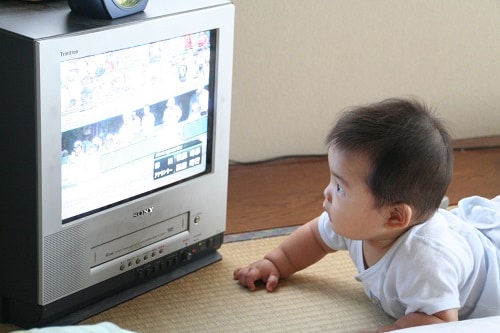 The television, to the parent it is a way to relax after a hard day's work. To your child, it's a jungle gym and entertainment device and chew toy.
Just like everything else in the house, the TV is dangerous to your child if used incorrectly. Read on to learn about everything you need to know about baby proofing your TV and keeping your little one safe.
Clear the area
This should be the starting point for every parent looking to baby proof their TV. Remove all objects of interest from your TV stand.
Related Post: How to baby proof your entire living room
DVD and game cases, remotes, any room decorations… You get the idea, none of these should be located near your TV. If your television stand is plain and boring, it is going to get a lot less interest from your curious child.
Secure that television!
According to the CPSC, approximately 10 children die each year due to falling televisions. As modern televisions are quite top-heavy, they can easily be pushed over by your curious child.
If ever you were considering mounting your flatscreen TV on the wall, now is a fantastic time to do it. Mounting the TV up high will place it well and truly out of reach of your child.
If mounting the television is not an option for you then why not try securing your television with a TV anchor?
A TV anchor is generally a screwed or adhesive anchor point that attaches to your TV cabinet or wall. A strap will connect this point to your TV, making it less prone to falling over.
TV Anchor
Available Colors: As pictured
Features: Straps hidden from view.- No screws required.- Easy to install.
Hide the remotes
Your little baby learns by imitating. If you are a big TV viewer then your little one will no doubt have seen you change the TV channel with the remote. Unfortunately, this means that the remote will soon be your baby's hottest new baby toy.
Press a button and something happens. These are the most fun toys that your baby can come across. While its not a toy, your televisions remote control can give your baby a similar amount of joy.
No good can come from your baby playing with a remote. Below are just a few of the reasons why you should not let your baby play with the TV remote.
That build-up of gunk ends up in your baby's mouth. TV remotes are not the cleanest of objects. Remotes are dropped on floors, bumped under sofas, coughed on, used after a sweaty gym work out… Get the picture? You really don't want it going anywhere near your baby's mouth.
The remote contains choking hazards. While we are on the subject of your child's mouth, the battery compartment lid and batteries pose a serious choking risk to your baby. These components are just the right sized to get lodged in your little one's throat and obstruct breathing.
Baby saliva ruins remotes. Learned this one the hard way. Trust me, it's no fun walking up to your television each time you want to change the channel or volume.
As you can see, you clearly don't want your baby anywhere near your TV remote. The easiest way to prevent your child from using the remote is to either lock the remote away or place it high up out of your little one's reach.
Hide Audiovisual equipment
If you have a TV then you will more than likely have audiovisual equipment such as a DVD player or games console sitting nearby.
Unfortunately, this equipment can attract your baby like a moth to light. Flashing lights and many buttons right at your baby's eye level. How could they resist?
You are going to want to baby proof your audiovisual equipment. Trust me, you do not want to open up your DVD player one day only to find that your little one has shoved her favorite (or least favorite) snack inside.
Your warranty definitely doesn't cover food being shoved inside and can prove to be costly to repair.
Many TV stands will have open slots for your extra components to sit. A popular way to prevent your child from accessing audiovisual equipment is to purchase a completely enclosed media cabinet and add a child lock, if necessary.
All components will still be easy to access but out of sight of your little child.
If you choose to enclose your extra equipment in a cabinet then you will need a remote extender kit.
As your DVD player and other components are hidden out of view, your remote will be unable to operate them as the signal will be blocked by the wood of the cabinet.
A remote control extender is a small receiver that sits next to your TV. The receiver will work with any remote you point at it and send the command to the correct device that is hidden away.
Being able to control all equipment while it's tucked away safely? It sounds like a winner to me.
Remote Control Extender
BAFX Products (Infrared) IR Remote Control Extender or IR Repeater Kit...
BUILD – Create the A/V setup of your dreams with the help of our Infrared repeater kit. Our kit allows you to place...
IMPROVED! Now compatible with ALL IR controlled devices with better performance, no lag & better ease of use. Now also...
WARRANTY & SUPPORT – BAFX Products offers a 1 Year Warranty against manufacturing defects with a simple & super easy...
Available Colors: As pictured
Features: Control up to 8 devices – 1 year warranty – Easy to install
For those of you who do not wish to purchase a whole new cabinet, you can baby proof an open TV stand with plexiglass and velcro.
Simply measure the length of plexiglass you will need and mount it in place along the front of the stand using velcro. Don't use velcro along the shorter lengths to allow air circulation.
This method is not recommended if you frequently use your DVD player or game console as you will need to remove the plexiglass each time you wish to insert a new disc.
Stop your little one sticking things in your game console or DVD player
If it has a hole, your baby will stick things in it. Last time I checked, the warranty on a Sony Playstation does not cover "Food or other material entering the console through the CD drive". Damaged electrical equipment can prove costly to repair.
A simple DIY trick is to use a slanted acrylic photo holder and velcro in front of the slot. The acrylic will not block the signal of your remote and when not in use you can put a blank piece of paper to hide the slot (out of sight, out of mind).
Tidy up those cords
If your TV is anything like mine, there is an awful ball of wires and cables that need to be untangled and sorted. The cords are at just the right height for your baby to play with, put in the mouth or whatever else is going through the mind of your little one.
If you are sitting down to watch TV and wondering why nothing is working, chances are your little one has pulled wires out of the back of the TV as a result of playing with them.
You can attempt to prevent your child from playing with wires by using a cable manager. Grouping the wires together not only makes them more difficult to pull out but can also prevent your little child from chewing on them.
Remote Control Extender
Available Colors: As pictured
Features: Soft Material – Cutouts every 2″ – Easy to install
Soften up those corners
Whoever designed TV stands must have really had it in for babies. Pointed corners at the same height as a toddler's head, while the moving images on the TV screen draw your child ever closer, a recipe for disaster.
With the television being the primary focus of baby proofing, it can be easy to forget the cabinet it rests on. Fortunately, you can easily make your TV stand safer by using the same corner cushions that are used on coffee tables.
Baby-proof those outlets
If you have a TV then chances are you will have a DVD player or recorder. You may even have a surround sound system and game console. Whatever extra audiovisual equipment you have, it will connect to a power outlet.
Because power outlets are such a significant risk to your child, I have written a separate guide on how to baby proof electrical outlets and other electrical products.
And with that, you have reached the end of another baby-proofing guide. I would love to hear what methods do you use to keep your child from using your TV inappropriately.
Featured Image Source: Flickr
Related Resources
How watching TV affects your child.
Why to avoid TV before the age of two.
How to baby proof the rest of your living room.