Looking for some family spring break staycation ideas? Are you going crazy while cooped up inside? We're about to save your sanity with some fun ideas the whole family can enjoy.
You don't have to go out to have a great time. There are plenty of activities you can have fun doing with everyone without ever leaving the comfort of your home!
12 Best Family Spring Break Ideas
We've got some of the most fun family spring break vacation ideas right here, but that doesn't mean this list is your limit. If you have any hobbies or ideas of your own, add them.
Take a journal or notebook and jot down ideas of your own, and pull out your book of fun whenever boredom strikes.
And just because these are great family spring break ideas doesn't mean they can't be done all year round.
The following activities are great staycation ideas to add to your book.
1. Build a pillow fort
One huge hit that the whole family will enjoy is building a pillow fort!
Grab as many blankets, sheets, and pillows as you can and bring them to a common area in your home. Start building in your living room, get help from everyone, and leave it up all week!
You can add twinkle or holiday lights to light up the inside of the fort, extra pillows for maximum coziness, or even build a fort in front of the TV for a mini movie theater.
Remember, the bigger the fort, the better.
Don't forget to add extras to your fort, too. Make a cozy pillow reading nook. Create blanket tunnels. And have fun with it!
2. DIY spa
If you and your kids are into beauty and relaxing, a DIY spa should be right up your alley.
Do your nails, make your own face masks, fix up your hair, or whatever floats your boat. You can even get spa supplies delivered right to your door!
Remember to have fun with it. Paint each of your nails a different color, try a new, unique makeup look, or clean those pores with fun face masks.
Get creative, and get opinions from your family. See what everyone wants to do, beauty-wise, and give everyone a job to do.
You can even do makeovers if that's your jam. Break into the makeup you have lying around the house and make a day of it.
3. Gameday
Another family spring break staycation idea is dedicating an entire day to gaming!
Whether it's video games, board games, card games, or all of them throughout the day, a day of games is sure to be a ton of fun.
You can teach your kids a new card game, or they can show you how to get through one of their favorite games. Test your detective skills with Clue or your business skills with Monopoly.
You can even mash a day of gaming and a blanket fort together. Make your living room as cozy as possible and play Mario Kart in a blanket nest.
A day of gaming is also a great way to relax your body while training your brain. It's the perfect idea to let loose and have fun. After all, isn't that what a vacation is all about?
4. Make your own artist's retreat
If you and your family have a passion for art, creating your own artist's retreat might be just the escape you need.
Gather paintbrushes, markers, pencils, erasers, crayons, and pens. You can use these to create amazing art on a canvas or paper.
You can also make your own sculpting clay and create little clay creatures or even make yourself a new mug.
Paint pots for your plants, or make paper chains to decorate your home. With art, the possibilities are truly endless. Let everyone freely express themselves and see what becomes of it.
And don't be afraid to mix mediums! Think sticks dipped in paint, coins coated in charcoal, or montages using items you just have sitting in the back of your closet.
5. Backyard camping
If you have a backyard and a family that loves to get outside, a backyard camping trip is just for you.
If you know how to pitch a tent, set it up in your backyard before the sun begins to set.
Have a bonfire and make s'mores together. For an extra tasty treat, use a peanut butter cup or Kit-Kat in place of a chocolate bar. Try making a s'more with cookies instead of graham crackers.
If you're into ghost stories, you can find a story about a different cryptid or monster for each state to add a little bit of spooky spice. You can find even more ghost stories here.
How about bringing astronomy into your backyard camping trip? Take to stargazing, and break out a telescope if you have it.
And if you have any books on astronomy or maybe a star finding app on your phone -- bring them too. They'll only add to the adventure.
6. Family science camp
If you love science and you have kids with a knack for it, a family science camp is a great family spring break idea.
Grow your own sugar crystals in jars, look at different samples under a microscope, or take a look at kitchen science. Science is everywhere, in just about everything, and there's so much to learn.
You can even theme your family science camp. Do you live in a coastal area? Incorporate Oceanography or Marine Biology! How about a dessert or rocky terrain? Geology it is!
If you garden or love the woods, botany has many branches to explore. Look at samples of moss or different leaves to identify them. Learn about what makes the leaves change color.
Remember to ask your kids what they're passionate about.
7. Learn some new recipes
Everyone loves food, right? And if you're missing takeout, getting creative in the kitchen might be just what you need. Get everyone together in the kitchen and eat around the world!
Try new dishes from different countries and cultures. There are so many rich, delicious flavor options to choose from.
Or, if you're like the rest of us who don't have the means to make fancy dishes from around the globe, you can find recipes that only call for the ingredients you already have.
There are plenty of free recipe finders out there that can get you recipes you can actually make.
Pass on your favorite recipes to your kids, and even start a family cookbook you stuff full of all of your favorites!
8. DIY drive-in
If you miss going to the movies, know that you're not alone. But with a pandemic and the outrageous prices of tickets nowadays, going to an actual theater is completely out of the question.
You can make your own faux drive-in right in the comfort of your home.
You can set it up in either your living room or your backyard. For your backyard, use a projector and a white sheet to play your movie.
For the living room, your TV will work just fine.
Make pretend tickets that your family can turn in, pop your own popcorn, and even make little extra snacks. How do nachos, hot dogs, milkshakes, and flavored popcorn sound? You can even munch on some candy as you watch your flick!
Make sure to turn the lights down low or wait until it gets dark to play the movie of your choosing.
We're sure you'll find that movie night at home beats the theater any day. Is there anything better than popping your own popcorn and getting to choose what's playing?
9. Get out in nature
Getting out in nature can mean many things. From gardening to birdwatching, there are plenty of ways to get out in your backyard to get some sun and fresh air.
Start a family garden where you plant either flowers of everyone's choosing or veggies to harvest and cook in the summer.
Set up bird feeders (or make your own) and watch new species flock to your yard. You can set up a birdbath and even make a birdhouse. Get creative and think outside the box. It might even be fun to just get outside and enjoy the fresh air for a little while. Toss a ball around or play Frisbee to add some extra fun.
Relaxing and taking in the day can do wonders and leave you feeling refreshed.
10. Have a picnic
If the weather allows it, you can even have a picnic in your backyard! Pack some sandwiches, fresh fruit, and chips, and get outside to enjoy a meal in the sunshine.
There's nothing quite like having a nice meal outside and then playing in your own backyard. Run around barefoot, climb a tree, and play games.
Or simply lay back on your picnic blanket and relax.
Get everyone involved by asking for help to make lunch for your picnic.
Make sure you pick a time of day that most bugs won't be out. If you don't have a yard, remember that you can always move it inside. Have a picnic on your living room floor, if that suits your family more. What matters is the time you spend together, not the location.
11. Do a Disney day
When you think of a vacation, you might think of amusement parks or, more specifically, Disneyworld.
Since going to Disney is both expensive and not a great idea during a pandemic, we know it's not gonna happen any time soon. That's where making your own Disney day comes in!
You can find virtual recordings of tons of Disney rides to pretend to ride and make your own "fast passes."
Wear your Mickey ears if you've got them and make your own Mickey-shaped waffles. You can even pick up Disney-themed ice cream bars at your local grocery store.
Then once the sun goes down, you can watch fireworks online and sit down to watch a Disney movie together.
12. Let your kids choose
Is there anyone better fit to come up with a fun, creative activity than a child? Ask your kids what they would like to do that day, and see if they come up with something fun!
Ask them about their favorite movies and games for a family bonding night.
Are they interesting in cooking? Maybe you could pretend to run a five-star restaurant while you make and eat dinner!
Maybe during bedtime, you could pretend you're staying at a fancy hotel, complete with a chocolate on everyone's pillow.
Creating the Best Staycation Ever
Picking out an activity is easy, but how do you go about actually planning it?
The real magic of staycations is in the details.
If you're planning on hosting your own spa day, maybe using battery-powered candles will add that extra authentic touch. Display your nail polish, so it looks official when you pick out a color.
If you're making your own movie theater, creating your own tickets out of paper can make it feel real. And you can also serve snacks on cooking trays for easy transport. That also makes it feel a little more authentic.
Building a pillow fort? Use everything you possibly can and go the extra mile to make it your best yet! Use couch cushions, chairs, and maybe even pool noodles in your final product.
Doing a Disney day? Maybe you and your kids could dress up as your favorite characters. See what you already have in your home. You never know what might come in handy.
Should I Stay or Should I Go?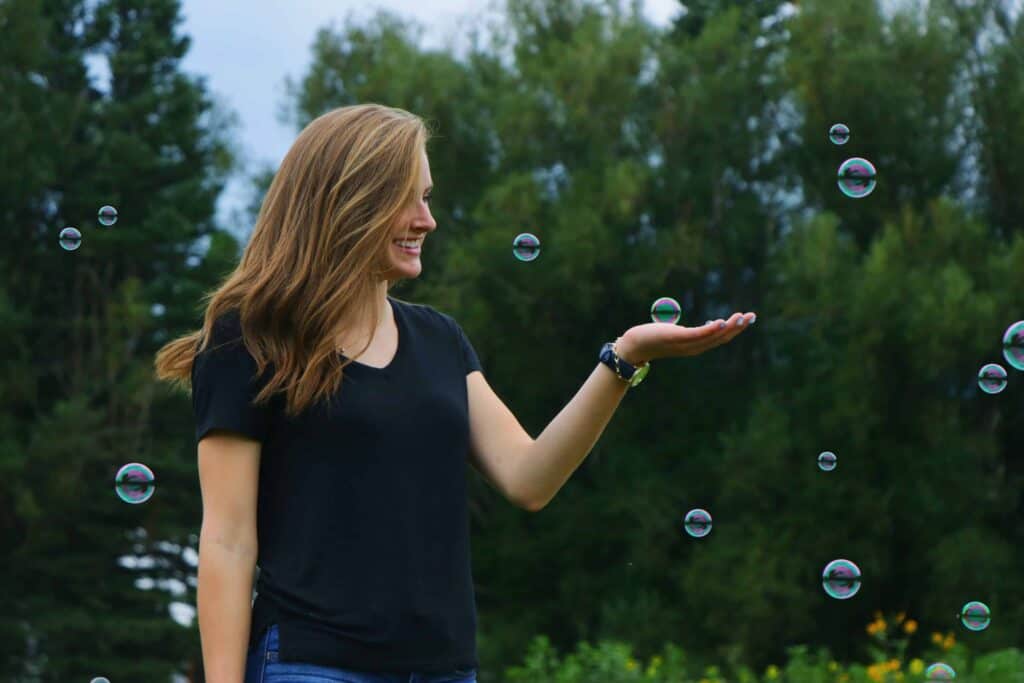 Whether it's in your living room or your backyard, these family spring break ideas will help fend off boredom.
Remember that you can tailor what you do to fit your family and that there are no rules. Use your creativity to put together fun activities that everyone can enjoy.
We hope your spring break is a ton of fun, and your plans go on without a hitch.
Which family spring break ideas are you going to try? Do you have any fun activities of your own you'd like to share? Leave us a comment down below! We're always looking forward to reading what you have to say.