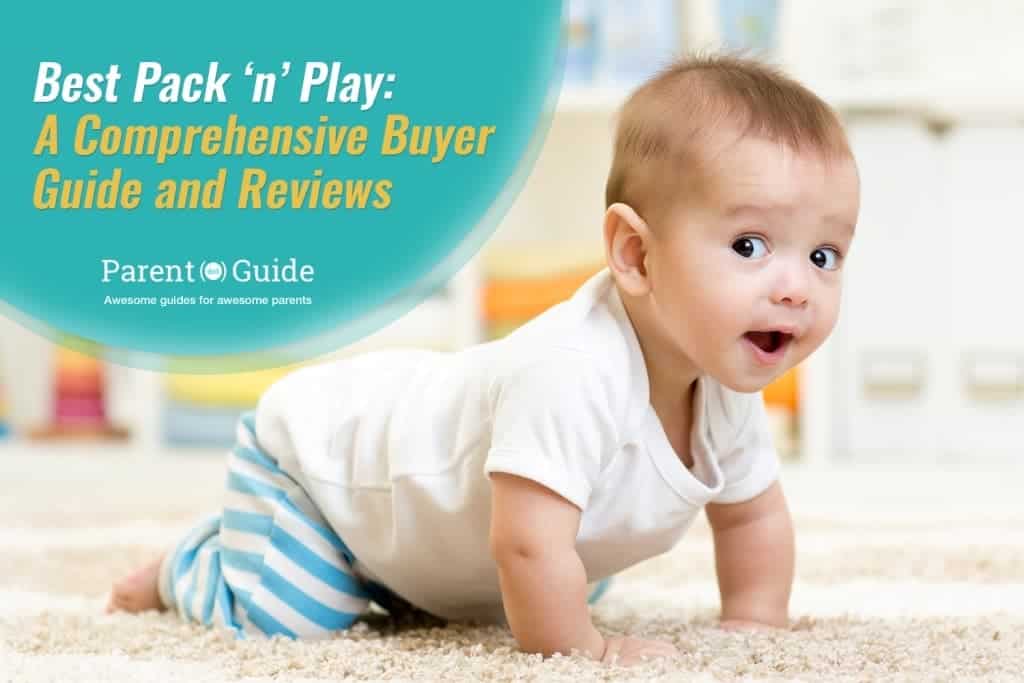 A pack 'n' play may not seem like a must-have piece of baby gear, but for the hardworking stay-at-home parent or the family that likes to travel - even if that's just a day trip to Grandma's house - a pack 'n' play is an extremely useful part of your baby kit. As its spirited nickname implies, it's a portable play space that's a cinch to both put together and pack away. It can also serve as a stand-in for your child's crib.
If you're thinking about adding a pack 'n' play to your ever-expanding arsenal of baby equipment, read on. This guide is designed to help you cut through the fog of pack 'n' play reviews, learn the ins and outs of portable play yards, and pick the best pack 'n' play for your adorable little monster - er, explorer.
Comparison Table
Pack 'n' play FAQ
​Does it come with a mattress?
It comes with a floor pad, which offers light cushioning. Is it the most comfortably place your baby will ever sleep? No, but you don't have to tell him that; his frame of reference is mercifully small.
​Do I need sheets for it?
No. Most floor pads are water resistant and easy to wipe clean. If you do decide to purchase sheets, make sure they fit your model snugly. Otherwise, they could present a suffocation hazard to your child.
​​How do I set it up and take it down?
It's designed to be simple. To set it up, pull the top rails up to lock them in place, then push the floor pad down until it locks into place, too. That's it; you're done.
To break it down for storage or travel, remove the floor pad and pull up the floor with the built-in handle. Then comes the tricky part: raise the lower rails a bit as you press the button to unlock the top rails. When you get it, the whole operation will fold like your cautious Uncle Brian at the Texas Hold 'Em table.
How big is it? Will it fit through a door when it's assembled?
A basic pack 'n' play is 28 inches wide and 40 inches long, which means it should fit through any standard door frame. Some deluxe models are wider, however.
How much does it weigh?
The average pack 'n' play weighs about 25 pounds.
​How do you clean a pack 'n' play?
A pack 'n' play, including its floor pad, can be cleaned with a gentle soap and water. You can also soak the collapsed unit in the bathtub, but a solid scrubbing and backyard rinse should suffice.
Is a pack 'n' play safe for my infant to sleep in overnight?
A pack 'n' play is a safe alternative to a crib and a suitable place for your son or daughter to get some shut-eye. Just make sure you keep it free of blankets, pillows, and stuffed animals, and that the sheet, if you choose to use one, fits snugly.
How long can my kid use it for?
Most pack 'n' plays are designed for use by children 35 pounds and under. As a general guideline, most tots outgrow their pack 'n' play around age 2. If your child is old enough to stage a rebellion and climb out, she's too old for it.
What is a pack 'n' play?
A pack 'n' play is a portable play space for your child that often doubles as a sleeping space, a changing table, and a parent's saving grace when he or she needs to be able to use both of his or her hands for five minutes, such as to make a phone call, floss, or just stare into space while eating a handful of sanity-saving tortilla chips at the nearby kitchen counter for a few minutes.
It isn't necessarily a must-have for parents, but it is a versatile safe space for your little one that's easy to set up and take down at home or on the road.​
Common features of a pack 'n' play
​Most pack 'n' plays are rectangular in shape, approximately 28 inches wide and 40 inches long, and constructed from sturdy metal tubing. A unit's sides are made of mesh to allow for maximum breathability for your child - especially important if he or she sleeps there - as well as for visibility, so you never miss an adorable clap, burp, or hurled toy.
Buttons and hinges on the top rails allow you to lock the frame into place and collapse it for storage or for tossing it in the trunk of your car. A removable floor pad doubles as a mattress and can be covered with a fitted sheet.
A pack 'n' play is an extremely useful item to have on hand during your baby's chaotic first few months, but it's not a babysitter — not even if you lovingly give it a name, like Admiral Pat N. Play or Brenda.
While a baby's crib is still the ideal place for them to snooze, some pack 'n' plays come with bassinet attachments that can accommodate infants up to 15 pounds. There are also models with changing table inserts and built-in storage for diapers, wipes, and other gear. Most changing station add-ons are built to handle toddlers up to 25 pounds.
Without all the bells, whistles, and attachments, most pack 'n' plays are suitable for use by children until roughly the age of 2 (or when they hit 30 pounds). Rolling wheels and a carrying case come standard with most pack 'n' plays, too, making it easier to haul from here to there. Still, that's the tip of the iceberg. Canopies, night lights, music consoles, and mobiles are all common features of high-end pack 'n' plays.
Basic functions of a pack 'n' play
As its nickname suggests, the two essential functions of any pack 'n' play are its use as a play space for your tot and its ability to be quickly packed up and put away. As a play yard, it offers a safe, totally contained play yard for your child. You know where she is, you can see what she's doing, and she can't get out.
Set-up and take-down
​Pack 'n' play set-up is intended to be no muss, no fuss. Pull the top rails up so that they lock into place. Push the floor pad down, and you're done. Taking down a pack 'n' play often proves more challenging, but still relatively simple - especially after you've done it a few times. Remove the mattress insert, then pull the floor up using the built-in strap.
Lift the lower rails a little bit while simultaneously pressing the button to unlock the top rails. If it sounds like it takes a little practice, that's because it does. Once you get the hang of it, however, you'll be able to tear down a pack 'n' play before your mother-in-law can ask, "Is that really where my darling grandson sleeps?"
Yep, it sure is. Since the American Academy of Pediatrics now recommends that infants sleep in the same room as their parents for the first six to 12 months, pack 'n' plays are an attractive alternative to relocating your child's crib from the nursery to your room.
(Pack 'n') playing it safe
To make sure your pack 'n' play is as safe as it can be - especially if it's the main place that your child sleeps during those first few months - be sure to read the owner's manual and follow all safety precautions. Double-check all latches and hinges after each set-up. Never put your infant down to sleep with blankets, pillows, or stuffed animals.
It's a fitted sheet or nothing, and if you use a sheet on the pack 'n' play's floor pad, make sure it fits tightly and is designed specifically for your pack 'n' play mattress (i.e., no crib sheets allowed). Inspect your pack 'n' play regularly for exposed rail rivets or holes in the mesh sides or other fabric coverings. Never put a child in a collapsed or broken pack 'n' play, either.
In short, before you set your child inside, make sure it's sturdy, stable, and free of defects or strangulation hazards. If your little one is using the pack 'n' play for play, you don't need that changing table insert hanging around, for example.
Pros and cons of pack 'n' plays
Is a pack 'n' play an essential piece of baby gear? That depends on whom you ask. Here are the pros and cons of adding a pack 'n' play to your all-star line-up of baby equipment:
In the strictest terms, no, it's not a must-have item like a car seat or diapers, but a pack 'n' play is a versatile, portable piece of baby gear that, under certain circumstance, may be useful for you and the newest member of your posse.
Tips for choosing the best pack 'n' play
How rad your new pack 'n' play will look with your living room décor is something to consider, but it's probably not the most important thing to think about when choosing a model. Here are three tips for choosing the best pack 'n' play for you:
Pick the winner personally
First things first, never buy a used a pack 'n' play and politely decline hand-me-down models. Instead, look for a model with the most recent manufacturing date; older models may not meet current safety requirements. You should personally choose your pack 'n' play, too.
If that means leaving it off your registry because, as well meaning as she is, Aunt Karen thrives on doing her own thing and knowing what's best - for everybody - so be it. If you do register for one, be very specific about your choice, and if some fantastic friend or family member picks it up for you, make sure that it's the correct model.
Check the specs
In addition to scoping out the date of manufacturing, you should also take a look at the floor pad and walls. The floor pad should fit snugly into the base of the unit and be no more than 1-inch thick. Check out how the mattress or floor pad is secured to the pack 'n' play, too.
Ideally, it'll use Velcro fasteners that attach on the outside of the unit so that your child can't unhook the pad and become trapped underneath. While you're looking under the hood, so to speak, inspect the walls' mesh, too. For safety, the holes should be smaller than ¼-inch in diameter. Most pack 'n' plays conform to these standards.
Practice makes perfect
It's tempting, especially after dutifully researching pack 'n' play models online, to throw the winner in your shopping cart or on your registry and call it a day. Taking a trip to the store to try out your pack 'n' play pick in person can save you time and hassle down the line, though. As you put the contenders through their paces, consider how easy each one is to set up, take down, fit into its travel bag, and lug from here to there.
By going hands-on, you may find that the changing table insert you thought you couldn't live without isn't a must-have after all, or that you want to splurge on a third-party carrying case that leaves the wheels exposed so you can roll that bad boy around instead of slinging it over your shoulder like Santa Claus - or Rambo.
Most popular pack 'n' play brands
Baby Trend
This Canadian baby gear company makes eight different models of pack 'n' play, many of which include a removable full bassinet, flip-away changing table, toy bar, and one-hand locking mechanism. Its deluxe models include essentially every upgrade in existence, right down to the vibrating mattress and onboard electronics unit.
Chicco
Chicco is one of the biggest baby brands in Europe, and it manufactures everything from bottle warmers to car seats. Its selection of pack 'n' plays features more than a dozen models that range from basic travel play yards to the deluxe Lullaby line that includes bassinets, changing stations, diaper organization, and mobiles.
Cosco
This Indiana company prides itself on offering baby gear for "simply smarter living." It manufactures close to 30 basic pack 'n' play models in an array of colors and patterns.
Graco
Graco also manufactures a myriad of baby products, from nasal aspirators and potty-training gear to strollers and swings. Its Pack 'N Play® line of play yards features over 30 different models, which is what you'd expect from the company that trademarked the name "pack 'n play." (We'll just pretend we don't see the missing apostrophe after the N, though, okay?) Its traditional play yard line keeps things simple, while its Care Station collection is heavy on the special features, including nappers and changing stations.
Joovy
Joovy is the new kid on the block and a baby gear company that prides itself on innovation and original, on-trend aesthetics. It's the manufacturer of three pack 'n' play models, including one designed specifically for twins.
Safety 1st
They may've created the "Baby on Board" window sign that was ubiquitous in the 1980s, but don't hold that against them. Safety 1st manufactures several baby must-haves, such as monitors, diaper pails, car seats, and gates. They offer three classes of pack 'n' plays in a variety of colors.
Top 3 best pack 'n' plays
Joovy New Room2
The Joovy New Room2 provides plenty of play space for your kid - or kids - in a sleek, neutral design that complements almost any room in your home while offering 360 degrees of visibility through its oversized mesh walls. If you have twins, the optional Twin Nursery Center, which features a dual bassinet and changing table, is an attractive add-on, too.
Cosco Funsport
Don't let the low budget fool you, this budget buy offers everything you need in a basic pack 'n' play. It's safe, reliable, and easy to set up, take down, and lug around. It also comes in more than a dozen fun colors and designs.
Graco Pack 'n Play Snuggle Suite LX
The Graco Pack 'n Play Snuggle Suite LX does everything but change your baby for you and sing it a soothing Adele slow jam. It's expensive, but you get what you pay for: namely a reliable, feature-filled pack 'n' play from industry-leading Graco.
How the best pack 'n' play was picked
As a mom, safety was my first concern, and Graco play yards have long been known for their safety, reliability, and durability. Similarly, that focus on safety drew me away from pack 'n' play models that had bassinet inserts that were essentially suspended over the floor of the unit. My worries about that cozy little hammock leaning to one side, or even falling, weren't worth any supposed convenience.What can I say? I'm a mom. Worrying is what I do. That, and so much laundry.
The On the Go's bassinet feature, which spans the entire pack 'n' play unit, felt much safer to me. It's also a godsend for my back, as it shaves a couple of feet off the bending distance required to set a child down or pick him or her up. It's less jarring on the baby, too, and anything that increases the odds of a sleeping baby staying that way is a huge plus in my book.
In choosing a pack 'n' play, I also knew that I didn't need to trick it out with a bunch of other attachments and upgrades. Having a changing station that I can slap on top of my child's play space isn't something I need - at least not as long as, you know, the ground continues to exist.
I'm joking, of course, but only a little bit. I can change a diaper on just about any flat surface; a dedicated changing station that I have to carefully secure to a playpen and generally keep track of isn't high on my list. The same goes for vibrating chair attachments and onboard nature sounds. We already have a bouncer and a white noise machine (and smart phones and music streaming services and real, live birds - and, well you get it).
Ease of Assembly
The On the Go is also super easy to set up and take down. The initial assembly and disassembly might take a moment - especially if you've never operated a pack 'n' play before - but once you've got the hang of it, you're golden.
This ease of use is a wonderful feature to have when you're at your mother-in-law's house, your kid suddenly starts melting down because it's nap time, and you need a safe place for him or her to sleep ASAP. Given the small U-Haul's worth of stuff you'll be lugging with you to Grandma's house, being able to quickly pack it up is great, too.
To that end, one small feature that I really appreciate is the fact that not only does the floor pad slide easily into the travel bag with the rest of the unit. But it also sports a handle that, once you slip it through the designated slot on the bag, you can use it to carry the pack 'n' play like a suitcase. Personally, I like to pretend it's a guitar case and I'm my kid's roadie, but you do you.
Relevant accessories to buy
Graco Pack 'n Playard Sheets
Graco takes the guesswork out of choosing a pack 'n' play sheet that fits your floor pad snugly and safely with its line of pack 'n' play sheets. They're available in a variety of patterns and colors, but the plain, single color sheets tend to be softer in my experience. Sheets aren't a must-have, but they do add a level of comfort - and an extra, easy to change line of defense against a leaky overnight diaper. Check our review for the best pack 'n' play sheet to find more options!
Final review on the best pack 'n' play
The Graco Pack 'n Play On the Go is a safe, durable play yard designed with the practical parent in mind. It features a secure bassinet, and it skips the less necessary add-ons like a changing station or a library of 47 frog sounds. With its push-button folding, set-up and takedown are simple and speedy, which means less time wrestling with your kid's pack 'n' play and more time to just play.
Image source: parent.guide