The Nerf war is coming. Are you well-armed?
Nerf guns are a household staple, and they're fun for the whole family. Whether you have kindergarteners or surly teenagers, Nerf guns are the ideal toy for cracking smiles and making new memories.
However, if you used Nerf guns as a kid, you know that choosing the right one is both art and science. You removed too many shredded darts from jammed blasters to make the mistake of buying the first gun you see ever again.
Buying Nerf guns for kids is particularly tricky because you need products that work simply and are safe but still give them a chance of winning a Nerf war.
Comparison Table
Product FAQs
Are my kids old enough for Nerf guns?
Hasbro, the manufacturer of Nerf guns, says that its toys suit children age eight and over.
We included a few Nerf guns on our list that a toddler or five-year-old could operate, but giving them to younger children must be done at your own risk.
What is frustration-free packaging?
When you order a Nerf gun, you have the choice between standard and frustration-free packaging.
Frustration-free packaging refers to easy-open boxes with recyclable components. It's Hasbro's attempt at limiting unnecessary waste associated with its products. The packaging is also more kid-friendly because it doesn't require scissors to open.
Should I buy protective eyewear?
Most photos depict kids playing with Nerf guns with no protective gear what-so-ever. Although the blasters shoot foam darts, the darts can be dangerous for your kids' eyes. Today, kids amplify the risk by using YouTube tutorials to improve the performance of their Nerf guns, which means the darts move at a higher velocity and travel further.
In the UK, the leading eye hospital issued a warning to parents to encourage children to wear eye protection when playing with their guns.
If the darts hit a child's eyes, they can lead to internal bleeding and blurred vision, which threatens their eyesight.
How We Reviewed the Best Nerf Guns
​​​We primarily stuck to the Nerf guns that run manually and have no more than 20-25 darts. We also mostly avoided guns with clips because they tend to jam and shred darts. Rapid fire is ideal for some uses, but it's frustrating for kids because removing jams takes real work. Moreover, rapid-fire guns increase the safety risk, and that's not worth the extra price.
Overall Price Range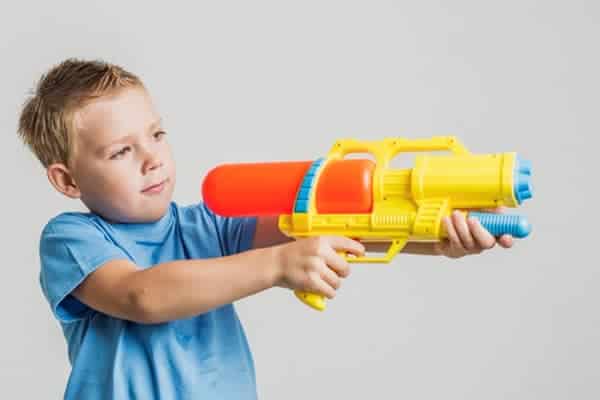 ​​​The price range of our chosen guns runs from $10 to $70. Nerf guns that use batteries tend to be more expensive than simple blasters, so you'll see the price range vary according to function.
10 Best Nerf Guns for Kids
​Looking for the best Nerf guns for kids? Use our list to find inspiration, and don't forget to check out our top pick at the bottom of the page.
​Nerf N-Strike Elite Strongarm Blaster
PROS
​Battery-free

​Inexpensive

​Comes with six darts
Features
The N-Strike is a simple blaster with a rotating barrel. It is also battery-free and entirely hand powered. To use, you'll flip open the barrel and fill it with the darts.
When you shoot, you need to move the slide back and forth as you pull the trigger.
Hasbro recommends the blaster for ages eight and over, but because it doesn't shoot the darts automatically or use battery power, you can choose to give it younger elementary age children if you accept the risk.
Darts Included and Fired
The blaster includes six Official Nerf Elite darts designed to go the distance.
You can shoot all six in rapid-fire succession through the six-barrel mechanism.
Nerf Official: Lazer Tag Phoenix LTX Tagger 2-Pack
PROS
Two guns for solo or two-player games

No Nerf darts

Haptic feedback from the gun
CONS
Not ideal for Nerf wars

Requires 6 AA batteries
Features
You get two Lazer Tag Phoenix LTX guns in this pack, which makes it ideal for two-player games or even solo matches. Want to play with a group? Switch it to multi-player mode to add three, four, or five guns to the mix.
Each gun comes with a red receiver dome, placed on top of the arm. It registers tags but doesn't give up information, so you can't tell what team a player is on when you shoot at them.
The batteries power the trigger recognition and provide haptic feedback through the gun's rumble pack. Players experience recoil when they fire a shot and feel the hit when they take one.
Each gun requires six AA batteries to function.
Darts Included and Fired
The Lazer Tag guns don't shoot darts and instead use electronic components.
​NERF Zombie Ripchain Combat Blaster
CONS
No replacement chain

​​Could jam easily
Features
The battery-free manual blaster is a step up from the N-Strike Elite Strongarm blaster because it offers more firepower and a few features that improve your game.
The blaster uses a Ripchain to deliver darts in rapid fire. To launch darts, you'll hold down the trigger while using the handle at the back. You can continue using both pieces simultaneously for an unending dart assault.
Like all other Nerf products, Hasbro recommends the blaster for ages 8 and up. Because it is a manual blaster, you could theoretically share it with younger children as well. However, younger children will likely find the gun to be too heavy.
Darts Included and Fired
Each gun comes with 25 Zombie Strike darts and fires 25 darts from the chain.
Nerf Doomlands the Judge
PROS
Able to look inside the blaster
Frustration-free packaging standard
Includes 30 Nerf darts
Features
Nerf's Doomlands the Judge gun is an oversized barrel shooter that looks like it stepped right out of a post-apocalyptic video game. It is aimed at ages eight and up, and we recommend it for older children because of the size.
The standout feature on the gun is its visible firing mechanism. Unlike other weapons, you can see where the darts come from, and once you nail your aim, you can watch them fly out of the barrel and towards the target.
To fire the blaster, all you need to do is prime the barrel and then hit the trigger.
Although the blaster looks cool, the performance is lacking. It shoots 51 feet-per-second, which is significantly underpowered compared to other guns like the Zombiestrike Sledgefire.
Additionally, the gun comes in six pieces, which means you'll need to assemble it. Assembly is simple enough for an adult following the directions, but younger children will need supervision and instruction.
Finally, although it is a manual gun with little velocity and firepower, it may still not be suitable for young kids. The size of the blaster means it weighs almost six pounds, which is too heavy for young ones.
Darts Included and Fired
The blaster drum holds 30 darts and comes with 30 darts to fill the gun. It shoots three darts at a single time, so you'll load three darts into each section of the clip.
Nerf N-Strike StratoBow Bow
CONS
Bow requires precision

Darts don't fly far

Price
Features
The StratoBow is a simple bow and arrow set featuring Nerf darts. Pull the string, and watch your darts fly up to 85 feet in the right conditions. Each one features an indexing clip that holds up to 15 darts.
The StratoBow is a fun toy for young children who love the idea of playing with a bow and arrow and crossbow. Even young children will have no trouble using it.
Nerf occasionally releases new bows designed to mimic the experience of archery. This one is probably the closest you'll get to holding a real bow. Unlike other versions, it doesn't have an accidental firing issue, so misfires are less of a problem.
The string used also adds consistency to the use of the bow. It uses an internal air-restrictor that protects it when you fire. The bow arms are also solid, which keeps the string in place over time.
Parents should keep in mind that the sharp ends of the bow create an injury hazard for kids, and you should prevent them from running with it in case they fall, which would cause injury. Additionally, the string may hit their arm while they fire, which may mean it could irritate their skin. Although the bow is great fun, the safety concerns may overrule your purchasing decision.
Darts Included and Fired
You'll get 15 darts in the box. The clip holds all 15, but you can only fire one at a time manually.
Nerf Centurion Mega Toy Blaster
Features
The Centurion Mega Toy Blaster is a one-meter long gun that is the Nerf equivalent of a sniper rifle.
The gun sits atop a folding bipod for laying on the ground or table. Its added stability promotes epic precision with no batteries required. Each dart flies up to 100 feet, which makes this the longest-range gun on our list. Although the darts cover serious ground, you might find the accuracy suffers. Use it to shoot at large targets, and you'll fare better.
At one meter long and 4.6 pounds, it might be a bit more for younger children to handle. Keep it for the eight and up crowd when you can.
Darts Included and Fired
The clip includes six Nerf Mega darts.
NERF Rival Artemis XVII-3000 Red
PROS
​​​​​​​Easy to load

Less likely to jam

30 rounds
Features
The Nerf Rival Atermis XVII-3000 is a high capacity blaster that sends out balls rather than darts, and it is one of the few items on our list that will compete in Nerf wars and stand its ground against the expensive, high power Nerf guns.
Each ball flies from the rotating barrel at 100 feet-per-second, and it offers excellent accuracy. The barrel rotates and features a transparent cover that allows you to get a full view of the action. We like that you can shoot one at a time or use the rapid-fire rounds to send all thirty at once.
You can buy the gun in red or blue for team play.
Parents should keep in mind that this blaster hits hard over short distances, so it might not be suitable for younger children.
The nature of the barrel means there are jamming issues inherent in this gun, but they should be easy to sort out, particularly for kids familiar with Nerf guns.
Darts Included and Fired
The blaster barrel holds 30 rounds designed for Nerf wars.
Nerf Zombie Strike Crossfire Bow
PROS
​​​​​​​​Four darts

Unique design

​​Lightweight
Features
The Zombie Strike Crossfire Bow looks cool and offers both a blaster and crossbow in a single gun. It's part of Nerf's Zombie range, which makes it perfect for kids who love post-apocalyptic looking toys.
The contraption is simple. Draw the string, pull the trigger, and send a dart flying.
We particularly like it because it weighs only 1.63 pounds, which makes it lightweight enough for smaller children.
Darts Included and Fired
The blaster holds four darts, and you'll get them in the box.
NERF N-Strike Elite Triad Ex-3 Toy
PROS
​​​​​​​​Lightweight

Powerful

​​​Only three darts
CONS
Maybe too powerful for small children

Actual size may disappoint kids who love big guns
Features
Nerf's N-Strike Elite Triad is a handgun that shoots Elite Darts and sends them flying up to 30 feet. We like it because it has the most straightforward priming mechanism out of all the darts. Load up the barrel, and it knows which one is loaded and shoots appropriately.
At only 5.6 ounces, it's a great gun for kids. However, it's probably better for target practice than a Nerf war. Keep in mind that the weapon is very powerful despite being quite small, so it's not the ideal choice for their first Nerf gun.
Darts Included and Fired
Nerf includes three Nerf Elite Darts, and the barrel holds three darts at a time.
Nerf N-Strike Elite DoubleBreach Blaster
Features
The low-key Elite DoubleBreech Blaster features two barrels and a unique shot. You load your dart into the breach, and the gun fires a dart from each barrow—one after another. Darts fly an average of 90 feet.
We like that it only fires two at a time, but you can keep four more darts on top of the gun to reload quickly. Younger children may find it too complicated to load rapidly, but it is a nice change of pace for kids with plenty of clip guns.
Darts Included and Fired
You get six Mega Whistler darts in each package, and it shoots two at a time with four stored on top.
The Verdict
​Any of these guns will suit kids with a love of Nerf guns and a heart for competition. Our favorite is the Nerf Rival Atermis XVII-3000. It is the strongest out of the lot despite not shooting darts. It works well for young kids, teens, and even adults.
We like it because it is fun to shoot on your own, but every facet of it also caters to Nerf wars. You can even buy them in team colors and pick up one for each member of the family.