​​
Did you know that kids and adults alike never stop benefitting from playing with Legos? That's right; it's the gift that keeps on giving, with no expiration date in sight. What's more fun than building something awesome with your own two hands?
Right, we can't think of anything either. The best part about Legos is that they're harmless fun, building to destroying and starting again, the Lego builder will have endless entertainment.
Product FAQs
1. Where Can You Purchase Them?
Lego kits can be purchased just about anywhere in-store and online. We love to shop online to compare kits, prices, and reviews but you can get them whichever is convenient for you.
2. Why Should You Choose Legos for Your Child to Play With?
The benefits of Lego play far outshine simple activities that help kids work on motor skills. Here are 6 Benefits of playing with Legos as a kid or an adult!
Fine Motor Skills–The development of fine motor skills is one that suits you from infancy through adulthood. Getting small pieces together in just the fashion will help people of all ages develop and hone their abilities.
Spatial Awareness–Spatial awareness is an important skill that must be developed. Spatial intelligence is the ability to think in 3D or the ability to see physical shapes from just the blueprint. Spatial awareness is used in many fields of study like architecture, engineering, and artistry.
Concentration, Focus, & Experimentation–You may not have realized it, but the ability to have space an activity that helps you think from start to finish is an important one. Creative thinking thrives in this environment, concentration and focus flourish, and stress management skills are developed.
Lateral Thinking and Problem Solving–There is no better way to aid brain development than working on an activity that allows you to think, attempt, fail and succeed and try again in a safe way. Just as much learning is being accomplished when failure happens, and problem-solving must be achieved.
Communication and Teamwork–Lego sets are versatile and made just as much for team play as solo play. Because the building process requires combined efforts, kids and adults alike will begin a conversation, working together towards the common goal, and crafting better communication skills along the way.
Organization Skills and Patience–If there's one skill we all want our children and us to master, it's undoubtedly patience. The building process takes time, sometimes includes failure, and eventually success. Patience is a virtue that can be developed over time with the use of Legos.
Overall Price Range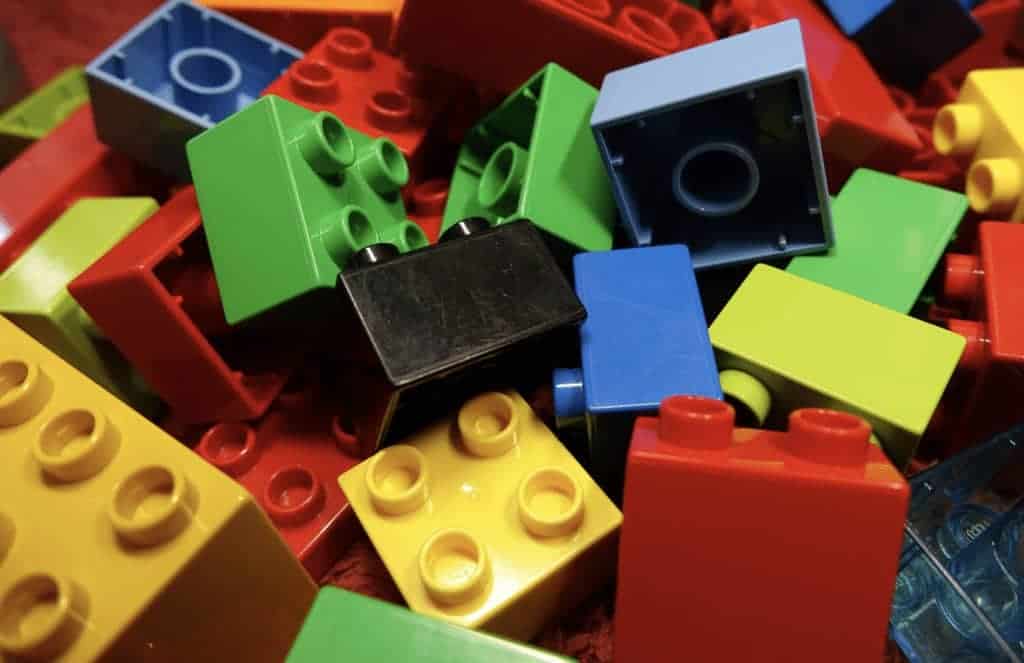 The amount you're willing to spend is up to you, but you can expect sets to range from $10 to over $100 for the more intricate kits. If you're looking for kids in the younger age bracket, with fewer pieces that are easier to build, you can expect to keep it closer to the $10 to $50 ballpark. For the kits with tons of pieces, based on a big named movie, you're looking at the higher end prices.
Don't discount the idea that you can score these kits on deals. Waiting for sales at some of the big box stores, Black Friday, Cyber Monday, and even choosing "less popular" sets will help you get these great gifts for less!
Best Lego Sets for Lego Lovers at Any Age
No matter the age of your Lego lover, we've put together a list of the most fabulous sets for all ages. We'll include games that are perfect for a variety of ages, tools for learning, and Lego accessories.
Brick Building Play Mat
Whether you're just getting started with Legos or you've had a Lego lover in your house for years, this is an excellent addition to the Lego empire. Building plates are used to keep builds still, and in one place, they set the foundation for Lego play.
It's a double-sided, 32-inch mat that allows playing with smaller blocks on one side and larger blocks on the other side. It's flexible, rollable, and the perfect size for team play with multiple kids or kids and adults. Works well with most major block brands, perfect for taking on the go, in the car, or over to friends' houses.
Classic Green Lego Supplement Base Plate
All Lego lovers know the importance of having enough building space, so additional base plates are always a safe bet. The traditional green baseplates are 32 by 32 inches and can be used to supplement any sets you've already purchased. For those that like to keep a complete game and can't wait to start a new one, other foundations are always necessary.
You shouldn't have any trouble integrating these into Lego tables you already own or creating a DIY table using these sturdy base plates.
Lego Duplo My First Number Train
The only thing little ones love more than building and destroying Legos and blocks is being able to move their creations around freely. That's why the My First Number Train cut! It's a fun learning toy to add to any home. The fully functional locomotive engine is easy to build with and without help for little ones.
The pieces are big enough for young hands to grasp and easy to pull apart. The set features numbers 0 - 9 to facilitate learning and recognizing numbers in easy to see, bright colors.
Lego Duplo My First Car Creations
For simple building and tons of fun, we know that your little one will enjoy the My First Car Creations set! It comes with four small vehicles that are integrative with other Lego Duplo sets to bring added fun. You'll find a fire truck, a helicopter, a tax, and a garbage truck.
Little hands will love these cars that move quickly. For added learning, teach your child the sounds that each vehicle makes and allow them to let their imaginative play run wild.
Lego Juniors Fire Patrol Suitcase
As we move up in age range, special attention is paid to those Lego sets that require just a little more skill but still maintain ease of use for solo play. The Lego Juniors kits may have some more robust concepts, but they will facilitate growth and learning in spatial awareness as the young builder gets the hang of more complex building.
Contained in an easy to carry case for on the go, the Fire Patrol Suitcase has all the pieces for a cute fire rescue themed adventure. There are both female and male firefighters included along with tools and accessories to make the set just like a real fire rescue adventure. As creative learning builds and your child grows, you'll love that these are easily integrated with other Lego construction sets.
Lego Juniors Mia's Farm Suitcase
If you're looking for a set that has less harsh colors, the Mia's Farm Suitcase is a fun pick. Little hands will love the farm stand and accessories including a vehicle with rear storage, a foal, lamb, food bin and food pieces, and more.
This model is still natural to build but comes with a few more of the imaginative play pieces to keep your child entertained for hours. Boys and girls aged 4 to 7 years will enjoy pretending they're on a farm for the afternoon.
Lego Friends: Mia's Tree House
If your child loves the Lego Mia character, they will enjoy Mia's Tree House package with 351 pieces of treehouse fun! It is an excellent set for boys and girls aged 6 to 12 years, and of course, it's compatible with other kits.
You'll find the Tree House, zip line, Mia and Daniel figurines, a folding ladder, a few animals, and tons more. It is a great gift for littles who have the imagination to role play and develop their building and planning skills.
Lego Creator 3 in 1 Deep Sea Creatures
For little ocean lovers, we love this Lego Creator 3 in 1 set that lets you build three different sea creatures. For those that don't want hundreds of pieces laying around, this is a great starter set with just a few small items to build while still getting all the benefits of enjoying Legos.
Your child will get to build a small crab, a squid, and of course our favorite ocean predator, the shark. Add to any other Lego set to maximize building fun.
The Lego Ideas Book: Unlock Your Imagination
This #1 New York Times best-selling book makes the perfect gift for a middle-aged child (7 to 10 years) who loves to play with Legos and want to get their hands on more ideas to change things up. The book contains fun sections like transportation and buildings. If you're fed up with buying sets that have all the right pieces for a specific build, you'll love this book.
It gives great ideas for spreads using tons of pieces you already have, giving new life to any set that's been built the same way one too many times! You may want to note that this is an ideas book, not a step-by-step or a how-to book. Meaning, it gives the user ideas, shows them how to block and can be imagined into real shapes and physical builds, but isn't a step-by-step tutorial.
Lego the Movie 2: Pop-Up Party Bus
If your child loves the Lego movies, this makes a great gift for boys and girls! The Pop-Up Party Bus allows children to build this cool bus that opens up from the roof and sides with fun party items like a Lego light brick for disco lights. The set includes a disco cat and two friend figurines.
In total there are four characters included from the Lego movie. This set is for a builder with a little more skill aged 9 to 11 is the typical age range for this great gift.
The Lego Movie 2: Rex's Rextreme Offroader
The Lego movies are a ton of fun for little ones as it boosts their imagination to work with familiar characters. The building gets more complicated when the shapes, characters, and items can already be visualized from the movie. For the builder with a little extra skill, Rex's Rextreme Offroader package is so much fun.
Characters included are Rex and Emmet, Recon Rex-o-saurus, and an off-road vehicle to build. This package is on the smaller side with just 230 pieces of building fun.
Klutz Lego: Make Your Own Movie
For the actionable Lego lover in your house, this kit doesn't get any more fun! It comes in two options the basic package and the premium package. Each pack includes everything you need to make a stop motion picture film in your home.
If you're not sure that your child is ready for something like this, make note that it does come with a detailed book on how to get started and learn the basics of stop motion animation. What's even cooler is that it's integrative with apps for both Android and Apple users alike.
Lego Creator: 3 in 1 Shuttle Transporter
Another great line of Lego Products is the Creator line. It's simple enough for younger minds but still enough fun for advanced Lego Builders. In this package, you'll find all the necessary pieces for building the shuttle transporter, a helicopter transporter, or the car with a caravan. The space shuttle features payload bay doors and a working crane with satellite.
This one may be difficult for kids younger than 12 but can be done with some assistance; you know your child best! Girls and boys love space and thinking about outer space in imaginative play with their very own shuttle transporter. This kit integrates well with all other Lego brand sets.
Lego Marvel Avengers
Few movies offer more action and excitement to kids than superhero films like Marvel's Avengers. With this package, kids can build the Iron Man Hall of Armor. There are a rotating podium and detachable modules that can be reimagined and made again in tons of different ways.
The fun doesn't end there though, keep on building with the mobile robot, several different iron man suits, and of course Tony Stark's face to add to any of the costumes. Kids over the age of 7 should be able to handle this 524-piece set with ease.
Lego Chain Reactions + Crazy Contraptions
If you're interested in a little atypical Lego building fun, this set includes both the Klutz Lego chain reaction and crazy contraption kits. These are cool because you and your child get to build actual moving machines that show cause and effect after you've mastered the planning and execution.
There are multiple workable projects included with balls, string, paper ramps and more in the Chain Reaction Kit. In the crazy contraption kit, you'll build 16 unique projects with the step by step guide for guide books for each set to help you along the way!
Lego Ideas Ship in a Bottle
Once your child or Lego-loving adult loved one has honed their Lego craftsmanship, they'll want to move on to more complex and imaginative packages. The Ship in a bottle kit is priceless, inspiring wonder and awe with the finished product that can be displayed for all to see and admire.
There are 962 pieces included that will build a cork with a wax seal, a ship that has captains' quarters, and of course the accompanying flag, sails, crow's nest, mast, and cannons. Don't forget the ships beautiful nameplate to finish off the project.
Lego Architecture Skyline Collection: San Francisco
If you're interested in a unique build not based on familiar movies or characters, the Lego Architecture line is a great place to start! There is no skyline more iconic than that of the Golden Gate Bridge in San Francisco. Spark wonder and awe with this great build that includes 565 pieces.
Once finished, you'll view the "Painted Ladies" structures right near Alamo Square, the Coit Tower, Salesforce Tower, Fort Point, 555 California Street, and of course the Golden Gate Bridge with Alcatraz Island, unusual!
Lego Architecture: New York Skyline
You know that we couldn't finish this list without including the other most iconic skyline, New York City! This is a beautiful and sleek build that you'll want to leave displayed for some time! The kit includes all the pieces for a detailed NYC skyline that you'll love building every step of the way.
Once it's all put together, you'll view the Empire State Building, the Statue of Liberty, the One World Trade Center, the Chrysler Building, and the Flatiron Building. You'll also enjoy the collectible booklet featuring information about the design of the skyline, historical data, and architectural information.
Lego Creator: Parisian Restaurant
Last, but not least, we wanted to stop off the list with a little overseas fun to let your imagination run wild with this super cool Parisian Restaurant. See how they live across the pond with the fun restaurant that includes an artist's studio and apartment in the back!
For Lego fans over 15 to 16 years with a little more skill under their belt, the 2,469 pieces should present a bit more complex fun and all the reward you need with the finished product. There's a full restaurant front, several characters, and of course, the kit is compatible with other Lego packages across the board.
The Verdict
Frankly, we had a hard time choosing. But our last picks, the New York Skyline and Parisian Restaurant, took top honors for being just plain cool! Granted, they are best suited to older children. Younger kids will do well with products like My First Car Creations to build those fine motor skills. Overall, Lego is an excellent brand with toys that encourage creativity.