Laser tag is a fun game, but it doesn't have to stay limited to going out. You can buy laser tag gun kits that make for an excellent option for playing at home while still heading outside, giving your kid a reason to get excited about playing outside. After all, when you're running around, dodging imaginary gunshots and chasing after others, it's a perfect opportunity to get some exercise.
While you can find this same sort of playtime with other imitation guns, like dart shooting models, laser tag guns have a multitude of benefits. One model can easily include different types of firing modes, allowing for several different experiences. You also don't have to worry about cleaning up after the ammunition or losing "bullets" if you take the kit with you on a trip.
If you're looking to give a gift to a child that's close to you, you'll want to find the top-quality kits around. That's why we've brought together our ultimate guide to the best laser tag guns on the market!
Comparison Table
Best Laser Tag Guns
When it comes to helping you find the best products around, we know you don't want to waste your time wading through the plethora of laser tag guns out there. That's why we prioritize accurate, honest overviews through studying the products and confirming their quality through customer reviews. Read on to see our top picks!
Nerf Phoenix LTX Tagger
As their other products have proven, Nerf knows how to make a quality toy gun, and their laser tag ones are no exception. This kit comes with two included weapons: one blue and one gold. The level of quality is fantastic, and the build is suitable for both veterans and newcomers to get a handle on and enjoy the game.As for the tagging experience itself, it's just as excellent as you'd guess it to be. The guns register hits well, with vibrations adding to the experience. Lights and sound are also unique, and it's easy to become immersed in the world of the game. You will need AA batteries to operate these guns, which you'll need to purchase separately.
Key Features:
Precision infrared lights
Accurate vibrations
Lights and sounds
The kit comes with two guns
Requires AA batteries
ArmoGear Guns and Vests Megapack
For a laser tag experience that allows four players at once, this megapack from ArmoGear is an excellent option. Aside from the guns, it also comes with four vests, each with the colors that match their respective "firearms." If you don't want to play with the jackets involved, you can disable them and leave them aside while still having a fully functional game.These guns also have voice-guided directions and four weapon modes, which create a fun atmosphere as you play. Each unit comes with a night vision flashlight, making it entirely possible to have a game in all matter of light conditions. The grip design makes it simple for even younger kids to keep a hold on the gun. The retro style of all firearms and vests is just plain appealing.
Key Features:
Four different gun modes
Voice-guided directions
Comes with matching vests you can disable
Night vision flashlight
Cool retro style
​Dynasty Toys Laser Tag Set
This laser tag set from Dynasty Toys also has four guns, but it doesn't have any vests. Even without them, this kit enables you to play a fun and exciting round of laser tag using any of the multiple game options. You have the choice to go with every player standing for themselves or split into teams for a two-on-two type of experience, to name a few of the options.The guns make it easy to adjust your settings, even in the middle of gameplay, which is perfect for advanced players who want to make more precise shots. To operate these laser tag guns, you'll need AA batteries to get them running. They also come ready to go straight from the box, so you won't have to waste time between opening them up and taking to the laser battlefield.
Key Features:
Multiple game options
Lightweight and easy to handle
Allows for mid-game adjustments
Requires AA batteries to operate
Fitting for both children and adults
​​Dynasty Toys Capture the Flag Kit
Dynasty Toys makes another appearance on our list with their capture the flag kit. Overall, the guns are about the same as in their laser tag set, so you'll have the same excellent quality, handling, and adjustment. Once more, there aren't any vests in the kit, but that's not necessary because it's more oriented for a different game: capture the flag. Aside from the orange and green guns, there are lights for both sides and base indicators to help set up a game within a matter of minutes. The kits also glow in the dark, making it possible to play in the dark for an extra level of challenge in excitement. Whether you want to have a fun event at a birthday party or want to take playtime outdoors, this kit will do the trick.
Key Features:
Comes with two guns and capture the flag gear
Excellent grip and handling
Capture the flag markers glow in the dark
Requires AA batteries
NERF A0419 LAZER TAG SET
Nerf also has another laser tag gun set to enter our top picks. What makes this kit interesting is that it works with a downloadable app for mobile Apple devices to help you play the game once you synch up through the included iPhone/iPod cradle. Through the application, you can choose from numerous different game modes, such as multiplayer, team campaigns, and solo options.Once you've chosen your game mode, your motions with the gun will stay synched up to the application, impacting the game from there. You can find these guns in both a two player option or a four-gun kit, which has designs to split into two teams. Each gun operates with six AA batteries, which you'll need to purchase separately.
Key Features:
Operates with an app for Apple devices
Allows for choice between single, team, and multiplayer modes
Comes in two and four-gun kits
Does not include necessary AA batteries
Is more expensive than other top picks due to iPhone technology
Laser X Laser Gaming System
This laser gun set comes with both two guns and two attachable targets. Because the marks are adjustable, you can have fun with challenging other players to strike at different angles. Though it's been out on the market for a few years, the Laser X kit has proven to be of excellent quality and has shown that it deserves a spot on our list of top picks.The sound effects are entertaining and enjoyable and add to the overall experience. The lights are also excellent, allowing for gameplay in even dark conditions, and they can change colors. These guns can allow for up to an hour of straight gameplay, allowing for multiple rounds or just a straight test of endurance. The set is also affordable.
Key Features:
Operates with an app for Apple devices
Allows for choice between single, team, and multiplayer modes
Comes in two and four-gun kits
Does not include necessary AA batteries
Is more expensive than other top picks due to iPhone technology
Force 1 Laser Tag Gaming Set
This laser tag kit comes with the name of "Space Blaster Game" to help set the mood. The guns themselves look pretty cool, and they come with one blue and one white model. The design is a bit more than merely aesthetic, though, as they are also really easy to keep a grip on the handle. The guns are the right size for both children and adults to use.You don't need any vest to use these guns, as they serve as the target themselves. The four different gun modes allow for different strategies and advantages as you play, allowing for fun challenges in their games. This kit also comes with a Class 1 child safety certification, so you know that it's perfect for users of all ages.
Key Features:
The kit comes with two guns
Suitable for both child and adult use
No need for vests
Four different gun modes
Has a Class 1 child safety certification
Hasbro LAZERTAG Kit
Hasbro makes toys of all kinds, so it's no surprise whatsoever to see them dip into the realm of laser tag kits. This set comes with two guns in bright, attractive colors. When you get the guns, they come with a video game mode that you can use to practice on the TV before heading into actual gameplay, which can get intense with these guns involved.The responsiveness of these guns includes even vibrations for recoil, as well as a targeting system to allow for sniper styles of gameplay. You can also customize the firing power to target multiple other players at once. With these additional features, it's no surprise that you'll need a substantial number of batteries to use them—or that the set comes with a high budget.
Key Features:
TV interactive training mode
Have recoil effects
Customizable firepower and targeting
Requires 12 AA batteries per gun
Higher budget
Things to Consider When Purchasing Laser Tag Guns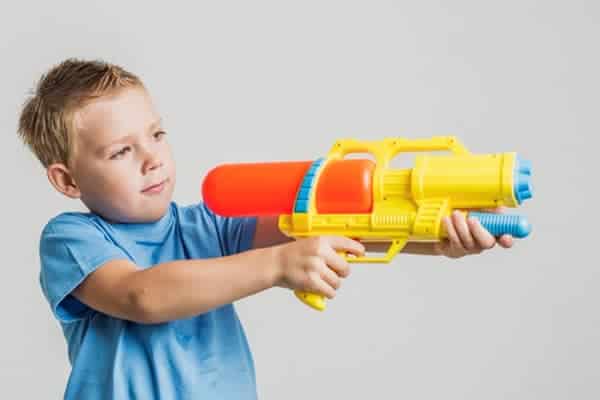 If you've made it through our list of top picks for the best laser tag guns and you still feel unsure about which ones to get, here are some helpful factors to think about as you compare the available options.
Game Modes and Battle Options
A laser gun provides a unique experience in that, while it doesn't shoot any projectiles, it still simulates the effect. The different settings that a gun comes programmed with can make a significant impact on the type of game you can play and the shooting modes available. More flexible firearms will be able to replicate the effects of pistols, machineguns, and even rockets.A laser tag kit will also rely on the included sensors to play a cohesive game. These game modes will often follow set rules, unlike dart guns that allow for the creativity of the players to come through. To ensure long-term engagement, look for laser gun kits that include several different game modes. Some packages will even come with colored vests to help indicate team play better.
Lights and Sounds
It's possible to play laser tag in any conditions, but it can be especially enjoyable to play at night. LED lights make it much easier to see when playing in low light conditions. Light-up markers on the gun that indicate the number of lives that a player has left are helpful.Sounds can have a significant impact on immersion, plus they also help with keeping track of the state of the game. To have excellent gaming experience, you should prioritize gun kits that make high-quality sounds that indicate when hits have occurred. Vibration can also contribute to the experience.
Safety
No matter what you buy for a child, security is never far from one's mind. Keeping an eye on the materials use is essential, such as looking for non-toxic plastic for ultimate safety. It's also important to check that the infrared light emission has child safety. A durable build will also help prevent the gun from breaking during play and keep everyone safe.
Some laser gun kits have features such as shooting guidance and night vision flashlights. Target vests are another popular option for enhancing the overall gameplay. You don't need these features to have a fun time with laser tag, but they can improve the experience. It's up to your interests and budget whether you want to have such features or not.
Featured image source: pixabay