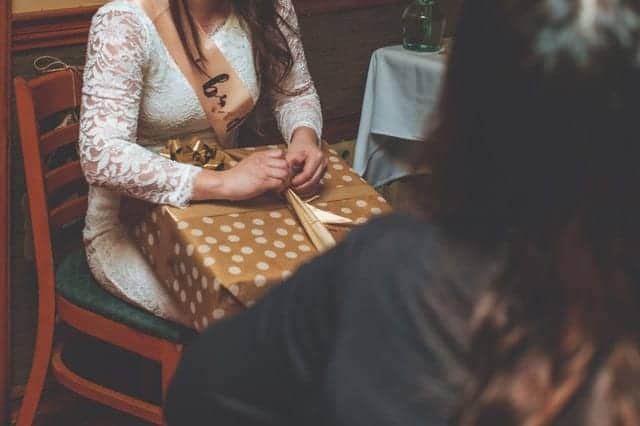 ​Find out what are the best gifts for a sixteen-year-old girl along with tips for choosing the right ones.
It can be hard at times to find the perfect gift. Is it the right color? Do they already have it? Once you have a sense of a person's taste and style, it isn't so hard to find the perfect gift. This will be your guide to great ideas for gifts to give a sixteen-year-old girl.
The gift ideas will be divided into sections for easy browsing. Before we talk about what gifts would be good to buy for a girl this age, let's think about what is essential to the average teenage girl.
How We Chose Our Best Gifts for a Sixteen Year Old Girl
The key here is to find a gift that speaks to her interests and makes her feel like a young adult. This age group is all about clothing, music, staying in touch with friends, hanging out, and feeling pretty. Shoes and purses can be a big deal, along with makeup, nail polishes, and jewelry.
For those girls of a more quiet nature, being informed about things can be important too. Books, computers, and any tech device would appeal to these girls. If the sixteen-year-old teen in question is athletic, some gifts will help her be fit and fancy at the same time.
Blings And Things
Pandora Bracelets And Charms
Pandora Bracelets And Charms
Pandora bracelets have been on the scene for a while now. The bracelets are fully customizable to taste. Bracelets come in leather, silver, and gold. The most popular bracelets are the charm bracelets. The charms are varied, and there is something for everyone.
Animals, flags of countries, flowers, birthstone colors, and Disney characters are a few of the offerings. There are charms in all categories to appeal to any girl.
The bracelets are so popular because the company encourages the consumer to buy charms that reflect their experiences. Buyers are encouraged to tell a story with their charms.
A teenage girl may want a Disney princess keepsake in memory of the time she went to Disney World with friends on spring break. Or she may desire a Sweet Sixteen birthday charm. The options are endless.
Pandora Necklaces And Rings
Pandora necklaces are available in a variety of lengths and sterling silver finishes. The finishes come in low profile silvers as well as flashy and shiny silver finish. Pandora also offers a variety of pendants to choose from to customize the necklaces also.
The rings are sold individually, or they can be purchased and put together for a stackable look that teenagers love. There are silver and gold finishes available. Birthstones, statement rings, and two-tone rings are very popular among teenage girls, and Pandora offers them all.
Jewelry Storage
If you have a teenage girl who likes jewelry, she will need someplace to store her items. There are a variety of jewelry storage options available. Some are lovely armoires with a lot of storage space and mirrors. A jewelry armoire would be ideal for a girl with lots of necklaces and rings she wants to keep tangle-free.
Giantex Jewelry Armoire Chest Cabinet Storage Box with Top Flip Makeup…
Giantex Jewelry Chest Armoire Cabinet Standing with Mirror, Wood Large...
【Orderly Storage with Top Flip Mirror and 4 Compartments for Jewelry】Do you want t a functional jewelry organizer to...
【5 Drawers and 6 Heavy Duty Hooks for All Jewelry Storage】Is a jewelry cabinet with a large storage space what you...
【Wall Mounting for Safe Use】Have you considered the safety of the cabinet? We have upgraded the jewelry cabinet with...
A jewelry chest is a good option for a girl who may just be starting her collection. Most jewelry chests have drawers and velvet lined compartments along with a mirror for quick viewing.
Rowling Large Wooden Jewelry Box Earrling Necklace Bracelets Organizer…
Apple Products
Apple products became a big part of technological culture years ago, and show no signs of losing popularity any time soon. From tablets to watches, to music and phones, there is a wide assortment for a sixteen-year-old girl to choose.
iPad And iPad Mini
Apple iPad Mini 4, 128GB, Space Gray - WiFi (Renewed)
Renewed products look and work like new. These pre-owned products have been inspected and tested by Amazon-qualified...
7.9" Retina Display, 2048 x 1536 Resolution
Apple iOS 9, Dual-Core A8 Chip with Quad-Core Graphics
The iPad is the tablet offered by Apple. It comes in two sizes. The iPad Mini is the smallest screen, while the iPad has a slightly larger screen for more comfortable viewing. Either of these Ipads is an excellent choice. Both Ipads are compatible with Bluetooth keyboards, which are a big help for typing papers.
iPhone
These phones are always a huge hit with the sixteen-year-old set. One of the favorite pastimes of girls in this age group is taking selfies and pictures of their friends. The camera on this phone is excellent, providing a clear picture.
Apple Watch
The Apple Watch is rather impressive. This watch can help you monitor your heart rate, track workouts, and connect to gym equipment. The best feature is the ability to talk and text on it while away from the phone. A sixteen-year-old girl would love to be able to stay connected to her friends even while she is busy.
Bumping Beats
For the girl who loves to listen to her music, a good Bluetooth speaker may be in order. There are tons of options to choose from here. The biggest things to look for are nice volume along with great bass and treble.
JBL Flip 4 Waterproof Portable Bluetooth Speaker
JBL Flip 4, Black - Waterproof, Portable & Durable Bluetooth Speaker -...
All-Purpose Bluetooth Speaker -Take the party everywhere with Flip 4, a portable Bluetooth speaker that delivers...
Wireless & Noise Cancelling - Wirelessly connect up to 2 smartphones or tablets to the speaker & take turns playing...
Waterproof & Durable - No more worrying about rain or spills: Flip 4 is completely waterproof—you can even submerge it...
One great option is the Bluetooth speaker. You can connect two devices to the speaker at a time. It is also waterproof, for those teenagers who like to listen to their music in the tub or shower. Best of all, this speaker can connect to up to 100 other JBL connect speakers to amplify sound at a party. All the speakers can play a song simultaneously.
Beats Pill+ Portable Speaker
Another popular Bluetooth speaker is the Beats Pill. This speaker has excellent sound quality. There is also a speakerphone option that allows you to make and receive phone calls. The battery life is a full 12 hours if the speaker has a full charge.
Headphones
Samsung Gear IconX (2018 Edition) SM-R140NZKAXAR Bluetooth Cord-free Fitness Earbuds, w/ On-board 4Gb MP3 Player (US Version with Warranty)
With all of these great options for playing music and staying connected, a set of earbuds may be on the agenda as well. Wireless Bluetooth buds can connect to all phones. There are multiple ear attachments included to help you find the most comfortable size.
Beauty Matters
There are some essential gifts to buy if you are dealing with a girl who loves her makeup.
A true makeup lover will need to have brushes, lipsticks, shadows, and a case to carry it in. These are must-haves for a girl who enjoys getting dolled up.
Brush Sets
Makeup Brushes 24pcs Makeup Brush Set Kabuki Foundation Blending Brush...
24pcs makeup brush set, includes every brush you need on daily basis, revealing your natural beauty
Make up brushes with high-density bristles, smoother and silkier to pick up powder easily, don't shed, nor hurt your...
All 24pcs of professional makeup brushes are packed in a portable cosmetic bag for protecting, storing, and carrying to...
The IT Brush sets from Ulta are really popular. This set is a 24 piece edition that comes with a bag. These particular brushes are suitable for applying powders, highlighters, and eyeshadows.
Makeup Case
Mefeir Makeup Train Case 12.6"L w/Adjustable Dividers, 4 Trays and 2...
★DURABLE & BALANCED:Aluminum frame and reinforced corners make the makeup train case sturdier; upgraded hinge provides...
★DIY COMPARTMENTS:4 extendable trays feature 8 removable dividers to customize compartments according to your needs...
★LARGE CAPACITY:4 trays with the deep storage compartment beneath store all your beauty supplies in one place, keep...
Sometimes, a girl likes a lot of beauty products and needs to keep it all organized. A good option for organizing is the train case. The cases are usually full of compartments and dividers that can be used to store foundations, powders, nail polishes, brushes, and eyeshadows.
Gel Nails
Gellen Gel Nail Polish Kit with U V LED Light 72W Nail Dryer, 12 Gel...
♥LUXURY ALL-IN-ONE GEL NAIL STARTER KIT: This Kit comes with beautiful gift box and provide essential manicure tools,...
♥72W SUPER FAST NAIL LAMP: Powerfully and Efficiently, this lamp has 30 quality LEDS that can maximally save your 70%...
♥Nudes 12 Colors Gel Nail Polish: A collection of nudes, flattering natural skin tone. Enjoy subtle and sophisticated...
Gel nail polishes are all the rage right now. Gel polishes can last up to two weeks longer than traditional nail polishes, and won't chip as often. The nail kit is complete with a portable LED lamp is an excellent gift for the girl who is into her manicure.
Fitness Divas
Some teenage girls are health conscious and athletic, loving nothing more than a great run outside, or a nice workout in the gym. For these sixteen-year-olds, nutrition is important, and the appropriate athletic wear is a must.
NutriBullet NBR-1201 12-Piece High-Speed Blender/Mixer System, Gray (600 Watts)
NutriBullet NBR-1201 12-Piece High-Speed Blender/Mixer System, Gray...
The Nutribullet is the fastest, easiest solution for making nutrient- packed smoothies. Load it up with your favorite...
Powerful 600-watt motor and refined nutrient-extraction blades blend whole foods into liquid fuel for your body - in...
Included: (1) 600W motor base, (1) Extractor blade, (1) milling blade, (1) Handled cup, (1) 24 oz cup, (1) 18 oz cup,...
The system is one of the most popular blenders on the market. With a high powered motor, it is capable of breaking down fruits and vegetables into shakes and smoothies. It also comes with a manual for operational use and recipes for hundreds of smoothie combinations.
ASICS Gel-Quantum 360 Knit 2 Women's Running Shoe

ASICS Women's Gel-Quantum 360 Knit Running Shoes, 8.5, Glacier...

Rearfoot and Forefoot GEL Technology Cushioning System - Attenuates shock during impact and toe-off phases, and allows...
Trusstic System technology - Reduces the weight of the sole unit while retaining the structural integrity of the shoe.
Heel Clutching System Technology - Exoskeletal heel counter provides improved support and creates improved heel fitting...

There are a lot of brands of shoes, but some are known very well. Asics has a GelQuantum 360 Running Shoe. The shoe is designed with a mesh upper and has gel throughout the sole. A shoe like this would be great for a girl who likes a morning run or is on her feet a lot.

A girl who is into nutrition and fitness has to stay hydrated. A wonderful option is a belt with water bottles included. New Generation FitTech Gear offers a hydration belt that holds a cell phone, credit cards, or energy bars in a waterproof pocket.

Books Worth Reading

Growing up is all about learning all of the critical things that teach you how to be a successful adult. Reading books is not just something a girl should do for school. Some books will help a teenager put things in perspective and prioritize what is essential.

"The Seven Habits Of Highly Effective Teens"

This book helps teens with their self-esteem at a time when it is needed the most. Being a sixteen-year-old girl is not always easy. There are lots of challenges in regards to school, friends, peer pressure, and goal setting that are all covered in this book. Strategies are included to help manage these challenges as well.

"The Driving Book: Everything New Drivers Need To Know But Don't Know To Ask"

This book provides teens with common knowledge needed for driving. This book is a must-have if your teen is interested in learning how to drive. This book covers a variety of scenarios, such as talking to parents about driving privileges, driving in bad weather, and changing a tire. The updated version of the book even takes into account the different types of technology used today.

"97 Things To Do Before You Finish High School"

This book discusses a lot of the things that won't be covered in high school. Road trip planning, making podcasts, and learning how to DJ are all covered. It gives teens some fun and different bucket list ideas to try during their high school years. The idea is to become confident in new situations and meet new people along the way.

Driving Accessories

Most girls are getting their licenses and learning to drive. After the nervousness of getting the license wears off, it is time to accessorize the experience.

Seat Covers

CAR PASS 11PCS Insparation Butterfly Universal Fit Car Seat Covers

CAR PASS 11PCS Inspiration Butterfly Universal Fit Car Seat Covers Set...

🦋THREE LINE ZIPPERS FOR EASY TO INSTALL AND CLEAN - With the three line zippers , it can fit vehicles 40/60...
🦋HIGH QUALITY WRINKLE-RESISTANT ENVIRONMETN PROTECTION MATERIAL- Creative combination of Comfortable GABARDINE...
🦋AIRBAG COMPATIBLE AND RESERVED OPENING HOLES FOR HEADREST COVERS AND SEAT BELT - Perfectly fit for most of vehicles...

There are covers in solid colors, rainbow colors, and animal prints. Cartoon characters are also popular with teenage girls. If purchasing seat covers, be sure to have the seat measurements correct, so you don't have to return the item.

Vanity License Plates

Vanity License Plate

WONDERTIFY License Plate Starfish Shell Blue Wood on Beach Scenery...

Made of 100% aluminum with high gloss stamped metal license plate.Waterproof,Anti-Rust,Weather Resistant and very...
Our license plate measure 6"x12" inch (US standard size) with slotted mounting holes at the top and bottom to fit your...
This custom license plates with super sharp colors and graphics,our high quality vanity plates are sturdy and printed on...

They come in a variety of colors, themes, phrases, or pictures. There are cartoon themes, fruit themes, and animal prints. The options are unlimited.

Steering Wheel Covers

Queen's Auto Steering Wheel Cover

ESKONKE Queen's Auto Steering Wheel Cover with Noble Crown + Bling...

- Queen Only: Honorable & Shining 3D Crown, Stylish & Luxury diamond lattice design, Inlaid with 16 sparkling dazzling...
- Series Products: The common use of the same series of products can greatly increase the unity and beauty of car...
- High Quality: This steering wheel cover is made of High-quality leather, which not only protects your steering wheel,...

These covers can provide an additional way to accessorize the driving experience. The covers can come in a variety of textures. Fur, rhinestones, leather, and an assortment of colors can make each one different.

Phone Chargers

AUKEY USB Car Charger

No products found.

A variety of chargers are available on the market for either Android or Apple phones and products. A charger is a must-have for a busy girl on the go. Chargers can be selected to suit any need. Some people prefer a long cord or additional ports for other devices.

Window Mount

Windshield Phone Mount

Windshield Car Phone Mount, Gooseneck Cell Phone Holder Car Window,...

【Thick Phone Case Friendly】 Long neck windshield phone mount is compatible with most mobile phones with width...
【No Glue Suction Cup Windshield Holder】Non-sticky suction cup uses spring lever and vacuum seal to suck to...
【Quick-Release Button】 Press the button with a finger on the back of hands-free window car phone mount to open the...

Adjustable window mounts ensure a safe hands-free experience while driving. A new driver may not have learned how to get to the places she needs to go, making GPS necessary. With a window mount, the addresses can be plugged in and the device placed directly in the window for simple, safe delivery of directions.

Buyers Guide: Finding A Perfect Gift

Here are some questions you can ask yourself to help you narrow down the perfect gift idea.

Is she a very feminine girl?
Does she work out or play any sports?
How well does she do with organizing her room and belongings?
Is she into technology or literature of any kind?

Sixteen-year-old girls are complex people. Finding something nice for a girl this age does not have to be hard. When broken down by category and taste, it makes it less overwhelming to find the perfect gift that a girl will love.