Are you looking for the best bike trailer for your baby? In this guide, I take a long, hard look at baby bike trailers so that you don't have to. I give you the answers to your most frequently asked questions, cover advantages and disadvantages, and share some safety tips for keeping your kiddos in one piece when using these things. I also go over what you should look for when shopping for baby bike trailers, which brands are the most popular and review some of the best trailers on the market. By the time you're done reading this guide, you'll be an expert on the best bike trailer for babies.
If you're brand new to the world of baby trailers, you probably have questions. Don't worry, because I've got answers for you. Check out this list of most frequently asked questions to get the scoop on how, when and why to use a baby trailer on your bike.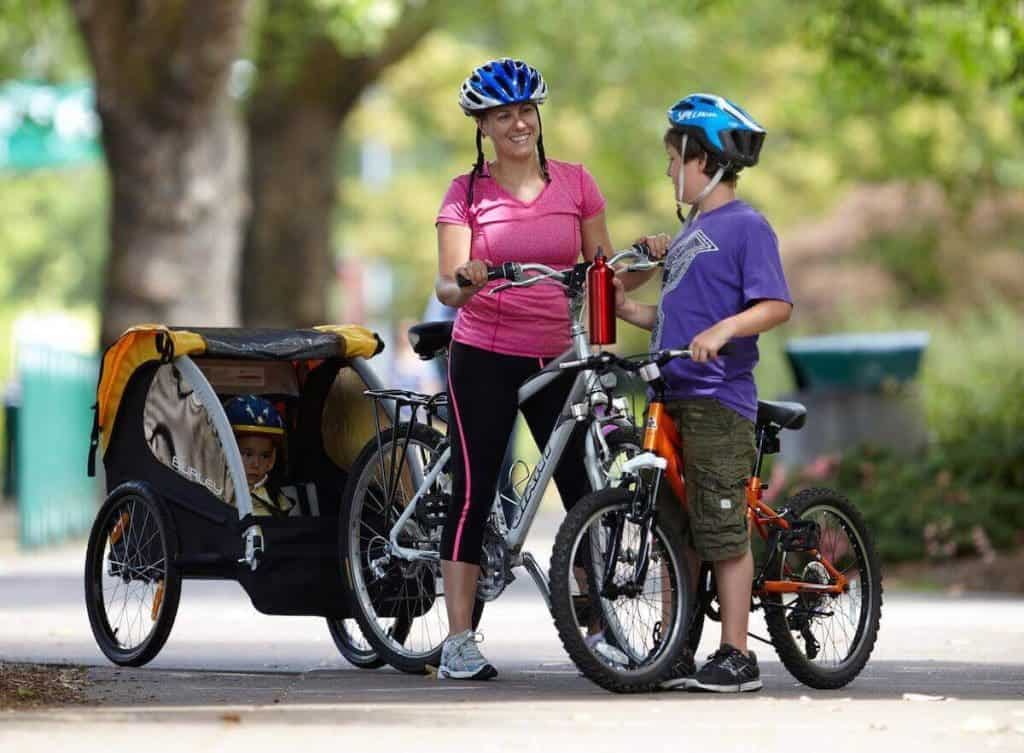 This is a tough question to answer. Ultimately, every parent will have to decide for themselves how much risk they're willing to take. If your baby has well-developed neck muscles and wears a helmet, and you ride in parks and on bike paths away from car traffic, bike trailers are pretty safe for babies.
Bike trailers make for a pretty bumpy ride, so it's really important that babies have strong enough neck muscles to support the weight of their own head. If your baby can hold her or his head up for at least two minutes without help, he or she should be able to support the additional weight of a bike helmet and not be at risk for injury from being jostled during the ride. For most kids, this will mean being at least 1 year old.
Most trailers are designed for children between the ages of 1 and 6 years old.
This really depends on the trailer you get. Some are built to carry one child, some are built to carry two and cargo. In general, most of them are designed to carry between 85 and 125 pounds.
Absolutely. Even if you live in a state that doesn't have helmet laws for kids, a helmet could save your baby's life in the event of an accident.
It depends on the trailer. Most baby trailers come with one or two seats built in. Some parents opt to use a car seat in a bike trailer to carry babies who are too small to ride safely in the available seats, but if you're going to do that understand it comes with risks.
This totally depends on your dog. Small, lazy dogs who are content to sit at your baby's feet and enjoy the passing scenery can usually be towed without a problem. If your dog is medium to large in size, however, they most likely won't fit comfortably in the trailer with your baby.
Definitely. Most baby trailers are designed to connect to almost any bicycle, either by connecting to the frame or the rear axle.
That all depends on the trailer you get. If you plan on spending time off road, look for a bike trailer with good shocks to keep the ride as smooth as possible for your baby.
Most baby bike trailers have a recommended maximum speed of about 15 miles per hour. Why so slow? When you're carrying extra weight, it takes longer to slow and stop your bike. If you're going much faster than 15 mph, you may not be able to stop quickly enough in the event you need to stop short to avoid an accident.
Riding around town with the best bike trailer for your baby has a lot of up-sides. Here are just a few of the benefits of using one:
They're low to the ground, which makes them unlikely to tip over.
They're spacious, so your kids can stretch out and bring toys along for the ride.
You can get some exercise while running errands with your baby.
You're setting a healthy example for your kids, which will stick with them for life.
Less driving means lower gas bills and a smaller carbon footprint.
Riding a bike is way more fun for you and the kids than sitting in traffic.
Even though there are a bunch of benefits to using the best bike trailer for babies, there are some cons as well. Sure, you're saving the planet and showing your kids what an active lifestyle looks like, but there are downsides.
Hauling kids is hard work, so be prepared to be tired and sweaty most of the time.
Trailers are big and bulky, which makes maneuvering and parking your bike a lot harder.
Your kids are behind you, so you can't see them while you're pedaling.
Because trailers are so low, drivers may have trouble seeing them so you may not want to ride with traffic.
To make sure your precious cargo stays safe when being towed in a trailer, there are some basic safety tips you should follow. So before you hit the asphalt, remember to do these things:
Put a helmet on your baby. Always.
Make sure your child is securely buckled into the harness.
Check that your trailer is securely hitched to your bike.
If your trailer has a frame hitch, make sure it isn't interfering with your ability to pedal.
Check your brakes!
Make sure your trailer is easy to see by covering it in blinking lights, reflective strips and a brightly colored flag that's tall enough to be noticed by motorists.
Now that you're sure you want to give this baby trailer thing a try, you're probably wondering how to pick one out. These are some of the key features to consider before you start shopping. To avoid getting overwhelmed by all the trailers out there, make a list of the features that are non-negotiable. For example, if you have two kids, don't even look at trailers built to carry just one.
Size
When it comes to bike trailers, size totally matters. Not only can you get trailers for one or two riders, they can also vary in width (shoulder room) and height (headspace). When choosing the right size, consider how many kids you have and how big they are.
Type
Did you know baby trailers are sometimes more than baby trailers? Now you do! Some baby bike trailers can convert into strollers or jogging strollers. Some multisport models can even be used while skiing.
Price
There are trailers to fit every budget, so decide ahead of time how much you want to spend. For under $100 you can get a basic trailer that's fine for riding on well-paved roads. If you have $1000 to spend, you can get a super high-tech multisport model.
Quality
Price usually reflects quality when it comes to trailers. Bigger tires, more supportive seats and a good suspension system are all marks of a high-quality baby bike trailer.
External covers (rain cover, sunshade)
Nearly all trailers come with a basic rain cover, but if you live in a damp climate you may want to pay for a good one that zips closed. Likewise, if you live in a sunny climate, you'll want to look for a model that comes with a good sunshade.
Storage
Do you like to travel with a lot of supplies? Are you hoping to carry groceries home in your trailer? Most trailers have room for basics, such as a diaper bag and a few toys, but you'll have to shop more carefully if you want extra storage space.
Wheels
Don't skimp when it comes to the wheels. While 16-inch wheels with plastic rims are cheaper, they're also less stable. Twenty-inch wheels will have more durable metal rims and provide a smoother ride.
Brakes​
Especially if you want your trailer to double as a stroller, take a look at what kind of brakes it comes with. Hand brakes are found on higher-end strollers and typical foot brakes are found on all types. Basic parking brakes are typically found on cheaper models.
Weight capacity
​Smaller, more affordable trailers tend to have a weight limit of about 80 pounds, which is usually plenty for someone hauling one kid. Two-seaters and high-end models can carry up to 125 pounds.
Portability
While most trailers fold up, some are easier to break down and store than others. If you'll be transporting your trailer in a small car or you have limited storage space at him, you may want to look for a model that folds down small.
Warranty
Most people don't pay any attention to the warranty until it's too late. Don't let this be you. If something goes wrong with your trailer, decent customer service and a fair warranty can make a big difference.
Customer ratings/reviews
Forget what a company has to say about their product; of course they'll tell you it's perfect. What are real users saying? Take the time to read customer reviews before you buy.
Here are the most popular baby trailer brands. Take a look at what they offer to help narrow down your search.
InStep: Instep produces a range of bike trailers to fit every budget, including two basic trailers, one that can be converted to stroller with an adapter kit that's sold separately and two more deluxe models that come with the stroller conversion kit.
Schwinn: I found six different baby bike trailers sold by Schwinn, including four basic trailers and two that can be converted into a stroller.
Sepnine: There are four models to choose from, including three basic trailers and one that converts into to a jogger.
Bell: This company usually makes bike helmets, but it also has two baby trailers, one basic and one that converts to a stroller.
Allen Sports: Allen Sports has five different trailers, three of which can convert into joggers if you buy the separately sold conversion kit.
If you're still not sure which trailer is the best baby bike trailer, check out this list for some of the most popular trailers on the market. You're sure to find something that fits your needs.
Made with a lightweight aluminum frame and 20-inch wheels, this trailer built for two can carry up to 80 pounds and converts into a stroller. It comes in blue or red and folds down easily so you can store it or pack it up in the trunk of your car.
Features
Seats two
Aluminum frame
20-inch wheels
80 lb. carrying capacity
Converts to stroller
Pros
Cons
This little trailer offers great value. It converts into a stroller and folds down easily. It has seating for two kids up to 40 pounds each and extra storage space for up to 12 pounds of gear. The five-point safety harness keeps your kiddos snug and safe during rides around town.
Features
Seats two
Steel frame
16-inch wheels
80 lbs. carrying capacity
Converts to a stroller
Pros
Cons
For an easy-to-assemble and easy-to-fold-up trailer that will keep your baby safe, check out Instep Bike Trailer for Toddlers, Kids. This baby trailer for one is compact and durable, and it won't tip over, even when your bike does. The 16-inch wheels may not be suitable for all terrain, but the metal rims ensure they're built to last when you're riding around town.
Features
Seats one
Steel frame
16-inch wheels
80 lbs. carrying capacity
Pros​
Cons
Beloved by customers, the Trailblazer is a sturdy little trailer perfect for towing your one-and-only around town. The 16-inch wheels may not be suitable for off-road adventures, but the alloy rims guarantee they're built to last. For a reasonable price, you get a high-quality, well-made baby trailer without a lot of extra flash.
Features
Seats one
16-inch wheels
52 lbs. carrying capacity
Pro​s
Cons
The Smooth Sailer isn't the cheapest trailer on this list, but it is one of the best. Durable construction, a quality suspension system and a generous weight capacity make this two-seater worth the money. It folds down flat for easy transport and storage and can be used as a stroller when you get where you're going.
Features
Seats two
Steel frame
20-inch wheels
100 lbs. carrying capacity
Converts to a stroller
Pros​
Cons
Features
Seats two or one
Lightweight steel frame
16-inch wheels
100 lbs. carrying capacity
Pros
Cons
So what's the best bike trailer for babies? For the money, you can't do much better than the Bell Smooth Sailer Child Trailer. While all the trailers on my best-of list are great, the quality construction, comfortable ride and durability of the Smooth Sailer means you and your kids will enjoy it for a long time to come.
If you're going to invest in a baby trailer, don't forget a few essential accessories. These extras will keep your kids safe and make your life easier.
As a mom, I understand how important it is for your kiddos to be comfortable in something like a bike trailer. If the babies are uncomfortable or unhappy, it doesn't matter how much money you saved or how nice the materials are, you'll never use it. When I saw the reviews of the Smooth Sailer and read how happy kids were riding it, I knew it was a winner.
A helmet is probably the most important safety item for kids being towed in trailers. No one expects to have an accident, but if it happens you want to make sure it doesn't end in tragedy. My favorite is the Bell Infant Sprout Bike Helmet.
Bike trailers are low to the ground, which makes them stable even if your bike tips over. However, it also means they can be hard for drivers to see when you're riding on the road. If your trailer doesn't come with a safety flag, get one to make it easier for drivers to see you.
If you're really going to get the most out of your trailer, you'll probably want a coupler attachment. This handy part lets you attach and detach your trailer whenever and wherever without any tools. Check out the Coupler Attachment – InStep & Schwinn Bike Trailers. As a mom, I know how hard it can be to fit in exercise and outside time with your kids. That's why I love baby trailers. Once you make a list of what you need from a trailer and how much you want to spend, it will make finding what you want a whole lot easier. The Bell Smooth Sailer Child Trailer is my favorite for the value and comfort, but you'll have to decide for yourself which one is the best bike trailer for your baby.