A car seat cover is a canopy that sits over your baby's car seat or infant carrier (like a shower cap). Your baby will be safe and sound in his own portable tent, oblivious to the outside world, leaving you free to worry about more important stuff.
In the Guide
Many parents use what is known as a travel stroller system as their stroller. In this particular type of stroller, your baby's car seat is also his stroller seat. Parents with these types of strollers greatly benefit from a car seat cover
But don't take my word for it….
I decided to ask a few parents why they found their car seat cover useful.
Here are their replies…
Are all strings on guitars the same?
Three parents. Three different reasons why infant car seat covers are awesome!
A car seat can help beat the heat in summer
Amy says:
My little baby refuses to wear sunscreen. Won't have a bar of it. Instead I simply throw a cover over the car seat and he is protected from the sun. He also sleeps better as the cover helps block out light.
A car seat cover can keep your baby toasty and warm in winter
James says:
When the weather drops to freezing I simply plop on a wooly car seat cover to provide an extra layer of warmth for my baby. While I'm freezing my bottom off my baby is cozy and snug in his little cacoon.
A car seat cover can protect your baby from the rain
Lilly says:
I live in Washington and when it rains; it really rains. At the first sign of rain drops, I simply pop a car seat cover over my baby and he is kept dry and happy. No more juggling an umbrella and an infant carrier.
What do all these replies have in common?
Hint: Sun, snow, rain…
That's right; weather!
A car seat cover will protect your baby from just about anything that the weather can throw at him…
You just have to select the right infant car seat cover for your climate… which leads me to:
The different types of car seats covers
There are four different types of car seat covers. The correct one for you will depend entirely on the season and where you live. Lets take a close look at each.
Summer car seat covers
With summer comes sun and heat.
With heat comes sunburn and sweat…
Sunburn and sweat will make your baby super uncomfortable baby.
A great summer car seat cover will not only prevent the sun from burning your baby's sensitive skin but should also allow air to circulate freely beneath the cover, preventing your baby from overheating.
What to look for: Cotton is a breathable material that also does a great job at blocking the suns harmful rays. Some summer covers go a step further and include mesh air vents that allow cool air to flow freely through the cover.
Winter car seat covers
Have you ever gone outside in the cold only to find yourself frozen to the core moments later?
Not a great feeling, is it?
Your baby doesn't think so either.
A winter car seat cover is made from a thick material designed to trap warmth. No matter how cold it gets, your baby will be warm and comfortable.
What to look for: - The material of the car seat cover should be thick enough to trap in heat but still breath (you don't want to smother your baby. Some car seat covers offer a viewing window for your to check on your baby while others are completely sealed.
A winter car seat cover does not replace the need for your baby to dress warmly. It should be used to provide an additional layer of protection on top of your baby's regular winter gear
Wet weather car seat cover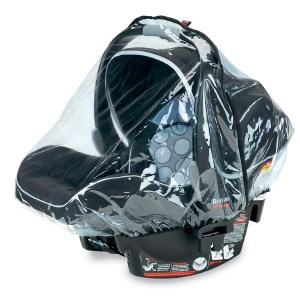 I don't know if you have ever juggled an infant carrier and an umbrella but the end result is either you or your baby getting wet. Being the selfless parent that your are; you will no doubt be the wet one.
A wet weather seat cover (also known as a rain shield) will help keep the rain off your baby while the weather is bad.
What to look for: - A cover that installs easily without leaving gaps that allow water to leak into the car seat. Cheaper wet weather car seat covers will be entirely made from plastic. Plastic doesn't breath and neither will your baby if there are no air holes in the cover.
While wet weather covers are great at keeping your baby dry they should be removed as soon as you are indoors out of the rain to prevent your baby from overheating. While the air holes are enough to keep your baby cool outdoors; indoors will turn your baby's car seat into his own personal sauna.
Insect net car seat covers
This is the only type of car seat cover that has nothing to do with the weather. Instead, this car seat cover is designed to keep out insects. I don't know if you have ever seen a baby that has been bitten by mosquitoes on the face but let me tell you; it isn't pretty.
If you live in an area that has plenty of mosquitos then insect netting is an absolute must. Simply slide the cove rover the car seat and your baby will be protected from itchy bug bites.
What to look for: - Insects and bugs generally come out in the warmer months. A good insect net will not only keep bugs from attacking your baby but allow air to circulate around your baby, keeping him cool. Avoid insect nets that have holes for the car seat handle as this also doubles as an entrance for mosquitoes.
You got all that?
Good….
Moving on:
The best infant car seat covers
By now you should have identified which car seat cover is perfect for your situation. If you haven't' jump back to the previous section so that you can get your learn on.
I have taken a close look at the car seats available on the market and picked out the best so that you don't end up with one that sucks.
The best infant car seat covers for summer
Looking for a great way to provide a little extra shade and comfort for your baby in the hotter weather. These car seat covers are just what you have been looking for.
Let's start with the best of the best:
Brica Infant Comfort Canopy Car Seat Cover
I absolutely love this seat cover.

Why?

It's easy to install and remove, fits all major brands and does not interfere with the infant seat handle.

But perhaps more importantly than that, it keeps your baby cool and comfortable even in the burning summer sun.

The cover has a UPF rating of 50+ (sorry sun, your not gonna burn baby today) and can be removed revealing a completely mesh panel underneath. Perfect for keeping your baby comfortable when in the under a tree in the shade.

Let's not beat around the bush, this is perhaps one of the best looking car seat covers available. it actually looks like it was designed just for your stroller system..

I have had numerous parents come up to me and ask about it, they were noticeably excited when I explained that they could buy one separately!/

If you are looking for a budget car seat cover for summer then you should try this one:
Brica Infant Comfort Canopy Car Seat Cover
A lovely feature about this car seat cover is that you can simply scrunch it up and throw it in the bottom of your diaper bag. When it's time for fun in the sun, simply remove it from your bag and place it over the car seat.

The material is breaths, offers UPF 50+ sun protection and can be machine washed. Talk about low maintenance.

The top of the cover can be lifted up allowing you to peek at your baby and make sure he is not up to mischief (trust me, he is). For the price you will not find a better summer car seat cover unless you make one yourself.

With summer down, it's on to winter…
The best infant car seat covers for winter
Your go to choice if live in the article circle (AKA Montana). These car seat covers will protect your baby from the biting winds that come from "North of the wall". Winter is coming. But at least your baby will be warm.
Lets start with the warmest of the car seat covers:
Jolly Jumper Sneak-A-Peek
This is the perfect car seat cover for winter. You seriously don't need to look any further.

What makes it so great?

The materials used are very high quality. The outer is made from nylon (similar to a rain jacket) and is waterproof. The inside is lined with super warm fleece designed to trap heat. If that isn't enough to keep your baby warm then there is even an attached blanket inside the cover (and yes, it's removable).

If cleaning is your worst enemy then you will be pleased to know you can simply throw this cover through your washing machine and have it emerge as good as new. If I had my way everything would be machine washable. It's such a time saver.

A peek-a boo flap can be opened so that you can check up on your baby when the mad "I cant see my baby" panic moment strikes. Another nice feature is the dual zippers that allow you to easily access your baby when changing time rolls around (and it rolls around FAST).

There is one other winter car seat cover that I recommend. Its weakness (it isn't as warm as the Jolly Jumper Sneak-A-Peak) is also its strength. If you don't live in an icy wasteland then you may find that the Sneak-A-Peak is a little bit too warm for moderate winters.

That's where this comes in:
JJ Cole Car Seat Cover
Perfect for moderate winters this car seat cover features a flap that can be completey zipped off in the even that your baby starts to get too hot. I actually prefer the look of this cover over the Sneak-A-Peak but then IU

While there is a flap on the cover that will completely cover up your baby's face, it will open back up in the slightest breeze. So despite having this feature, I would consider it open faced.

The JJ Cole Car Seat Cover fabric comes in four different color options (black, gray, brown and pink) and like the Sneak-A-Peek, is completely machine washable.
The best wet weather infant car seat cover
Reminds me of a song:
Raindrops keep fallin' on my head…
But not your baby's head, thanks to the rain cover wrapped around his car seat.
While my personal favorite rain cover is the Sneak-A-Peak from the section above (because not only is it water proof, but warm) it is not suitable for humid weather. If it's hot and rainy then that extra warmth is just going to make your baby uncomfortable.
If you don't need the warmth then the following rain cover is both cheap and effective:
Jolly Jumper Infant Car Seat Weather Shield
Sometimes it really is the simplest things that work best. While this car seat cover maybe little than a shower cap with Velcro straps, it will definitely keep your baby dry and comfortable.

Have you ever been gotten sunburn on a cloudy day? There is nothing more frustrating. A clever feature of this rain cover is that it actually provides UV protection to stop your baby getting sunburn even when the weather looks bad.

Air vents in the side of the cover allow enough air in to keep your baby breathing but not so much that your little one will freeze on a windy day.

Oh, before I forget; Jolly Jumper also makes this rain cover for double strollers.

The only downside to this cover is that you have to completely remove it in order to access your baby, which can be somewhat inconvenient if you are in the middle of a public place.

While the next wet weather cover is more expensive, it will allow you to access your baby at a moments notice…
Jolly Jumper Infant Car Seat Weather Shield
Yep. It's a rain cover with a zippered access.

It is amazing how such a simple feature can make life so much easier.

Whether your baby's pacifier falls out of his mouth or you just need to quickly check his diaper, all this can be done without removing the whole cover.

Ultimately; whichever rain shield cover you go with, your baby will remain dry and comfortable.
The best bug net baby seat covers
If you cannot leave the house without being eaten by mosquitos (I'm looking at you Atlanta) then you will know just how important insect protection is.
My favorite car seat cover that keeps the bugs away is the:
Brica Infant Comfort Canopy Car Seat Cover
Wait a minute… this looks awfully similar to your favorite summer car seat cover
Right you are dear reader. This is actually how the Brica Infant Comfort Canopy looks without it's top cover on.
And it is absolutely perfect for keeping bugs away from your baby
While most other insect nets simply drape over your car seat (often leaving gaps for insects to enter), this cover forms a tent that even the craftiest of mosquitoes will be unable to enter (and dang, can they be crafty).
But if you don't need all the sun shade extras or are looking for a cheaper solution then you can always go with the:
Jolly Jumper Fitted Infant Carrier bug Netting
A simple elastic bug net that slides over the top of most infant carriers. The elastic edges stop the net from sliding up (and making gaps for flies and mosquitoes to enter) and the ties stop the net from falling on top of your baby.
While it may not be the prettiest solution, it will keep all those horrible insects from annoying your baby.
Conclusion:
I'll be honest. infant car seat covers are not for everyone.
That said; if you are in a position where you need one then they are incredibly useful and may even be a piece of baby gear that you cannot live without.
Ultimately it all comes down to your personal circumstances (where you live, your stroller, whether or not you take baby outside). Only you will know if an infant car seat cover is right for you.
You know the drill guys. Leave me any questions, wisdom, love or hate in the comments section below. Stay awesome!
Featured Image Source: Flickr