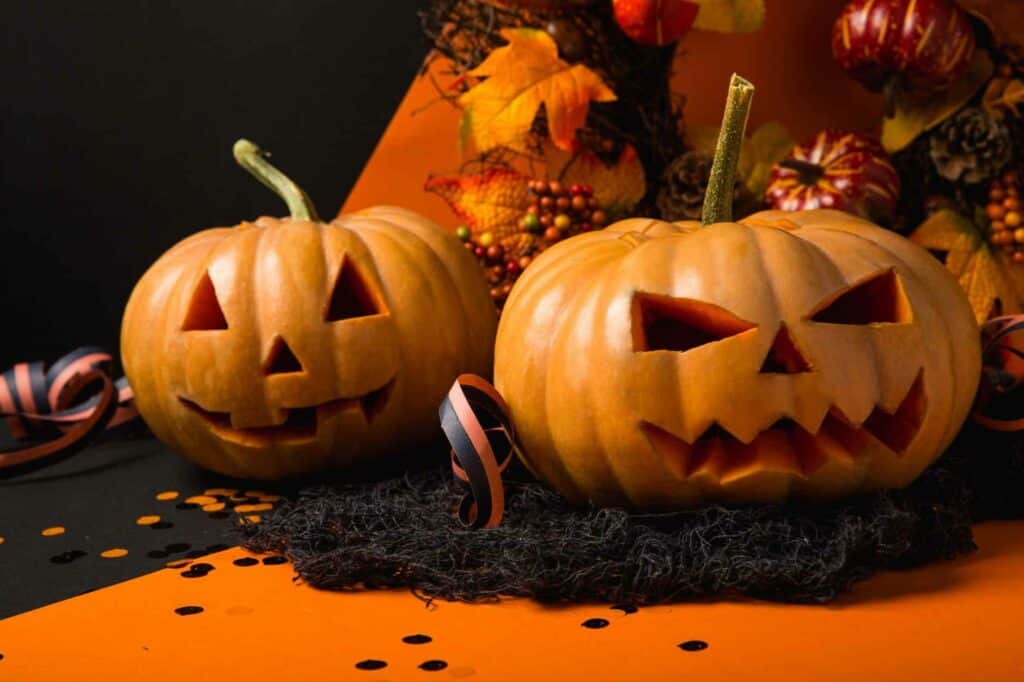 One of the most challenging things during this time of uncertainty is the virtual classroom. Something that Parent Guide understands all too well. It is difficult enough to keep the children engaged, so why not boost your Halloween classroom decorations?
Halloween comes but once a year, and it remains one of our favorite celebrations. When we look at Halloween virtual classes, we must approach them with imagination and enthusiasm. Consequently, if we feel excited about our Halloween classroom decorations, then our children will settle into a more normalized environment.
How to Decorate Your Virtual Classroom for Halloween During Distance Learning
The one thing we all strive for during these uncertain times is to keep the learning environment as natural as possible. Consequently, when our favorite celebrations come around, it is only fitting that we try to normalize the situation by embracing the event. After all, children love Halloween, and so do we!
Related Read: Parents Halloween Survival Guide
Whether you choose to cover your virtual classroom in spiders' webs or dress up as a ghoul, there remain numerous ways to decorate your virtual classroom for Halloween. Bunting, props, and even creative lighting may all add to the spooky feel of your virtual classroom.
As a result, we present you with some simple ideas to create a spooktacular atmosphere within your virtual classroom environment. Furthermore, with a few wise lighting effects, you will soon be the favorite tutor with those little devils.
Watch out for Spiders
With so many Halloween themed goodies on the market, it can be hard to pick just the right thing. The real trick is to choose a few well-placed decorations to create the maximum effect. After all, you don't want to be accused of overkill! (Though it is Halloween and a little murder may work.)
Amscan Halloween big pack white polyester spider webs
The Amscan big spider web pack will instantly transform your Halloween classroom decorations. These easy to use stretchy spiders webs may quickly convert your virtual environment into a haunted mansion.
The simplicity of the product means that you may achieve a dramatic effect very quickly. Simply pull it out and stretch to drape over pictures, frames, or pin around the corners of walls to capture your favorite humans.
LTD Halloween pumpkin decoration bunting
No virtual Halloween classroom would be complete without pumpkins. It is written into Halloween law! Consequently, this impressive and colorful banner is five feet long and is sure to make a dramatic impact.
The banner is made from hard-wearing Polyester material and is suitable for indoor or outdoor use. Each pumpkin has a slightly different character, and the children will love the vibrant colors.
Place this behind you on the wall, and your virtual Halloween classroom will come alive. It's alive!
Amscan Halloween jointed skeleton cutout
Invite the ghouls into your Halloween virtual classroom by hanging up this huge skeleton cutout. Perfect for decorating the wall or hanging on a door, this skeleton is full size and will add instant drama to your decorations.
The skeleton is poseable, and therefore, the possibilities remain endless. Why not place a list of homework in the skeleton's hands to make your little horrors squeal in terror? Furthermore, because the skeleton is full size, it may come in handy for those pesky biology lessons!
Eerie Lights
One of the things that makes Christmas so special is the colorful strings of lights we use to decorate our homes, and Halloween is no different. With just a few strings of lights, we may transform a room into a spooky haven.
Use the lights sparingly. The aim is to add color and a bit of fun to our Halloween classroom decorations, not light things up like a Christmas tree!
Home Accents Holiday 100 light purple and orange LED 3 functions Halloween string lights
These fabulous Halloween lights by Home Accents Holiday create an orange and purple glow to form a dazzling display for your Halloween virtual classroom.
LED lights are long-lasting and will give you many years of pleasure. Consequently, they are energy efficient. The dome design of the bulbs provides light in all directions. The multi-functions allow for all orange, all purple, or color changing. String lights offer an easy solution for your Halloween classroom decorations, and children will love the twinkling lights.
AOSTAR Set of 3 Halloween lights
The AOSTER set of three Halloween lights contain pumpkins, ghosts, and bats and have 20 lights in total. Each bulb illuminates the acrylic shape to create an extra spooky effect that is sure to delight young goblins.
The string of lights has two functions, steady on and flashing. Because the lights are battery operated, they offer a great deal of flexibility, allowing you to position them wherever you desire.
Your Halloween virtual classroom will look amazing with these glowing specters hanging through your spider's webs.
Time to Add Some Character
Enhance your Halloween classroom decorations further by adding a few well-chosen props to your scheme. The trick or treat is to make it fun. After all, you don't want to scare away your pupils.
Just a few well-placed objects around your Halloween virtual classroom will make all the difference. Just watch out that those plastic spiders don't come to life.
Fun Express plastic spiders 144 pieces
Entwine the Fun Express plastic spiders through the spider webs to give that skin-crawling feeling. The bag contains 144 spiders, so there is plenty to go around. Additionally, create a waterfall of horrible spiders by hanging them from the ceiling on a thin thread.
The spiders represent an easy way to create a skin-crawling environment to make your students squirm. No Halloween virtual classroom is complete without horrific spiders.
Worth Imports 40 inch hanging Halloween ghost set of 2
If spiders are not your thing, then this pair of Hanging Halloween Ghosts from Worth Imports represents the perfect alternative. The ghosts feature striped hats and felt 'boo' signs on their chests together with adorable, goofy faces. Halloween classroom decorations don't come much easier than this, and your students will love them.
Hang the ghosts from the ceiling so that they move at the slightest breeze. Alternatively, entwine one of them in the spider's web for an even spookier effect!
Go Big or Go Home
If you want to make a significant impact with your Halloween virtual classroom, then use more prominent, more impressive accessories. However, use them sparingly for maximum effect.
Hidden props and creative lighting make an instant impact when you consider Halloween classroom decorations.
Gecko Smoke Machine with LED lights and wireless controller
The Gecko Smoke Machine with LED lights with a wireless controller is easily controlled form a small hand-held remote control. It emits non-toxic smoke and employs three colored LED lights for additional effects. The machine can produce 1000 cubic feet per minute of fog and will effectively cover a distance of 2 meters.
The machine is perfect for all manner of celebrations, from weddings to Christmas, and adds a fabulous atmosphere to the proceedings.
Hide the machine under the desk and use the remote control to set it off occasionally. This will undoubtedly surprise the little monsters.
VNYIFAN LED projector lights
The VNYIFAN LED Projector Lights offer many functions beyond the Halloween theme. The projector contains 16 themed patterns, from Halloween, birthdays, and Christmas. The light is waterproof and is suitable for outdoor use as well as indoors and comes with convenient remote control.
It offers a variety of impressive effects that last well beyond Halloween. The projector contains 10 lighting designs as well as the colorful Halloween patterns to create enchanting effects to bewitch your students.
Try angling it towards a large area of the wall or ceiling to give an immediate impact.
Home Accents Holiday 6ft. animated LED wicked cauldron witches
Win street cred with this fabulous Home Accents Holiday Animated LED Wicked Cauldron Witches. The witches stand 6 foot high and create an impressive scene as they stand around their cauldron brewing brain positions. For an extra creepy effect, their eyes glow yellow.
This is an animatronic prop, and the witches move. The cauldron also lights up. While this decoration may take a little more consideration, it is nonetheless an impressive prop for year after year enjoyment. If you don't want to decorate the space, this makes the perfect alternative.
Place the witches behind you where they will fill the space and hear the screams of joy from your students as they log into your Halloween virtual classroom.
Create Halloween Classroom Decorations with Style
With a little imagination and some spooky fun, you may transform your Halloween virtual classroom into a place of creepy delights. While so many of us endure extraordinary times, we can help our children by making sure that we keep things feeling as normal as possible. Halloween is definitely one of those things.
Photo by Toni Cuenca from Pexels