Cabin fever is enough to drive anybody up the walls --especially kids who are missing out on the world they've barely had the chance to explore.
But just because you and your kids are stuck inside doesn't mean they have to miss out on every experience.
There are tons of cabin fever cures out there -- and it's easy to get started on curing your and your kids' cabin fever today.
For Toddlers
Babies are great and all, but we think that all parents can agree that being trapped in your house all the time with a bored toddler can be... less than fun.
Cabin fever affects everyone, even those who are just getting used to the world.
Since everything is new and exciting, it isn't hard to find something to satisfy your toddler's boredom. These fun activities should occupy any human under five years old.
Coloring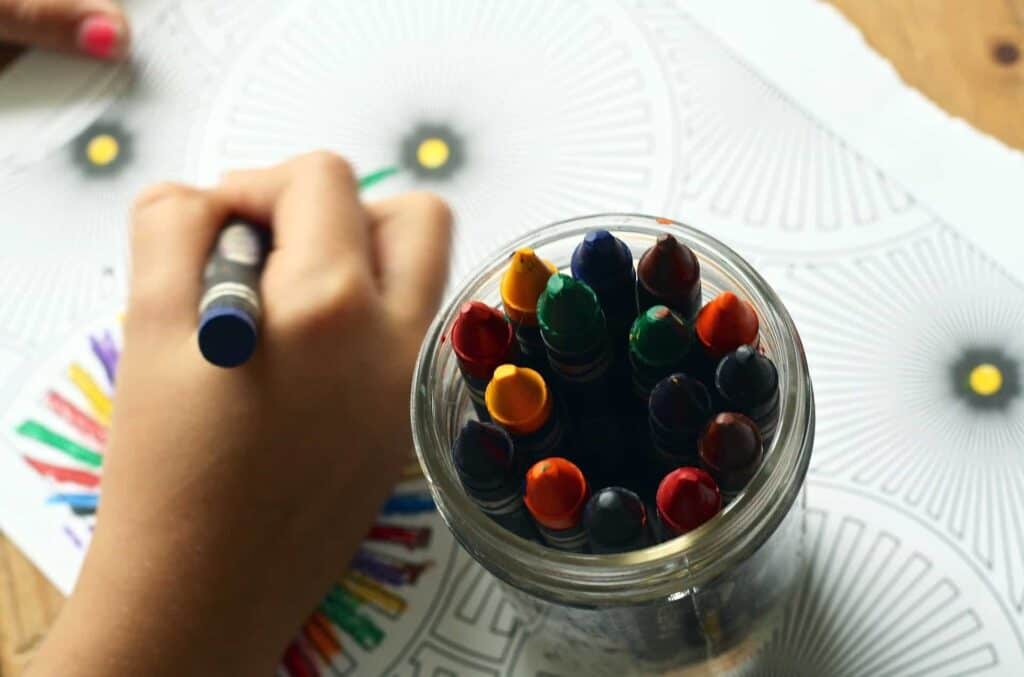 Coloring is a classic you just can't beat. You can print pages off of the internet, order coloring books online, or just draw freely on paper.
You can gather up crayons, markers, colored pencils, and whatever else you can find to create colorful works of art on paper.
Encouraging creativity is not only great for motor skills but can even spark a passion for art and deepen your bond.
Finger-painting
Almost every kid loves to paint and get their hands dirty, right? But cleaning up after painting isn't nearly as fun as the actual act of painting.
There's an easy solution -- two, in fact!
The first is to paint with Kool-Aid! This solution is both easy to clean up after and delicious.
And another is washable bath paints! There's nothing better than bringing extra fun to bath time that is both creative and easy to clean up after.
Have a tea party
This is another classic that is not only a great cabin fever cure but also a great bonding activity.
Having a tea party is a great way to occupy the hours between naptime and bedtime -- dress up and sit together and drink either real or imaginary tea.
Play pretend
Another great activity that can be applied anywhere is playing pretend.
Because there are essentially no rules, there are endless possibilities!
You and your kids can pretend to be dragons hoarding treasure and eating the king's knights, superheroes rescuing teddy bears from peril, or aliens exploring a new and strange planet.
Create new worlds and characters, dress up with paper crowns and blanket capes, and encourage creativity while beating cabin fever.
Create a sensory bin
Creating a sensory bin will not only occupy your kids and work as one of the most effective cabin fever cures you've ever tried but will also be something you will get years of use out of.
There are many different ways to create a sensory bin. The entire point of the bin is to keep your kids engaged, and introduce them to their senses -- taste, touch, smell, sight, and sound!
All you have to do is fill a container (like a bin) with whatever you feel fits your child the best.
Some ideas for you include rice, beads, aquarium gravel, water beads, and colored pasta.
Your kids will love getting their hands in whatever their sensory bin is full of, and it will keep them occupied for hours!
For Kids
Older kids can be a bit harder to entertain. But on the bright side, that means that you can get your kids involved in some more complicated activities.
And while that means more effort on your part, it also means that you'll have a challenge to work on.
From Legos to pizza parties, here are our best cabin fever cures for kids!
Recommended Read: Lego Storage Ideas For Kids Legos
Try a new recipe
We've all been getting in the kitchen recently, and there are hundreds of new recipes to try.
Gathering up ingredients and coming together to whip up a batch of cookies or a cake flavor you've never tried will not only be fun, but you'll have something tasty to eat by the end of it.
Make dinner or lunch with your kids, and teach them how to make their way around the kitchen. There's nothing better than something fun and practical to beat cabin fever!
Pillow fight
You've had nerf wars, you've fought with lightsabers -- but have you tried a pillow fight?
Build separate forts and battle one another with pillows over pillow kingdoms! Enlist the help of teddy bear knights, defend your pillow castles, and have some good, clean fun!
Make a scrapbook
While you're busy making memories, you're probably taking tons of pictures. And chances are you have more photographs lying around, just waiting to be assembled.
Sit down with your kids and work together to create a scrapbook full of memories.
Use colorful paper, glitter, and fun stickers while you put together a book of memories. Maybe your book could be themed, or full of pictures of your kids having fun doing the activities on this list!
Have a pizza party
Pizza is pretty much always a big hit -- and everybody loves parties.
Either order in or make your own pizzas together, and play board games or watch a movie while you eat.
You can even make dessert pizza if that floats your boat!
You can find lots of easy pizza recipes online nowadays, and it's always fun to arrange toppings on a pizza to make a pretty picture. Is there anything better than edible art?
For Teens
Have you ever noticed that there are hardly any lists with ideas on activities to do with your teens? It's always lists full of activities for tiny tots -- teens get bored, too!
Teenage years can be rough, which is why it's so important to make an effort to spend time together and share activates.
Work together with your teens to fight against cabin fever and boredom by doing some fun activities together!
Learn origami
Origami is the Japanese art of folding paper. You can create animals, people, and various shapes and other figures. Create lanterns or little paper dolls to keep in your home.
It can be a bit tricky to get the hang of at first -- but if you keep at it, we're sure you can create some cool paper creatures.
You can get some origami paper and start up a collection of paper creatures or sell them on Etsy -- or even at a garage sale!
Start a family book club
If you have a bookworm in your home, start up a family book club!
Ask your teen what they're reading right now, or what they would recommend. Consider making some recommendations of your own.
Take turns recommending books to one another, and get together once a week to talk about what's happening in the book.
Are there any TV shows or movies that you and your teen both enjoy? Maybe you both enjoy comics? Baking? Making music?
No matter what you enjoy, make an effort to learn more about what your child is passionate about. Are they interested in art? Science? History?
Ask them to tell you about what has most recently captured their attention -- and offer to share your own interests with them.
Play some backyard sports
If you have a yard and a ball, then you can have tons of fun while working on beating cabin fever.
Set up makeshift goals and play soccer, play softball if your yard permits, and even touch-football.
Getting in your backyard and blowing off some steam by getting some exercise is great for the mind.
You never know what sport you might have a real skill for -- try a few out and see what you enjoy!
For Any Age Group
There are some activities that can be enjoyed by just about anybody -- whether that be a toddler or their equally-bored parents.
And these activities are surprisingly simple to put together, believe it or not. You likely have everything you need to get started today already in your home.
Gardening
Gardening can be a great hobby if you're looking to really beat cabin fever. It can grow (pun very much intended) into a passion for nature and is a great way to get outdoors.
You can start sprouts and plants inside and grow flowers to tend to, herbs to use in the kitchen, and even food!
Start up a small garden to see how you feel about it, and encourage your kids to get their hands dirty and pitch in.
Learn a new language
Learning a new language with your kids is always fun -- and useful, too!
Take the time to learn Spanish or ASL with your kids. Read a book in another language and challenge yourself.
Read books or download apps together to sharpen your skills.
Learning a new language will not only be good for your brains, but it will also be good for your bond with your kids.
Paint stones
This may seem like an odd suggestion, but it's more entertaining than you think.
You can paint stones to either keep in your garden or around your home, make painted pet ladybugs, or go wild with your imagination.
Art can be applied anywhere, as art essentially is everywhere. Painting stones might just be yours or your child's next big hobby.
Solve a puzzle
You probably have tons of classic puzzles lying around -- you can pick out a puzzle to fit your child's age group.
But there are more puzzles out there than traditional jigsaws. You can solve various ciphers, or work on something like a Rubik's Cube.
You can even include other brain teasers, crossword puzzles, and sudoku books. If it's something that needs untangling, it should count as a puzzle. If something needs solving, solve it!
Make an at-home treasure hunt
If you're looking for a fun activity that will take an hour or two to get through, setting up an at-home treasure hunt is the perfect solution!
Write down and hide clues around your home that lead to a little box of treasures. You can make the treasure anything you want!
It can be candy, coins, tiny trinkets, or other fun surprises.
No matter what you hide, the fun little mystery of the hunt itself will be enough to keep them talking about it for days.
Kick up a game night tradition
Game night can become a daily or weekly tradition that you keep up with your family. You can switch between card, board, and video games to keep things interesting!
If you have kids in different age groups, this is an especially good idea -- everyone can get in bonding time and come together.
Take turns choosing what to do during game night or put your suggestions out there and take a vote.
Backyard camping
If you have a backyard and a tent, this next idea should be a breeze to set up.
Have a backyard camping trip by setting up a tent, grabbing supplies for smores, and get ready to weave some ghostly tales under the stars.
It can also be great for stargazing, and even watching movies!
A fun element you can bring to the outdoors can include movies and video games, believe it or not! Use a projector to either watch a movie or play a video game together while enjoying the fresh air.
If you don't have a backyard, you can achieve the same effect by setting up a blanket fort in the living room.
Cooling down Cabin Fever
There are tons of cabin fever cures out there for you to choose from, and all of them can be done with your kids by your side.
From baking to make-believe battles, cabin fever doesn't stand a chance against you and your kids -- we hope you have a ton of fun, and make tons of memories, too.
Now get out there and have a great time with your kids! We hope you have a blast!
Which activities cured your cabin fever?
Let us know in the comments below -- we always look forward to hearing from you!