Your boob juice is super important to your baby.
Anyone who tells you that there is no point crying over spilled milk has never spilled their own.
After a vigorous pumping session, it can be devastating to see any of your booby juice spill out over the floor. This is doubly frustrating if the culprit was a leaky container
A good breast milk storage container is just the thing to avoid such disasters and will make your life a whole lot easier.
According to the CDC Breast milk can be stored for:
Room temperature – Up to 8 hours
Refrigerator – Up to 5 days
Freezer – Up to 12 months
So refrigerating and freezing breast milk in containers just makes sense.
But you cant just use any old container to store your breast milk.
Hands down the most hassle free way of storing breast milk is:
Breast milk storage bags
Perhaps the newest way to store your breast milk is using storage bags. Unlike freezer storage bags, breast milk bags have been designed specifically to hold your breast milk.
pre-sterilized, free from BPA, and easy to pour and store.
Once you try milk storage bags there is definitely no going back.
Now the idea of placing a liquid inside a plastic bag takes some getting used to. You will constantly be thinking:
This isn't right… surely it's going to leak
As your typical paranoid parent, this was my thought process too. I even went so far as to wrap each storage bag in another bag just in case it would leak.
But after a couple of uses I was able to wean myself off the double bagging habit. Surprisingly, a good milk bag can take one heck of a beating before it leaks; and I am one rough handed momma
If you are at all familiar with reusable baby food pouches Then filling up a breast milk bag will come completely naturally to you.
For those of you who are familiar with the product, it may take a few tries but you will be filling the bags like a pro in no time. Just don't over fill them and you will be fine (learned this the hard way – leaks galore).
The only downside of breast milk storage bags are that they are not reusable (because they are pre-sterilized). Fortunately they are quite cheap to buy in bulk and the fact that they are disposable means less cleaning, which is only a good thing.
The best storage bags for breast milk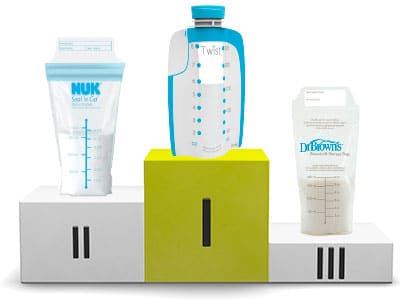 Let's be realistic – breast milk bags are not the most complicated baby product you will come across. In fact, many brands look incredibly similar to one another.
However, there are some important but subtle differences between the materials used and their design. These small differences can have a huge impact on reliability and performance.
Fortunately, you don't have to look at each bag under the microscope. have reviewed all the most popular brands of milk storage bags, the differences between them just may shock you.
From best to worst:
Let's kick it off with the best of the best:
Holds up to: 6 oz (large)
After trialing all the different kinds of milk storage options, this was the one I settled on for my baby. It beat out the other by a long shot.
Before I continue, I must stress, this is definitely not the cheapest storage bag for breast milk. Not even close. If you want a cheap bag then skip over this to my other recommendations, but for everyone else who want's to see one heck of an impressive feeding system, keep reading.
So what makes this such an amazing milk storage bag?
The Kiinde breast milk bags can not only fit just about any major breast pump but can also slot neatly into a baby bottle.
How cool is that?
The answer is very. Thanks to the storage bag, no milk actually comes into contact with the baby bottle. The only piece you need to clean is the nipple. Less washing up? You had me at hello.
So to complete the system you will need three pieces:
So now that you are fully kitted up you can take your milk from breast to baby with a single storage container. Once you have tried this system you will not believe you needed all those additional steps(from transferring milk to cleaning up) just to feed your baby. It really is impressive.
These storage bags are exceptional to the point that I would recommend them even without all the add-ons
You are paying for a premium milk storage bag and that is exactly what you get (unlike with those Medela bags… Booo!). The spout makes pouring so much easier than the ziplock style openings you usually find on milk storage bags.
But most importantly:
I am yet to have one leak on me.
And at the end of the day that is why we buy milk storage bags.
Whether the bag has been rattling around at the bottom of my diaper bag all day or unthawing in the sink, the super strong construction keeps all of your breast milk where it belongs – INSIDE the bag.
The bottom line – Highly recommended. These bags are wonderful on their own and even better again when used with the complete feeding system. The only downside is the price. But you DEFINITELY get what you pay for.
If you are looking for a cheaper option then this is your best bet:
Holds up to: 6 oz (large)
If you want the perfect balance between quality and price then look no further than the NUK Seal 'n Go Breast Milk Storage Bags.
A double zipper opening securely locks your breast milk in the bag. When thawing I have never had breast milk leak out of a double zippered seal, it has always been due to the seams splitting. If you are going to go down the ziplock path then a double zip is a must.
The bags stand on their own, making it much easier for you to pour milk inside. Simply stand the bag on your container and you can now use both hands keep steady as you pour. A great feature, I spilled much less milk when transferring it this way.
At the top of the bag is space for you to write the time and date of pumping as well a name if you need to. Be sure to use a marker pen, I originally used pen but could not read what the tags said once the bag had been frozen for a few days. Sharpie to the rescue!
Out of the hundred bags tested only a single one leaked During thawing. I am not sure whether this is because I over filled this one particular bag. I had just enough milk to take it just over the measurement line (not enough milk to justify using an extra bag). Given that none of the other bags leaked I am leaning towards this to being the reason (if you have had a different experience please let me know in the comments).
Now it is worth mentioning that if you want these bags to lay flat in your freezer you can only fill them around 3 oz worth of breast milk. This is a problem with all self-standing bags. If you want to fill the bags to the brim you will need to sacrifice a bit of freezer space.
The bottom line – For the price I was incredibly impressed with the Seal 'n Go Breast Milk Storage Bags. If you looking to try out bags to store your breast milk then these should definitely be your starting point.
Holds up to: 6 oz (large)
I'll be honest, I have a lot of time for Dr Brown's products (In fact, they are responsible for one of my favorite baby bottles). Dr Brown's used to me the milk storage bag that I recommended above all others and used them without leaks with my first child. Then they went and changed the thickness of the plastic.
Since the change; the Dr Brown's bag is nearly identical to the NUK milk bag above, right down to quality and construction. The main difference is cost. Yep, Dr Brown's bags cost a whole lot more.
The only thing I prefer on the Dr Brown's bag over the NUK Seal 'N Go is the measurement guide printed on the front of the bag is a little more accurate without fiddling and adjusting the bag.
The Bottom Line – While there will be many of you who choose this bag over the NUK because of the brand name alone, you are essentially paying more for the exact same product. You will be just as happy with the NUK bags.
Holds up to: 6 oz (large)
I went out and bought Lainsinoh bags just for this review. They are by far the most well known of breast milk storage bags available with nearly every mommy in my friendship group having used them at least once.
There are two features that stand out on the Lansinoh bags, the spout and the price.
Let's take a look at the spout first. It is pretty fantastic. Besides the Kiinde milk storage bags (which really are in a league of their own), I had the easiest time pouring milk from the Lansinoh. After using it I am sure you will agree – whoever designed the spout should be given a payrise.
The price speaks for itself, for a box of one hundred, these are some of the most competitively priced milk storage bags available.
Unfortunately that is where my praise for these bags ends. Out of the hundred bags, 8 leaked on me. All during the thawing stage. That is a 8 meals that my baby missed out on because these bags couldn't do their job properly.
Speaking to other parents, this seems to be a common trend. Out of my entire mommy friendship circle, not one could say that they did not have a Lansinoh bag leak on them.
This is a huge shame because this was definitely in the running for my favorite breast milk storage bag. If the bags didn't leak (or less did, say 1/100) then I would completely stand behind this product.
The bottom line – A brilliant product flawed by a few too many bags leaking. If you are able to score a pack where none of the bags leak then you will absolutely love these. But based on my experience I can only politely refer to them as frustrating.
Holds up to: 5oz
Being made by Medela (the same brand as my breast pump) I thought I was onto a clear winner with these breast milk bags. Included in the box is an adapter that connects straight to the bottom of your Medela pump.
Pumping straight into the bag? It doesn't get easier than that. Not needing to transfer breast milk between containers not only saves time but also results in less cleaning. Two huge bonuses for any time poor parent!
The system works surprisingly well, allowing you to pump directly into the bag without any spills or fuss. You do pay extra for this feature. If you are looking for the cheapest milk storage bags then these definitely are not it.
Just look at that. Isn't it beautiful?
Encouraged by these awesome features I bought a 50 pack. That's when things turned sour…
Out of the 50 bags, 5 leaked. Even though I followed the instructions perfectly, 5 burst at the seams when thawing. That's a 10% failure rate and is absolutely crap given the price being charged .
When I jumped online to leave a negative review I was not surprised to discover many other parents had been having the exact same problem as me. So it wasn't just a bad batch that I bought, it seems to be a common problem with this storage bag.
Let's say your bag doesn't leak. Then you have to deal with pouring them…
Have you ever used the toilet after a male and noticed there is pee absolutely everywhere? I always wondered how aiming could be so difficult.
If the male penis is anything like the breast milk bag then I completely understand the mess.
Pouring milk from this bag is a nightmare, especially if you are holding your hungry baby in your other hand. Be prepared to clean up after serving your baby his milky meal.
Oh, and while I am complaining (these storage bags !@#$ed me off). These bags are freezer hogs. They don't freeze flat. The bags are thicker at the base and take up a whole lot of room, particularly when standing up.
The bottom line: If you want a bag that hooks straight up to your breast pump out of the box then this is your only choice. A great idea let down by a poorly designed bag. I cannot recommend these based on my experience. If you are a glutton for punishment, you can pick them up at a get best price here
Holds up to: 5oz (really it holds 4 oz)
These were perhaps my least favorite out of all the breast milk storage bags I used. Yes, even after the roasting I just gave the Medela bag, the Ameda Store N Pour are on a whole other level of awful.
At a glance, the Store N Pour looks like it could be a an amazing product. A unique shape, an easy pour spout located on the side and very easy to read measurements.
You can even pump directly into the bag from your breast pump with the flange (sold sperately).
All form, no function
My major gripe with this bag is that it is sealed with a single zipper. After using the other bags on this list, it quickly becomes apparent why they use a double zipper. Milk will leak through the zipper of this bag, sometimes before they even make it to the in the freezer.
If you do manage to get these to the freezer you will notice that they simply won't freeze flat. In fact, I couldn't get these bags to freeze flat unless I only put 2 oz of milk inside.
2 oz of milk?
My baby would be offended if that was all I offered him. He would give me a disgusted look as if to say:
Where's the rest of it?
Another complaint is the measurements. Yes, I know it says it holds 5 oz, but if you decide to fill it to the 5 oz line then these bags are almost guaranteed to leak during thawing. Much less bags
If your milk has not completely thawed (slushy) then good luck using the spout on the side of the bag. The contents will get stuck and completely block the opening.
It's really is a shame because the spout feature is absolutely lovely when it works. Being located on the side of the bag is like pouring a teapot, incredibly easy to aim and makes it easy to squeeze every last drop of milk out of the bag.
The bottom line – Buy at your own risk. I cannot recommend these based on my own personal experience.
Conclusion
Despite all the milk storage bags looking quite similar to each other, there was one clear winner – Kiinde Storage bags
Now I will mention that there is something that I don't like about milk breast milk storage bags. And that is the measurement guides.
Depending on how the bag stands when you are pouring (or pumping) milk into the bag, the measurements are not entirely accurate. While the problem seemed to get worse as I went down my list of recommendations, no bag dealt with this problem satisfactorily.
So a word of advice:
Make sure you bend and flex the bag before using it so that the inside is as open as possible
This will ensure that you get the most accurate measurement.
Besides this minor gripe, I highly recommend breast milk storage bags for every new parent.
If you are sitting on the fence, try the Nuk Seal 'n Go. They won't break the bank and will give you a great idea of whether bags are the best way for you to store your breast milk. If you are already hooked on milk bags then I
highly recommend
that you jump up to the Kiinde feeding system, the Rolls-Royce milk storage bags.
What has been your experience with breast milk storage bags?
You know the drill: Leave me any questions, wisdom, love or hate in the comments below. Stay awesome!