Every baby gets grumpy and irritated now and then (and if yours doesn't…Well… Wanna swap?).
Cradling your grumpy baby in your arms and swinging him back and forth is a great way to soothe the savage beast. A baby swing is an amazing way to provide this motion without the need to use your arms.
Lazy moms rejoice!
The problem is, there are so many different baby swings out there, each with a variety of fancy features that you probably don't need. How do you choose the best baby swing for your baby?
This guide has you covered. Be warned, it's long and detailed but if you are looking for the perfect baby swing before you drop your cold hard cash then this is the guide you have been looking for.
By the time you have finished reading, you will be a baby swing expert. Pretty cool, huh?
Use the index above to jump to your preferred section of the guide. Otherwise, keep reading from top to bottom. It's all great information!
Reviews of the best baby swings
Let's take a detailed look a some of the best baby swings on the market. These baby swings are favorites amongst moms the world over.
Best full-sized baby swing
Fisher-Price Sweet Snugapuppy Dreams Cradle 'n Swing
AC adapter or batteries
Two different swing motions
Six swing speeds
16 songs and nature sounds
Fisher-Price has crammed so many features into this baby swing it's ridiculous. The Snugapuppy Dreams Cradle baby swing is a part of the Cradle 'n Swing collection.
While all baby swings from this collection are exceptional, this one leads the pack in terms of features. I will outline the differences in the other Cradle 'n Swing models below.
With such a feature-packed baby swing, where do we begin? Well, let's take a look at the swing seat itself.
Notice how the seat can be rotated? This allows the seat to either swing back and forth or side to side. The baby swing in the above picture to the left, rocks side to side.
A simple button press and twist is all it takes to rotate the seat to face either left or right (like in the above picture to the right). In this position, the baby swing moves head to toe. Oh, and the seat also has two reclining positions!
Six swinging speeds will keep your baby comfortable; no matter how fast or slow he likes his ride. Speaking of swinging, the motion can be powered by either batteries or a plug-in AC adapter.
If your baby is not going to fall asleep then there is still plenty to keep your infant entertained.
A mirrored globe and mobile is positioned to catch attention. The mobile itself is motorized and, at the flick of a switch, begins to spins with playful little puppies circling your baby. Adorable!
In addition to visual stimulation, the baby swing also has a built-in sound machine that is capable of playing 16 different songs and sounds. Better still, the volume can easily be adjusted so that it is not too loud.
The seat cover is designed in such a way that it looks like your baby is a little puppy when they sit in the seat and will look like they have little puppy ears.
The cover itself can be removed and is completely machine washable. A 5-point safety harness will keep your infant safe and secure in the baby swing.
The controls for the baby swing are easily accessible, sitting at the top of the swing. Here you can adjust the swing speed, turn the motorized mobile on or off, select your music and control its volume.
Newer models use buttons to control the swing speed while older models use a dial. Below is an example of an older controller.
With so many features, it's easy to see why this baby swing is one of the most popular on the market. You can find the price and reviews here.
Difference between the Cradle 'n Swing models
Now here is where it get's confusing. The basic Cradle n Play range features numerous different types of baby swings.
From left to right the baby swings are as follows:
Snugabunny – Bunny themed cover with bunny stuffed toy and bird mobile.
Snugabear- Bear themed cover with owl mobile.
Moonlight Meadows - Moon-themed cover with three soft animal mobile toys.
Starlight - Starry theme with overhead starlight show and three soft mobile toys.
So as you can see, the major difference between the basic Cradle 'n Swings is the theme.
Be mindful that many parents are not fans of the teething toys attached directly to the harness. They warn that the toys distract the baby from going to sleep.
Best portable baby swing
Ingenuity Cozy Kingdom Portable Swing
6 musical melodies
Easily folds up
6 swing speeds
Removable head support
When it comes to portable baby swings, less is more. Comfort and Harmony understand this and have produced one of the best portable baby swings on the market at a price that won't break the bank (baby swings are not cheap but this is as good as it gets).
Since the focus of the baby swing is portability, the swing is only powered by batteries.
Speaking of portability, the baby swing is incredibly compact; folding up nicely should you need to pack it away or take it with you when traveling.
The motor on this portable baby swing is exceptionally quiet. Don't be fooled by the lack of sound, the motor power for its size.
It will easily be able to swing your baby as he continues to gain weight and grow. A 5-point safety harness will secure your baby in the swing seat.
The Controls are dead simple with a dial controlling the swinging speed and buttons used to operate the music and timer
The neutral brown tone ensures this baby swing will fit into any home without clashing with the decor. For those of you who prefer a brighter option, the baby swing is also available in the color pink.
A toy bar dangles stuffed animals in front of your baby to provide extra visual stimulation while swinging. Don't like the toy bar? You can quickly and easily remove it.
Awww… Just look at those smiles
You would be smiling too if you were sitting in the super comfortable swing seat. The seat has a head support pillow for infants that can be removed as your baby gets older and gains control of his head and neck.
The pad of the seat itself can be removed and thrown through the was for easy cleaning.
If you are on a budget or are looking for a baby swing that you can easily store away then this is definitely the baby swing for you. You can find the price and reviews here.
Best baby glider swing
Graco DreamGlider Gliding Swing and Sleeper
5 different models
10 musical melodies
5 point harness
Smooth motion and vibrating seat
This baby glider looks more like a robot than a baby swing. Don't worry; it's not going to charge at you. In fact, it does quite the opposite; the Graco gliding swing provides your baby with a smooth and gently swing.
While the Graco Dreamglider can only swing backward and forwards, it does so incredibly smoothly. The glide can be set to 6 different speeds.
Two slower speeds for newborns and 4 increasingly faster speeds for older babies.
You have the option of powering the glider by either plugging in the AC adapter or using batteries.
The seat of the baby glider is nicely padded, keeping your baby comfortable as he glides through the air. Like the other baby swings in this list, part of the glider cover is removable for ease of cleaning.
The seat even has a vibrating function. The downside of the vibrating seat is that it requires a battery to work, even when the power cord is plugged in. That small quirk aside, it is still a lovely feature.
You can adjust the seat to one of two different reclining angles. One reclining angle is closer to laying down while the other is close to sitting. Holding your baby in the seat is a 5-point safety harness.
The baby gliders sound machine can play 10 different musical melodies (all classical music, no obnoxious kiddie tunes) and 5 different nature sounds; rain, running water, heartbeat, waves and bird sounds. The sound can even be completely turned off if you so desire.
If your baby absolutely loves the nursery glider then this is the baby swing for you. The familiar motion will soothe your baby in no time at all.
4moms mamaRoo Infant Seat
5 different seat patterns available
MP3 compatible
Bluetooth motion and sound
Adjustable incline
This baby swing is like nothing else you have seen. Packed to the brim with modern features, the mamaRoo makes other baby swings look like dinosaurs.
There is a reason why this is one of the most expensive baby swings on the market. Take a seat before you look at the price tag.
​This baby swing has features like no other. Let's take a closer look at what could possibly justify a price tag like that.
The mamaRoo can actually move in one of 5 different directions. You can select your baby's ride from one of the following. The mamaRoo moves in a side to side motion.
You can control the whole thing from an app on your iPhone or Android device (sorry android users, the lollipop is currently unsupported).
Cooking or folding clothes and don't want to get up? Simply control the baby swing from your phone.
The app allows you to change the motion, speed and built in musical sounds.
The controls are also found on the base of the baby swing, for those times when you don't have your phone handy.
If you want to play your music (iTunes library, Spotify, Pandora etc.) through the mamaRoo's built-in speakers then you will have to plug your phone into the base.
As you would expect, the mamaRoo is a little more power hungry than other baby swings. As a result, you only have the option of using an AC adapter to power your baby swing.
This obviously means you can only use the baby swing near an electrical outlet. The mamaRoo is not the most portable of baby swings.
The seat itself doesn't just recline to a few preset positions. You can recline this baby swing to almost any position you want. Talk about versatility.
This allows you to find the perfect baby position for your baby to the nearest degree. As someone with OCD I find the idea of this super appealing.
Now I do have a gripe with this particular baby swing. You need to buy the newborn infant insert separate. Yep. This baby swing is unsuitable for your newborn without an extra piece of equipment sold separately.
I suppose if you have the money to drop on one of these baby swings then spending that little bit extra will hardly bother you.
If you can afford it and you love showing off high-tech equipment to other moms then this is the modern baby swing for you. You can grab it here.
Baby swing buyers guide
Below I will cover every question you could possibly ask regarding baby swings.
Baby swing basics
So you have made it this far and the concept of a baby swing confuses you. Let's see If I can help you out.
What is a baby swing?
Think of a baby swing as an infant car seat on a stand that rocks itself back and forth, providing a comforting swinging motion to your baby.
Why do you need a baby swing?
Hear that? It's the sound of silence (well, it could be if you had a baby swing). A baby swing soothes the grumpy beast that is your baby with a calming back and forth rocking motion.
Half an hour of silence while your baby quietly lies there. Half an hour for you to do whatever you want! What more reason do you need?
What is the difference between bouncers, jumpers, and swings?
To put it simply:
Baby swings – Swing back and forth without the need of your baby to move.
Baby bouncers– Bounce according to your baby's wiggly movements in the seat.
Baby Jumpers– Bounce up and down when your baby kicks off the floor.
Okay, with the introduction out of the way it's time to jump right into the meaty stuff.
Different types of baby swings
The most basic of baby swings are little more than three separate parts:
Seat– Supports your baby.
Motor– Drives the swinging motion.
Frame– Holds everything off the ground.
There are two different types of baby swings that these parts can make up. Let's take a look at the two in more detail as well as the pros and cons of each design.
1. Full-size baby swing
There are no ifs or buts about it; full-size baby swings are big. If you are buying a full sized baby swing you will want to set it up in a permanent location.
The size can make a full-size baby swing quite cumbersome to move around or place into storage.
The motor is generally found at the very top of a full-size baby swing, which is part of the reason why full-size baby swings are quite tall.
The position of the motor allows the seat to go through a full range swinging motion (That is the distance the seat can swing back and forth) resulting in a longer and smoother swing
The seat of full-sized baby swings further off the ground than the seat of portable baby swings. The height difference means that it will take your baby longer to outgrow a full sized baby swing.
The majority of full-size baby swings can be used from birth until around 8 months of age.
Full-size swings have a wide base of support. Thanks to the larger frame, full-size baby swings are quite sturdy and hard to knock over.
Full-size baby swings are also on the expensive side. If you are looking for a quality baby swing then expect to fork out over $100 for it.
If you have space and money to spare and want to experience how a baby swing was designed to be used then you should look no further.
ADVANTAGES
Most features available
Larger swing arc
Takes longer to outgrow
Harder to tip due to wider base
DISADVANTAGES
Takes up a decent amount of space
Not easily transportable
Can be expensive depending on features
If this style of baby swing is too big and bulky for your needs then why not try a portable baby swing?
2. Portable baby swing
Portable swings, also known as travel swings, are much smaller in size than the full-sized variety. As the name suggests, the smaller size makes these baby swings incredibly portable.
Great for is you want to take the swing with you on vacation or you have a smaller home and need to store it away when not in use.
Portable baby swings are much cheaper than their lager counterparts. You can buy a portable baby swing for roughly half the price of a full sized one. Great for those of you that are on a budget!.
The small size of the portable baby swing also comes with some problems…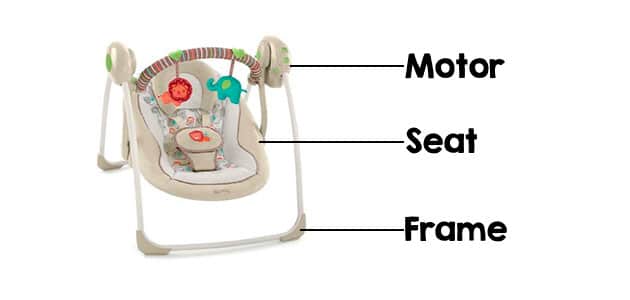 In an effort to keep the height down, the motor is found on the side of the swing. The downside to this design is that the arc of the swing is a lot shorter than a full sized baby swing.
Portable baby swings are not the best choice if you have a taller than normal baby. Due to the low to the ground design, a taller baby will be dragging their heals along the ground before too long.
The final downside of portable baby swings is that they generally only come in battery-powered options.
While this makes sense (a power cord is not overly portable now, is it?), it does add an extra cost to the baby swing.
Portable baby swings are the best option for small spaces or if you need to take your baby swing with you on vacation.
ADVANTAGES
Lightweight
Cheaper
Takes up less space than full-size baby swings
DISADVANTAGES
Less features
Smaller swing arc
Consumes batteries
As you can see, each type of baby swing comes with its own very unique set of pros and cons. You will have to decide which style is better suited for your personal situation.
3. Baby glider
Yes, I know that I just told you that there are two different types of baby swings. So why am I listing a third? Well. **technically** a glider shares all the same features of a baby swing, the only difference is the swinging motion.
Baby gliders are a fairly new product to the market. A glider has been designed to simulate the smooth gliding motion of a nursery glider chair.
While the motion of a swing is slightly jolty at the start and end points; a glide is incredibly smooth.
If your baby loves to fall asleep in your arms while you rock backward and forwards in your nursery glider then he will definitely love this familiar soothing motion.
Features to look for when buying and comparing baby swings
Now that you know about the different types of baby swings available its time to examine the features that each can come with.
Pay attention to your favorite features as not all features may be found on a single baby swing. You may have to compromise choose a swing with the features that are most important to you.
The baby swing seat
Since the seat of the baby swing is where your baby is going to spend all his time, it's vital that you choose one with the right features. Seat features can include:
Detachable swing seat– Some baby swings have a seat that can be completely removed from the swing frame. Simply remove the seat and you have a stationary seat that your baby can use independently of the swing.
Clip-in the seat – When your baby is done swinging, you can clip the seat into a stationary position, allowing you to use the entire baby swing as regular (but slightly oversized) baby seat.
Washability– let's face it, when babies are involved, the mess just seems to happen. A removable machine washable cover makes for easy cleaning. Some baby swing seats are even coated in a waterproof material, preventing spills from soaking in. This allows you to easily and wipe the seat clean.
Seat padding– A nicely padded seat will make your baby's swing much more comfortable. Look for padding that is thick enough to provide comfort but not so thick that it takes up too much room in the seat. Some manufacturers do go overboard with padding.
Seat incline– Some swing seats can be adjusted to different reclining positions. A newborn who can't hold his head up will be more comfortable in a reclined position while an older baby may prefer to sit more upright. A reclining seat will keep your baby comfortable in the baby swing as he grows.
The swinging motion
Okay, let's stop talking about the seat. The reason you are buying a baby swing is for the soothing swinging motion. Let's take a look at the features that impact this.
Adjustable swing speed– Many baby swings come with an adjustable swing speed setting. This setting allows you to speed up or slow down the rate at which the swing moves back and forth. The advantage of a speed setting is that you will be able to adjust the speed according to how speedy your baby likes his ride. Some babies, particularly newborns require a slow and gentle motion while older babies often prefer a faster swing.
The swing direction– Most baby swings move from the front to back. While they are in the minority, there are swings available that move from side to side. Pay attention to the type of movement that your baby finds most soothing. While some baby's love to be rocked back and forth others definitely prefer a side to side motion.
Swing timer– A timer that counts down. Once the timer reaches zero the baby swing turns off. Be mindful that some baby swings only turn on with a baby timer, meaning that you will have to turn the timer back on when it runs down. Most timers can be set for up to 45 minutes.
The Frame
The frame supports the baby swing and prevents it from falling over. Let's take a look at the different features available:
The base of support– Simply put, the wider the base, the harder it will be for the baby swing to tip over. Just be mindful that the legs don't protrude out too far or you may find yourself tripping over them in the middle of the night.
Frame material– Brand name manufacturers generally use metal for the frame construction. There are some cheaper generic baby swings from china that use plastic for the frame. Avoid these. Metal framed baby swings are much MUCH sturdier.
Foldability– Only relevant to portable baby swings. If you wish to store your baby swing away then you will want it to fold up into as small a size as possible.
Entertainment
In addition to the swaying motion, some baby carriers have extra bits and pieces designed to keep your baby busy and occupied.
Music player - Plays music and sounds to soothe your baby to sleep. Some music players allow you to choose from a variety of musical tracks. A select few high-end baby swings even come with iPhone docks to play music from! Remember; hearing the same baby tunes over and over can drive a sane mommy to madness. Picking a baby swing with music that doesn't bother you is good for the sanity.
Toys – Some baby swings come equipped with built-in toys. The toys vary from brand to brand and can be as simple as hanging stuffed animals, rattles and mirrors to full-on motorized baby mobiles and spinning projection night lights.
Vibration – I'm not kidding. Premium baby swings come with a vibration setting. As your baby swings, the seat gently vibrates, soothing him to sleep. Today's babies are spoiled!
Theme – You probably won't run out and by your baby boy a bright pink princess themed baby swing. On the flip side, your baby girl might show no interest in cars and trucks. Choose a theme that will keep your baby entertained.
Safety features
The following features will help keep your little baby safe while swinging back and forth.
Seat restraint– A 5 point harness (similar to what you would find in a car seat) is best as it restrains the upper body as well as the lower body. A 3-point harness that secures around the crotch and hips will suffice for older babies. Make sure the restraint will keep your baby secure as he swings; you don't want your baby sliding out! The straps that hold your baby in the swing should be strong, durable and lock into place securely In addition to being secure, the harness should be comfortable to your baby.
Weight capacity– Weight capacity can vary from swing to swing. Some baby swings even have a MINIMUM recommended weight. Once your baby exceeds the maximum weight limit you should discontinue use or you risk putting your baby in a dangerous situation.
Adequate recline– Did you know that an infant under 4 months cannot completely control his neck? A swing seat should be reclined enough to prevent your infant from slumping (typically less than 50 degrees from horizontal). A 5-point harness is recommended in any baby swing seat that is greater than 50 degrees.
Canopy– If you use your baby swing near a window then a canopy can prevent your baby's sensitive skin from burning. Great for using your baby swing outside; a canopy will also help reduce distractions in your baby's line of sight which may even help your little one fall asleep quicker!
Ease of use
There is nothing more annoying than a baby product that is difficult to use.
Sure, a baby swing may tick all the boxes but if you find yourself getting stressed because the dang thing is so hard to use then it may not be the right choice for you.
Parenting is hard enough without difficult baby gear!
Assembly required
I hate to break it to you but your new baby swing is not going to come pre-assembled. If following instructions (or lego) is not your specialty then read up on which baby swing is super easy to assemble.
Getting your baby in the swing
As your baby grows and gains weight it can get more and more position your baby into the swing seat.
An open-topped baby swing will allow you to easily place your baby down without the frame getting in the way.
Some frames will even fold down to allow you easily to sit your baby in the seat of the swing. With the baby in the swing seat, you can simply unfold the frame back to its original position.
Batteries or power cord?
Your new baby swing isn't going to swing itself. Baby swings can be powered by two different sources:
Battery– Battery power is a common feature of portable baby swings. When choosing a baby swing, make sure that the batteries it requires are commonly available.
Rechargeable batteries will be your baby swings best friend; splurge on some; It will save you money in the long run.
Power cord – Power cords are typically found on full-sized baby swings. Simply plug the cord in and your baby swing is ready to go; no pesky batteries to change.
Some baby swings can be powered by both batteries and a power cord; giving you some choice in how you wish to use your baby swing.
You don't want to turn on your baby swing only to discover the batteries are flat. Plan ahead, keep spares or stick to the plug-in variety.
Phew… you get all that? While the number of features you need to consider may seem daunting, it is something that you will quickly get your head around.
Besides, if you want to drop a cool hundred on a baby swing, you will want to make sure you get the perfect one for you.
Baby swing safety
By and large baby swings are safe to use when used correctly. Keep the following safety precautions in mind when using your baby swing.
Never leave your baby unattended
While a baby swing will keep your arms free to focus on other household matters, you should never let the baby swing leave your sight.
Baby's have an innate ability to put themselves in danger at a moments notice. You need to be able to react quickly.
Always follow weight, height and age guides
Each baby swing will have its own predefined weight, height and ages limits as set out by the manufacturer.
Continuing to use the baby swing once these limits have been passed could prove hazardous to your baby.
If your baby can escape, its time to give it up
Once your baby figures out how to wiggle free it is definitely time to stop using the baby swing.
Escaping mid-swing could cause a serious injury. Experts recommend you stop using a baby swing when your baby can push up on his hands and knees.
Set the baby swing up in a safe area
Be mindful of where you set up your baby swing.
TIPS TO SETUP YOUR BABY SWING SAFELY
Do not set your baby up on inclined or elevated surfaces
The location should be easy for an adult to view
The area should be free from dogs or other pets that can topple the swing over
Baby swing FAQ
Below I will answer some of the more commonly asked questions about baby swings.
If you have a baby swing related question that I have not answered, simply ask it in the comments section below this article and I will reply ASAP!
Can my baby sleep in a baby swing?
It's fine if your baby takes short naps in a baby swing but I definitely would give a second thought about swapping out your crib for one.
Baby cribs keep your baby safe through the night. A baby swing was not designed with night sleep in mind and could prove dangerous.
What is the weight limit of baby swings?
The average weight limit on baby swings is between 20 -30lbs. Be mindful that each brand baby swing can have a different weight limit.
How long can I leave my baby in a swing for?
While many experts recommend that you should limit your baby's swinging to under an hour a day; there are no hard or fast rules.
Of course, that doesn't mean you should leave your baby in the swing all day. Common sense goes a long way.
Is a baby swing an essential item?
No, but they sure are nice if your baby takes to it. Baby swings are a luxury item that should only be purchased if you can afford all the standard baby essentials and still have money you can spare.
There are definitely cheaper ways available (although they may not be as hands off) to soothe and entertain your baby.
Enjoyed this guide? Let your friends know about the best guide on Baby swings using the share buttons below!
Featured Image Source: Flickr