Meta Description: There's nothing better for calming your child than a gentle rock in a rocking chair. Whether you are feeding your newborn or reading stories to a toddler, choose the best rocking chair for your whole household. Find a chair that is comfortable, durable and easy to rock.
At the end of the day, mothers and babies need rest. While a comfortable crib for baby and bed for mother is important, another great way to rest and bond is with a rocking chair. Rockers have been a staple of nurseries for generations, and it's the perfect way to relax, whether it's nap time or feeding time. Choose the best rocking chair, and you'll use it even when your baby is grown and out of the house. A high-quality and comfortable chair can be very expensive but take a look at these affordable and effective rockers and gliders. If you aren't sure where to start, the FAQ list will give you plenty of answers to all your rocking chair questions.
FAQs
What's a Glider?
The newer version of a rocking chair, gliders have become a very popular option for nurseries and living rooms. A glider uses more complex moving parts to move the chair in a smooth, back-and-forth movement that a rocking chair does. It provides a more gentle motion for your baby, and it's less likely to accidentally crush the fingers of a curious toddler. Gliders can be more expensive, but there are plenty of affordable options as well. If you've never tried a gliding chair, try one out before purchasing. While they are more popular, it's a matter of personal preference as to which will suit your needs. Some people prefer the classic rocking motion. More importantly, some newborns also prefer this motion.
Do I Need an Ottoman?
An ottoman is a small footstool that often comes with a gliding chair. The ottoman glides too and matches the fabric and color of the gliding chair. It's the perfect combination to provide comfort for both you and your baby, and putting your feet up is a great way to take a nap. Ottomans can be quite expensive if sold separately, but many gliding chairs on this list come as a package with an ottoman included.
What Should I Look for in a High-Quality Rocking Chair?
There are several important features to consider when looking for a rocking chair, whether you need a chair in your nursery or living room. First, the most important feature is safety. You want a durable rocker that can carry the weight of you and your little one. Another great feature is comfort. Whether you like a firm, supportive, wood rocker or a soft, upholstered chair with plenty of cushioning, there's a rocking chair on this list for you. Keep in mind that well-cushioned chairs might not be as durable or easily cleaned as wood chairs. Some rocking chairs can swivel or recline, and others are extra wide. Basically, look for a chair that is durable, easy to clean and comfortable. More comfortable chairs tend to be more expensive, so also balance the need for cushioning with affordability.
Are There Any Additional Features or Accessories?
Some rocking chairs come with lumbar-supporting pillows, or other accessories designed to improve your comfort. Some accessories are more practical than comfortable, like side pockets on the chair. Another consideration is the color and style of your chair. While you primarily want a durable, safe chair for you and your baby, it's always a bonus if it matches your nursery theme. Some chairs come with lots of color and pattern options, while others are upholstered in neutral whites and creams to match any decor.
Where Should I Place My Rocking Chair?
Rocking chairs are commonly placed in the nursery, near the crib or bassinet. It's a great way to slowly rock your baby to sleep or to soothe your newborn in the middle of the night. However, some parents also like a rocking chair in the living room. Consumers find there are several great reasons to have a rocking chair in your living room when you have a newborn. First, you have the option of rocking your baby to sleep for daytime naps. That way, you won't be stuck in the nursery, but you'll still be close to your baby. Second, many parents use a rocking chair for calm feedings, which can be more convenient in the living room as well. Wherever you decide to put your rocking chair, it's important that you get the most use out of it to make it a worthwhile investment.
Can I Wash Rocking Chair Cushions?
None of the chairs from this list have cushions that are machine washable. However, some chairs provide removable cushions, and each chair has cushioning that is wipeable. When you have a newborn, it's nearly impossible to avoid spills, so take the stress out of messes by choosing a rocker that is easy to clean. It'll save you plenty of headaches and provide you with a chair that lasts your lifetime.
How We Reviewed
Because of the wide range of personal preferences involved, these chairs were selected based on best-selling and customer rating information. Only the highest rated and best-selling models were selected, but professional opinions and reviews were also important factors. This list isn't designed to sell you a particular brand or model of rocking chair but instead will give you the knowledge you need to choose the very best rocking chair for you and your household.
Price Range
Rocking chairs vary dramatically in price, depending on style and features but most importantly, build quality. You can spend anywhere from $100 to well over $2,000 for a rocking or gliding chair. This list focuses on the mid-range and budget-range prices, so you'll find rocking chairs between $129.99 and $879.00. While there are a range of added features, like additional ottoman or reclining ability, the most expensive rocking chairs are made with more durable materials and sleeker, more stylish designs. If you want a piece of furniture that is built to last, consider purchasing a more expensive option. Or, if you only use a rocking chair for occasional feedings and soothing, you'll want a more cost-effective option.
Best Rocking Chairs
Angel Line Windsor Glider and Ottoman
The most affordable glider on the list, the Windsor is easy to clean, matches most decor and comes with a convenient gliding ottoman. The cushions are removable, which makes it easy to wipe clean and avoid crumbs getting stuck in hard-to-reach places. If you don't like the standard, white-and-gray color scheme, try one of 14 other color variations. While it isn't as sturdy or spacious as more expensive chairs, it's very affordable for the occasional use in your nursery. Customers love how smoothly this chair glides and find it easy to install. However, many customers have had parts break on their chair within the first year of purchase. The gliding mechanisms aren't quite as durable as other chairs, so heavy use will wear it out quickly. If you want a durable chair to last a lifetime of daily use, this isn't the best option.
Baby Relax Double Rocker
Baby Relax Double Rocker, Dark Taupe
Clean lines for a contemporary styling and sturdy construction.
One and a half times as wide as a regular rocker to provide you and your child complete comfort.
Features two-toned contrasting welting and espresso colored rocker feet.
An extra-wide and comfortable rocker, this sofa-like chair is comfortable and stylish. The dark taupe coloring is contemporary and blends easily in most rooms. The maximum weight capacity for this chair is 225 pounds, and it's a classic rocker, rather than a glider. The Baby Relax Double Rocker is designed to fit both you and your little one comfortably. It's perfect to grow up with, as it's comfortable to sit and rock with an infant, toddler or child. Customers love how easy it is to assemble, and how roomy the rocker feels. Some customers feel the rocking movement is difficult with this chair, however, so it isn't the best choice for a baby who likes a lot of movement.
Raylan Upholstered Rocking Chair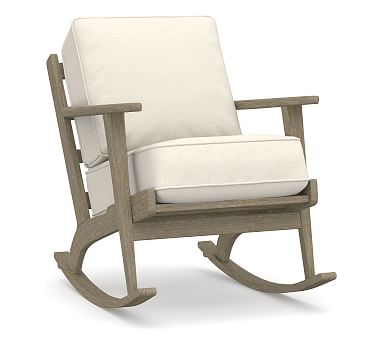 An upscale rocking chair with premium quality and customization, the Raylan rocker is an excellent choice if you want a chair to last. Kiln dried, mortise-and-tenon hardwood framing provides a durable and classic look, while the cushions are comfortable and stylish. If you want a chair with master craftsmanship for you and your little one, it's a perfect choice. However, it's considerably more expensive than other rocking chairs, and some customers prefer gliding movements rather than rocking.
DaVinci Olive Glider and Ottoman
DaVinci Olive Upholstered Swivel Glider with Bonus Ottoman, Cream
GREENGUARD Gold Certified: This product has been tested for over 10,000 chemicals! It contributes to cleaner indoor air,...
DESIGNED FOR PARENT AND BABY: Metal base that allows for a smooth and gentle 360 degree swivel motion and forward and...
COMFORTABLE HEADREST: Being a parent is hard work! High back allows moms and dads to comfortably lean back for some much...
A mid-priced glider that's specifically designed for new parents, the DaVinci Olive is a perfect choice for ultimate comfort that's affordable. You can swivel and glide with the well-cushioned chair, which is great for calming your baby. This glider also comes fully assembled, so you won't need to deal with the nuts and bolts of the stress of fitting it all together. With a metal frame, it's also a very durable chair. Discover why customers love the modern look and comfort of this gliding chair. However, the ottoman doesn't rock with the chair, which makes it a less convenient pairing than other ottomans. It's backed by a one-year warranty, which will help with your peace of mind when your infant is young.
Dutailier Sleigh Glider and Ottoman
Dutailier Sleigh 0342 Glider Chair with Ottoman Included
PERFECT. First choice for new parents looking for premium quality, safety and great value.
SMOOTH. Dutailier offers exclusive gliding system with top quality sealed ball bearings.
EASY. Comes pre-assembled, only 4 screws plus cushions and you are ready to enjoy your precious moments.
A premium glider and ottoman, the Dutailier Sleigh is a versatile and comfortable chair that comes in a few basic color options. The unique feature of this glider is the multi-position adjustment. You can lock the glider at six different positions, which gives you a range of reclining angles for greater comfort. The cushions are soft and easy to clean, and customers love how comfortable and affordable it is. However, the armrest cushions use Velcro to stay in place, so some customers feel they move or fall off too easily. While it's one of the more comfortable rocking chairs on the list, it's also quite expensive, comparatively. Still, if you are looking for a durable glider for everyday use, this is a great investment.
Baby Relax Mikayla Swivel Gliding Recliner
Baby Relax Mikayla Swivel Gliding Recliner, Gray Microfiber
Square silhouette with track arm design, button tufted backrest upholstery and elegant welt trim detailing.
Enclosed ball bearing mechanism for both a rotating swivel function & smooth gliding motion.
Sturdy construction with supportive spring core foam filled seat.
A sofa-like glider with the ultimate range of comfort, this chair glides, swivels and reclines. Its soft cushions come in four basic color options, and it is entirely upholstered. The footrest extends as you recline, giving you the perfect chair to take a nap when your baby is safely napping in the crib or bassinet. It doesn't come with an ottoman but has a wide range of reclining levels, and the swiveling feature makes it easy to get in and out of the chair. Customers love this glider, particularly for taller parents. However, many customers found it to be overly squeaky and hard to put the footrest down. This chair also doesn't glide when reclined.
Comparison Table
products

Details

price

Angel Line Windsor Glider and Ottoman

$129.99

Glider

Ottoman included

Removable cushions

Customer rating: 4.0 stars

Shop now at Amazon.com

Baby Relax Double Rocker

$229.00

Double rocker

Fully upholstered

Customer rating: 3.8 stars

Shop now at Amazon.com

Raylan Upholstered Rocking Chair

$879.00

Rocker

Removable cushions

Customer rating:

4.5 stars

DaVinci Olive Glider and Ottoman

$299.00

Glider, swivels

Ottoman and pillow included

Fully upholstered

Customer rating: 4.9 stars

Shop now at Amazon.com

Dutailier Sleigh Glider and Ottoman

$399.99

Glider reclines

Ottoman included

Removable cushions

Customer rating: 4.2 stars

Shop now at Amazon.com

Baby Relax Mikayla Swivel Gliding Recliner

$299.99

Glider reclines with footrest and swivels

Fully upholstered

Customer rating:

4.2 stars

Shop now at Amazon.com
The Verdict
There are a range of excellent rocking chairs and gliders on the market. You don't need to have a newborn to appreciate the comfortable cushions and relaxing rocking motion of these chairs, but they are invaluable for a tired, fussy baby or for calm, soothing feedings. Consider the Raylan rocking chair if you want the best in quality and style. Or, if you're on a budget but still need some comfort, try the Angel Line Windsor glider. Whichever rocking chair you pick, the hardest decision is choosing which room to place it in. These rocking chairs are so comfortable that you might want one in the living room, rather than the nursery. If you're feeling like a splurge, try one out in each room. While many of these chairs are designed specifically for parents with newborn babies, each one is durable and versatile enough to work well in any room of the house, whether you have a baby or not. Take your time to choose the right rocking chair for your house and say goodbye to uncomfortable seating.