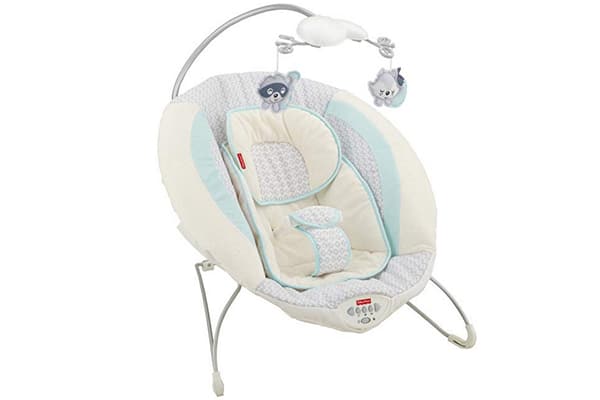 For parents, the safety of your kids comes first every time. However, sometimes, you need a break to free your hands from the charming little one. By now you must be asking, when can a baby use a bouncer?
Well, a bouncer is one of the safest gadgets to have around a baby. It will snug the baby safely and comfortably so you can rest from the occasional feeding, playtime, and rocking.
Although you can use a bouncer with all babies, the safe length and age bracket varies.
Types of Baby Bouncers
A baby bouncer is a soft, reclining seat that stands apart and sits low to the ground. The seat is soft for the baby's comfort and comes with a sturdy frame for durability.
Since it is reclining, the seat will bounce the baby around as he/she kicks. Some baby bouncers have a quilted fabric that will rock or bounce your baby playfully. As such, you can use it whenever you have other commitments and are not holding the baby.
To keep the baby entertained, most bouncers feature built-in soothing functions such as music, toy bars, vibration, sounds, etc. For portability, bouncers are lightweight and have a compact design. You can, therefore, move it around your home hassle-free.
When Can a Baby Use a Bouncer
So, when can a baby use a bouncer? Baby bouncers are safe and ideal for newborns until they can sit without aid. This way, you don't have to wait for your baby to reach a specific age to use the seat.
Each baby bouncer comes with user guidelines that show the restrictions for your baby's safety. The reclining seat, coupled with its design, will hold the child steady even when he or she is bouncing. Also, there are safety straps to provide extra safety for your baby at all times.
While using a baby bouncer is exciting for the child and gives you some free time, it has its limits. You have to decide when it's right for the baby to stop using the bouncer.
It is advised that you use a bouncer until the baby learns to sit without help. The majority of babies are sitting unaided when they are 6 to 7 months old.
However, some children reach this milestone as early as 4 to 5 months of age. For such little ones, you can take away the bouncer earlier.
Baby bouncers have a maximum weight that they can support, so you must know your baby's weight. This will act as a guideline that notifies you when the baby is ready to stop using the bouncer. Most of the models can accommodate a weight capacity of 25 to 30 pounds.
If your baby exceeds the age/weight limit of using the bouncer, it is no longer safe for them. This because when a baby tries to sit up or stand while on the bouncer, it will tend to tip over.
How do you use a baby bouncer
Having answered when can a baby use a bouncer, it's time to learn how to use it. As you shop, you'll come across multiple types of baby bouncer models, and each comes with unique features.
To entertain the baby, a bouncer may rock or vibrate, have toy bars, and music. When the seat bounces, it will begin vibrating or rocking the baby. Also, the baby can play around with the toy bars and listen to soothing music.
Since baby bouncers are small and lightweight, you can move it from one room to another. Also, place it on a flat surface (the ground) for the baby's safety. Avoid placing it on elevated surfaces like the table since it may tip over with the baby on it.
A bouncer will have a round part at the top where the baby's head goes and strings where the feet will be.
Benefits of Using a Bouncer
There are plenty of baby gadgets you can choose to use as your baby grows. However, the space and money you can spare for them force you to get what you need. A baby bouncer will not only save on space with its small design but also on your money since it's affordable.
Before asking when can a baby use a bouncer, consider its benefits, which include:
1. A baby bouncer is more affordable than most other baby seats you'll come across. Although the use period varies and can be short, at least you'll not be investing much money on it.
2. A baby bouncer is a perfect way to safely place your baby down and out from your arms for a while. This gives you some you-time and a break to attend to chores.
3. Bouncers are lightweight for portability, so you can easily move it around your home to the rooms you desire.
4. Most bouncer models operate by a battery. So, you can travel with it or take it outside without worrying about a power outlet.
5. Baby bouncers often have entertainment features like music and rocking, among other functions. This offers you a variety of ways to keep the baby happy and satisfied. No more tantrums!
6. The seat has a low design that, coupled with a wide base, enhance the stability of the bouncer. You can, therefore, leave the little one sitting safely.
7. A bouncer moves and activates its entertainment features as the baby kicks. This makes it a great way to soothe the child without using your arms.
How to Choose a Baby Bouncer
While a baby bouncer is a small and simple thing, it comes in different designs with different features to consider. This is because the safety and comfort of the baby ultimately depends on your choice
Look out for the "Juvenile Products Manufacturers Association" label that identifies the models that are safe for your baby. This will allow you to only consider the baby bouncers with the most innovative and reliable safety features.
When buying a baby bouncer, avoid getting an old one since it poses a safety risk to a child. Also, look out for features like:
Entertainment functions such as toy bars, music, mobiles, etc
A harness that will hold the baby safely in the seat
A wide, low, and sturdy frame to prevent the bouncer from tipping
Seat motion features like rocking, gliding, or vibrating
A removable and washable seat cloth to keep the bouncer clean easily
Seat padding for the baby's comfort
Also, you should consider the power source of the baby bouncer; does it need a battery or a plugin? Most bouncers are battery-powered, but a few models need a plug-in.
Safety Tips When Using a Baby Bouncer
While buying a safe bouncer is a great start, how you use it also determines your baby's comfort and safety.
Always ensure that you place the seat on a low, flat floor instead of an elevated surface. This is because the bouncing or rocking acts may cause the bouncer seat to shift and fall off.
When setting the bouncer down, maintain a safe distance from windows, heating systems, cords, power outlets, and other safety risks.
Also, if you're moving the bouncer, get the baby off the seat first and carry it alone.
Never leave the baby unattended on the bouncer seat. With the proper safety measures in place, you don't need to worry about when can a baby use a bouncer.
Ready to Use a Baby Bouncer?

Gif source: giphy
Understanding when can a baby use a bouncer is vital for the child's safety and your peace of mind. Considering the many types and models in the market, you should check out the available safety, entertainment, and comfort features.
When did your baby start and stop using a bouncer? Feel free to share with us your experiences and tips on how to best benefit from a baby bouncer!
Featured image source: amazon