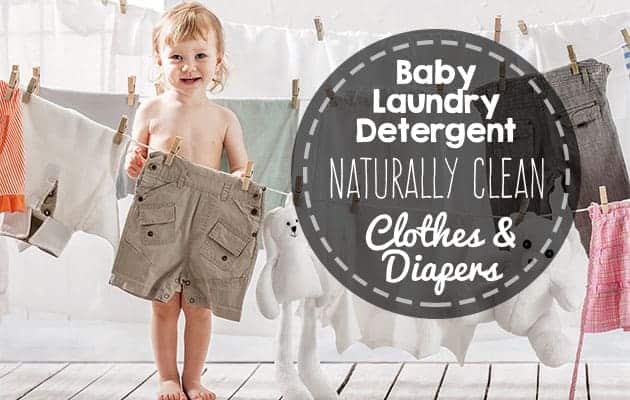 Baby laundry detergent is a touchy subject. Ask three different parents what detergent they use and you will very likely get three very different answers.Which is interesting because laundry detergent isn't one of those optional things that you buy for your baby. Every single one of you is going to use detergent on your baby's clothes. So with all this differing opinion, how do you determine the best laundry detergent to use?This guide will answer that as well as giving examples of the best (and worst) detergents for cleaning your baby's clothes and
cloth diapers
.
Does your baby need their own laundry detergent?
My answer may surprise you: No… But you probably need to change the detergent that you use. Unless you are allergic to your baby (seriously, it's
happened before
) then chances are that your baby will spend much of his time sitting against your clothes. Whether
riding around in his baby carrier
or just getting some good ol' cuddle time on the couch, your baby is going to come into contact with your clothes. And often. This is why when parents tell me they do two separate loads of washing with different detergents (one for their baby's clothes and one for their own) it makes absolutely no sense to me. Your baby is going to come into contact with the detergent you use whether you like it or not. And if the detergent you are using on your clothes contains harmful ingredients then your baby is going to experience it as if he is wearing it. While I agree that you should separate whites from colors, there is no real need to do an "adult wash" and a "baby wash". I mean, as a parent with a baby in the house do you really need more work to do? I mean… you could train your baby to do their own washing…
Nah, that would never work. Looks like it's all on you!
What makes a good laundry detergent for babies?
For the majority of parents, for a laundry detergent to be right for their baby it has to tick the following three boxes:
1. Gentle on your babies skin
There is nothing worse than triggering your babies skin allergies, resulting in your little one looking like he has been been in a naked paintball fight – painful red splotches.
Everywhere
. It is surprisingly common for infants to suffer from skin allergies, eczma or just have super sensitive skin. If you are nodding along to this then you will no doubt be aware that using the wrong laundry detergent can see your babyI've been there and it sucked. My baby used to break out in hives (ugly red sores). Simply swapping over to
Charlie's Soap Laundry Powder
was all it took to prevent the outbreak from ever happening again. Generally speaking, the more natural your laundry detergent, the less chance of triggering your babies allergies.
2. Natural and safe
So while shopping for baby detergent you come across the following on the label of a bottle:
Sounds perfectly safe, right? In the shopping cart it goes. Well it turns out this detergent has some nasty ingredients after all that are associated with skin and respiratory irritation. Now here is where the debate turns murky. Detergent company spokesmen claim that their detergents rinse thoroughly leaving virtually no residue on your babies clothes. I don't know about you but I don't pull out a microscope after each and every wash to check if any detergent residue is left behind. Now what they are saying might be true, but are you really going to trust the words of someone whose
every job depends on you buying their product?
Probably not. So why risk it? You can check out what nasty ingredients your laundry detergent has
on this website
. Simply enter the brand name in the search bar.
Trust me when I say this. You will probably be shocked at just what your laundry detergent has in it.
3. Remove stains
Okay, this may seem like an obvious one but after testing a whole bunch of different detergents and powders it surprised me just how horrible some brands were at removing stains. I mean seriously, laundry detergent? You have one job to do. Please do it properly. Whether you like it or not, your babies clothes are going to get covered in spaghetti sauce, formula, dribble. That's before you go into the gross stuff like diaper leaks and poop explosions. These stains are tough, stubborn and would likely beat you up in a dark ally. While there will be occasions when you need to pre-soak when your baby does a surprise slob attack on his clothes but for the most part a good detergent will reduce the amount that you need to spot treat clothes. At the end of the day it doesn't matter if your detergent is the most natural, skin friendly detergent on the planet. If it doesn't clean, it's useless.So it turns out that a good laundry detergent for babies is also a good laundry detergent for adults. No more excuses, wash those clothes together!
If you use disposable diapers you can skip the next point.
And finally, one more thing your laundry detergent needs to be before you can officially call it perfect for your baby.
4. Cloth diaper safe
The whole purpose of cloth diapers is to absorb whatever your baby's undercarriage throws at it. Unfortunately some laundry detergents actually build up on cloth diapers, which makes your cloth diapers about as absorbent as tinfoil. Avoiding detergents with oils will go a long way in preventing this problem from ever occurring. Fortunately, all my detergent recommendations below are perfectly safe and effective choices for cleaning cloth diapers.
The best laundry detergents for babies (and you)
Here are the best detergents for babies and families that I have found to have no harmful chemicals and really get the job done when it comes to getting stains and smells out of your clothes.
Charlies Soap Laundry Powder
Charlie's Soap Laundry Powder (100 Loads, 1 Pack) Fragrance Free...
ECO-FRIENDLY CLEANING POWER: Concentrated Laundry Powder works on all your laundry, from high-tech fabrics to delicates,...
HYPOALLERGENIC: Non-toxic washing soda and powerful, natural ingredients work together to ring on your clothes (when...
CLOTH DIAPER FRIENDLY: This detergent is safe to use on baby fabrics, effectively deep cleaning cloth diapers and other...
I'm sorry but
why are more people not using this?
It's like the holy grail of laundry detergents for baby clothes and diapers. Free from sodium laureth sulfate (SLS) and other nasty ingredients, and cleans like it is the superhero that your laundry needs. No more looking at your babies freshly washed clothes and wondering, "Why didn't that come out?"Many cloth diaper manufacturers actually recommend Charlie's Soap to clean their diapers. If it can clean the skid marks off cloth diapers then it can clean just about anything. I use it on allof my families clothes, they all think family thinks I am a washing genie with how good I am at cleaning clothes but really this stuff does all the work. Not that I would ever let
them
know that. Yes, this is
a laundry powder
. I get that using powders isn't considered cool anymore but it works amazingly regardless of whether you have a HE Front loader or older top loader. If you really want to be like the cool kids then you can always go with the
Charlie's Soap Laundry Liquid
but it does cost a little more per wash. If you are on a tight budget then those pennies do add up!And as I mentioned earlier, it cleared up my babies skin condition. As soon as we swapped over to Charlie's soap his skin sensitivities completely cleared up. Words cant describe just how amazing it is to be free of an itchy baby. If your little one suffers from skin allergies then this hypoallergenic detergent is what you have been looking for. I got approximately 80 loads of washing out of the smaller tub. Able to wash up to 1250 loads (that's a load a day for three and a half years), it will definitely save you money in the long run. It's also safe to use with gray water systems.
Charlie's soap laundry power ingredients
NATURAL MINERAL INGREDIENTS: Sodium carbonate, sodium metasilicate (rinse aid formed by heating a mixture of sand and sodium carbonate). BIODEGRADABLE INGREDIENTS: "C12-15, Pareth-2" (vegetable and mineral sourced surfactants)
Biokleen Laundry Liquid Free & Clear
Another great cleaner for your babies clothes. And yes, this time it's actually a detergent rather than a soap powder. My parents actually use this one on their property. They have problems with hard water and have used this detergent because my Dad has incredibly sensitive skin (probably where my son gets it). Prior to using the incredibly gentle Biokleen detergent they would run the clothes through an extra rinse cycle just to make sure there was no remaining additives (like enzymes or perfumes or optical brightners) their clothes, if they skipped this step then it was a one way ticket to rash town for my Dad.They wash my kids clothes with it when I needed them taken off my hands for a while. I must say that I am very impressed with the results, the kids clothes were gleaming, no sign of food stains or poop stains anywhere. I was worried at first due to my youngest having severe allergic reactions to certain laundry detergents but am happy to say that this one didn't trigger them. Reading the label it is free from fragrance, dyes, chlorine and phosphates, all ingredients trigger itchiness and rashes in sensitive babies. I'll be honest, I am pretty impressed with just how well it actually cleans and If I hadn't already fallen in love with Charlies Soap then chances are I would be using this in my laundry dictatorship. Hey, when
you
are the one that does the washing, you get to call the shots on what is used! Works great in high-efficiency washers, is gentle on fine items like silk and wool. For those of you that like your clothes with a "freshly washed scent" a
naturally fragranced version
is also available. It is safe for use with gray water systems and hard water friendly.
Biokleen laundry liquid ingredients
Water (filtered), Laureth 7 (plant based surfactant), Cocamidopropyl Betaine (plant based surfactant), Sodium Lauryl Sulfate (plant based surfactant), Lauramine Oxide (plant based surfactant), Glycerin (vegetable), Sodium Chloride, Sodium Carboxymethyl Inulin (plant based chelant), Citrus Grandis (Grapefruit) Seed Extract, C10-16 Alcohols (plant based)
Planet 2X Ultra Laundry Detergent
Yes, I know this one has Sodium Laureth Sulphate (SLS). But if you can look past that then this is an amazingly good cleaner that suds up incredibly well and works in both HE and standard washers. No scent, means that your clothes wont smell like they have spent too much time with that woman in the elevator who wears just that
bit too much
perfume. But where it really shines is on your baby's cloth diapers. You can use this detergent for months and months and you wont see any build up. You know what that means? No more stripping diapers. Imagine what you can do with all the time saved from skipping this step with your cloth diapers! Now my only gripe with this laundry detergent is with the cap, or in particular the markings inside it. You use the cap to measure out how much of the detergent you need but even in direct light it is difficult to see, making it a mystery as to just how much you have just poured in. Fortunately this minor gripe can be overcome buy using a separate measuring cup and if you can look past this minor flaw then the detergent itself is simply wonderful. Their
powdered laundry detergent
is great too, if that's what you prefer.
Planet 2x ultra laundry ingredients
Water (carrier). Sodium Laureth Sulfate, Lauramine Oxide (plant-based cleaning agents). Sodium Chloride (mineral viscosity adjuster). Sodium Bicarbonate (mineral alkalinity adjuster). C10-16 Pareth-1, Sodium Sulfate (incidental ingredients).
Eco-Me Laundry Detergent
EcoMe Plant Based Concentrated Laundry Detergent, Fragrance-Free, 32...
2 X CONCENTRATED: This powerful natural conentrated formula is tough on stains and dirt. 64 Loads per bottle made for...
PERFECT FOR SENSITIVE SKIN: Made Fragrance Free to be gentle on sensitive skin and noses. Ideal for sheets, everyday...
CLEAN, SAFE & EFFECTIVE FORMULA: This Eco-Friendly formula is made from plant extracts and natural botanicals. All of...
Here is another all natural laundry detergent. Just check out the ingredients, it's free from every single nasty thing you could imagine! Even if you were to walk around naked you wouldn't be this natural. Now that's eco-friendly! I tested this detergent over the course of a week and while it performed well, you probably wont rush out to replace your regular detergent with it. Why? While the Eco-Me performed incredibly well as a day to day detergent, it seemed to struggle on harder stains. A shirt covered in spaghetti sauce had to go through the wash again. As did a pair of poopy pants.I am not a fan of presoaking or spot treating. I want to simply toss my kids clothes through the washer and be completely done with it until that annoying chime sounds and I have to hang them out. If you are past the stage where your kids are dirty sticky messes then this will probably be just fine for you. For the rest of you with young babies, it just isn't up to scratch.
Eco-me laundry ingredients
Water, coco glucoside (vegetable-derived soap), decyl glucoside (coconut-derived soap), caprylyl capryl glucoside (plant-derived solubilizer), xanthan gum, natural plant essential oils, potassium sorbate (food-grade preservative), leuconostoc (radish root antimicrobial), glyceryl caprylate caprate (vegetable-derived thickener.
Zum Clean Laundry Soap
Zum, Laundry Liquid Clean Sweet Orange, 64 Fl Oz
Not a Laundry Detergent: Plant-based liquid laundry soap to freshen your clothes, sheets, towels, and more
Sweet Orange: Sweet orange zest and citrus to brighten up your day
Simple Ingredients: Made with essential oils, coconut oil, baking soda, and vegetable glycerin
Another completely natural detergent that works wonders on your kids clothes. With so few ingredients you will wonder exactly how this detergent cleans so well. It turns out less really is more, even if it is a little on the expensive side. While this detergent is leads the way in its stain removing ability you will probably want it give it a miss if your baby wears cloth diapers. Even though it works so well at removing those stubborn poop stains. Why? Because this detergent builds up and it builds up fast. It was less than a month before I noticed that my cloth diapers were absorbing less and less. Ugh.. I had to strip them. I
hate
stripping cloth diapers.I am convinced that this detergent was completely to blame. Whether it is the coconut oil or the essential oils, this detergent really does a number on your cloth diapers. But if your baby has outgrown the need for diapers then you should definitely give this detergent a go. Chances are you will be more than happy with it.
Zum clean laundry soap ingredients
Sodium cocoate (saponifed 100% coconut oil), sodium bicarbonate (baking soda), essential oils and glycerin (vegetable).
Method Concentrated Laundry Detergent – Free & Clear
Rounding out our list of natural laundry detergents that work incredibly well is this sleek and modern looking number from Method. Great on sensitive skin with no dyes or perfumes and you should get around 50 washes out of a single bottle. Being made from natural products it isn't the most sudsy of detergents, however when you see just how clean it gets your babies clothes you will not even care. This product cleans incredibly well! My only gripe is the pump bottle. While it sure looks pretty, whoever thought this was a good idea should be slapped. It is incredibly difficult to pump the detergent into the pull out container on a front loader. So the pump bottle sucks but once you get this detergent out of the bottle it absolutely does the job. Method also do a diaper safe
fragranced version
too. And it smells
heavenly
.
Method 8x laundry detergent ingredients
Coco/Soy Methyl Ester + Sulfonate/Ethoxylate (Plant or Mineral Origin), Lauryl + Oleoyl Alcohol Ethoxylates (Plant or Mineral Origin), Glycerin (Plant or Mineral Origin), Sodium Alkane Sulfonate, PEG 300 Monooctyl Ether (Plant or Mineral Origin), Decyl Glucoside (Plant or Mineral Origin), Ethyl Levulinate Glycerol Ketal (Plant or Mineral Origin), Carboxymethylinulin (Plant or Mineral Origin), Mipa-Lactate (Plant or Mineral Origin), Bio-1,3-Propanediol (Plant or Mineral Origin), Cellulase (Plant or Mineral Origin), Protease (Plant or Mineral Origin), Amylase (Plant or Mineral Origin), Mannanase (Plant or Mineral Origin), Lipase (Plant or Mineral Origin), Ethanol, Purified Water, Carboxylate Polymer, Distyrylbiphenolsulfonate.
Grab Green Natural 3-in-1 Laundry Detergent Pods
Grab Green Natural 3 in 1 Laundry Detergent Pods, Free &...
Contains 1 - 60-load pouch of Grab Green Natural 3 in 1 Laundry Detergent Pods, Fragrance Free, Free & Clear of ALL...
CONVENIENT, EASY TO USE VELCRO CLOSURE: No more hassling with frustrating zip closures.
3 in 1 SAVES YOU TIME & MONEY— WITHOUT harsh chemicals: A superior detergent, remarkable stain remover & beautiful...
Full disclaimer: I am not a fan of laundry pods. I believe them to be overpriced, break easy and just not as good as regular laundry detergent. However, I understand that there are some of you who use pods on a daily basis to wash your kids clothes and are very happy with them. Just for you , I am listing a natural and baby safe alternative. And I will give laundry pods one thing: They are much easier pack when traveling than a full bottle of detergent. If you are hooked on the pods then Grab Green is one of the only natural and fragrance free pods that
actually worked
on stubborn stains. While you will still need to pretreat cloth diapers that have been sitting there for a while, especially for milky poops, the pods removed food and craft mess with little difficulty. Combined with no animal testing and actually made right here in the USA there are other reasons to buy these laundry pods besides their good cleaning powerPlus, Grab Green makes fragranced versions available as well! Just remember to keep them away from heat or they will melt/break open.
Grab green detergent pod ingredients
Sodium carbonate, sodium carbonate peroxide, sodium citrate, sodium silicate, c10-16 alkyl benzenesulfonic acid sodium salt, hydrated silica, c9-11 pareth – 6, c10-16 pareth-1, subtilsin enzyme blend, amylase enzyme blend, sodium sulfate, polyvinyl alcohol, diamyl sodium sulfosuccinate.
What about Dreft and other baby detergents?
Now you may have noticed that this top 7 list does not include many of the big named "baby safe" brands that are commonly advertised. I tried to keep the list as natural as possible and these products are simply not up to scratch. Let's take a closer look at the more popular of these baby laundry detergents and find out exactly why they didn't make the cut.
Dreft Baby Liquid Detergent
​
Possibly the worst on this list. Not only is it expensive but for the price you don't get a whole lot of stain removing power While it claims to be gentle on babies, the only thing it is gentle on is stains (it sucks on diapers). It's heavily perfumed, it commonly triggers baby allergies. And then there is those
questionable ingredients
.
Babyganics 3X Baby Laundry Detergent
Babyganics 3X Baby Laundry Detergent, Fragrance Free, 60oz, Packaging...
Formulated without: Optical brighteners, 1,4 dioxane, chlorine, phthalates, phosphates, sulfates, fragrances or dyes
Formulated with: Plant derived ingredients
Triple concentrated detergent, HE compatible
​
While it is much more natural than Dreft, Babyganics is far from gentle, particularly if your baby has super sensitive skin. Common complains include that it triggers allergies and contains sodium laureth sulfate (SLES), SLS's nasty cousin.
Seventh Generation Baby
​
Probably the closest thing to a natural cleaner that on this list but still contains some very questionable ingredients including methylisothiazolinone and boric acid, which are considered toxic to babies. The only thing that these products have over my recommendations is that the labels are definitely prettier, so they will definitely catch your eye while shopping. But is pretty looking laundry detergent really needed? I mean it's not exactly something you have on display above your fireplace now, is it?
Conclusion on baby detergents
Surprised by the results? I was. It turns out that just about every product sold as "special baby laundry detergent" isn't exactly something you would want to use on your baby's clothes. At the end of the day, the laundry detergent you use on your baby's clothes is a very personal choice. What one parent recommends, another will absolutely hate. Take laundry fragrances for instance. Some people absolutely love sweet floral fragrances, and associate the smell with "clean clothes" while other people hate them. I fall into the hate it category. Strong fragrance is like a punch to the throat and gets my eyes watering. But there is one thing that every parent will agree on and that is buying organic, non-toxic products that work. And my list of recommended baby laundry detergents is a great starting point for any of you looking to swap over from your current detergent. You could even
make your own
. What is your experience with baby laundry detergent?
You know the drill guys. Leave me any questions, wisdom, love or hate in the comments section below. Stay awesome!