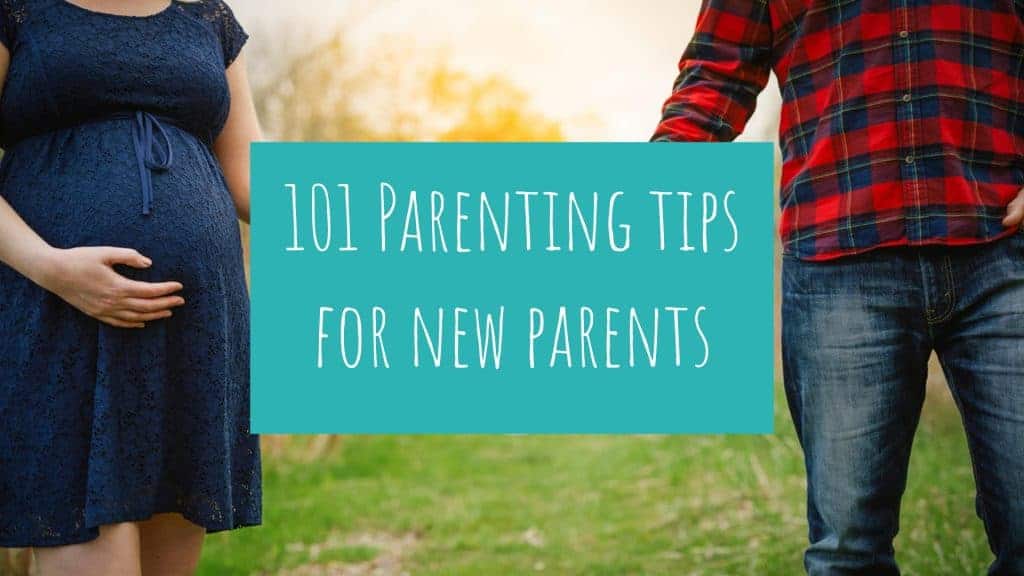 As a first-time parent, there will be a lot of unexpected circumstances and situations that you may not have expected. Newborn care is very important and an important start to your baby's life, so you should be doing plenty of research and asking your parents and friends with babies for some tips. Here are 101 parenting tips for new parents as an ultimate guide to get ready for your baby and their first year with you.
Tips to Prepare for Your Baby
1. Budget out for doctor and medical bills
Understand what will be covered by your health insurance. You don't want any added stress from surprises and additional bills that you weren't expecting.
Pro tip
Set money aside or pay ahead on your other bills if you can so that you don't have to worry about them for the first month after your baby has arrived.
2. Get your nursery ready
List out everything you need for the nursery and have the room ready to go weeks before you are due just in case. Also, you don't want to be painting the room when the baby arrives and have them breathing that fresh paint when they first come home.
3. Plan for and purchase your baby necessities
Items that you'll be using every day like baby wipes and diapers should factor into your budget. More than likely, you will get things at your baby shower but be sure to have that list handy to check everything off so that you know what you need and don't need.
4. Consider buying used baby products
Babies will grow out of things like strollers and car seats and are quite costly new, so figure if buying new is in your budget or if you should buy used products from friends, family, or online marketplaces. Be sure that you check car seats to make sure that they are not expired or damaged in any way.
5. Know your maternity and paternity leave
Will you be getting paid by your company from your time off and how long will you be able to take off should both be factors when you are figuring out you're budgeting.
6. Start a rainy day fund
Unexpected things will happen. As a first-time parent, you will worry a lot and probably want to take your baby to the doctor if they cough or cry a lot, so plan for unexpected bills and expenses.
7. Find a good pediatrician that is in your health insurance network
Ask your friends and family members or search for reviews online to find the right one for you and your family that will be covered by your insurance. The first doctor visit will be within your baby's first week, so have this planned before giving birth for one less thing to worry about when the baby is born.
8. Have the car seat in the car
When you get to the hospital, in many cases, you are not allowed to leave without an infant seat. While this may seem like a no-brainer, this is something that not all first-time parents would think to have in the car, ready to go weeks before. Babies aren't always on time either; sometimes they are early, sometimes they are late. If they are early, you want to be sure that you're prepared.
9. Pack your bags
Backpacks, backpacks, backpacks! Use them. Pack only enough items for your stay at the hospital. My advice? Don't overpack. While you're there, you will acquire quite a bit. You'll be able to take all the items in your room such as cold spray, the peri-bottle, the granny panties, Tucks, pads, diapers for your new bundle, and a small drug pack for mom for postpartum fun.
Pro tip
Take an empty reusable bag along too for anything that may not fit in your backpacks.
10. Have a call list
Everyone is awaiting the arrival of your little one anxiously, and the new mommy is going to be anything less than chatty and social after birth. Have a chain, starting with dad to call and let those that you wish to know that your new little bundle is here. For example, have dad first call your parents, and ask them those that you want them to notify siblings, grandparents, or other extended family members.
Hospital Tips for First-Time Parents
11. Eat healthy before going to the hospital, but not right before going
You probably won't get to eat again until after labor, so you don't want to go thru hours of that on an empty stomach. You also want to make sure its something healthy that won't have you feeling sick or upset hours later. In some cases, mom will be placed on a clear or liquid diet.
12. Have your hospital bag well equipped
Don't forget your camera, phones, chargers, snacks (for dad), and other necessities to capture the moment and relax.
13. Be friendly and respectful towards your nurses
They will be the ones by your side the most throughout your stay at the hospital. While you may be in pain, they will be the ones to coach and guide you. Don't be shy to let your nurses know what you need or even don't need.
14. Prepare yourself for changes in your birth plan
You may want it to go a very specific way, like not using medication, but you could change your mind along the way. Be okay with changes and just go with it – otherwise worrying about every little thing during birth and after can lead to postpartum depression.
15. Ask to restock your room before being discharged
See point above. Some hospital room cabinets may be stocked with baby diapers, nasal aspirators, mesh panties, a baby thermometer and more that some hospitals may allow you take with you.
If this is the case, ask the nurses to have your room restocked, and they will get you what you need. This way you are fully stocked for your new little one. You can never have too many diapers!
16. Use mesh panties or adult diapers for postpartum bleeding
While the mesh panties aren't the most attractive thing in the world, they are a lifesaver. More than likely, you'll have heavy bleeding the first few days after your baby is born, but that will taper off to a normal period within a few days to a week.
17. Inquire about baby manufacturer coupons or samples
Maternity wards may be stocked with coupons and freebies from baby manufacturers because they want you to enjoy their product enough that you'll buy later. So be sure to ask if they have any products or coupons around.
18. Talk to your doctor about postpartum depression, OCD, and anxiety
Be proactive and talk about this with your doctor so both parents know the signs, and what steps you need to take if they become a problem.
19. If you're breastfeeding or planning to breastfeed
Make a list of questions or things that you're curious about. Just a quick, personal note– It isn't easy. If you've got questions about how to help your baby latch, ask your nurse. Some or most hospitals have a lactation consultant that will be able to guide you. Don't be afraid to use them for help and surely don't be afraid to ask to consult with them more than once.
20. The food
While some hospitals compensate mom for food for breakfast, lunch, and dinner, dad does not always get so lucky.
Dad may not be comped for more than one meal so be sure to pack either quick snacks or meals that you can store in the fridge in the hospital if you don't want to buy or have family bring your meals in for the few nights that you're there.
When You Have the Baby
21. Wait to fill out the paperwork
You'll have the birth certificate and social security paperwork to fill out. More than likely, you will be exhausted from bringing this new little human in the world. Take your time to fill it out when you have a "clear" mind. Ask questions if you're confused if you don't understand the paperwork– After all, you don't want to make a mistake with your baby's name.
22. Call your health insurance to have your baby added to your insurance plan
You should have 30 days and in some cases 60 days, from their birth date to add them to your policy. But you should do this as soon as possible. Thankfully, the baby is covered, in most cases, for 30 days under mom or dad if they are the policyholder for all the appointment that they will have and for hospital care.
23. Start planning for a nanny or searching for daycare
Once your maternity or paternity leave is over and you need to go back to work, you will want to find the best nanny or daycare for your baby, unless you can stay home for a longer duration to care for your baby.
24. Take the advice
Moms, young and old, will be giving you advice on how you should parent your child. Your parents have your best interest at heart, and more than likely just want to give a helping hand. Take the advice. They aren't insulting you or saying that you're a bad parent. They're just seasoned and know a thing or two.
25. Have a list of visitors
While you're in the hospital, you will more than likely get a slew of visitors. If you don't wish to have any visitors, ask that they wait until you're home to visit. If you're feeling overwhelmed, ask guests to come back another time or come back when you and baby are home.
26. Don't be afraid to ask
If you have questions for the nurses, ask. If they don't personally know the answer, they will find out for you. They are very resourceful when it comes to knowledge of you and your new bundle. But the one big thing that you shouldn't feel afraid to ask– "Can you take the baby to the nursery for the night?" The nursery is there as a resource. While your hospital stay is not a vacation, the few hours that you will get from the baby being in the nursery will give you a few moments of peace.
27. Ask your nurse to take your first family photo
They get asked all the time. Don't hesitate to ask for a family photo. You will treasure that forever. Your first family photo with your new little one. You won't even care if your hair isn't done, the first family photo will be one for the books.
28. You will be forgotten
Don't be sad or upset when friends and family stop asking about you when they are more interested in the tiny human that you've brought into this world. Take this moment as a breather. While it may be your instinct to feel hurt or sad that you don't have the spotlight, you should revel in a few moments that you don't have a baby hanging off of you.
29. Mom, give yourself time to heal
Don't let your housework get in the way of the healing process. You may have laundry to do and dishes to wash, but I assure you, they can wait. Focus on healing, your baby, and learning all about your little bundle of joy. After all, you wouldn't want to have to make yet another trip to the doctor for something silly, like a ripped stitch from not taking it easy. Don't make this harder on yourself.
30. Be mindful of your fur children
If you have pets, more than likely, they will also have to adjust. While they were there first, the baby does not know that. Be mindful to respect your pet's space and feelings too.
Be sure to bring something of the baby's (that you're not going to reuse or want as a keepsake), like a blanket from the hospital so that your pet can smell and get acquainted with the new smell of the tiny person living in your home. This will make for a smoother transition when you bring baby home.
Baby Clothing Tips
31. Don't buy expensive shoes
Your babies will do just fine with cheap booties and will grow out of any pair of shoes you get them. Your baby will develop very quickly. Keep this in mind before you go off buying expensive name brand baby clothing.
32. Get a few white onesies
There is no need to buy a bunch of clothes, and you will probably use onesies underneath their clothing. Buy white onesies so that you can bleach them after your baby spits up on them instead of trying to spot clean them.
33. Buy unisex clothing if you may have another baby
Don't just buy all pink clothes if your first is a girl. You may have a boy if you plan to have another baby and can re-use the baby clothing if it's unisex.
34. Buy used clothing for special occasions
If they will only wear the clothing one time, then look at consignment shops or buy used apparel online. This way you aren't wasting money on something that may be worn one time for one kid.
When you're home the first few weeks of baby's life, footie pajamas are the easiest way to change your baby, especially in the winter time. Footie pajamas are nice in the summertime too, so you don't have to use a lot of blankets.
36. Sock, sock, and more socks
Not only are their little feet tiny, but so are their socks. Be sure that you have socks that fit their little feet.
Pro tip
You can also use socks on their hands to keep them warm at night!
37. Washable laundry bags
Baby clothes are a lot smaller than regular clothes, so chances are they will get lost. Use laundry bags for mittens, socks, and hats when washing to take care not to lose them.
38. The detergent
Believe it or not, babies need special and gentle laundry detergent to clean their clothes so that their skin doesn't break out. Make sure you pre-wash their clothes so that when you bring baby home, they will be able to wear their uniforms.
39. Think of the time of year
Often, people see small clothes and think, "How cute! I have to get this." While that is ok, chances are, your baby isn't going to be able to wear it if it's not the right size. If the baby is born in the winter and you see this totally rad, short-sleeved custom onesie, get in 6-9 month sizing so that they can wear it. If you got them a newborn, they wouldn't be able to wear it in the colder months.
Zippers are more accessible to open and close, while buttons are easier to get on and off. It's a struggle dressing a squirmy, little human, so pick your battle wisely.
Health is Everyone's Top Priority
Your baby's health will be significant to any parent, but you also want to keep in mind your health as well as your partners throughout the growth of your first-time parent. Sometimes new parents can easily get stressed with lack of sleep, unexpected bills that weren't budgeted for, not having quality or personal time, constant baby crying or changing of diapers, and many more reasons.
But always keep in mind that having great health – both mind and body – is essential to raising a child in a positive lifestyle.
41. Take turns waking up for your newborn
A common mistake when a baby is continuously crying throughout the night is that both parents wake up. Take turns waking up either every other time or designate certain nights to one of the parents.
Figure out what will work best for you because sleep deprivation, while expected with newborns, can be drastic towards your health, mind and overall well-being, and also can bring a higher risk of getting sick.
42. Don't turn down help from loved one
Taking on any and every task around the house, like cooking and cleaning, while also taking care of a newborn can put off a lot of stress on new parents. Ask for help from family or close friends to help ease some of these chores.
43. Keep your daily routines and time for yourself
Whether it's exercising daily or reading a book, you need to have personal time to relax your mind or keep increasing your endorphins and energy level that you may need throughout the rest of the day.
44. Go out with family or friends and stay active
Just because you have a newborn doesn't mean you can't ever go out. Whether you can get family members, grandparents, babysitter, or a nanny to help watch your baby, you should continue to get out and go to yoga, go hiking, or out for a coffee or drink to socialize with a friend.
45. Keep building your relationship with your partner
It's imperative to keep communicating with your partner on matters that don't involve your newborn. Continue to grow your relationship and intimacy which will help with your overall health and long-term life with your child.
46. Take some "me" time
Don't be scared to go for a drive, take a walk, or relax and enjoy a book. It's ok to take a breather just to sit and relax. The housework can wait for a few moments. Be sure that you don't stress yourself out.
47. Take some time, just the three of you
In the first few weeks of your baby's life, you'll have lots of visitors. Don't be afraid to close your house up for the night and have a date–The three of you!
48. Lots of people
With lots of people come lots of germs. Don't be afraid to ask guests to wash their hands before they hold the baby. If it's cold and flu season, ask that they not come if they are feeling ill.
Pro tip
Keep hand sanitizer nearby so you can ask them to sanitize their hands for a quick and easy clean.
49. See the doctor
If you're one to skip out on appointment for yourself, don't. Go to the 6-week postpartum checkup and be sure that everyone is ok. Make sure you follow orders– After all, your doctor has been through this a time or two and knows what is going on.
50. See the signs
Dad, this one is specifically for you. Postpartum depression is real. As mentioned above, PPD is real. Mom may not recognize the signs of it and may not see a difference in herself. More than likely, you will see the differences before she does. Don't be afraid to talk about it or seek medical attention.
Sleeping Tips for You and Your Baby
51. Follow their schedule
While this may seem a little strange, you want to follow their schedule to get to know them. They aren't going to have a schedule for the first month or two of their lives.
52. Try your hardest
When your baby sleeps during the day, have them sleep in their crib or bassinet. This will get them used to the times that they will be in their bed alone. Don't hold the baby all the time; this one is so hard, but try your hardest.
53. Start off slow
Slowly introduce a schedule into their lives. For example, figure out a time that works best for you when it comes to bedtime. Aim to have them in their bed by that time. Don't be alarmed if you are a few minutes late. You'll get there and so will they.
54. Have sleep indicators
Have indicators that let them know it's time for bed. Bath, bottle and book, bed or rocking them and singing to them. After a while, doing this routine at the same time every night, they will learn that it's time for bed.
55. Follow the standards
Many times, the hospital will tell you how your baby should sleep or what is recommended nowadays. Try to follow the standard, not only for ease of mind but their safety as well.
56. The lifesaver
Some babies may not like this, but for those that don't like the silence, that like to feel as though they have someone close to them or near them, then a baby sound machine could be a lifesaver.
A sound machine is exactly what it sounds like. It makes noise, almost like a calming radio (without the static) to calm them when they cry. The sounds include lullabies, rain, a heartbeat, and much more.
57. Swaddle your way to sleep
Using swaddles are great, especially for those new, fresh little babies. The swaddle gives them the feeling of being bundled, like in the womb.
58. Feeding before bed
No matter when your baby was last fed, offer them a bottle or a chance to nurse to "top their tank off." You wouldn't want to go to bed on an empty stomach, don't make them!
59. Clean diaper
Make sure your baby has a clean diaper that is loaded with zinc oxide paste to protect their skin. While some babies sleep through the night, you don't want them to sit in a wet diaper all night until they wake up.
60. Unless otherwise recommended
Don't wake baby for feedings at night. More than likely they will wake on their own to feed every two to six hours. If not, consult your doctor to see what they recommend.
Safety tips every new parent should know
61. Babyproof
While your baby isn't mobile quite yet, they will be mobile quite quickly. Get your home baby proofed so that when they take off, you don't have to worry.
62. Temperature of 101 or higher
​A temperature of 101 or higher could be deadly for an infant. Be sure that if your baby has a temp, call your doctor to see what they advise.
63. Hold off on the baby Tylenol
If you received baby Tylenol at your baby shower, know that you shouldn't use it for the first few months of their life. Tylenol can mask a fever, which in turn could mask a bigger problem. Ask your doctor when you can start to give your baby Tylenol and what dosage you should use.
64. Bathwater temperature is different for everyone
Make sure baby's bath water isn't too hot to burn their skin. While this may seem like a no-brainer, what would feel good to you may be too hot for them. Just be caution in drawing a bath that you don't make the water too hot.
65. They're slippery
With bath time comes a slippery baby. Be aware that if you have to carry the baby to a towel or move them from their bathing area, they will be slippery.
66. They can roll
With the baby being so young, they can wiggle. Be sure if you have them resting on the couch with you or laying on an ottoman, they may eventually make their way to the floor. Don't leave them unattended if they aren't secured to a swing or bouncer.
67. Be aware of allergies
Take caution to see if they have reactions to certain soaps or detergents. This may be an indication that they may have food allergies later on when solids are introduced to them. If you're unsure of a rash or mark on your baby's skin, call your doctor.
68. Vaccines
Be aware, that if you're taking your baby to a public daycare, you may have to get your child vaccinated. If this isn't something that you wish to do, be sure to talk to the daycare that you're choosing to go with and see what you have to do and why they require them. Ask your doctor about anything regarding vaccines if you have questions as well.
69. Understanding daycares and babysitters
There will be germs in daycares and with babysitters. Your baby will be exposed to colds, the flu, lice, and maybe other things that you don't wish to see your child suffering from. If your child is sick with a fever, make sure you keep your baby home and seek medical attention to make sure they are ok.
70. Keep their head covered
This tip is for winter babies! Babies have a hard time regulating their body temperatures and can't often stay warm when it comes to the cold. Be sure that you keep a hat on them so that they can stay warm a little bit easier.
Advice for Dads
71. Don't forget about mom
Mom went through a lot, a very traumatizing experience, her body does need to heal. Be sure to be attentive to things around the house, more so than usual to help her focus on healing.
72. Really be there
Don't just be there in a physical sense. Be there in a mental sense as well. Make sure that you know the details of your baby. You should know the information when the doctor asks. It's your kid too!
73. Compliment her
After having a baby, mom may feel unattractive. Make sure you give her compliments, tell her she is pretty. Let her know that you admire her. Boost her confidence.
74. One on one time with your baby
Take some time and get to know your little one. One on one! Sit on the couch and chat with them or go for a drive just the two of you. This builds a bond and gets you more comfortable with your baby.
75. Take over dinner
Take over making dinner one night. You don't even have to cook. Call take out and grab it. Surprise her with dinner. Be sure to clean up too! Check out our guide to the best cookbooks.
76. You may have to be the driver
Depending on how delivery goes, you may have to be the driver of the family for a little bit. Don't be alarmed if mom is advised that she can't drive for a little while.
77. Don't forget about yourself
You are adjusting to a new schedule and a new person in your household too. Make sure you take the time to take a breather and relax also.
78. Learn to be patient
You may be used to doing things at your own pace, but you have to learn and understand that a baby is a whole new ballgame. More than likely, you will have to learn their schedule and how they roll. It will take a little understanding and a lot of patience.
79. Walk away
A baby crying can get on anyone's nerves, be sure that if you feel as though you're overwhelmed, put the baby in the crib and walk away. Don't hesitate to go to a separate room to compose yourself and take a breather for a few minutes.
80. Learn how to change a diaper
Educate yourself on how to change a diaper appropriately, and volunteer to change their diaper whenever you are around. You will change hundreds, if not thousands, in the time that your little one is in diapers. While you may have an idea of how to change a diaper, there are logistics of it.
If you have a little girl – front to back is a must. If you have a boy and you have to deal with circumcisions, be sure to learn the proper way to take care of his sore, little wee. Don't forget the butt paste!
Advice for Moms
81. Don't forget about dad
You can't neglect dad just because you've got other things on your mind. While you're busy learning your little one's new schedule, don't forget about the person you decided to take this journey with.
82. You will feel awkward
If you're breastfeeding, you will feel awkward until you get the hang of it. Even then, you will feel awkward. It's okay to ask friends and family to leave or excuse yourself from the situation if you're feeling awkward.
83. Time will fly
Sit and memorize their little face. You will be sitting in the stands at graduation before you know it.
84. The baby weight
While baby weight is annoying and it will take work for it to come off, don't fret. You've undergone a very traumatic experience. Your body needs time to recoup. Ease back into your workout routine.
85. Give dad compliments
Dad may be a little insecure when it comes to handling a small human. Be sure to give him encouragement and compliments with things he is doing well. Don't criticize him for not understanding, knowing, or doing something well. He may have never handled a baby before!
86. Don't be obsessed with germs
While it is a good thing to keep baby safe, washing your hands and hand sanitizing every single time you touch the countertops or open a car door is a little obsessive. Build your baby's immune system slowly but surely.
87. Enjoy nap time
When baby naps, you nap, right? Wrong. More than likely, you will be too nervous or anxious to sleep when they are napping during the day. If this is the case, make sure that you take a moment just to sit down and relax. The housework can wait. Take a hot shower, read a book.
88. Treasure the small moments
While your baby will hit significant milestones quickly, at that moment, it will feel like it's taking forever. Remember that when you look back, you will feel slighted of time. Make sure you take a breather and just enjoy the little moments and all of the milestones.
89. Enjoy time away from your baby
Hang out with the girls. Go take a hot bubble bath. Just do something away from your baby. Not only will this give a refreshing moment of clarity, but this will also give you a refresher that you are, indeed, a human being and you have the need for adult conversation too. Plus, it will get you out of the house and ease you back into society.
90. Follow your gut
If you think something is wrong with your baby, go with it. Call their pediatrician. No one knows better than a mother's intuition.
More parenting tips
91. Burp cloths
Get more. You will go through burp cloths, and clothes like you wouldn't believe. You will be doing a lot of laundry every day if you don't have a few extra burp clothes laying around.
Pro tip
Hand towels or tea towels make for great burp cloths.
92. Use your phone
Your phone will be your "little black book." Dates, times, reminders, and other events can be put on your phone to help you remember all the things that you'll forget. Put reminders in for when your bills are due. Find an app that helps track feedings, diaper changes, and sleep schedule for your baby.
93. Crying is ok
Babies can't communicate by talking. They only have crying as a method of communication. In your baby crying, they will be able to let you know what they need. They need to be fed, changed, held, burped or if you can't calm them down with one of the previously mentioned solutions, then you may need to consider consulting with your doctor if they cry for more than two hours.
94. Take a picture, but not too many
Capture your little one, either with your phone or camera as much as you can without going overboard. Make sure that you capture their firsts and their little moments, but don't be an obsessive photo taker. While photos are great to look back on and reminisce with, be sure that you actually live those moments too.
95. Communicate clearly
Talk, communicate, and live with each other peacefully. Don't take for granted that just because one of you mentioned something that that is what goes. You may have chatted about who was going to do what tasks for baby (or for each other), but maybe they weren't solidified or communicated clearly. This will save you a ton of frustration later.
96. Take turns
Take turns caring for the little one and doing chores. Take turns changing a diaper while the other folds the laundry or one does tummy time while the other does the dishes. This way both parents are well versed in what needs to be done around the house and how to care for the little one.
97. Don't turn the volume down
If the baby is sleeping during the day, don't turn the television down. Don't hold off on vacuuming or running the blender. Make sure that you keep up with all your daily tasks even if they are noisy. Your baby will get used to it and will more than likely be able to sleep better when there are special occasions (like Fourth of July fireworks).
98. Emergency kit for the car
While you will more than likely have your diaper bag with you everywhere you go, be sure to take the time to make a small kit to keep in the trunk of your car with a small pack of wipes, diapers, and an extra outfit. That way if you have a situation like forgetting to restock the diapers or you used the spare outfit in your diaper bag last week and didn't replace it– You will have your emergency spare in the car.
99. That energetic moment
You will get that moment of energy raging through you. Don't get too excited. It won't last. Make sure when that moment comes, don't kill yourself trying to get everything done. You do not have to be a super parent. You will eventually crash, and that is ok. Just go with the flow.
100. The umbilical cord
The gross thing hanging out of your kid's belly button? Yeah, terrifying. It's gross, and you have to be put a diaper on it. When it finally falls out it will look like a dried tree root. If it smells (like a nasty odor), has pus coming out of it, or is inflamed, you need to have it looked out. It may be infected, and there may be a more significant issue than you realize.
101. Make sure baby burps
If baby doesn't burp after a feeding, you may be in for a nightmare later. A nightmare as in a terrifyingly shrill scream fest. Baby has gas build up when it comes to bubbles from ingesting too much air at feeding time, and this causes pain in their belly that they don't know how to fix. It may take awhile, but just make sure that baby burps after every feeding.
Have more parenting tips for new parents and newborn care? Please leave them in the comments below!