Disclaimer: this post contains Affiliate Links. Read about what affiliate links are and how we use them here.
38 Weeks Pregnant Baby Bump Update
Baby is a: Leek
Weight gained: 0 lbs
Total Weight gained: 46 lbs
38 Weeks Pregnant Symptoms: Is there such a thing as 3rd trimester morning sickness!? Supposedly so, and I have it. I feel nauseous randomly throughout the day. According to the midwife, it is common and the body's way of getting ready for labor.
Cravings: Frozen Yogurt.
Aversions: No aversions, just never hungry.
Sleep: Hit or miss these days. I either am waking up early or can't fall asleep.
Excited for: Being so close to the due date. I am so excited but also nervous. I now know how your world literally changes in a day. I could have never predicted it with my first.
Missing: While I am excited for baby to arrive, I am not a fan of the unpredictability of birth. Every day, I feel like it could be the day, because it technically could. It makes me a little on edge every day and I miss not having to deal with that. I went into labor with my first on her due date which also gives me an unrealistic idea of when babies arrive.
Movement: I think as she starts to sink down lower, she is moving more. Either way, she is moving a lot.
Dr. Update: I had another appointment, which wasn't anything exciting. She did tell me that baby is very low and her head is still down. Her heartbeat is good and she was moving all over the place during the appointment.
Exercise: No
Stretch Marks: No
Swelling: Yes and don't think this will change until after delivery. It's a good thing I am almost there!
Maternity Clothing: Wearing the same essentials as I have during the last few weeks such as husband's shirts, maternity overalls, oversized swim suit and all of my favorites from my Stitch Fix.
Labor Signs: No
Wedding Rings On: No. They are off for good until post-partum.
Belly Button In or Out: OUT!
How I'm Preparing: We are adding to our hospital bags, specifically food. Our hospital does not provide food for dad, so we have stocked up on frozen meals for dad to bring to the hospital. We have also bought and packed granola bars, trail mix and other snacks for both of us. We packed a night light because nursing throughout the night is so much easier with a night light. We won't have to turn on the main light every time baby wakes up.
Another thing I have decided to bring this time around is music. I didn't even think of this during my first labor and know it could be very helpful during those contractions. We also made sure to back some items for our toddler when she comes to visit us like a baby doll from her baby sister and some books.
Now, that we are so close, I have also split my bag to be one for labor and one for recovery. This way we only need to bring in the labor bag when we arrive at the hospital.
Best Moment of the Week: Getting in more quality toddler time this week. As baby's due date approaches, I know my time and ability to do activities with L will be different. We went to her favorite library and got some quality reading time in, which is L's favorite activity. We also went swimming and to a few playgrounds. And of course, spent some time with her favorite friends, Alli and N.
Follow my pregnancy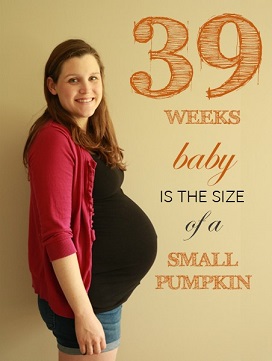 Are you preparing for a baby also? Check out our Bump Smart section.