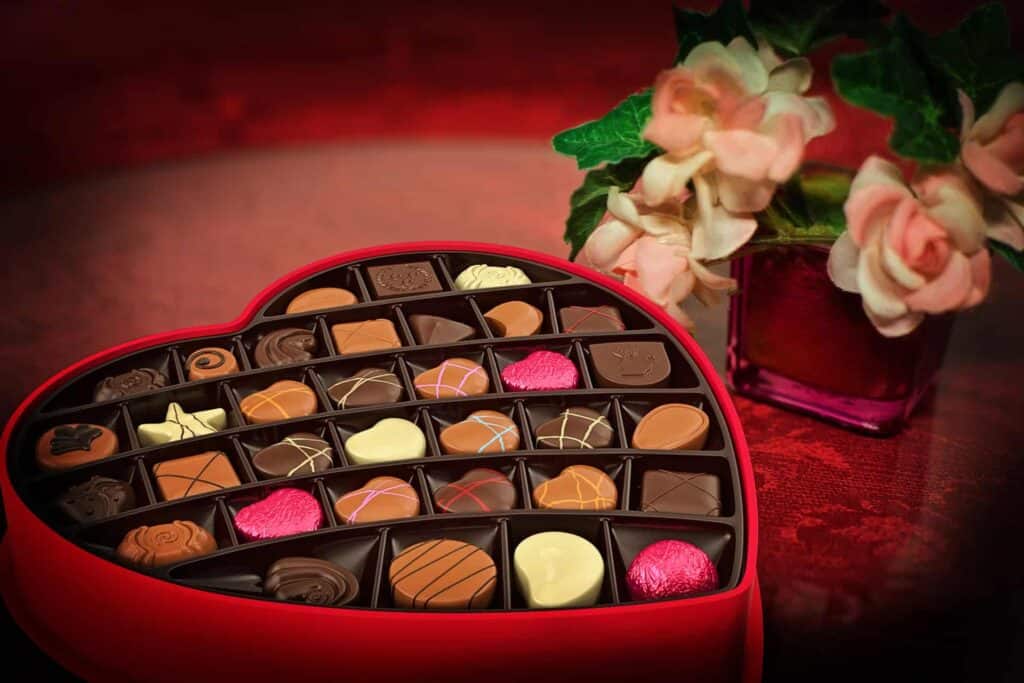 The idea of a romantic Valentine's with kids may seem impossible, especially during a pandemic. However, there are many ways to bypass the obstacles and make this a Valentine's Day to remember.
It just takes a little creativity and some motivation to make things happen. You may have to think outside the box or find ways to incorporate your kids into the holiday.
Finding romance in the little things or in the effort it takes just to be together can be enough for some people, but there are also many ways to do this holiday that will cater to anyone's idea of romance.
Whether you need that one-on-one time or you don't care about privacy and just long for an atmosphere of love, we've got you covered with some exciting ideas for how to have a romantic Valentine's with kids.
Get Out of the House Dates for a Romantic Valentine's with Kids
You can't ignore the fact that we are a year into a pandemic that has kept us cooped up in our homes with little contact outside our immediate family. To put it simply, it is frustrating and has left many people longing for some time outside of their homes.
If just getting out of your four-walled abode seems like a dream to you or your partner, one of the most romantic things you can do is go into the outside world. There are a few ways you can plan an out-of-the-house date that will knock your sweetheart's socks off.
A simple walk
Take a walk and have a good talk. Regardless of where you are and your local restrictions, the one thing you can do outside of your home is to go for a walk. Drive somewhere outside of your normal area and take in the great outdoors.
While you walk, take some time to reconnect. Talk about anything and everything. You can discuss your current going ons, or you can use this as an opportunity to get closer and discuss inner feelings and thoughts.
Sometimes in the day-to-day drag, it is too easy to end up never having a real discussion with the one you love. Push all those outside distractions to the side and take this time for just the two of you to come together and connect.
Plan an outside date
You can also create a date that is outside if you can't get someone to watch your kids while you go on a walk or otherwise cannot get away. Pack a picnic and head to your backyard. Set up a tent and create a romantic atmosphere.
You can have traditional food items, such as chocolate-covered strawberries and play love songs. You can decorate, too, and make it look like cupid paid a visit.
Even if you can only get away for an hour while your kids nap, it is a great time just to be together and share a moment where you focus only on each other.
Go out on the town
Many areas are slowly lifting pandemic restrictions, which means you may be able to grab a sense of normalcy with a date out on the town. Check your local regulations to see if you can go out for dinner at a restaurant, catch a movie, or attend a play.
Having something so normal, like a date night outside of your home, can do wonders for your morale and relationship. Of course, you will also need to find a sitter, but if you can find one, this may be the best option for you if you are in a funk due to the pandemic restrictions.
Just the Two of You
If you want a Valentine's Day without your kids interfering where you can get alone time, then the best option is to plan something for after you put your kids in bed. A nighttime date can be simply amazing and give you the chance to find some real romance.
Recommended Read: How to Keep Your Toddler in Bed: A Complete Guide
Make dinner time special
After you fix and clean up the chicken nugget and mac 'n cheese dinner that you fed your kids, you can whip up a romantic dinner for two. Let your significant other get the kids in bed while you craft tasty bites.
If you aren't much of a cook, consider ordering a meal kit box, which comes with everything you need and includes instructions that anyone can follow to make a meal that will tempt your tastebuds. You can also take a cooking class to learn how to make a romantic meal.
Don't forget a decadent dessert. Whether you buy it or make it, the dessert should be something sinful and indulgent that you would not usually have. Ending the meal with a tempting treat will cap off the whole experience.
Make sure to set the scene, too. Get out the fabric napkins, table cloth, and candles. Pour some wine, dim the lights and serve up some romance. Having the cozy togetherness that comes with sharing a good meal can open the night up to many possibilities.
Recreate your first date
Another thing you can do after putting the kids to bed is recreating your first date. It will be a challenge since you will have to figure out how to do it within your own home.
Some people may have more struggles than others, depending on where your first date happened. However, that is the fun of the whole thing.
Try to remember the details and focus on those. While you may be unable to recreate the Ferris wheel experience, you can still enjoy the cotton candy you shared or the bottle game where you won your love a stuffed animal.
Recreate what you can. You will blow your partner away with the lengths you went to for him or her and make it the most romantic Valentine's with kids you never thought you'd have.
Write a love letter
While you don't necessarily have to wait for your kids to go to bed to write your letters, it is nice to share them with each other when you are alone. You can light some candles, bring some candy and wine to share, and enjoy reading them together.
Writing isn't everyone's cup of tea, so don't try to force it if your partner isn't up for it. That doesn't mean you can't write him or her one, though. Sharing your deepest innermost feelings can create the right atmosphere for a very romantic evening.
Get an at-home massage
Some services are up and running due to lifted restrictions. If you live in an area where you can book an in-home massage, it is a fantastic way to reconnect with your partner while getting a little pampering for yourself.
Some services will offer late appointments, but you need to book fast before they fill up.
Create a spa space in your home that you use for the event. Make sure to have some soothing music, candles, and low lights, and get ready for the most romantic Valentine's with kids you've ever had.
Fix up some fondue
Fondue is not just for the oldsters. It is a lot of fun and exceptionally romantic in its own way, so break out the fondue set.
Create a savory fondue from cheese and put some bread, veggies, and meat on the side for dipping. You can also do sweet with a chocolate fondue and brownies, cake, cookies, and fruit for dipping.
To up the romance, try dipping items and feeding them to each other. It may get a little messy, but that's perfectly okay. Finish off the night with a soothing couple's bath, which will really make it a romantic Valentine's with kids.
Romantic Valentine's with Kids Including the Kids
Valentine's Day may be the most romantic holiday, but it is also about embracing all types of love. If you can't find a sitter or you don't want to leave your kids out of the festivities, then there are plenty of great ideas for the whole family.
Since your kids may not get to enjoy Valentine's Day parties at school this year due to remote learning or other changes because of the pandemic, it can be nice for them to have you include them.
Plus, there is no better example of the love you share with your partner than the children you are raising together.
Get crafty
Try doing some Valentine's Day crafts as a family. Crafting can be something easily adjustable to any age group, so it works no matter what age of children you have.
Fun crafts include anything from making simple woven hearts and filling them with candy to creating a Valentine's tree with homemade ornaments. You can also create decorations to hang around the house to put you all in a festive mood.
Making sugar cookies is a great way to spend some time together as a family. Use heart cookie cutters and decorate with red and pink icing. Let the kids add on additional decorations, such as candy, sprinkles, and edible glitter.
You can make extras to box up and drop off with family you haven't been able to see. You can watch them open the box from your car and enjoy spreading the love throughout your group of family and friends.
Have a party
Virtual parties are all the rage during this pandemic. Why not do one for Valentine's Day? Give an old favorite holiday tradition a modern makeover.
Recommended Read: New Family, New Holiday Traditions: Blending the Old and the New
To make the party special, plan ahead. Send out cards marked clearly with a do not open until party message. You can even have the kids make the cards.
You might also take some of the cookies you've made and attach the cards to a box of them, so everyone has a treat to enjoy during the party.
Decorate your home to put yourselves in the party mode. Find some love-themed music to play, as well. Don't forget to plan a few games to keep everyone entertained and to add some more fun to the party.
Make sure to give everyone directions on how to get into the virtual party room, and ensure the more technically-challenged people make it there without trouble. Try to choose a user-friendly platform if you will have a lot of guests who aren't used to online meeting platforms.
Build an in-home or drive-in movie theater
You can create a movie experience right at home. Start by planning the space. If you have a large family room with plenty of comfy seating, then do it in there.
However, if you have a large building and a movie projector to project the movie on the side, making a drive-in can be super fun.
You can even invite other people over to watch since you can maintain social distancing. This can help to create the authentic feel of going to the movies.
Don't forget about providing refreshments. Pop a bunch of popcorn and put it in bags or containers for everyone to grab and enjoy. Fill a cooler with ice and add in bottles of water or soda.
Choose movies perfect for Valentine's and age-appropriate for all viewers. You may even want to do an adult-only event after bedtime with your favorite R-rated romantic film.
The best part about a movie night is that you can still make it a romantic Valentine's with kids. Cuddle together with your partner as you watch romantic movies. Just remember a cozy blanket to keep you warm.
A Romantic Valentine's with Kids Can Still Happen
Just because you are stuck at home in pandemic lockdown and it's hard to find a sitter does not mean this Valentine's Day won't turn out to be full of romance, passion, and love. You can still find many ways to celebrate.
Whether you want to make it a family event this year and focus on love or you want to carve out some together time with your romantic partner, there are many options of things to do to make the holiday just what you crave.
So, get creative and be willing to go a few extra steps this year when planning your Valentine's events. You can make it a romantic Valentine's with kids no matter what you choose to do, how much time you have, or what limitations your area may still be under.
Choose something from our list and have a ball celebrating love. Then let us know how it worked out for you by leaving us a comment below.