Is an umbrella stroller the stroller for you?
Now you may be wondering:
What can an umbrella and a stroller possibly have in common?
Surprisingly, more than you think.
Umbrella strollers can easily be recognized by their handles. Rather than join in the middle, they curve upwards, much like the handle of an umbrella.
But the best part about umbrella strollers is that, like an umbrella, they are lightweight, and fold down to a fraction of their size.
When folded, umbrella strollers sort of look like an unopened umbrella.
What sorcery is this? Where did the rest of it go?
Umbrella strollers fold down small. real small. They are absolutely amazing at throwing in the trunk of a small car, easy to CARRY over your shoulder or even taking on airplanes and can steer through tight spaces like it's no ones business.
Oh, and it gets better, umbrellas are by far the cheapest out of all the strollers. Starting to sound like a pretty darn good stroller option, isn't it?
But before you run out the door to buy one…
Umbrella strollers are NOT suitable for everyone.
In order to offer you all this, sacrifices must be made. You are trading WEIGHT and SIZE for features.
You are kidding yourself if you think you can take this stroller off-road, or jogging. Yet parents continue to disappoint themselves by setting unrealistic expectations for the strollers they buy.
One of my favorite umbrella stroller reviews reads:
This is not a very good stroller. I cannot push it on the beach
And another one:
Terrible stroller. Can't fit my twin diaper bag in the basket
Yeah, no @#$%.
These unhappy parents could have skipped all the disappointment if they understood what an umbrella stroller is. It is super important that you spend time researching the right stroller for you.
Umbrella strollers are a barebones baby transport solution that are the perfect compromise between portability and comfort at a dirt cheap price (compared to fully featured strollers). If you are looking for an incredibly lightweight stroller to use at the shops or on the sidewalk then you will be more than happy.
But if you want a food tray, the ability to install a car seat, a loads of storage or any other more luxurious features, it's back to the drawing board for you.
Umbrella strollers are cheap enough that many parents buy them as a second stroller that can easily be thrown in the trunk of the car without taking much space.
One last thing…
When comparing umbrella strollers EVERY POUND COUNTS.
The appeal of an umbrella stroller is that it is light weight and portable.
Apparently some manufactures think strollers above 15 lbs is considered portable. And I suppose with a lot of heaving and straining (and cursing), they are right.
But here's the thing:
Heavy umbrella strollers are for chumps. A light weight umbrella stroller will allow you to balance a baby in one hand while tossing the stroller in the trunk with the other.
Less than 16 lbs is an absolute must.
If you are considering a stroller that weighs more than 16 lbs then you are much better going with a fully featured stroller. You know, one that you can take off road, has cup holders and other whizz-bang features.
Plus, a light weight umbrella stroller can be used as a weapon, fending off rival mom's during the Black Friday Sales. Simply lift the stroller above your head and if anyone comes near:
Whack! – All the discounts are yours!
Okay, enough encouraging mommy on mommy violence. It's time to check out the:
Best Umbrella Strollers
Economy Umbrella Strollers
For the purpose of this guide, economy strollers will be those that are less than $100.
But what about those dirt-cheap umbrella strollers you can pick up for less than $20.00 at Walmart?
I would only recommend using these if you want to rage in public. And no one wants to be that Mom.
Don't be lured in by the super cheap price. the wheels might as well be square, the seat is uncomfortable, the frame is wobbly and without adjustable handles, you will push this stroller hunched over and suffer from a bad case of achy breaky back.
You deserve better than that!
If you can stretch the budget even a little bit then these umbrella strollers will keep you street free while you push your baby.
Let's start off by taking a closer look at the best economy umbrella stroller:
MSRP: $99.99
(you can pick it up for around $80)
Standing Dimensions: 27″ L x 18″ W x 43″ H
Folded dimensions 43″ L x 10″ W x 9″ H
Weight: 12 lbs
Suitable for babies 6 months – 50 lbs
The undisputed king of economy strollers. Let's break down this stroller piece by piece:
The Seat
A major gripe with many umbrella strollers is that the seat feels thin and uncomfortable. Not so with the 3D Lite umbrella stroller. The thick seat provides a very comfortable ride for your baby. A comfortable seat is a must as it allows your baby to sleep in the stroller (your baby can't cry while he snoozes.
Worried your kid won't fit? Lets check out the seat dimensions:
seat width – 12 1/2″
Seat back height – 17 1/2″
Seat base to canopy – 28"
With the seat being able to hold up to 50 lbs this should see your child fit in the seat until the age of 4 or so. Although getting a 4 year old to stay put in a stroller is a whole other story
To top it off, the 5-point safety harness (a needed feature, 3-point harnesses are for suckers) is padded so that it wont dig into or pinch your baby's shoulders. Because babies grow quick (real quick) the harness can be adjusted to one of three height positions to keep your baby secure as he grows.
Just when you thought the seat couldn't get any more comfortable, it reclines: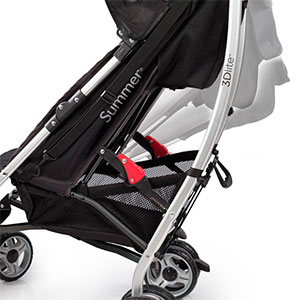 This is no gimmick. The seat reclines back far enough that your baby will be in a comfortable position while napping. If a bumpy stroller ride is just the thing to soothe your baby to sleep then you will love this feature.
Unfortunately for me, strollers are like coffee to my baby. I don't think he has ever slept in one, but I did really appreciate the recline for diaper changes on the go. Beats lifting him out of the stroller and finding a flat spot to lay down his diaper changing pad any day.
I struggled at first with the recline. You need to use both hands to toggle the tabs on the side of the stroller and you need to bend over to reach them. But once I got the hang of it, I was able to recline my baby the very second I got a whiff of his loaded diaper.
Canopy
The canopy is large enough to keep your baby in the shade without exposing his sensitive skin to the harsh suns rays. All the while not being so big and bulky that it blocks out your child's view of the outside world (cause that's where all the fun stuff is).
The canopy is adjustable and can be completely removed at a moments notice. I generally remove the canopy while shopping so I can keep an eye on my little one as he loves to grab things off the shelf the second I turn my back.
Pretty standard so far, right?
But the tucked beneath the canopy is a secret weapon that is super handy when pushing your stroller towards the sun…
A pop out sun visor:
When they sun positions itself in that super annoying angle where the canopy just wont protect your baby simply pop it out for a little more protection. Works just like the sun visor in your car
However, late in the afternoon when the sun hangs low in the sky, even the added sun visor wont be enough to shield your baby. If you feel this is a deal breaker then you can always buy aRayshade Stroller Cover add-on. A cheap solution that will keep your baby comfortable in the afternoon sun.
Storage
Under stroller storage basket – Surprisingly generous for an umbrella stroller. Although the seat does eat up a lot of this space when reclined, it will be more than enough for the average parent to use on a daily basis.
Back pocket – A pocket on the rear of the stroller seat is perfect for keeping frequently used items like your phone or keys within easy each.
Cup holder – A single cup holder can be found on the side of the stroller than can fit a drink bottle or your baby's bottle.
If you are planning a full trip to Disneyland then a little more storage wouldn't go astray but throwing a backpack over your should solve this problem.
Wheels
The wheels are surprisingly versatile for an umbrella stroller. And make pushing your baby a very easy job, not something that every umbrella stroller can guarantee.
The front wheels can be locked into place so that they don't spin or twist as you push your baby over cobblestone roads or uneven surfaces. You don't want a front wheel to catch and the whole stroller to topple over now, do you?
If you are taking a brief shortcut across flatter grass or compacted dirt the wheels hold up well (for an umbrella stroller) but as you would expect; gravel, loose dirt, sand and any surface that gives you that "sinking feeling" are definitely not this strollers friend.
When you are back on flatter ground you can unlock the wheels (so they can swivel) which allows easily steer through crowded areas and tight spaces as if you were a racecar driver. Just keep in mind, you will need both of your hands to push this stroller with an older child in the seat.
The rear wheels can easily be locked in place preventing a bad case of "runaway stroller". Definitely something you want to remember when you stop for a rest on hills.
Folding and carrying
A clip lock stops the stroller from springing back open like a jack-in-the-box when folded. But this stroller has one more trick up it's sleave:
The 3D Lite umbrella stroller has a feature I absolutely love that is not often found on economy umbrella strollers; A carry strap:
Yes, that mom in the picture above IS carrying the stroller over her shoulder with a baby in the other arm.
Live in a 4th floor apartment with no lift? Throw the stroller over your shoulder and walk up with ease. It also works great for jumping on and off buses and trains. I am amazed more strollers don't have this feature. Once you have tried it you will think:
How did I make it this long using a stroller without a carry strap?
Of course the stroller isn't as light as your handbag (it's a stroller, remember?), so running a marathon with it on your back is out of the question. But the strap makes it incredibly simple to carry over shorter distances.
Please note, this stroller does not have a kickstand, meaning it will not stand upright on it's own when folded.
Other points worth mentioning
Color options– The 3d Lite comes in 6 funky flavors, from the bright and colorful to just plain black.
Suitable for taller folk – While the handle bars are not adjustable, they stand tall. My husband is 6'1" and doesn't need to hunch over (a common problem with other umbrella strollers), allowing him to push the stroller without straining his back.
Foam handles – Foam handles allow you easily control the stroller. The foam grips don't get hot and most importantly, they don't slip through your grip.
The bottom line – The Summer Infant 3D Lite offers you a whole lot of umbrella stroller for the price. While it isn't perfect, the 3D Lite leads the competition with very few flaws. For many parents this will be the only stroller that they need for their child. Highly Recommended.
Summer infant also offer a similar stroller at a lower price point:
Go Lite Conveniece Stroller
Looks incredibly similar to the 3D lite doesn't it? But do not be fooled. This stroller sucks. Big time. The build quality is terrible and it is an absolute chore to push around.
The quality difference is simply not woth the $15 you stand to save. Go without your morning coffee for a week, Buy single ply instead of 2-ply toilet paper. Whatever it takes to make up the small price difference between the two strollers. You wont regret your small sacrifice.
But what about the rest?
There is no denying it, the 3D Lite takes the crown for the best economy umbrella stroller. Let's take a look at the strollers that came close but just fell short in one way or another, starting with second place:
When discussing stroller brands, Inglesina is definitely not the first top come to mind, which is a shame because their umbrella stroller is definitely a cut above the rest. The quality is incredible.
Let's take a closer look at this excellent umbrella stroller:
The Seat
The seat is what gives this stroller it's name. It's made entirely from mesh. A more breathable stroller seat simply doesn't exist. The center of the seat has more than enough padding to keep your baby comfortable.
Let's check out the seats measurements:
seat width – 12 1/2″
Seat back height – 19″
Seat base to canopy – 26"
As you would expect, an adjustable 5-point safety harness will hold your precious cargo secure. While the shoulder straps are not padded, it caused my baby no discomfort whatsoever, even when done up tight.
Now you may be wondering:
Why does umbrella stroller in the price range not have padded shoulder straps?
This is not an oversight by the manufacturer. The thickness of the straps allow you to easily thread them through the removable padded seat.
Yep, you read that right. This padded seat is completely removable. I honestly wish more umbrella strollers had this feature!
What is the benefit of a removable seat cover?
You would think that every parent want's their stroller heavily padded, right?
After visiting Arizona (AKA the surface of the sun) I can tell you there are definitely people who do not want all that extra padding. The more padding on a stroller, the less airflow and in super hot temperatures that can make for one sweaty and uncomfortable baby.
Fortunately, the seat padding is completely removable allowing air to flow freely through the mesh seat (hence the name "Net"), cooling your baby in the warmer weather. Too chilly? Simply put the seat pad back in.
And hey, if your baby does sweat all over it, removing the padding makes it that much easier to clean (it's machine washable).
Worried about comfort? Even without the padding your baby will find the seat cozy and supportive.
The seat also reclines:
But not a whole lot. Even in it's most reclined position the seat sits more rather upright. The Inglesina Net is better suited to a slightly older child who has passed the stage where he sleeps in his stroller.
Reclining is dead easy. The two position recline is adjusted using the two zips down the side of the seat. Unzip them and the seat slides back. This design means that you will be unable to adjust the recline of the stroller while your child is sitting in the stroller.
The Canopy
Sunshade is quite deep and will definitely provide enough sun protection in most situations. As always, pushing your stroller into the sun will mean that you will have to give your baby some extra sun protection like a bonnet or sun cream.
The canopy is removable and completely washable. Now before you start singing it's praises, there is a reason for this. When folded, the wheels brush up against the stroller wheels. If you have been pushing your stroller through mud then you can be certain that you will get the canopy dirty when folded.
Now this is an extreme scenario and assumes you will actually be able to push the umbrella stroller through mud (you wont) but I thought it was definitely worth mentioning. Give the stroller wheels a quick wipe down with an old cloth before folding and you will be sweet.
Storage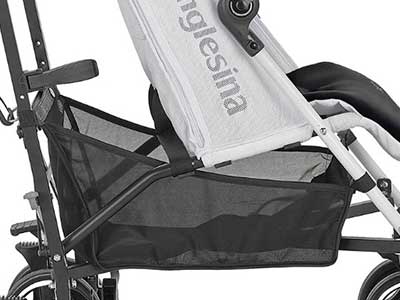 Like with most umbrella strollers, the star of the show definitely isn't storage but hey, if you wanted storage then you wouldn't be considering an umbrella stroller.
Under seat storage: Capable of holding up to 6.6lbs worth of gear. You will struggle to fit a diaper bag inside but there is definitely enough room for individual baby essentials.
Removable Cup holder Not even worth commenting on. Flimsy and will give you grief if you try to put a bottle inside. Skip it.
Wheels
All wheels are 5.3' in diameter and have shock absorbers to stop your baby from feeling every single bump on the ground.
As you would expect, The rear wheels have individual breaks allowing you to lock them on sloping surfaces.
The front wheels swivel and have the ability to lock straight when on bumpier surfaces for extra stability. Like with all umbrella strollers, the wheels are not designed to be taken off road but if you very briefly encounter playground mulch or shorter grass then they will get you across with a little pushing.
Stick to smoother surfaces and you will be fully aware of just how smoothly this stroller steers. This will be particularly noticeable if you are trading up from a cheaper umbrella stroller.
Folding and transport
The Inglesina Net has a feature that many of you will find incredibly helpful. It can stand upright when folded using the built in stand. Not only does this mean that your stroller does not lay on the dirty ground when folded, but you will not have to bend over to pick it up – great for sore backs.
A carry strap allows you to hoist the stroller over your shoulder:
Like I have said earlier in the guide, a carry strap is an absolute must if you catch public transport or find yourself faced with multiple levels of stairs. Throw the stroller over your shoulder and you will be able to take your stroller where no stroller has gone before.
With the umbrella stroller hanging off my back, it feels like I am wearing an arrow pouch. I love to pretend I am Katiniss Everdeen (Love Hunger Games) and fire imaginary arrows at passersby who look at me like I am crazy (I might be).
Other notable features
Different color choices – If you are choosing this stroller because of the airflow to keep your baby cool then avoid black. Black umbrella strollers heat like a furnace when left in the sun. You don't want to cook your baby!
Suitable for those with long strides – Find yourself constantly stepping on your strollers wheels? No need to adjust the length of your stride, this stroller will allow even those of you with the longest of strider to walk easily behind it.
The Bottom Line – A must have if you live in warmer areas and want your to keep your baby cool and comfortable. The upright fold will appeal to many. Despite a few quirks this is an amazing umbrella stroller!
@@@@@@@@
MSRP: $199
Standing Dimensions: 29″ L x 18.5″ W x 43″ H
Folded dimensions 42″ L x 10″ W x 8.5″ H (laying down)
Weight: 7.5 lbs
Suitable for babies: 6 months – 55 lbs
@@@@@@@@@
Yes you did read that correctly – The MacLaren Mark 2 stroller is just 7.5 lbs. My baby has done poops that weigh more than this thing!
Surprisingly, the lightest stroller on the market
You know the drill, here is where we break the stroller down piece by piece
The Seat
Other noteworthy features
Option of a foot muff (sold separately) – If you live where it is Winter all year round (looking at you, Alaska) then there you can add a foot muff (like earmuffs but for your legs). to this stroller. The foot muff is essentially a mini sleeping bag that comes to your toddlers waist (slightly higher on infants and smaller babies) and provides an extra layer to keep your baby toasty warm. So cozy that you will wish that you could climb in yourself!
Antimicrobial Handles – No soap in that dirty public restroom you just used? No problem. The handles on this stroller kill germs and prevent their growth on contact.
Premium Stroller
These are the Rolls-Royce of umbrella strollers. Unless you have a bit of cash to spare (or your last name is Kardashian) these strollers will definitely hurt your waller.
But for the extra cash dropped, you get an incredibly well built umbrella stroller, easy to push stroller capable of lasting multiple children.
Let's examine the leading umbrella stroller in this category:
MSRP: $355
Standing Dimensions: 29″ L x 18.5″ W x 43″ H
Folded dimensions 42″ L x 10″ W x 8.5″ H (laying down)
Weight: 15.9 lbs
Suitable for babies: 6 months – 55 lbs
To be honest, I didn't know whether to place this in my umbrella stroller guide or in the fully featured stroller guide. Since the strollers has the signature curved handles, umbrella fold and just scrapes under the 16 lbs mark; I decided to include it here.
The Seat
seat width – 13"
Seat back height – 18"
Seat base to canopy – 26" (30" with canopy extended)
That's a pretty generous seat. Unless your child is Guiness World Records tall then he will have no problems comfortably fitting in this stroller.
The at the center of the stroller seat you will find a 5-point safety harness.
The adjustable harness fits snug and comfortably with no complaints from my little one. But where the stroller really shines is the buckle. It is super easy for a parent to undo but will be a struggle for children to do (unless you talk him through the process step by step – don't do that).
Simply squeeze both the front button and rear button of the buckle at the same time and the harness unclips. It couldn't be easier. Trust me, there is nothing worse wrestling with a hard to undo baby buckle while holding your breath because your baby's diaper is loaded.
At the front of the seat is an adjustable foot rest:
This can be left down like normal or can be lifted up and locked into position, sitting level with the rest of the seat. This allows your baby to sleep without his legs dangling. What a great idea!
On the topic of sleeping, the seat can recline to one of four positions with the lowest setting sitting almost flat (closer to flat than any other umbrella stroller). Perfect for napping newborns.
Now you do have to use two hands to recline the back of the seat which can be a little fiddly but once you have practiced it a few times it wont cause you too much grief. It definitely isn't as easy as a one handed recline though.
Returning the seat to it's original upright position is a much easier job. Simply pull the seat up and it will lock back into place.
Canopy
I briefly touched on the height of the canopy earlier. In it's highest setting this is perhaps the tallest canopy on any umbrella stroller, providing your child with a whole lot of head room.
Located at the front of the stroller is a pop out visor that can offer a little more protection from the sun:
While the pull out visor is a great feature, it is also found on cheaper models as well like the Summer Infant 3D Lite and does not offer the best sun protection when later in the afternoon (when the sun sits at an angle).
This is a problem on just about every umbrella stroller – If you use the stroller out doors then at some point your baby's delicate skin will be exposed to the sun's harmful rays. It's unavoidable.
Until now…
Maclaren have come up with a genius solution. Hidden away at the rear of the canopy is a zipper. Undoing these zippers allows you to extend the canopy:
In this fully extended position, the canopy on the Techno XT will keep the sun out of even the shortest baby's eyes.
Extending the stroller also reveals another cool feature – Air vents. Without them the canopy would trap heat, roasting your little baby. The vents allow air to freely blow around your baby keeping cool and comfortable. After all, no one likes a hot and bothered baby!
While this stroller is advertised as having a plastic peek-a-boo window (so you can see your child with the canopy down) it is actually located on the back of the seat, seen here:
I'll be honest, not only is this window a little difficult to look through without awkwardly hunching over but you won't be able to see a whole lot of your child. It's a pretty useless feature in my opinion.
Now don't get me wrong, I understand why Maclaren positioned the peekaboo window a the rear – It stops the sun from getting in your babies eyes (a problem with canopy mounted peekaboo windows) but in my opinion they would have been better off not including one at all.
Oh, and as you would expect, the canopy is waterproof. No rain is going to seep through and drip on your baby.
Storage
Storage basket – A medium sized storage tray sits below the stroller seat (quite large for an umbrella stroller). With a bit of stuffing I was able to squeeze a full (not overloaded) messenger style diaper bag inside the basket. As with all umbrella strollers, the basket is difficult to access with the seat reclined.
Rear seat pockets Two pockets are located behind the strollers seat but you will most likely use one for the strollers rain cover (included in the box). These pockets are long so you can easily hold your bottle, wallet and phone. Oh, and they stretch – The elastic allows these pockets to expand to nearly double their size. If you are a stuffer then you will be able to cram a surprising amount in these pockets.
The wheels
Measuring 6 inches, these wheels are a lot larger than those of other umbrella strollers. Combined with 4-wheel suspension this umbrella stroller glides like butter
I have pushed a lot of different umbrella strollers in my time (ugh, writing that makes me feel old) and the Techno XT is definitely one of the easiest to maneuver.
You will still need two hands to push this stroller. If you expect to push this stroller with one hand and beat the latest level on Candy Crush with the other then you will go nowhere fast.
As is expected, the front wheel lock straight for bumpier terrain or can swivel for swerving around busy sidewalks. The rear wheels each have a break to prevent your stroller from rolling away. Pretty standard.
The hubcaps of the wheels reflect any light that hit's them. If you are a parent that takes your baby for night time walks then you will know just how important it is to remain highly visible.
Another feature I loved about the stroller is the location of the brakes. The breaks are high enough that they will not catch on the step of the stairs (a common problem with umbrella strollers). If you need to take this stroller up a small flight of stairs you can easily pull it up backwards with your child inside. No more taking baby out of his seat just to so I can pull the stroller up three steps.
Folding and transport
Folding the Techno XT is incredibly simple and I am happy to report I was able to fold it down with one hand, even with baby in hand.
Now I must mention that this is a little on the heavier side for an umbrella stroller and folds thicker. This is somewhat to be expected – otherwise how would Maclaren manage to squeeze in all these awesome feature I have been talking about?
Now I do have two small gripes with the fold, my first being that there is no stand keep the stroller upright when folded, so you will have to lay it flat on the ground or awkwardly lean it up against a wall.
My second gripe is that rather than a carry strap to sling the stroller over your shoulder, there is only a handle (you carry the stroller like a suit case). I am undecided how much I will mix this as the wheels would often dirty my pants when I carry other umbrella strollers over my shoulder, making it look like I had pooped myself.
Obviously these are really minor concerns and don't really impact my everyday use of the stroller.
Other noteworthy features
5 Color choices – The Techno XT comes in 5 different color choices, all of which are fairly dark. The best thing about darker color strollers is that stains and dirt do not show up as easily, keeping your stroller looking newer for longer.
Adjustable handles (42"-44") – Are you a mixed height couple? If you are short and your husband is on the tall side then you will both be comfortable pushing this stroller. While 2 inches may not seem like much, it is surprising just how much of a difference it can make to the comfort of a taller person.
Rain shield – In what might be a first for an umbrella stroller – A rain cover is included straight out of the box! No need to purchase one separately. Hooray!
Lifetime warranty – Maclaren really get behind their strollers with a lifetime warranty covering manufacturers defects in materials and workmanship for the original owner. They also have dedicated service centers that will repair normal wear and tear or accidents. Hey, a patch job will definitely be cheaper than buying a new stroller outright.
The bottom line – If you are on the hunt for a premium umbrella stroller then the Maclaren Techno XT is unrivaled. With enough features to make it your primary stroller and a durable design that will outlast your child's stroller phase, you will be super impressed with this stroller – if you have the cash to spare.